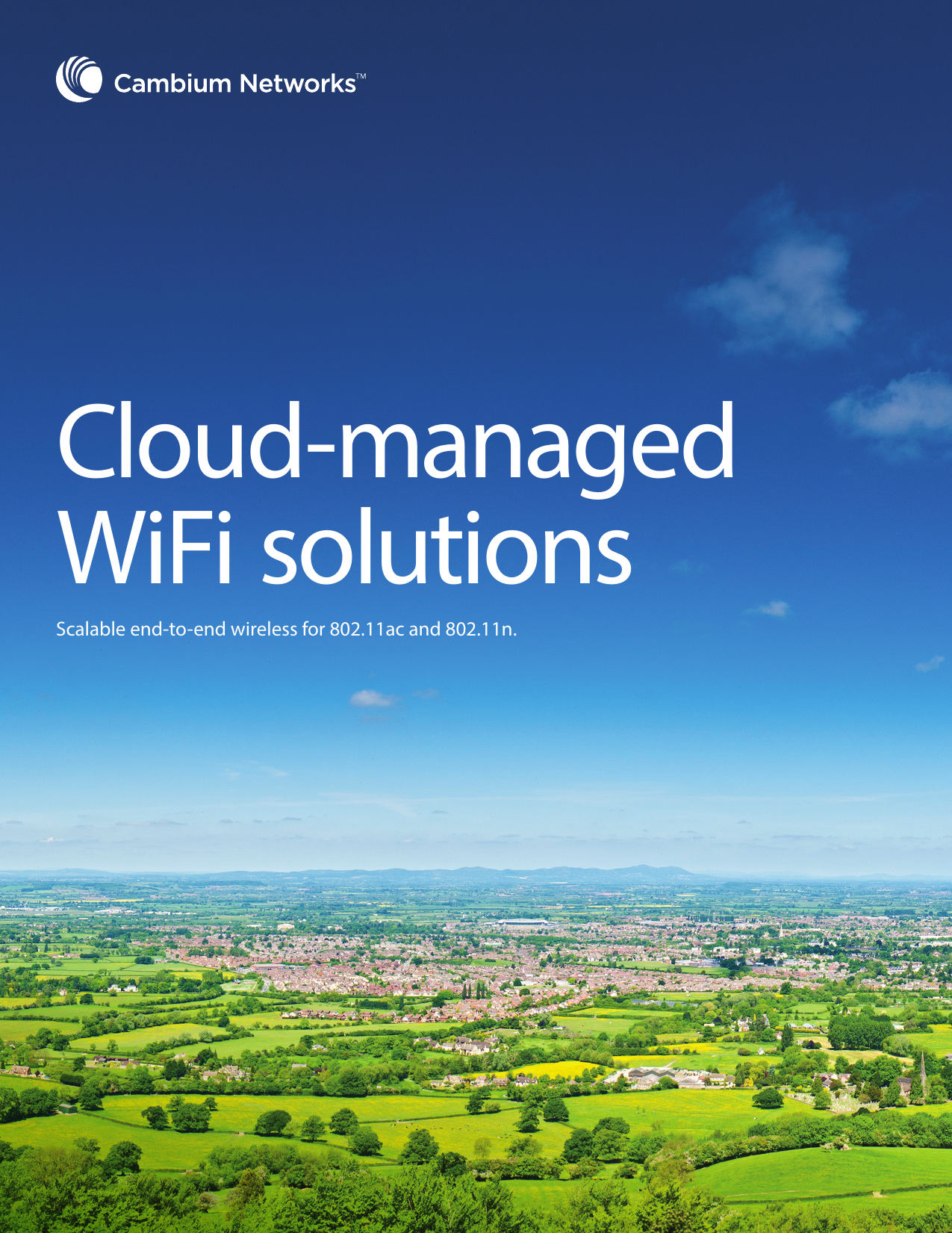 Cloud-managed
WiFi solutions
Scalable end-to-end wireless for 802.11ac and 802.11n.
Meet network needs, everywhere.
Manage it all, all in one place.
Cambium Networks offers secure, scalable, cloud-managed WiFi solutions for
homes, small business, and both indoor and outdoor enterprise applications.
The 802.11ac and 802.11n access points allow for rapid deployment and easy
operation, and one-stop, intelligent remote diagnostics round out a managed
network that makes it easy to connect the unconnected.
cnPilot™ Home & Small Business
Simplifying the network.
Extending the service provider's indoor reach and streamlining
components for a simplified indoor network, cloud managed
cnPilot™ R200 and R201 integrate the 802.11ac or n router, an
ATA to connect telephone and fax, and Cambium's PoE enabling
the PMP 450 and ePMP™ subscriber modules. With remote endto-end wireless network visibility, troubleshooting is simple.
Model Specs
Frequency
ATA for Voice
™
cnPilot R200
802.11n
Single Band 2.4 GHz
Yes
cnPilot™ R200P
802.11n
Single Band 2.4 GHz
Yes
™
cnPilot R201
802.11ac
Dual Band 2.4 GHz & 5 GHz
Yes
™
cnPilot R201P
802.11ac
Dual Band 2.4 GHz & 5 GHz
Yes
cnPilot™ R201W
802.11ac
Dual Band 2.4 GHz & 5 GHz
Expanding the enterprise.
Designed for wireless service providers of both enterprise and
distributed enterprise networks, cnPilot™ E400 offers WiFi that
is scalable, secure, and reliable. The enterprise-grade 802.11ac
access points support on-premise or cloud management in a
solution that rolls out quickly, blends in to the environment, and
is easy to operate.
Model Specs
802.11ac
Cambium PoE out
Yes
Yes
Yes
cnPilot™ Indoor
cnPilot™ E400 Indoor
cnPilot™ R200
(shown above)
Frequency
MIMO
Dual Band 2.4 GHz & 5 GHz
2x2
cnPilot™ Outdoor
Meeting the demand.
A scalable, controller-managed solution that's ideal for smart
city, government, and industrial applications, cnPilot™ E500
is designed to support wired or rapid wireless deployments.
The enterprise-grade access points enable reliable and secure
WiFi service rollout for networks managed by either the service
provider or enterprise, and even in remote locations.
Model Specs
cnPilot E500 Outdoor
™
802.11ac
Frequency
MIMO
Dual Band 2.4 GHz & 5 GHz
2x2
ePMP™ 1000 Hotspot
Reaching the edge.
The reliability of ePMP™ radio, combined with the power of serviceprovider-grade WiFi software, makes this easy-to-deploy singleband access point the choice for government, utility and other
deployments that need to scale over time, and offers support for
remote controller-based network architecture. The ePMP™ Hotspot
includes PoE out to support a second hotspot, or an ePMP™ or PMP
subscriber module.
Model Specs
ePMP 1000 Hotspot
™
802.11n
Frequency
MIMO
Single Band 2.4 GHz or 5 GHz
2x2
cnMaestro™
Managing it all.
A suite of cloud-based tools for network management: inventory
management, onboarding devices, daily operations and
maintenance. cnMaestro™ offers full visibility across the entirety
of a network. This one-stop solution orchestrates network
management today, with even more functionality rolling out in
the future.
cnMaestro™
(tablet not included)
For more information go to:
cambiumnetworks.com
Cambium Networks, Ltd.
3800 Golf Road, Suite 360
Rolling Meadows, IL 60008
Cambium Networks, the Cambium Networks logo, cnPilot and
cnMaestro are trademarks of Cambium Networks, LTD.
Copyright ©2015 Cambium Networks, Ltd.

* Your assessment is very important for improving the work of artificial intelligence, which forms the content of this project