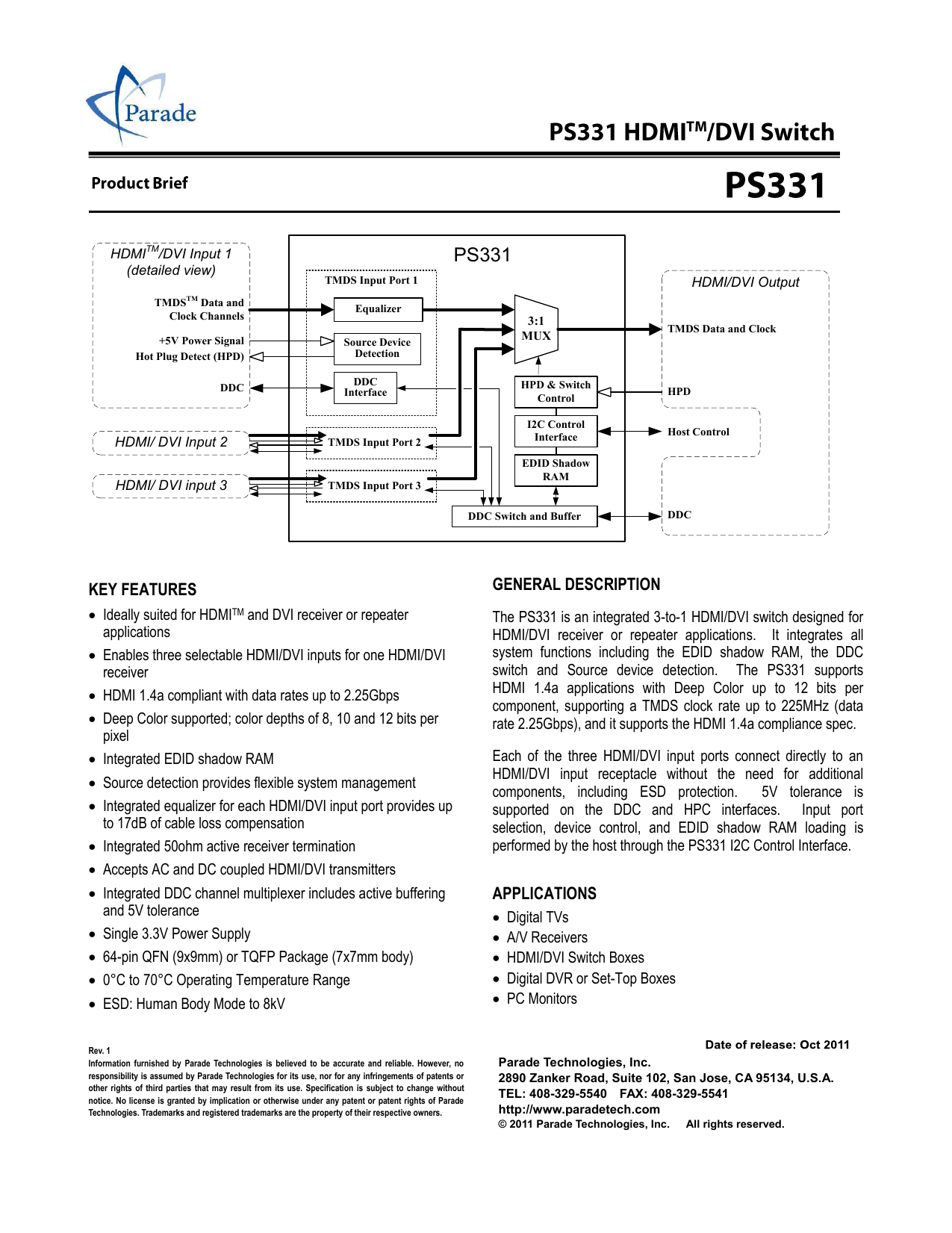 HDMITM/DVI Input 1
(detailed view)
TMDSTM Data and
Clock Channels
+5V Power Signal
Hot Plug Detect (HPD)
DDC
PS331
TMDS Input Port 1
HDMI/DVI Output
Equalizer
Source Device
Detection
DDC
Interface
HDMI/ DVI Input 2
TMDS Input Port 2
HDMI/ DVI input 3
TMDS Input Port 3
3:1
MUX
TMDS Data and Clock
HPD & Switch
Control
HPD
I2C Control
Interface
Host Control
EDID Shadow
RAM
DDC Switch and Buffer
DDC
KEY FEATURES
GENERAL DESCRIPTION
 Ideally suited for HDMITM and DVI receiver or repeater
applications
 Enables three selectable HDMI/DVI inputs for one HDMI/DVI
receiver
 HDMI 1.4a compliant with data rates up to 2.25Gbps
 Deep Color supported; color depths of 8, 10 and 12 bits per
pixel
 Integrated EDID shadow RAM
 Source detection provides flexible system management
 Integrated equalizer for each HDMI/DVI input port provides up
to 17dB of cable loss compensation
 Integrated 50ohm active receiver termination
 Accepts AC and DC coupled HDMI/DVI transmitters
 Integrated DDC channel multiplexer includes active buffering
and 5V tolerance
 Single 3.3V Power Supply
 64-pin QFN (9x9mm) or TQFP Package (7x7mm body)
 0°C to 70°C Operating Temperature Range
 ESD: Human Body Mode to 8kV
The PS331 is an integrated 3-to-1 HDMI/DVI switch designed for
HDMI/DVI receiver or repeater applications. It integrates all
system functions including the EDID shadow RAM, the DDC
switch and Source device detection. The PS331 supports
HDMI 1.4a applications with Deep Color up to 12 bits per
component, supporting a TMDS clock rate up to 225MHz (data
rate 2.25Gbps), and it supports the HDMI 1.4a compliance spec.
Rev. 1
Information furnished by Parade Technologies is believed to be accurate and reliable. However, no
responsibility is assumed by Parade Technologies for its use, nor for any infringements of patents or
other rights of third parties that may result from its use. Specification is subject to change without
notice. No license is granted by implication or otherwise under any patent or patent rights of Parade
Technologies. Trademarks and registered trademarks are the property of their respective owners.
Each of the three HDMI/DVI input ports connect directly to an
HDMI/DVI input receptacle without the need for additional
components, including ESD protection.
5V tolerance is
supported on the DDC and HPC interfaces. Input port
selection, device control, and EDID shadow RAM loading is
performed by the host through the PS331 I2C Control Interface.
APPLICATIONS





Digital TVs
A/V Receivers
HDMI/DVI Switch Boxes
Digital DVR or Set-Top Boxes
PC Monitors
Parade Technologies, Inc.
2890 Zanker Road, Suite 102, San Jose, CA 95134, U.S.A.
TEL: 408-329-5540 FAX: 408-329-5541
http://www.paradetech.com
© 2011 Parade Technologies, Inc.
All rights reserved.

* Your assessment is very important for improving the work of artificial intelligence, which forms the content of this project