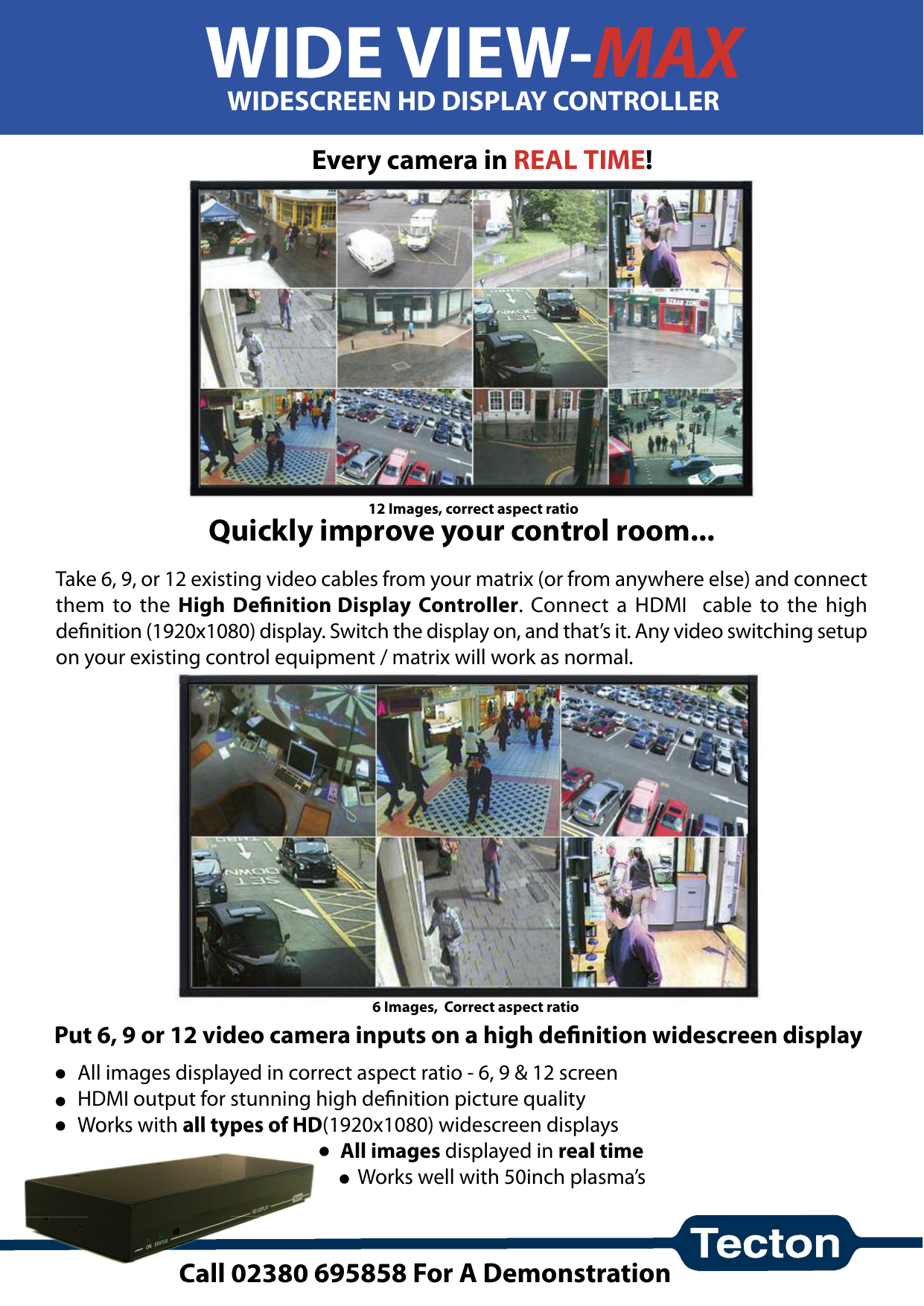 WIDE VIEW-MAX
WIDESCREEN HD DISPLAY CONTROLLER
Every camera in REAL TIME!
12 Images, correct aspect ratio
Quickly improve your control room...
Take 6, 9, or 12 existing video cables from your matrix (or from anywhere else) and connect
them to the High Definition Display Controller. Connect a HDMI cable to the high
definition (1920x1080) display. Switch the display on, and that's it. Any video switching setup
on your existing control equipment / matrix will work as normal.
6 Images, Correct aspect ratio
Put 6, 9 or 12 video camera inputs on a high definition widescreen display
All images displayed in correct aspect ratio - 6, 9 & 12 screen
HDMI output for stunning high definition picture quality
Works with all types of HD(1920x1080) widescreen displays
All images displayed in real time
Works well with 50inch plasma's
Call 02380 695858 For A Demonstration
9 Images stretched
Mains Power Supply
HDMI Output
12 x Video Inputs & 12x loop through outputs
Ethernet port
HDMI transmits the screen digitally to the display. There are no high frequency losses,
resulting in a sharper image. The digital signal is un-compressed (that makes a change).
HDMI cables are up to 20m long. HDMI extenders can increase the cable length up to 200m.
Ask us for details. Your flat screen monitor must support 50Hz refresh. All flatscreen TV's do.
Create a cost effective video wall simply and easily.
Online demonstration
www.tecton-cctv.com/wideview/demo
Specification
Video Inputs: 1V P-P BNC
Loop Through
Auto Termination
Power:
Ethernet:
230VAC 12W
RJ45
(for future expansion)
HDMI Out:
1920 x 1080 50Hz
Size:
440x130x43 mm
17.3x5.1x1.7 inches
Indicators:
Power On
Status
Switch:
Segment aspect ratio
4:3 / Stretched
Rack Height: 1U
Rack Ears:
Supplied
Part Number: WV012HD
Made in Britain
10m HDMI Cable
HDMI Extender
- Part Number - KLHDMI10C2
- Part Number - WDEXT01IN
Tecton Limited - Tel 02380 695858 - Fax 02380 695702 - sales@tecton.co.uk
If only one camera is
connected, it will be
upscaled to fit the
whole screen.
Ask us about your remote
control requirements.
Demonstration
available on request.

* Your assessment is very important for improving the work of artificial intelligence, which forms the content of this project