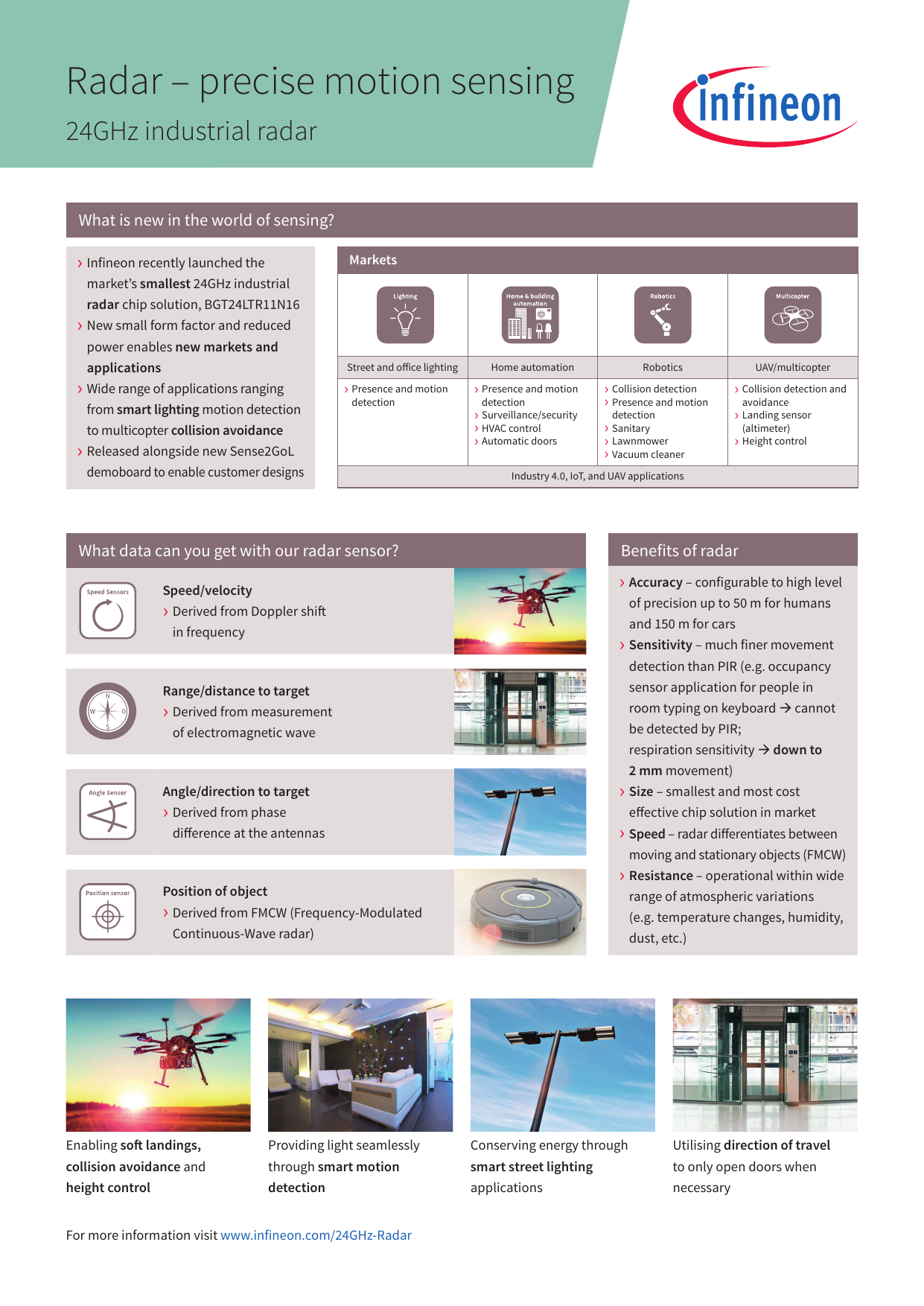 Radar – precise motion sensing
24GHz industrial radar
What is new in the world of sensing?
››Infineon recently launched the
Markets
market's smallest 24GHz industrial
radar chip solution, BGT24LTR11N16
››New small form factor and reduced
power enables new markets and
applications
››Wide range of applications ranging
from smart lighting motion detection
to multicopter collision avoidance
››Released alongside new Sense2GoL
demoboard to enable customer designs
Street and office lighting
››Presence and motion
detection
What data can you get with our radar sensor?
Speed/velocity
››Derived from Doppler shift
in frequency
Range/distance to target
››Derived from measurement
of electromagnetic wave
Angle/direction to target
››Derived from phase
difference at the antennas
Position of object
››Derived from FMCW (Frequency-Modulated
Continuous-Wave radar)
Enabling soft landings,
collision avoidance and
height control
Providing light seamlessly
through smart motion
detection
For more information visit www.infineon.com/24GHz-Radar
Home automation
››Presence and motion
detection
››Surveillance/security
››HVAC control
››Automatic doors
Robotics
››Collision detection
››Presence and motion
detection
››Sanitary
››Lawnmower
››Vacuum cleaner
UAV/multicopter
››Collision detection and
avoidance
››Landing sensor
(altimeter)
››Height control
Industry 4.0, IoT, and UAV applications
Benefits of radar
››Accuracy – configurable to high level
of precision up to 50 m for humans
and 150 m for cars
››Sensitivity – much finer movement
detection than PIR (e.g. occupancy
sensor application for people in
room typing on keyboard à cannot
be detected by PIR;
respiration sensitivity à down to
2 mm movement)
››Size – smallest and most cost
effective chip solution in market
››Speed – radar differentiates between
moving and stationary objects (FMCW)
››Resistance – operational within wide
range of atmospheric variations
(e.g. temperature changes, humidity,
dust, etc.)
Conserving energy through
smart street lighting
applications
Utilising direction of travel
to only open doors when
necessary
BGT24LTR11N16 – technical insights
Block diagram
0°
Tx_ON
2.4
mm
f-div
VTUNE
R_TUNE
The VCO frequency is kept within the ISM band using the internal PTAT circuit, no external
PLL or tuning circuitry required for frequency stabilization. The frequency band can be
shifted using an external tuning resistor.
20
30
40
50
60
70
85
30
13
IFI
Q1
31
12
IFQ
VEE
32
11
VEE
1
2
3
4
5
6
7
8
9
10
Comparison
TX_ON
TEMP
Size
1
16
15
14
13
VEE 2
12 VEE
TX 3
11 RX
VEE 4
2.4
VCC
IFIX
10 VEE
5
6
7
8
9
VCC
CS
TEST PIN
14
IFQ
CLK
15
29
IFI
SI
TEST PIN
28
VCC_PTAT
VEE
16
LO
VCCTEMP
DIV_OUT
TX
17
VCC_DIV
TXX
18
V_PTAT
VEE
19
V_TUNE
ANA
20
R_TUNE
TXOFF
21
VEE
10
Temperature [°C]
22
IFQX
0
23
VEE
24100
-40 -30 -20 -10
24
VCC
24120
25
RFIN
24140
BGT24L
26
COARSE
24160
27
VEE
4.5
24180
N.C.
FINE
24200
Q2
24220
Q1N
24240
VCO frequency [MHz]
BGT24M
8 kΩ
16 kΩ
24 kΩ
VEE
RFIN
VEE
PTAT
VCC_DIV DIV
24260
LNA
Balun
Balun
Balun
Balun
MPA
Polyphase
filter
90°
VEE
Tx
VEE
Balun
IFI IFQ
Balun
2.4
mm
VCC
2.4
5.5
New – Sense2GoL demoboard
V_PTAT VCC_PTAT
Easy to use design tools
››Chip evaluation board to perform
basic measurements with the chip
(EVAL_BGT24LTR11_BOARD)
››Demo kit to get a feel for motion
detection using 24GHz radar sensing
(Sense2GoL)
››Complete datasheets and applications
notes available to kick start your design
Key features of the new
Sense2GoL demoboard
25 mm
››BGT24LTR11 – 24GHz highly
Kit contents
25 mm
››User manual
››Firmware for motion detection
››SW GUI for radar signal obser-
vation
››PCB schematic and gerber files
50 mm
Radar main PCB
Published by
Infineon Technologies AG
81726 Munich, Germany
© 2016 Infineon Technologies AG.
All Rights Reserved.
Breakable debugger PCB
Please note!
THIS DOCUMENT IS FOR INFORMATION PURPOSES ONLY AND
ANY INFORMATION GIVEN HEREIN SHALL IN NO EVENT BE
REGARDED AS A WARRANTY, GUARANTEE OR DESCRIPTION OF
ANY FUNCTIONALITY, CONDITIONS AND/OR QUALITY OF OUR
PRODUCTS OR ANY SUITABILITY FOR A PARTICULAR PURPOSE.
WITH REGARD TO THE TECHNICAL SPECIFICATIONS OF OUR
PRODUCTS, WE KINDLY ASK YOU TO REFER TO THE RELEVANT
PRODUCT DATA SHEETS PROVIDED BY US. OUR CUSTOMERS AND
THEIR TECHNICAL DEPARTMENTS ARE REQUIRED TO EVALUATE
THE SUITABILITY OF OUR PRODUCTS FOR THE INTENDED
APPLICATION.
WE RESERVE THE RIGHT TO CHANGE THIS DOCUMENT AND/OR
THE INFORMATION GIVEN HEREIN AT ANY TIME.
Order Number: B132-I0397-V1-7600-EU-EC-P
Date: 10/ 2016
integrated low-power MMIC
››XMC1302 ARM® Cortex®-M0 – 32-bit
industrial microcontroller
››Multiple integrated patch antennas
available
(default 1 x 4 with FOV = 28° x 80°)
››Segger debugger breakoff board for
reprogramming
Additional information
For further information on technologies, our products, the
application of our products, delivery terms and conditions
and/or prices, please contact your nearest Infineon Technologies
office (www.infineon.com).
Warnings
Due to technical requirements, our products may contain
dangerous substances. For information on the types in question,
please contact your nearest Infineon Technologies office.
Except as otherwise explicitly approved by us in a written
document signed by authorized representatives of Infineon
Technologies, our products may not be used in any life-­
endangering applications, including but not limited to medical,
nuclear, military, life-critical or any other applications where a
failure of the product or any consequences of the use thereof
can result in personal injury.

* Your assessment is very important for improving the work of artificial intelligence, which forms the content of this project