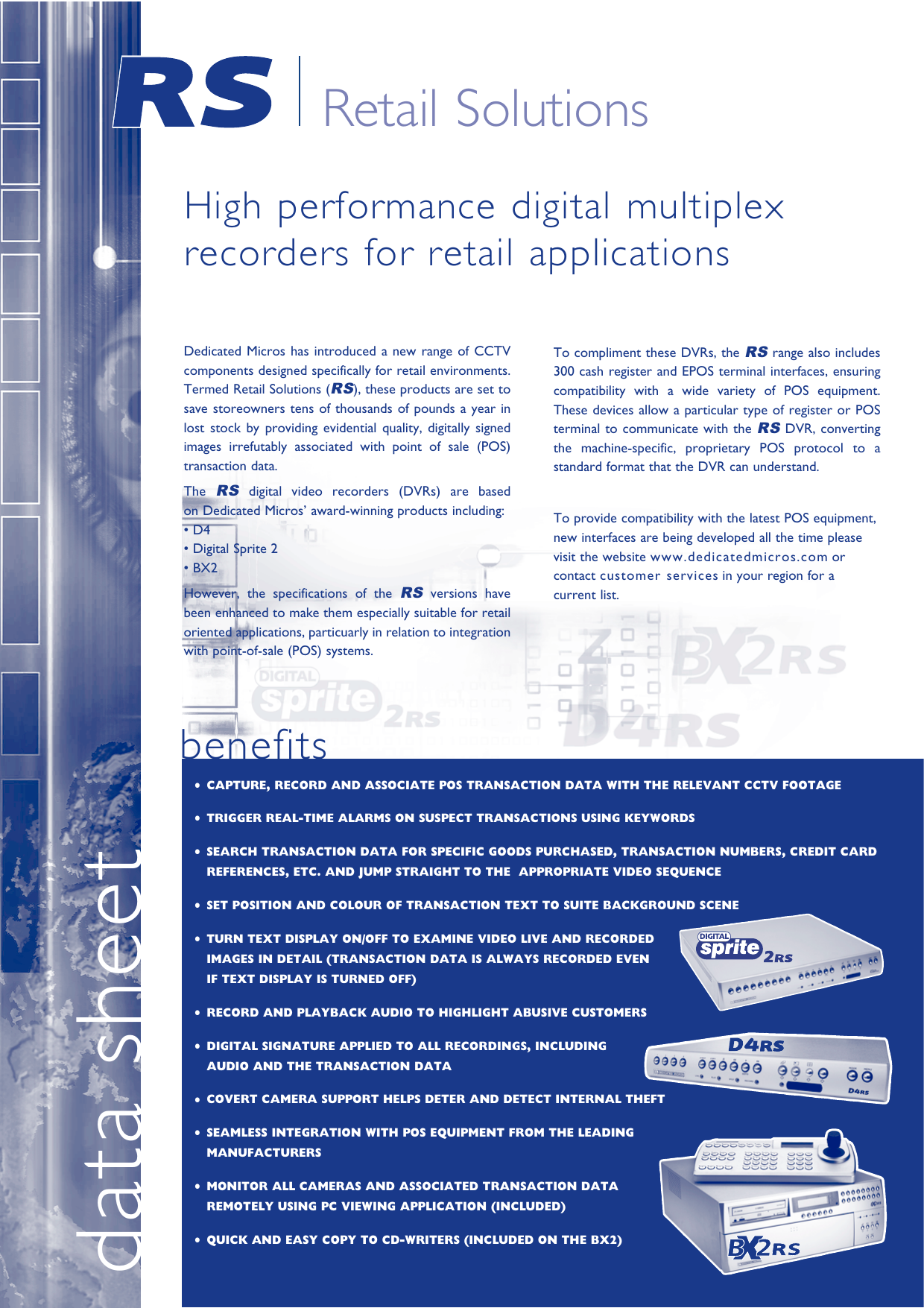 Retail Solutions
High performance digital multiplex
recorders for retail applications
Dedicated Micros has introduced a new range of CCTV
components designed specifically for retail environments.
Termed Retail Solutions (RS ), these products are set to
save storeowners tens of thousands of pounds a year in
lost stock by providing evidential quality, digitally signed
images irrefutably associated with point of sale (POS)
transaction data.
The RS digital video recorders (DVRs) are based
on Dedicated Micros' award-winning products including:
• D4
• Digital Sprite 2
• BX2
However, the specifications of the RS versions have
been enhanced to make them especially suitable for retail
oriented applications, particuarly in relation to integration
with point-of-sale (POS) systems.
To compliment these DVRs, the RS range also includes
300 cash register and EPOS terminal interfaces, ensuring
compatibility with a wide variety of POS equipment.
These devices allow a particular type of register or POS
terminal to communicate with the RS DVR, converting
the machine-specific, proprietary POS protocol to a
standard format that the DVR can understand.
To provide compatibility with the latest POS equipment,
new interfaces are being developed all the time please
visit the website www.dedicatedmicros.com or
contact customer services in your region for a
current list.
data sheet
benefits
•
CAPTURE, RECORD AND ASSOCIATE POS TRANSACTION DATA WITH THE RELEVANT CCTV FOOTAGE
•
TRIGGER REAL-TIME ALARMS ON SUSPECT TRANSACTIONS USING KEYWORDS
•
SEARCH TRANSACTION DATA FOR SPECIFIC GOODS PURCHASED, TRANSACTION NUMBERS, CREDIT CARD
REFERENCES, ETC. AND JUMP STRAIGHT TO THE APPROPRIATE VIDEO SEQUENCE
•
SET POSITION AND COLOUR OF TRANSACTION TEXT TO SUITE BACKGROUND SCENE
•
TURN TEXT DISPLAY ON/OFF TO EXAMINE VIDEO LIVE AND RECORDED
IMAGES IN DETAIL (TRANSACTION DATA IS ALWAYS RECORDED EVEN
IF TEXT DISPLAY IS TURNED OFF)
•
RECORD AND PLAYBACK AUDIO TO HIGHLIGHT ABUSIVE CUSTOMERS
•
DIGITAL SIGNATURE APPLIED TO ALL RECORDINGS, INCLUDING
AUDIO AND THE TRANSACTION DATA
•
COVERT CAMERA SUPPORT HELPS DETER AND DETECT INTERNAL THEFT
•
SEAMLESS INTEGRATION WITH POS EQUIPMENT FROM THE LEADING
MANUFACTURERS
•
MONITOR ALL CAMERAS AND ASSOCIATED TRANSACTION DATA
REMOTELY USING PC VIEWING APPLICATION (INCLUDED)
•
QUICK AND EASY COPY TO CD-WRITERS (INCLUDED ON THE BX2)
data sheet
Product Selector
D4
DS2
DS2 plus
BX2
4
6, 9 or 16
6, 9 or 16
16
50 (PAL)
60 (NTSC)
(50 PAL)
60 (NTSC)
100 (PAL)
120 (NTSC)
100 (PAL)
120 (NTSC)
320 GB
500 GB
600 GB
1,200 GB
5/4
18/6
18/6
21/20
Number of Cameras
Maximum record rate (pps)
Maximum Storage Configurations
Number of Alarms/Relays
Specification
All RS DVRs incorporate the following:
Transaction data capture facility
Keyword triggering
Transaction data search facility
Support for Cash register and POS terminal interface units
Main and spot monitor outputs
IR remote control
Remote keyboard control
Archive to external media
Integrated telemetry control over RS485
Real-time video motion detection
Retrospective video motion search
On-board alarms and relays
Alarm reporting by email
Alarm log
Live viewing and playback across networks
Telemetry control over the network
Remote configuration capability
Automatic camera detection on power up
Automatic recording after a power cut
Scheduling
Hidden camera support
Digitally signed recordings
Support for DM RAID/JBOD external storage units
Audio recording and playback
• A maximum recording rate of up to 100PPS (PAL) and 120PP (NTSC)
• A top-end drive configuration of 600GB
BX2
• A top-end drive configuration of 1,200GB
• An integrated CD-R drive
• A further increased number of on-board alarms and relays
The above represents a summary of the features of each of the RS
DVRs. Users are referred to the individual D4, Digital Sprite 2, DS2
Plus and BX2 datasheets for more detailed explanations of the core
features.
range
•
•
•
•
•
•
•
•
•
•
•
•
•
•
•
•
•
•
•
•
•
•
•
•
Digital Sprite 2 Plus
D4A 4RS
4 camera 50pps RS DVR based on D4A
DS2A 6RS
6 camera 50pps RS DVR based on DS2A
DS2A 9RS
9 camera 50pps RS DVR based on DS2A
DS2A 16RS
16 camera 50pps RS DVR based on DS2A
DS2P 6RS
6 camera 100pps RS DVR based on DS2P
Digital Sprite 2
DS2P 9RS
9 camera 100pps RS DVR based on DS2P
•
•
•
•
•
•
•
DS2P 16RS
16 camera 100pps RS DVR based on DS2P
BX2P 16RS
16 camera 100pps RS DVR based on BX2P
The ability to network DVRs using the RS485 bus
Telemetry control over coax
An increased number of on-board alarms and relays
RS485 bus expansion of alarms and relays
Individually configurable alarms
Support for telemetry pre-set positions on alarm
Prioritised record rate per camera
A choice of hard disk options are available. For latest configurations, please contact
Customer Services in your region or check the website at
www.dedicatedmicros.com
FOR FURTHER INFORMATION PLEASE CONTACT
www.dedicatedmicros.com
Dedicated Micros UK
Dedicated Micros USA
The manufacturer reserves the right to change the specification without notice.
All trademarks are courtesy of registered owners.
Sprite and the Dedicated Micros logo are trademarks of
Dedicated Microcomputers Group Ltd.
REF: V1 DM03/04
Dedicated
Dedicated
Dedicated
Dedicated
Dedicated
Micros Europe
Micros Asia
Micros Australia
Micros Malta
Micros Middle East
11 Oak Street, Swinton, Manchester M27 4FL UK Tel: +44 (0) 161 727 3200 Fax: +44 (0) 161 727 3300.
14434 Albemarle Point Place, Suite 100, Chantilly, Virginia 20151 USA Freephone: 800 864 7539
Tel: +1 703 904-7738 Fax: +1 703 904-7743 and
23456 Hawthorne Blvd. Suite 100, Torrance, CA 90505, Tel +1 310 791-8666 Fax: +1 310 791-9877
Neckarstraße 15, 41836 Hückelhoven, Germany Tel: +49 243 352 580 Fax: +49 24 33 52 58 10.
16 New Industrial Road, #03-03 Hudson TechnoCentre, Singapore 536204 Tel : +65 62858982 Fax: +65 62858646.
5/3 Packard Avenue, Castle Hill, NSW 2154, Australia Tel: +612 9634 4211 Fax: +612 9634 4811.
UB 2, San Gwann Ind. Est., San Gwann, Malta Tel: +356 21483 673 Fax: +356 21449 170.
Building 12, Suite 302, P.O.Box 500291, Dubai Internet City, Dubai,United Arab Emirates
Tel: +971 (4) 390 1015, Fax: +971 (4) 390 8655, Mobile: +971(50) 4500 149.