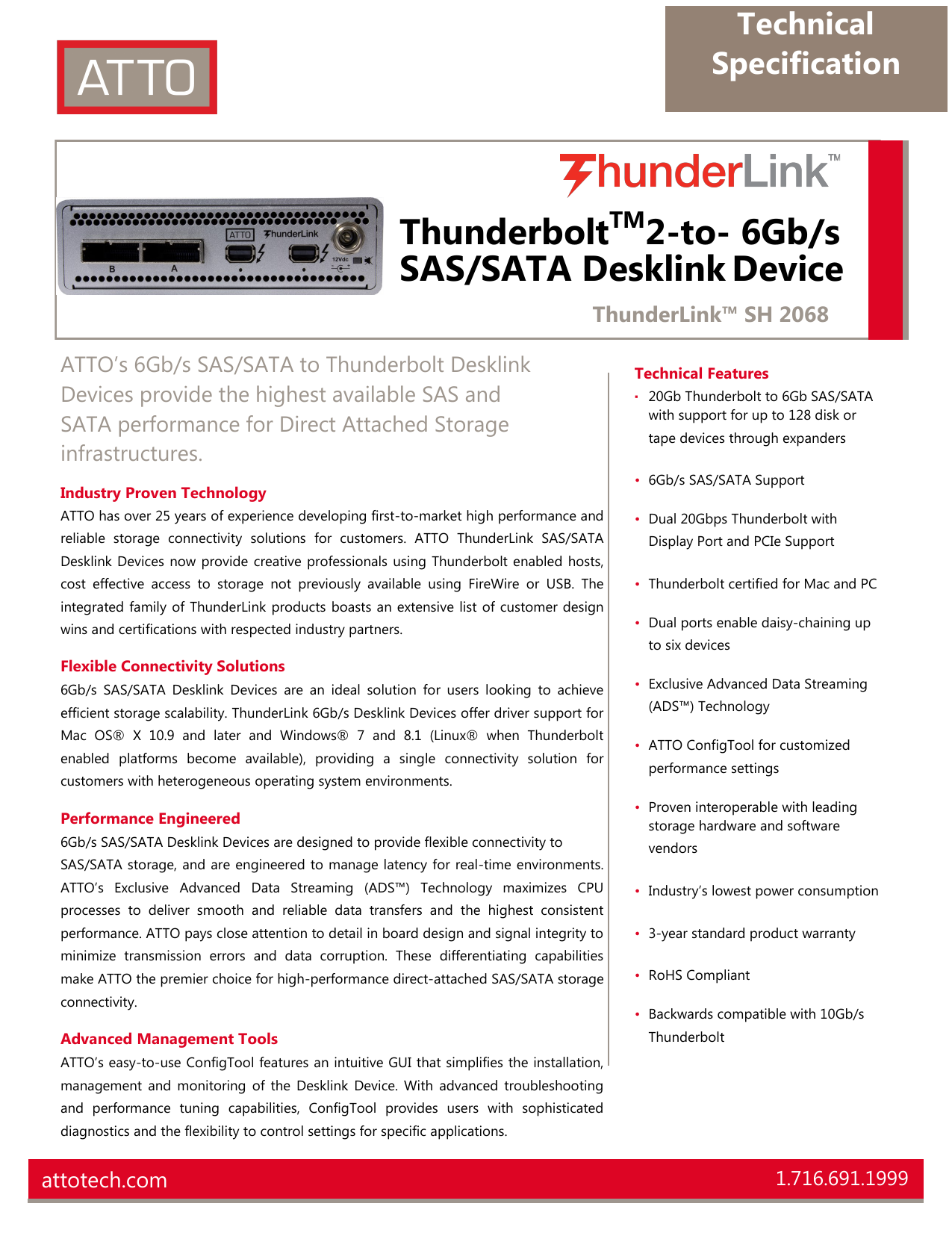 Technical
Tech Sheet
Specification
ThunderboltTM2-to- 6Gb/s
SAS/SATA Desklink Device
ThunderLink™ SH 2068
ATTO's 6Gb/s SAS/SATA to Thunderbolt Desklink
Devices provide the highest available SAS and
SATA performance for Direct Attached Storage
infrastructures.
Industry Proven Technology
Technical Features
▪
20Gb Thunderbolt to 6Gb SAS/SATA
with support for up to 128 disk or
tape devices through expanders
• 6Gb/s SAS/SATA Support
ATTO has over 25 years of experience developing first-to-market high performance and
• Dual 20Gbps Thunderbolt with
reliable storage connectivity solutions for customers. ATTO ThunderLink SAS/SATA
Display Port and PCIe Support
Desklink Devices now provide creative professionals using Thunderbolt enabled hosts,
cost effective access to storage not previously available using FireWire or USB. The
integrated family of ThunderLink products boasts an extensive list of customer design
wins and certifications with respected industry partners.
Flexible Connectivity Solutions
6Gb/s SAS/SATA Desklink Devices are an ideal solution for users looking to achieve
efficient storage scalability. ThunderLink 6Gb/s Desklink Devices offer driver support for
Mac OS® X 10.9 and later and Windows® 7 and 8.1 (Linux® when Thunderbolt
enabled platforms become available), providing a single connectivity solution for
customers with heterogeneous operating system environments.
Performance Engineered
6Gb/s SAS/SATA Desklink Devices are designed to provide flexible connectivity to
SAS/SATA storage, and are engineered to manage latency for real-time environments.
ATTO's Exclusive Advanced Data Streaming (ADS™) Technology maximizes CPU
• Thunderbolt certified for Mac and PC
• Dual ports enable daisy-chaining up
to six devices
• Exclusive Advanced Data Streaming
(ADS™) Technology
• ATTO ConfigTool for customized
performance settings
• Proven interoperable with leading
storage hardware and software
vendors
• Industry's lowest power consumption
processes to deliver smooth and reliable data transfers and the highest consistent
performance. ATTO pays close attention to detail in board design and signal integrity to
• 3-year standard product warranty
minimize transmission errors and data corruption. These differentiating capabilities
make ATTO the premier choice for high-performance direct-attached SAS/SATA storage
connectivity.
Advanced Management Tools
• RoHS Compliant
• Backwards compatible with 10Gb/s
Thunderbolt
ATTO's easy-to-use ConfigTool features an intuitive GUI that simplifies the installation,
management and monitoring of the Desklink Device. With advanced troubleshooting
and performance tuning capabilities, ConfigTool provides users with sophisticated
diagnostics and the flexibility to control settings for specific applications.
attotech.com
1.716.691.1999
Tech Sheet
Technical
Specification
Preliminary
Technical Specification
Thunderbolt 2-to-6Gb/s SAS/SATA
ThunderLink™ SH 2068
Technical Specifications
Applications
ATTO ThunderLink SAS/SATA products deliver high-performance and reliable connectivity solutions for the most demanding storage environments, including digital
content creation, tape streaming and backup, rich content delivery, server clustering, and complex databases. ATTO ThunderLink SAS/SATA products enable users to
achieve the ultimate in I/O performance for real-time and transactional applications.
Advanced Data Streaming (ADS™)
Management Tools
Latency-management technology that controls
▪
configuration utility
the acceleration of data transfers to move large
amounts of data faster and more efficiently.
ConfigTool (w/GUI) management and
▪
Command Line Interface for advanced
functionality
Key Features
▪
6Gb/s SAS/SATA Support
External Connectivity
▪
Auto Negotiation between 6Gb/s, 3Gb/s and
SAS/SATA Device Connectors :
1.5Gbs SAS/SATA devices
▪
▪
Supports SSP, SMP, STP protocols
▪
SES, SNMP and S.M.A.R.T. support
▪
Flash ROM for easy field updates
User Benefits
▪
Highest available MB/s and IOPS
▪
Operating System Support
▪
Mac OS® X 10.9 and later
▪
Windows® 7 and 8 .1
Compliance
▪
FCC Part 15, Subpart B, Class B
Superior system performance with latest SAS/
▪
EN55022, Class B/EN55024
SATA technology
▪
EN60950-1
Low power consumption
▪
CTUVUS
▪
EU RoHS (2011/65/EC)
performance
▪
(2) 6Gb x4 mini-SAS connectors (SFF-8088)
Dimensions
▪
8.66"(D) x 4.07"(W) × 1.20"(H)
Power
▪
100-240VAC, 50-60Hz, 0.5A Max
▪
12VDC
Environmental
Operating Temperature :
▪
Temperature: 0-40° C
▪
Humidity: 10 - 90% non-condensing
Storage Temperature :
▪
Temperature: -40 C to 70° C
▪
Humidity: 5- 95% non-condensing
Warranty
▪
3 Year
ThunderLink SH 2068
Model Number
TLFC-2068-D00 (US)
TLFC-2068-DE0 (EU/
UK)
Input Connectors
(2) 20Gb/s
Thunderbolt™
Output Connectors
(2)x4 6Gb/s SAS/SATA
Connector Type
(2) SFF-8088
Form Factor
Desktop
Warranty
3 Years
attotech.com
1.716.691.1999
Product features and specifications are subject to change without notice.

* Your assessment is very important for improving the work of artificial intelligence, which forms the content of this project