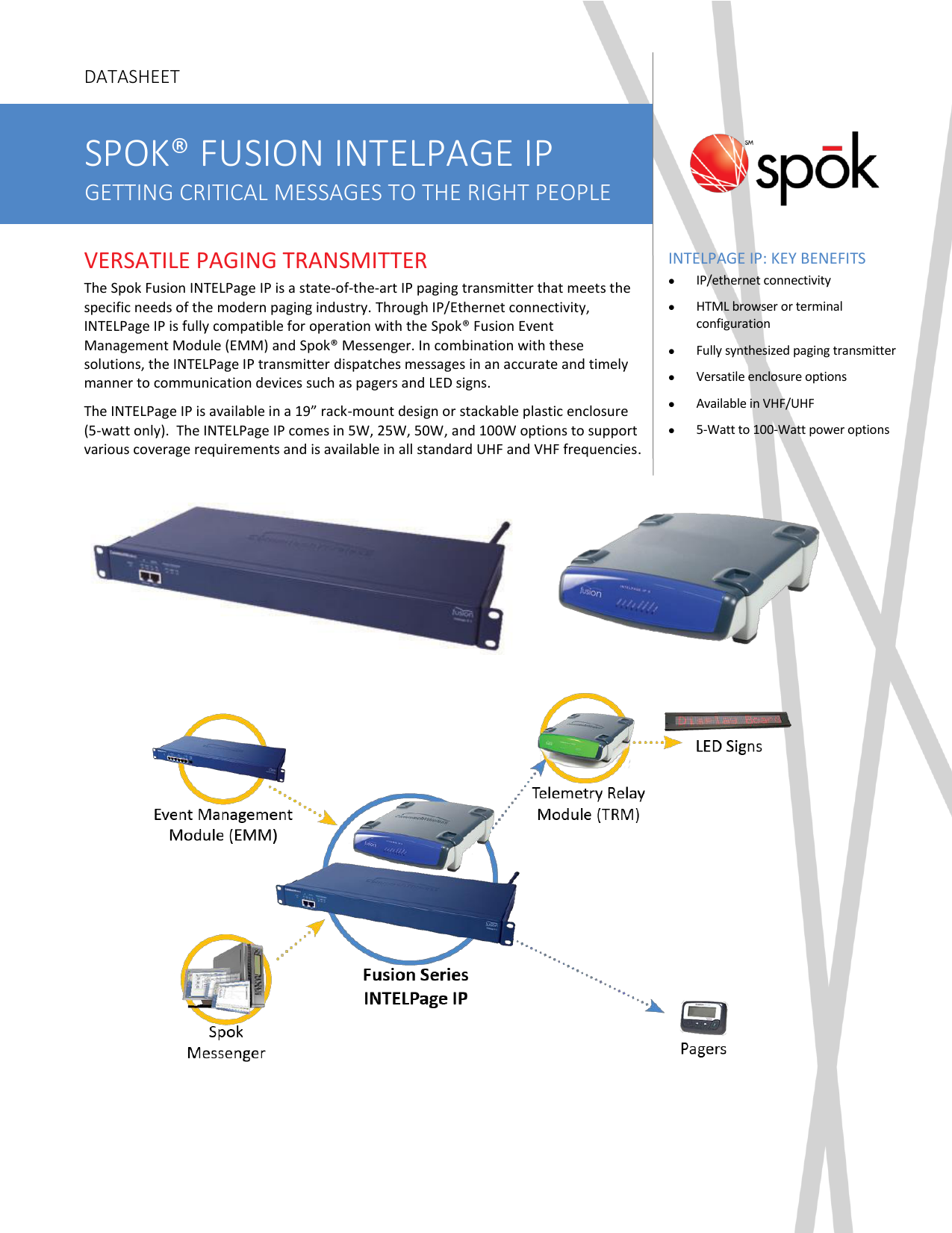 DATASHEET
SPOK® FUSION
ENTERPRISE
ALERT INTELPAGE IP
GETTING CRITICAL MESSAGES TO THE RIGHT PEOPLE
PUBLIC SAFETY TELEPHONY
SOLUTIONS
VERSATILE PAGING TRANSMITTER
The Spok Fusion INTELPage IP is a state-of-the-art IP paging transmitter that meets the
specific needs of the modern paging industry. Through IP/Ethernet connectivity,
INTELPage IP is fully compatible for operation with the Spok® Fusion Event
Management Module (EMM) and Spok® Messenger. In combination with these
solutions, the INTELPage IP transmitter dispatches messages in an accurate and timely
manner to communication devices such as pagers and LED signs.
The INTELPage IP is available in a 19" rack-mount design or stackable plastic enclosure
(5-watt only). The INTELPage IP comes in 5W, 25W, 50W, and 100W options to support
various coverage requirements and is available in all standard UHF and VHF frequencies.
INTELPAGE IP: KEY BENEFITS

IP/ethernet connectivity

HTML browser or terminal
configuration

Fully synthesized paging transmitter

Versatile enclosure options

Available in VHF/UHF

5-Watt to 100-Watt power options
DATASHEET
TECHNICAL SPECIFICATIONS
SPOK FUSION INTELPAGE IP*
Equipment Type
Non return to zero IP and serial-based POCSAG encoder
Power Supply
110-240VAC 50/60Hz (autosensing)
Frequency Range
VHF – 148-174 MHz synthesized
UHF – 440-470 MHz synthesized
External Connectors
Serial: RS232C, 300-57600 baud, RJ45F
Ethernet: IEEE 802.3, 10 Base-T, RJ45
External Switches
Five-way DIP switch for interface configuration
Status LEDs
Power, busy, PTT, data, RS232 Tx, RS232 Rx, IP activity, IP
link
Programming
Via terminal or web browser
Pager Database
1,000 pager IDs
Supported Input
Protocols
TAP (PET, IXO) / COMP1, 2 / SCOPE /
TNPP / Terminal / Tekk (Waveware)
Supported Output
Protocols
POCSAG 512, 1200 or 2400bps
Channel Spacing
12.5 kHz (narrow) & 25 kHz (wide)
Duty Cycle
50%
Dimensions
5W plastic – 255 x 230 x 70 mm (10 x 8 x 2.7 inches)
5W rack – standard 19" rack case
439 x 205 x 44 mm (17.3 x 8.1 x 1.7 inches) minus rack
ears
25/50/100W rack – standard 2RU 19" rack case 439 x 430
x 88 mm (19 x 16.5 x 3.4 inches) minus rack ears
Weight
5W plastic – 0.7kg / 1.5lb net
5W rack – 2.7kg / 5.9lb net
25W rack – 7.0kg / 15.4 lb net
50W rack – 9.5kg / 21.0 lb net
100W rack – 9.5kg / 21.0 lb net
Operating Temperature
0 °C to 50 °C (32 °F to 122 °F)
(20-90% RH non-condensing)
Storage Temperature
-10 °C - 60 °C (14 °F - 140 °F)
(10-95% RH non-condensing)
Approvals
FCC, CE, C-tick, ROHS, IC, EN60950, IDA, CB (depending on
model)
*For additional technical/product information, please refer to the product user manual
spok.com
© 2016 Spok, Inc. Spok is a trademark of Spok Holdings, Inc. Other names and trademarks may be the property of their respective owners.

* Your assessment is very important for improving the work of artificial intelligence, which forms the content of this project