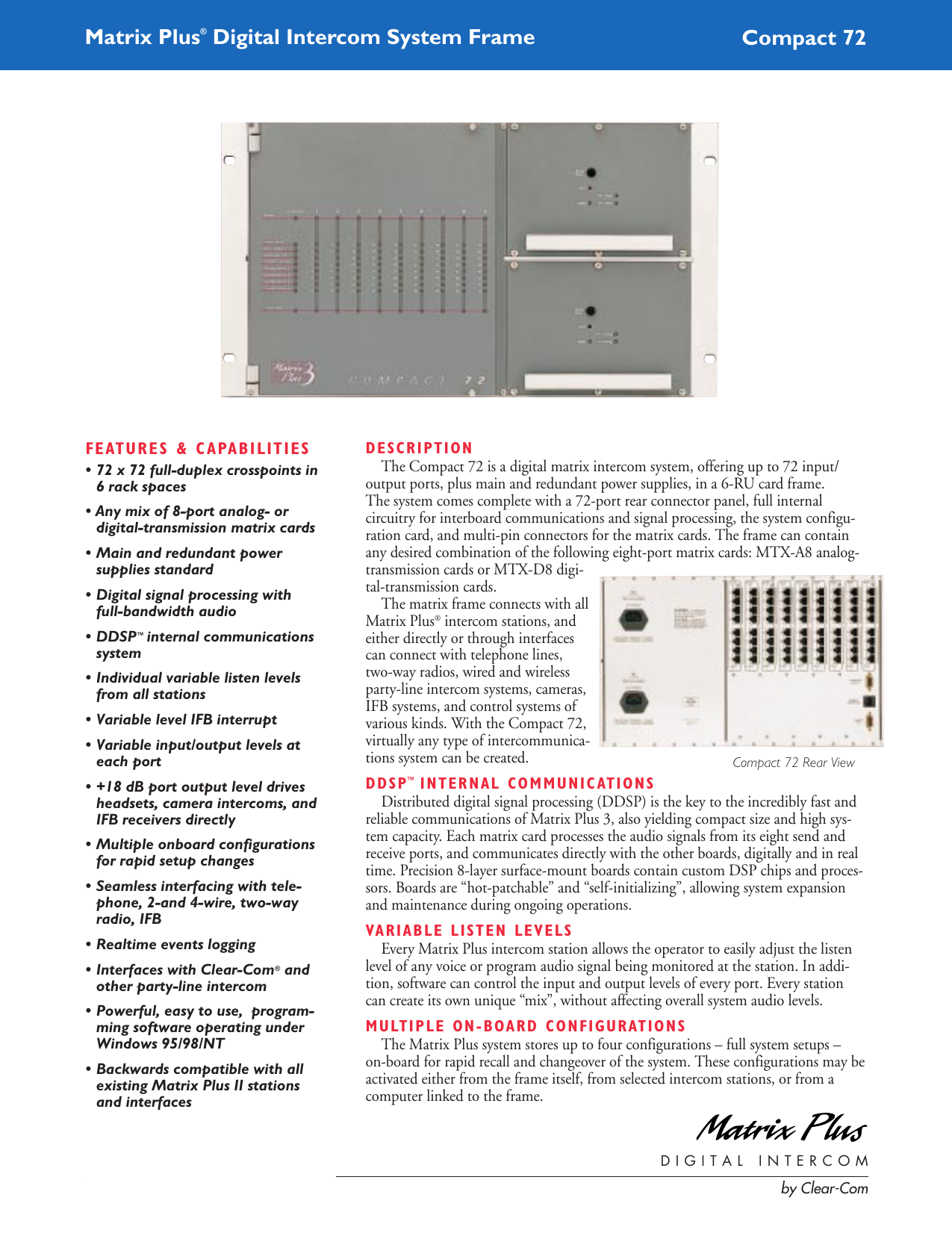 ®
Matrix Plus Digital Intercom System Frame
F E AT U R E S & C A PA B I L I T I E S
• 72 x 72 full-duplex crosspoints in
6 rack spaces
• Any mix of 8-port analog- or
digital-transmission matrix cards
• Main and redundant power
supplies standard
• Digital signal processing with
full-bandwidth audio
• DDSP™ internal communications
system
• Individual variable listen levels
from all stations
• Variable level IFB interrupt
• Variable input/output levels at
each port
• +18 dB port output level drives
headsets, camera intercoms, and
IFB receivers directly
• Multiple onboard configurations
for rapid setup changes
• Seamless interfacing with telephone, 2-and 4-wire, two-way
radio, IFB
• Realtime events logging
• Interfaces with Clear-Com ® and
other party-line intercom
• Powerful, easy to use, programming software operating under
Windows 95/98/NT
• Backwards compatible with all
existing Matrix Plus II stations
and interfaces
Compact 72
DESCRIPTION
The Compact 72 is a digital matrix intercom system, offering up to 72 input/
output ports, plus main and redundant power supplies, in a 6-RU card frame.
The system comes complete with a 72-port rear connector panel, full internal
circuitry for interboard communications and signal processing, the system configuration card, and multi-pin connectors for the matrix cards. The frame can contain
any desired combination of the following eight-port matrix cards: MTX-A8 analogtransmission cards or MTX-D8 digital-transmission cards.
The matrix frame connects with all
Matrix Plus® intercom stations, and
either directly or through interfaces
can connect with telephone lines,
two-way radios, wired and wireless
party-line intercom systems, cameras,
IFB systems, and control systems of
various kinds. With the Compact 72,
virtually any type of intercommunications system can be created.
Compact 72 Rear View
D D S P™ I N T E R N A L C O M M U N I C AT I O N S
Distributed digital signal processing (DDSP) is the key to the incredibly fast and
reliable communications of Matrix Plus 3, also yielding compact size and high system capacity. Each matrix card processes the audio signals from its eight send and
receive ports, and communicates directly with the other boards, digitally and in real
time. Precision 8-layer surface-mount boards contain custom DSP chips and processors. Boards are "hot-patchable" and "self-initializing", allowing system expansion
and maintenance during ongoing operations.
VA R I A B L E L I S T E N L E V E L S
Every Matrix Plus intercom station allows the operator to easily adjust the listen
level of any voice or program audio signal being monitored at the station. In addition, software can control the input and output levels of every port. Every station
can create its own unique "mix", without affecting overall system audio levels.
M U LT I P L E O N - B OA R D C O N F I G U R AT I O N S
The Matrix Plus system stores up to four configurations – full system setups –
on-board for rapid recall and changeover of the system. These configurations may be
activated either from the frame itself, from selected intercom stations, or from a
computer linked to the frame.
DIGITAL
INTERCOM
by Clear-Com
®
Matrix Plus Digital Intercom System Frame
S P E C I F I C AT I O N S
OVERALL SYSTEM
SYSTEM CAPACITY
72 full-duplex audio/data ports
MATRIX TYPE
DDSP™ Distributed Digital Signal Processing
NUMBER OF ONBOARD CONFIGURATIONS
4
INPUT/OUTPUT LEVEL ADJUST
Adjustable from PC
INDIVIDUAL LISTEN LEVEL CONTROL
Adjustable from any control panel
COMPATIBILITY
Compatible with all Matrix Plus II and Matrix Plus 3
stations, interfaces, and accessories
MATRIX CARDS
Type: MTX-A8 analog transmission
MTX-D8 digital transmission
PORTS PER MATRIX CARD
8 full-duplex audio/data ports
STATION KEY RESPONSE TIME
Virtually instantaneous regardless of system activity
INDIVIDUAL STATION KEY CAPACITY
From 5 keys in 1 RU to 84 keys in 5 RU
(using expansion key panels)
DATA TRANSFER RATE
19.2 Kbps
DDSP FORMAT
Audio: 32K samples/sec
Data: 16 bit
ANALOG TRANSMISSION
INPUT/OUTPUT (MTX-A8)
FREQUENCY RESPONSE
20 Hz -15 kHz, +/-1 dB
TOTAL HARMONIC DISTORTION (THD)
<0.09%, 20 Hz - 15 kHz
SIGNAL-TO-NOISE RATIO (SNR)
>80 dB below +18 dBu
CROSSTALK
-75 dB
INPUT LEVEL
Variable; 0dB, nominal
INPUT LEVEL RANGE
24 dB
INPUT IMPEDANCE
600 Ohms, electronically balanced
OUTPUT LEVEL AND ADJUSTMENT RANGE
Variable, -12dB to +18 dB
OUTPUT IMPEDANCE
100 Ohms, electronically balanced
DIGITAL TRANSMISSION
INPUT/OUTPUT (MTX-D8)
FREQUENCY RESPONSE
30 Hz - 7.5 kHz, +/-1.5 dB
(transmission system only)
SIGNAL-TO-NOISE RATIO (SNR)
>70 dB, 30 Hz - 7.5 kHz
TRANSMISSION TYPE
U-type loop
DATA RATE
160 Kb/second, full duplex
Compact 72
R E D U N DA N T P OW E R S U P P L I E S
Main and redundant power-supply modules, with separate AC inputs, come
standard with the Compact 72. Changeover between power supplies is completely
transparent to the system, for fail-safe operation. The unit has both an audible failure alarm and failure relay contacts to activate a remote signal. An over-temperature
sensor is connected to both an audible alarm and a warning LED, allowing the
system operator to diagnose and correct any power anomalies while the system
remains operational.
P OW E R F U L , I N T U I T I V E P RO G R A M M I N G S O F T WA R E
Powerful, easy-to-use software, operating under Windows 95/98/NT, is used to
create "configurations" encompassing all operating parameters of the complete
system. Customize the matrix to any requirement with easy-to-grasp menus and
tables and context-sensitive help screens. Enable or inhibit features at any station,
create groups and point-to-point connections, add passwords and priorities, set
crosspoint levels, and more. Create 5-character alpha-numeric labels, assignable to
any port/station.
C O N N E C T I N G TO T H E C O M PA C T 7 2
The connector panel on the rear of the Compact 72 links the frame to stations
and interfaces. It contains a total of 72 RJ-45 connectors, arranged in groups of
eight, corresponding to the channels on the matrix cards. Each RJ-45 connector
provides input and output paths for one channel of audio, plus data paths.
SIMPLE WIRING
The Compact 72 frame provides standard RJ-45 telephone-type connectors for
quick setup, simple changes, and troubleshooting. Panels are clearly marked to
ensure proper connections.
When MTX-A8 analog-transmission cards are installed in the Compact 72,
frame-to-station wiring uses four-pair CAT-3 cable. The four-pair connection routes
talk and listen audio signals, and provides data input and output paths.
With MTX-D8 digital-transmission cards installed, connection between the
frame and stations is accomplished with either single-twisted-pair or coaxial cable.
Audio and data travel along the same wire and remain as digital signals until decoded at the station. Matrix Plus digital intercom stations may be ordered from the
factory in either an analog- or digital-transmission format, with the proper modules
and connectors installed.
CONNECTIONS
CONNECTORS
(72) RJ-45 (one per port) for audio and data
(1) DB-9F for PC connection
(1) RJ-45 for relay/GPI interface modules
(1) DB-9F for alarm I/O
CABLE TYPE/LENGTH
MTX-A8: 4-twisted-pair CAT-3, 10,000 ft (3,000m)
MTX-D8 cards: 1-twisted-pair CAT-1 or 75-Ohm
coaxial (RG-59 minimum), 10,000 ft (3,000 m)
SOFTWARE & PROGRAMMING
CONFIGURATION SOFTWARE
Matrix Plus 3 proprietary
SOFTWARE OPERATING UNDER
Windows 95/98/NT 4.0
PC REQUIREMENTS
Minimum: 486/66 MHz/8 MB RAM
Recommended: Pentium/120 MHz/
16 MB RAM – or better
Clear-Com Intercom Systems: 4065 Hollis St., Emeryville, CA 94608-3505
(510) 496-6666, Fax (510) 496-6699, www.clearcom.com
International Sales: PO Box 302, Walnut Creek, CA 94597, (925) 932-8134, Fax (925) 932-2171
©2000 Clear-Com Intercom Systems. Matrix Plus 3 is a Trademark of Clear-Com. #C72/600
CONNECTION TO MATRIX
DB-9F PC interface, RS-232
DIAGNOSTICS
Real-time event logging and monitoring
POWER REQUIREMENTS
UNIVERSAL AC POWER
90-250 VAC, 50-60 Hz,
200 VA max
POWER SUPPLIES
Type: Switching plug-in module
Primary plus redundant modules with audible alarm.
DIMENSIONS & WEIGHT
MATRIX FRAME DIMENSIONS
6 RU (10.5" H x 19" W x 13.8" D)
(264 x 483 x 348 mm)
WEIGHT (FULLY LOADED FRAME)
40 lb (18.2 kg)
All specifications are subject to change without notice.