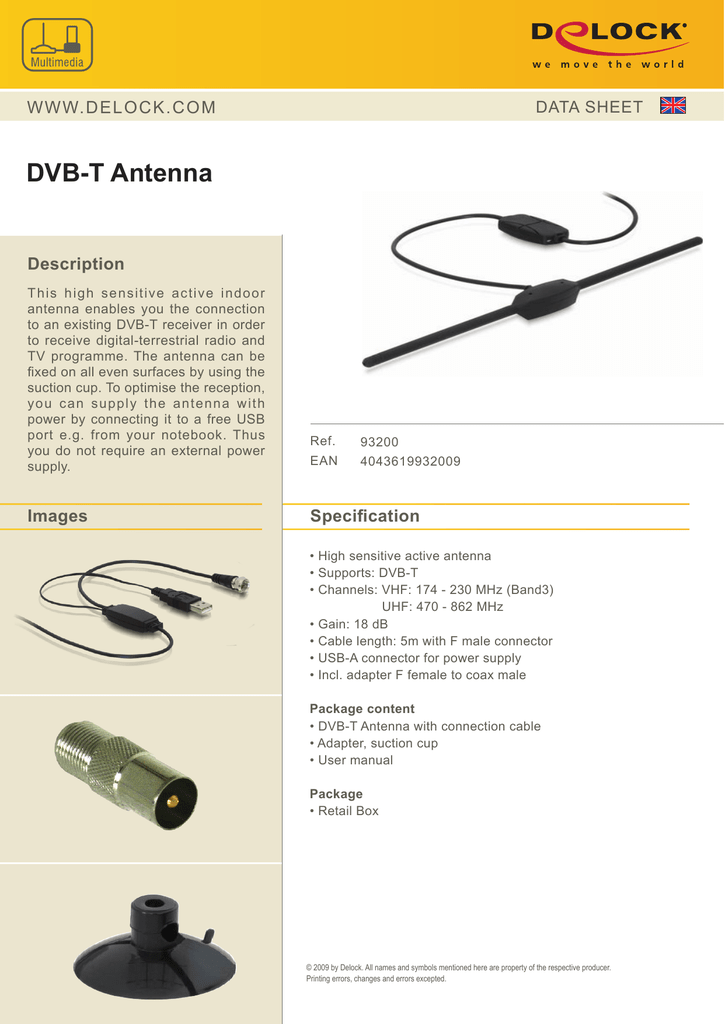 DATA SHEET
WWW. D E L O C K . C O M
DVB-T Antenna
Description
T h i s h i gh sensitive active indoor
antenna enables you the connection
to an existing DVB-T receiver in order
to receive digital-terrestrial radio and
TV programme. The antenna can be
fixed on all even surfaces by using the
suction cup. To optimise the reception,
y o u c a n supply the antenna with
power by connecting it to a free USB
port e.g. from your notebook. Thus
you do not require an external power
supply.
Images
Ref.
93200
EAN
4043619932009
Specification
• High sensitive active antenna
• Supports: DVB-T
• Channels: VHF: 174 - 230 MHz (Band3)
UHF: 470 - 862 MHz
• Gain: 18 dB
• Cable length: 5m with F male connector
• USB-A connector for power supply
• Incl. adapter F female to coax male
Package content
• DVB-T Antenna with connection cable
• Adapter, suction cup
• User manual
Package
• Retail Box
© 2009 by Delock. All names and symbols mentioned here are property of the respective producer.
Printing errors, changes and errors excepted.

* Your assessment is very important for improving the work of artificial intelligence, which forms the content of this project