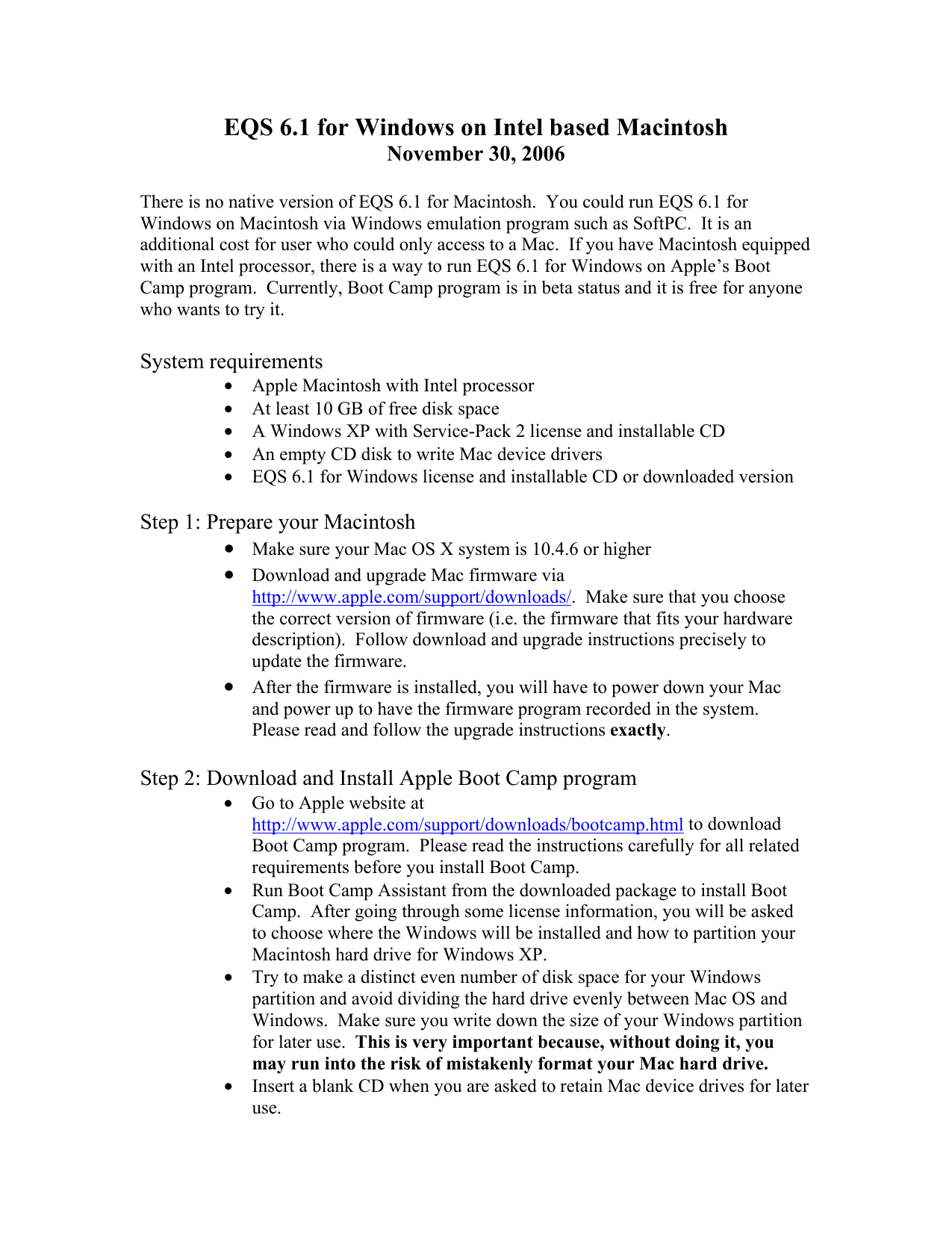 EQS 6.1 for Windows on Intel based Macintosh
November 30, 2006
There is no native version of EQS 6.1 for Macintosh. You could run EQS 6.1 for
Windows on Macintosh via Windows emulation program such as SoftPC. It is an
additional cost for user who could only access to a Mac. If you have Macintosh equipped
with an Intel processor, there is a way to run EQS 6.1 for Windows on Apple's Boot
Camp program. Currently, Boot Camp program is in beta status and it is free for anyone
who wants to try it.
System requirements
•
•
•
•
•
Apple Macintosh with Intel processor
At least 10 GB of free disk space
A Windows XP with Service-Pack 2 license and installable CD
An empty CD disk to write Mac device drivers
EQS 6.1 for Windows license and installable CD or downloaded version
Step 1: Prepare your Macintosh
• Make sure your Mac OS X system is 10.4.6 or higher
• Download and upgrade Mac firmware via
http://www.apple.com/support/downloads/. Make sure that you choose
the correct version of firmware (i.e. the firmware that fits your hardware
description). Follow download and upgrade instructions precisely to
update the firmware.
• After the firmware is installed, you will have to power down your Mac
and power up to have the firmware program recorded in the system.
Please read and follow the upgrade instructions exactly.
Step 2: Download and Install Apple Boot Camp program
•
•
•
•
Go to Apple website at
http://www.apple.com/support/downloads/bootcamp.html to download
Boot Camp program. Please read the instructions carefully for all related
requirements before you install Boot Camp.
Run Boot Camp Assistant from the downloaded package to install Boot
Camp. After going through some license information, you will be asked
to choose where the Windows will be installed and how to partition your
Macintosh hard drive for Windows XP.
Try to make a distinct even number of disk space for your Windows
partition and avoid dividing the hard drive evenly between Mac OS and
Windows. Make sure you write down the size of your Windows partition
for later use. This is very important because, without doing it, you
may run into the risk of mistakenly format your Mac hard drive.
Insert a blank CD when you are asked to retain Mac device drives for later
use.
Step 3: Installing Windows XP
• After your Windows partition is successfully created, you will be asked to
•
•
•
•
•
proceed to install Windows XP. Insert the Windows XP CD.
You will be asked to format the hard drive for use by Windows. There
will be several partitions to choose from and information could be
ambiguous. Please select the partition with the same size (in megabyte) as
you have written down on step 2. Make a wrong choice on this step
may destroy your Macintosh partition and all the data on the Mac.
Wait until the Windows partition is formatted and Windows installed. It
will take one-two hours on this step. You have to consult your Windows
XP installation instructions for more details.
Insert the CD containing Mac device driver when you are asked (toward
the end of installing Windows). Or, install the device driver after
Windows XP is installed but before it is used.
You need to power down and power up several times as instructed.
If you have secured wireless network on Mac OS, the network will not
work automatically on Windows. You have to reconfigure your network
and specify necessary network parameters to access your wireless network.
Step 4: Installing EQS 6.1 for Windows
•
•
•
•
Once your Windows XP is successfully installed and operational, you
could install EQS 6.1 for Windows.
Insert the EQS 6.1 for Windows CD to your CD driver or go to the folder
when you download (http://www.mvsoft.com/eqsdownload.htm) EQS 6.1.
Follow the instruction to complete the installation of EQS 6.1 for
Windows.
You are ready to use EQS now.
You can switch between Mac and Windows during system startup be pressing the
"Option " key on your Mac keyboard. When you are in Macintosh mode, you could see
and access all Window files. However, when you are in Windows mode, none of the
Mac partition is accessible nor any of the Mac files could be seen.

* Your assessment is very important for improving the work of artificial intelligence, which forms the content of this project