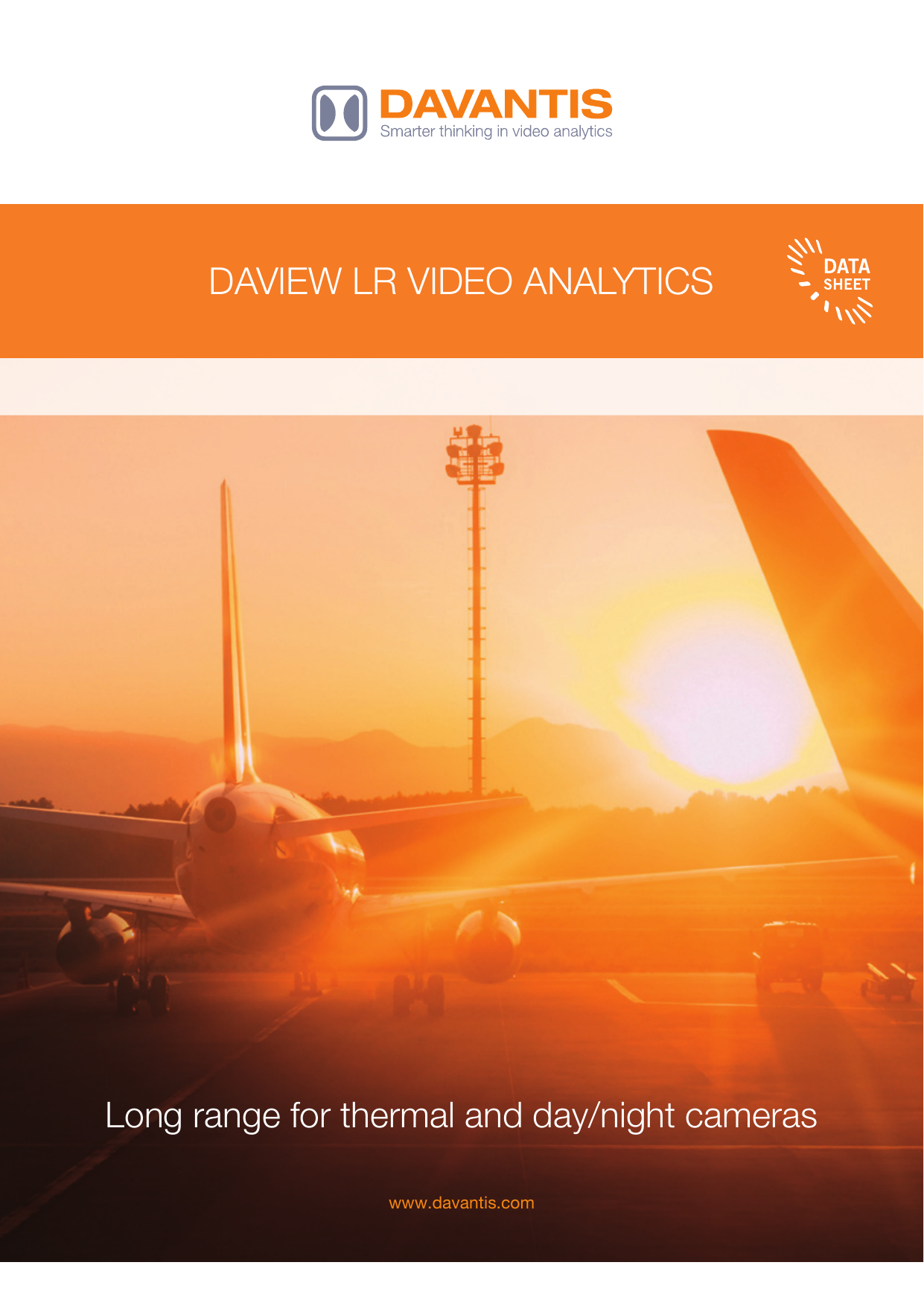 DAVIEW LR VIDEO ANALYTICS
Long range for thermal and day/night cameras
www.davantis.com
Large Perimeters Protection
The best features of THERMAL AND DAY/NIGHT cameras
Advanced
features
• High Definition analysis achieves up to +40% detection ranges.
• Higher resolution analysis and zoom calibration tool for long range detection.
• All video analytics internal parameters have been adjusted for superior performance.
Detection Features
PERSON
detection
VEHICLE
detection
AREA ENTER/EXIT
DETECTION
Tampering
detection
Loitering
detection
Smart
auto PTZ
APPEAR/DISAPPEAR
detection
VIRTUAL
ONVIF CaMeRA
High
resolution
RULES
CHAINING
Image stabilization
Daview LR is designed to work with cameras using very closed field of view and the effect of
movement in the image created by the slightest vibration of the camera. The use of Image Stabilization
pre-processing allows the detection algorithms to maintain effectiveness even with windy conditions
maintaining the same reduced false alarm rate and high detection accuracy.
Corridor view
When protecting a perimeter it is very comun that the area to cover is more vertical than
horizontal, like the typical view along the fence. The Corridor View format gives you a vertically
oriented image, covering more detection surface than a standard horizontal view and reducing the
dead zone below the camera.
T
H
IG
/N
A
Y
D
Range table FOR thermal cameras
f [mm]
Pixel pitch [μm]
Sensor [px]
HFOV [o]**
Blind distance [m]
Distance [m]
19
25
320 x 240
24º
12
180
19
25
384 x 288
28º
10
180
19
17
320 x 240
16º
15
195
19
17
336 x 256
17º
14
195
25
25
384 x 288
22º
13
225
35
25
320 x 240
13º
23
300
35
25
384 x 288
16º
20
305
35
17
320 x 240
9º
28
330
35
17
384 x 288
11º
23
330
35
17
336 x 256
9º
27
330
37
25
384 x 288
15º
20
315
50
25
320 x 240
9º
31
405
50
25
384 x 288
11º
25
405
50
17
320 x 240
6º
37
440
65
25
320 x 240
7º
41
490
60
17
384 x 288
6º
37
505
Range table FOR DAY/NIGHT cameras
f [mm]
H [m]
Sensor
HFOV [o]**
Blind distance [m]
Distance [m]
Standard View
15
4
(1/3)"
18º
16
120
Corridor View
15
4
(1/3)"
14º
12
120
Camera placed at a height of 4m from the ground. Maximum range obtained for 1.8m height of a person located at the top of the image. The distance will
reduce significantly in adverse weather conditions. 2º temperature difference required. The moving target needs to be observed for a minimum of 2 seconds.
Accuracy increases if the system is able to observe the target for 5 seconds. ** HFOV indicates Horizontal Field Of View.
Technical Data sheet
General characteristics
Video analytics Detection of people, vehicles, loitering, tampering.
Channels supported DV02LR 2 channel LR hybrid video analytics server
DV03LR 3 channel LR hybrid video analytics server
DV04LR 4 channel LR hybrid video analytics server
DV05LR 5 channel LR hybrid video analytics server
DV06LR 6 channel LR hybrid video analytics server
Security rules per camera Unlimited
Management software Pre-installed monitoring application
Video card A / D converter PCIe card
Video recording format WMV, MP4 , AVI and JPEG, CIF, 9 fps/ch, pre and post alarm
Video display Up to 16 cameras displayed simultaneously MPEG4, CIF, 9 fps/ch, color
Video
Compatible cameras Analogue (PAL / NTSC)
IP: ONVIF, RSTP Protocol, ACTi, AMG, Arecont, Avermedia, Avigilon, Axis, Bosch, Canon, Dahua, D-Link, DRS, Eneo, Flir, Geovision, Grundig, Hikvision, Honeywell, Idis, IndigoVision, Infinova, Interlogix, Ionodes, JVC, LG, Lilin, Mobotix, Opgal, Panasonic, Pelco, Pixord, Samsung, Sony, Telefunken,
Toshiba, Vivotek, Xenics.
* Please check detailed information for special models such as multi-lens cameras, panoramic cameras, etc.
** New brands and new camera models supported on-demand.
Connections
USB 6 x USB 2.0 connectors and 2 x USB 3.0 connectors
Monitor 2 x VGA connections (1 front and 1 back) and
1 x HDMI connectors back
Camera connections BNC and RJ45 connectors
Input activation signal 8/16 x inputs N/O or N/C (dry contact) per site
Network connection RJ45 (Ethernet 10/100/1000 Mbps)
Communication protocols TCP/IP, SMTP
Input and output ports
Input: 900, 5500, 21000 (customizable)
Output: 9034, 465 (customizable)
Data protection Digital signature
Audio connector 1 x output: stereo line out, 3.5mm Jack connector
Technical specifications
Processor INTEL
Memory (RAM) 2.00 / 4.00 / 8.00 / 16.00 GB
Hard drive High performance SATA / SSD (Solid State Drive)
Power supply 350W. 100 - 240 V AC / 60 - 50 Hz ± 10 %
Power consumption Approx. 130 W at full load
Power cord and plug 1.5m cable with IEC connector
Environmental class II (Indoor - General)
Storage temperature
-10°C to + 60°C with a relative humidity of 5% to 90% without condensation
Working temperature -10°C to + 35°C at a relative humidity of 10% to 90% without condensation
Housing Black rugged metal housing
Device dimensions in mm 482 x 90 x 300 (W x H x D) (19" x 2U for rack-mount)
Package dimensions in mm 560 x 170 x 590 (W x H x D)
Weight 6 kg
Optional
Relay outputs REL4I, REL8I internal relay outputs N/C. 5amps @12V DC
REL12I, REL16I internal relay output N/C. 5amps @12V DC
19" monitor (VGA), keyboard and mouse (USB)
Supervision kit CMS-Application Alarm-Management-Software for CMS or control room with ClickThruTM simplicity
DAVIEW LR VIDEO ANALYTICS
1
2 x USB 2.0 connections
2
1 x VGA connection
3
1 x On/Off switch
4
8 /12 x BNC connections
5
1 x HDMI connection
6
4 x USB 2.0 connections
7
2 x USB 3.0 connections
8
1 x RJ45 Internet connection
9
1 x audio Jack 3.5 input/output port
10
8 x inputs N/O or N/C
11
8 x inputs N/O or N/C (optional)
12
1 x VGA connection
13
4/8/12/16 x internal relay outputs N/C (optional)
14
1 x slot for power cable
15
1 x On/Off switch for power supply
• Easy and fast set-up. It takes less than 5 minutes to configure each camera
using our patented SmartWalk technology, which automatically computes
the viewing scene model simply by walking in front of the camera.
• Best detection with few false alarms. Our product is certified by the United
Kingdom Home Office as "i-LIDS approved primary detection system for
operational alert use in sterile zone monitoring applications".
• Great simplicity for CMS (Central Monitoring Station). At the heart of every
Davantis system sits our ClickThruTM technology, a uniquely clever and simple 3
mouse clicks alarm management system embedded within the monitoring station.
• Excellent service and support. Our multi-language help desk provides immediate
technical support for problems and questions. We can also help to configure a
system remotely when needed.
Davantis Daview LR is a powerful video analytics system
designed for the connection of thermal imaging and day/night
cameras.
By default, the analytics server is equipped with 8 inputs (and
8 optional) to connect the alarm panel and simultaneously
arm and disarm the entire system or specific areas.
This video analytics system is ideal for large scale areas and
outdoor properties with security guards, with either their own
control room, or a link to a CMS (central monitoring station).
The analytics server has the option of sounding the alarm with
relay outputs for connecting external devices, such as a siren
or lights, which can be activated by private security guards or
by linking to a CMS.
Because of the variety of lenses available on thermal
cameras it is possible to monitor larger distances with fewer
cameras.
The master slave network model allows easy management
and configuration once all the units are configured on the
network.
The relays may also be used as contact id to send to a CMS.
The high performance of this video analytics system is
particularly suitable for demanding customers seeking an
effective solution. It is one of the most powerful perimeter
protection systems on the market.
LR.2017.01.V05
Davantis at the cutting Edge
DAVANTIS TECHNOLOGIES · BCN
Eureka Building
08193 Bellaterra · Barcelona · Spain
Sales (+34) 93 586 8993
Support (+34) 93 586 8990
UK (+44) 1772 332908
smarterthinking@davantis.com
DAVANTIS TECHNOLOGIES · MAD
Fuerteventura, 4 · P. baja
28703 S.S. de los Reyes
Madrid · Spain
(+34) 91 829 41 86
info@davantis.com
© Davantis Technologies. Information subject to changes without notice. All rights reserved.