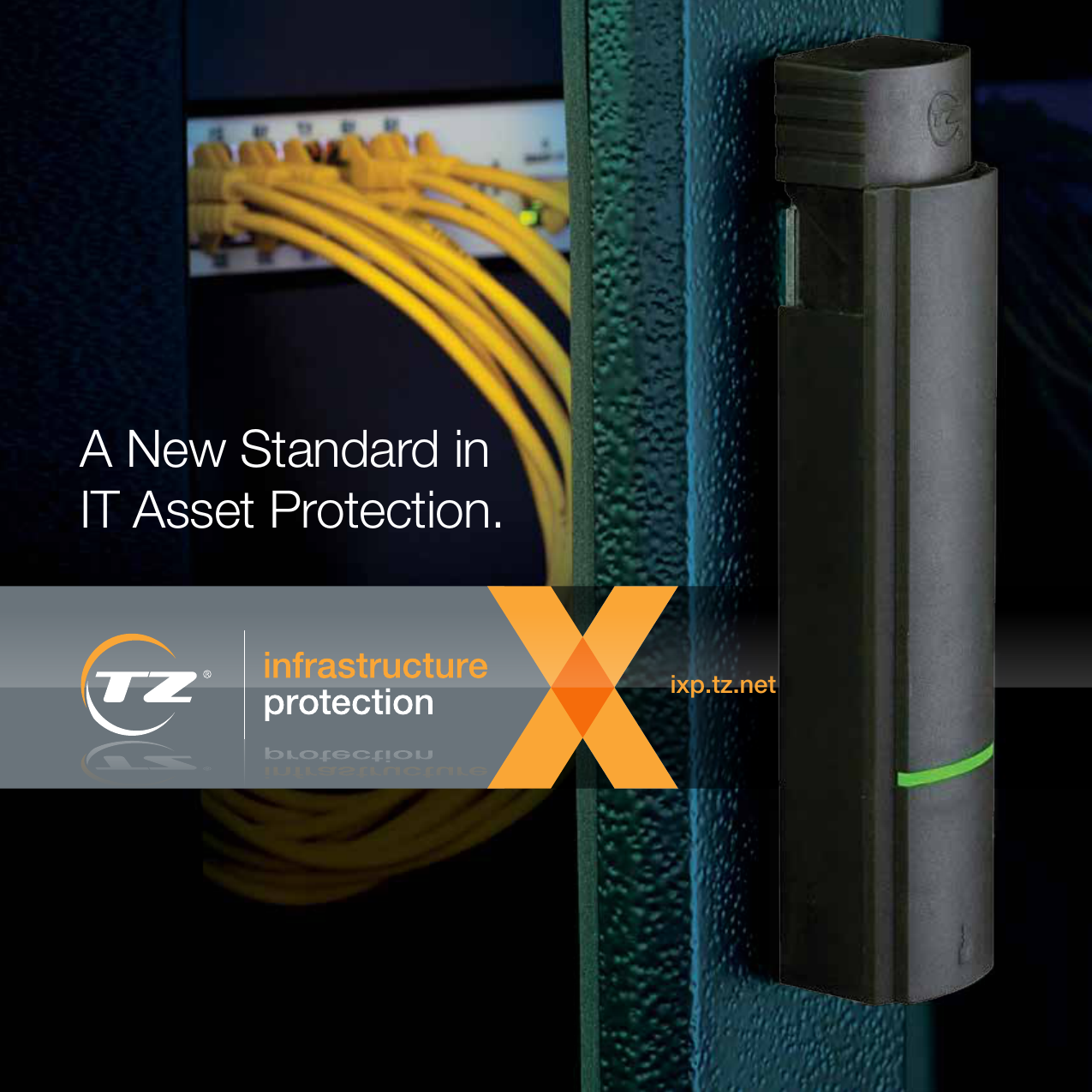 A New Standard in
IT Asset Protection.
ixp.tz.net
Think SMArt.™
Think TZ Locking.
Defining
Micro-Security.
TZ Praetorian™
The TZ Praetorian System is designed to work with existing
third party building access control systems to extend physical
security and audit trail capability down to the cabinet
enclosure level.
Cat 5 Cable
Third Party
Access Controller
4 Conductor Cable
2 Core Cable
TZ Multi-Tech
Reader
Network
A single swipe of the same ID card used for building access
provides timed authorization to selected cabinet doors, together
with discrete event monitoring and system access reporting.
The system is retrofittable and can be scaled to manage any
number of enclosures through structured cabling between
system components and the access control system. Access
control across multiple cabinets can be readily managed through
the multi-cabinet trigger box that displays real-time door status.
TZ Praetorian™
Trigger
TZ Praetorian™
Junction
TZ SwingHandle™
TZ SlideHandle™
Cat 5 Cable
4 Conductor Cable
2 Core Cable
TZ Multi-Tech
Reader
Network
TZ Centurion
Server
™
TZ Centurion™
Bridge
TZ Centurion™
Weigand Translator
Network
TZ Centurion™
Port Link
TZ Sensor™
TZ SwingHandle™
TZ SlideHandle™
TZ Centurion™
The TZ Centurion System is a state-of-the-art, IP based
electronic access control and environmental monitoring system
designed specifically for the micro-protection of data center
cabinets. The system is a truly cost effective, scalable, flexible,
and retrofittable alternative to conventional electronic locking,
that delivers unprecedented cabinet level control, monitoring
and auditability.
TZ Centurion Server offers centralised and aggregated
remote management of multi-site TZ Centurion installations.
The enterprise server application communicates, manages and
reports on all networked bridges, locking devices, sensors and
other third party components such as readers that reside on the
TZ Centurion network. Built on an open and extensible software
platform, TZ Centurion Server is capable of integrating with other
enterprise data-based applications.
Today, locking simply isn't enough.
With national compliance mandates driving greater levels
of data protection, IT and security managers are increasingly
compelled to look for new levels of security beyond just
controlling access to their data center buildings and spaces.
Innovative solutions that can integrate physical security and
environmental monitoring right down to the cabinet level are
fast becoming a standard requirement.
TZ is the leader in TZ SMArt device technology and is at the
forefront in providing new micro-protection solutions to the
data center market in asset and infrastructure protection.
TZ systems offer the most cost effective, cabinet level
locking solutions that deliver physical security, environmental
monitoring, authorised access control and real-time
compliance reporting for the data center market.
Built on a scalable and extendable hardware and software
platform, our system solutions enable enhanced functionality
and utility that meets a broad range of end user requirements.
Locking. Sensing.
Monitoring. Reporting.
TZ SMArt Devices™
Next Generation
Intelligent Locking.
Over the past decade, billions of people have connected to
the Internet via the computer and more recently, mobile devices.
Today, that communication revolution – the most pervasive
technology event on earth – is extending to objects as well
as people.
Over the past 10 years, TZ's intelligent, remotely actuated
locking devices have been deployed in aerospace, military and
automotive applications. TZ devices can sense, act, lock and
audit activity based on secure instructions delivered online.
This enables rich data collection and diagnostic abilities.
The 'Internet of People' has become the 'Internet of Things,'
whereby virtually all objects around us can exchange information
and work in synergy to significantly improve the efficiency of our
businesses, the security of our assets and the quality of our lives.
Working together intelligently, a network of TZ SMArt locking
devices can offer a secure environment and provide a complete,
real time view of the state of that protected environment.
TZ is at the forefront of SMArt locking device development
– the enabling technology that makes the convergence of
physical security, sensing and communication a reality.
The ability to track behaviour of people, things and data through
space in real time provides enhanced situational awareness
which will allow the creation of more effective and efficient
operating conditions and workflow practices.
TZ IXP | Technical Manual | 03
TZ SlideHandle™
Door Closed
and Locked
Door Closed
Ready for Release
The Art of
Micro-Security.
Door Open
and Unlocked
TZ SlideHandle is an intelligent locking device that offers
a retofittable replacement for traditional manual swing-handle
data center cabinet locks.
Designed to be easily installed onto a broad range of cabinets
and enclosures, the device leverages its embedded microprocessing, integrated sensing and switching capability
to offer the next generation of electronic locking.
The state-of-the-art device operates on a structured cabling
infrastructure and incorporates a highly energy efficient
Shape Memory Alloy (SMA) actuated locking mechanism
with controlled release capability. It also features an integrated
multi-color visual door status indicator, a manual key release
for emergency over-ride and an electronic contact sensor
as a further confirmation of the door state.
Features
>Surface mount design retrofits existing manually keyed swing
handle latching systems to enable integrated electronic
security and sensing.
> Easily fits most cabinet brands with mounting hardware
suitable for industry standard 25mm wide swing handle
openings, eliminating need for on-site door modifications.
> Conveniently compatible with single-point and multi-point
latching as well as split French doors.
> Integrates manual keyed override in the event of power failure
(also facilitates initial installation).
> Integrated electronics and sensors report on true door status,
including manual override mode and forced entry which
provides a complete audit trail.
> Connects into RJ45 based twisted pair cabling infrastructure
with standard patch cables which can provide power up
to 100 metres for large installations.
Standard Emergency
Keyed Release
High Security Emergency
Keyed Release
> Bright LED status band visible up to 30m indicates locked,
unlocked and ready to unlock states.
TZ IXP | Technical Manual | 05
TZ SwingHandle™
TZ Ready
(Mechanical)
TZ Enabled
(Electronic)
Upgrade With
TZ Intelligence.
TZ SwingHandle is a new innovative locking handle for data
center cabinets that offers true flexibility with an upgrade path
from its base form as a manual swing-handle lock to a fully
intelligent TZ SMArt device via an in-situ, simple-to-install
electronic upgrade module.
TZ Ready Features
The fully upgraded TZ SwingHandle device provides all the
features of the TZ SlideHandle complete with SMA actuator,
touch to release option, a multi-color LED status indicator,
manual key over-ride, electronic door status sensor and
RJ-45 connector.
>Fits industry standard door handle cut-outs.
TZ SwingHandle (when fully upgraded) is powered and
controlled via standard UTP Cat5e / Cat6 cabling through
a TZ Praetorian Junction or TZ Centurion Bridge.
>Upgrade can be done without removing handle from door.
>Mechanical key lock only.
>Ready for in-field electronic upgrade.
>Compatible with direct-drive single or multi-point locking.
>Can be configured for handle to rotate 90º CW or CCW.
TZ Enabled Features
>Field upgradeable module for full electronic locking capability.
>Touch sensor for handle actuation.
>Integrated hall sensor for door status feedback.
>Multiple status LED indication for visual feedback.
>Utilises structured cabling for power and data communication.
>Connects to TZ Praetorian and TZ Centurion Systems.
TZ IXP | Technical Manual | 07
TZ Praetorian™
System
Extending
Existing Systems.
The TZ Praetorian System comprises a set of hardware
components that enables the extension of access control and
audit trail capability for existing third party control systems and
structured cabling environments.
The system has been expressly designed for the needs of data
centers and IT professionals to bridge the gap between the
perimeter security provided by industry standard building access
control systems and the requirements for more granular levels
of physical protection at the cabinet level.
The system includes three hardware components:
> TZ Praetorian Junction
> TZ Praetorian Trigger
> TZ SlideHandle or TZ SwingHandle
Features
> Authorised timed access to multiple doors with a single
card presentation.
> Compatible with standard structured cabling for 100m length.
> Fast and easy mounting of locking components.
> Visual indication and reporting of secured and unsecured
states and true door status.
> Manual key override release.
> Differentiated reporting of electronic or manual key release.
> No additional software application is needed.
> Flexible mounting options to fit a broad range of cabinet
brands and models.
> Door status of a cabinet row or entire room is indicated
at a glance on the same easily mounted component used
to trigger multiple doors.
TZ IXP | Technical Manual | 09
TZ Praetorian™
Junction
The TZ Praetorian Junction interprets relay signals from an
access control system, forwards the appropriate command
to a TZ locking device such as the TZ SlideHandle, monitors
all the connected TZ locking devices, and communicates
the status of each TZ locking device back to the access
control system.
The unit can provide data communication and power to one or
two TZ Praetorian Triggers and either 12 or 24 RJ45 ports
that connect to TZ locking devices through structured cabling.
The TZ Praetorian Junction also connects back to the I/O cards
of the control system via either 12 or 24 pluggable Wago quick
connect terminal blocks.
The unit can be mounted in a 19" 1U rack space, wall, shelf
or anywhere else convenient to the access controller and a
structured cable patch panel.
10 | TZ IXP | Technical Manual
Features
> Compatible with third party access control systems,
which enables retrofitting TZ locking devices to existing
security systems.
> Built on industry accepted structured cabling and universal
power standards to facilitate installation into existing
infrastructure.
> Manages multiple TZ locking devices from one controller
over very long distances.
> TZ locking devices do not require additional in-cabinet power
thereby reducing cost and installation time.
> Scalable system to accommodate any size installation.
> Serves multiple cabinets – up to 12 x two door cabinets
and saves valuable in-cabinet rack space compared to
other systems.
TZ Praetorian™
Trigger
Powered by the TZ Praetorian Junction, the TZ Praetorian
Trigger is an indicator and interface device that visually
communicates the status of up to 12 doors and allows
authorised users to open doors at the touch of a button.
Coloured LEDs define each button indicates locking state
of cabinet or enclosure doors:
RED All enclosure doors are closed and secure.
ORANGE Flashing indicates access is currently authorised
and a button push will open the enclosure.
This is the only state where a button push will have
any effect.
GREEN Features
> Capable of controlling multiple TZ locking devices.
> Strong visual display easily identifies status and access
to cabinet doors.
> Recieves power and data communications from the
TZ Praetorian Junction over standard patch power cabling
connections for ease of installation.
> Each button can be labelled to correspond to the enclosure
door it triggers and indicates.
The door is open or is not secure.
Typically, the device is mounted at the end of a row of cabinets
or the near the entrance of a room in close proximity to the card
reader for convenience.
TZ IXP | Technical Manual | 11
TZ Centurion™
System
Defining
Micro-Security.
The TZ Centurion System truly defines micro-protection.
The system's IP based access control system focuses on
delivering physical security and environmental monitoring such
as temperature sensing, humidity sensing and leak detection
at the most granular level – at the data center cabinet. TZ
Centurion System is a cost effective, flexible, retrofitable and
easy to implement solution that has been designed specifically
to protect an organisation's most valuable and sensitive
IT assets.
Features
Built on an open and extendable architecture, the end-to-end
system provides an unprecedented level of capability that
cannot be readily delivered by conventional systems in terms
of the integrity, control, auditability and traceability of
discrete assets.
>Provides remote visibility and real time remote monitoring and
reporting of events in geographically dispersed locations from
one centralized command.
>Incorporates the TZ SlideHandle or TZ SwingHandle,
the world's truly intelligent locking devices, which extends
protection right down to the cabinet and asset level.
>Electronic locking means maximum security but without keys
and key management issues.
>Environmental monitoring enables in-cabinet monitoring to
track temperature, humidity, liquid detection and door status.
>Tracks and reports activities and events in real time.
>Enhanced enterprise software modules expand functionality
to detailed analysis and reporting, asset configuration and
visitor management.
>Can be retrofitted to the majority of data center cabinet types
or cages and integrated in a range of available building access
control systems.
TZ IXP | Technical Manual | 13
TZ Centurion™
Server
Centralised Remote
Management.
TZ Centurion Server is an application built on a Microsoft®
Rich Internet Applications (RIA) platform which enables
centralised remote management of critical assets managed
by the TZ Centurion System such as computer cabinets,
high tech equipment and other secure environments.
The server communicates with, controls, manages and reports
on multiple TZ Centurion installations, managing all devices
residing within the integrated system of networked TZ locking
devices, sensors, gateways and other third party components
like card readers and biometric devices.
The application stores all captured data, events and logs in a
securely accessible central SQL Server® database and leverages
smart client technology for its cross-browser user interface.
Features
>Rich and smart web user interface presents a visual
dashboard displaying the real time aggregated status
of all networked assets and their environments.
>Assets, devices, and data can be managed based on
operational needs, work practices and business standards
including the provision of role based user access control
to accommodate different types of users.
>Varying levels of data mining can be granted on a user-byuser, or organisation basis to enable complete audit and
compliance monitoring and reporting.
>Built-in functionality enables access scheduling so that
physical visits can be planned, coordinated or driven on
demand as well as generating real-time alert notification
via SNMP trap, SMS and email.
>Scalable architecture for growing enterprises with potential
to integrate with other business applications through Web
Service APIs, data integration, and SNMP.
TZ IXP | Technical Manual | 15
TZ Centurion™
Bridge
TZ Centurion Bridge is an IP-based gateway that provides
power and communication to a range of TZ locking devices,
sensors, readers and other components operating on a RS485
network running on structured Cat5e / Cat 6 cabling.
>User friendly web interface for management, control,
monitoring and system access.
The TZ Centurion network can be operated as a stand-alone
system using the integrated TZ web client as a component
of a separate enterprise application. It can also be used as
part of a multi-TZ Centurion Bridge network managed by
TZ Centurion Server, or through integration with a third party
access management database via SNMP.
>Records environmental data in CSV format – downloadable
through the web interface or via a SD card for post processing
and analysis.
>Stores event records for audit trails – downloadable through
the web interface from any location.
>Integrated power supply means no additional equipment
or cabling is required.
Features
>Allows multiple third party RFID card or biometric readers
anywhere on the network.
>Enables the control of a network of TZ locking devices,
sensors, readers, and components over the internet in a cost
effective, scalable and simply installed manner using industry
standard structured cabling.
>Flexible mounting options and small size allows installation
in most spaces and mounting kits allow rack mounting of
two units per 1U of rack space.
>Facilitates enterprise level software expansion.
16 | TZ IXP | Technical Manual
TZ Centurion™
Port Links
The TZ Centurion Multi Port Link acts as an inline power
injector to power TZ devices and provide four additional I/O
connectors for accessories like sensors, in-cabinet task lighting
and fans. Additionally the TZ Centurion Multi Port Link can be
used to interface dry contact closure systems to TZ locking
devices configured for 2 wire or closing contact operation.
The TZ Centurion Port Link provides a connection for one
TZ locking device plus RS485 and power connections for the
continuation of the TZ Network or connection of an additional
TZ device (if it is being installed at the end of a Network branch)
and has I/O connectors for accessories like sensors, in-cabinet
task lighting and fans.
Features
Features
>Extends TZ Centurion RS485 network and provides RJ45
port replication for TZ Centurion Bridge systems.
>Extends the TZ network and connects additional TZ locking
or Wiegand devices.
>Provides a power injection point to supplement TZ Centurion
Bridge power when more than 32 TZ locking devices are
powered from the TZ Centurion™ Bridge. Power supply
sold separately.
>Screw terminals for auxiliary I/O devices.
>Screw terminals to connect TZ sensor modules or to gain
access to auxiliary I/O for cabinet level automation functions.
>Internal switch to enable simultaneous triggering of all
connected devices when used in 2 wire mode. For example,
a single dry contact closure input will release all connected
TZ devices.
>Connection of one TZ locking device and continuation
of the TZ network or connection of two devices at end
of a network branch.
>Can be used standalone to connect a TZ locking device
(configured to operate in dry contact mode) to a building
access control or other "relay output" system.
>LED power indicator.
TZ IXP | Technical Manual | 17
TZ Centurion™
Wiegand Translator
The TZ Centurion Wiegand Translator operates as a standalone unit with an attached third party credential reader to
control a small group of networked TZ locking devices.
Features
>Allows third party Wiegand credential reader devices
to trigger the TZ Centurion System.
>Powered from the TZ structured cable network.
>Screw terminals for connection to third party
Wiegand device.
>Provides third party reader with external power, 12/24vdc
bus power pass-through or 12vdc from TZ bus via
integrated transformer.
Benefits
>Supports industry standard Wiegand authentication devices
such as card readers and biometric scanners.
>Uses structured cabling for power and data facilitating easy
and economical installation.
>Simple installation procedure to connect third party credential
readers to the TZ Network.
>Compact size and form facilitates easy installation.
>Communicates an audit trail of authorised and
unauthorised attempts.
>Can be used as a stand-alone controller for a smaller network
of TZ devices.
>Allows organisations to use their preferred credential reader
on the TZ Centurion System.
18 | TZ IXP | Technical Manual
TZ Multi-Tech Reader
and TZ Sensors
>Quick-connect design for easy installation.
The TZ Temperature Sensor measures the ambient
temperature within the enclosure or cabinet. Its temperature
sensor circuit is designed to measure temperatures between
-15°C to 60°C (5°F to 140°F). The TZ Relative Humidity
Sensor contains a circuit designed to measure relative humidity
between 5% and 95%. The TZ Contact Sensor is a magnetic
reed switch. When properly installed it allows the connected
TZ device to determine when a door is open or closed.
The TZ Leak Detection Sensor is a sealed optical device
which can detect the presence of liquids.
>Simple wiring.
Features
>Easy-to-install mounting bracket.
>Measures temperature.
>Tri-state LED (red, green, amber) visual indicator and audio
feedback representing status and activity information, easily
discernible for the audibly or visually impaired.
>Measures relative humidity.
The TZ Multi-Technology Reader is a versatile reader to
simplify access control by reading card serial numbers of
a variety of smart cards from other manufacturers.
Features
>Recognises most proximity credentials.
>FIPS 201-1 compliant.
>NFC compatible.
>Determines door open/closed status.
>Detects presence of liquid.
>Data presented via web page interface.
TZ IXP | Technical Manual | 19
Cabinet
Compatibility
The TZ SlideHandle has been specifically designed to suit
85% of the world's data server cabinets either through direct
attachment or through customised mounting kits.
Global
HP, IBM, Rittal, APC, Panduit, Chatsworth
Americas
Belden, Great Lakes, RF MOTE, Wrightline, Emerson
EMEA
Conteg, Canon, Prism, USystems
APAC
Server Racks Australia (SRA), Computer Room Solutions
(CRS), SJ Manufacturing, Rack Technologies, B & R Enclosures
TZ has a dedicated system design team who can specially
design adapter plate kits to suit all of your cabinet security needs.
20 | TZ IXP | Technical Manual
System
Comparison
TZ Centurion Platform
TZ Praetorian System
Platform Configuration
Platform Configuration IP based
stand-alone access control system
Low level integration with third party
building access control system
Scalability
Multiples of 8, 32 and 70 TZ Devices
Multiples of 12 and 24 TZ locking devices
TZ SlideHandle Compatible
Yes
Yes
TZ SwingHandle Compatible
Yes
Yes
Door Contact Sensing
Yes
Yes
Swipe Card Compatible
Yes
Through third party building access
control system
Environmental Monitoring
Temperature sensing, relative-humidity
sensing, air-flow status and leak detection.
No
Software Application
TZ Centurion Server
Third party building access applications
Database
Microsoft SQL Server
Third party building access applications
TZ IXP | Technical Manual | 21
CORPORATE
Level 11, 1 Chifley Square
Sydney NSW 2000
Australia
p: +61 (2) 9222 8890
e: sales@ixp.tz.net
THE AMERICAS
1017 W Washington Blvd, Unit 2C
Chicago IL 60607
USA
p: +1 (312) 751 2800
e: sales@ixp.tz.net
ASIA
Centennial Business Suites, Suntec Tower 2
9 Temasek Boulevard #29-01
Singapore 038989
p: +65 9222 4626
e: sales@ixp.tz.net
ixp.tz.net
TZ Limited ("TZ") is a technology company that is listed on the Australian
Stock Exchange. TZ is the leader in SMArt device technology combining
state-of-the-art SMA actuated intelligent fastening and locking devices
with TZ remote software control. TZ's systems deliver asset level protection
and compelling solutions for security, monitoring and control applications
across a number of market segments. The company currently supplies
market leading solutions to major corporations worldwide to the data center
industry and in the Automated Parcel Locker and E-Commerce market.
For additional information on TZ Limited please visit: tz.net
A TZ Business | © 2016
TZ®, TZ Centurion™, TZ Praetorian™, TZ SMArt™, TZ SlideHandle™, TZ SwingHandle™, TZ Radial™, TZ Sensors™ are trademarks of TZ Limited. Patents Pending.