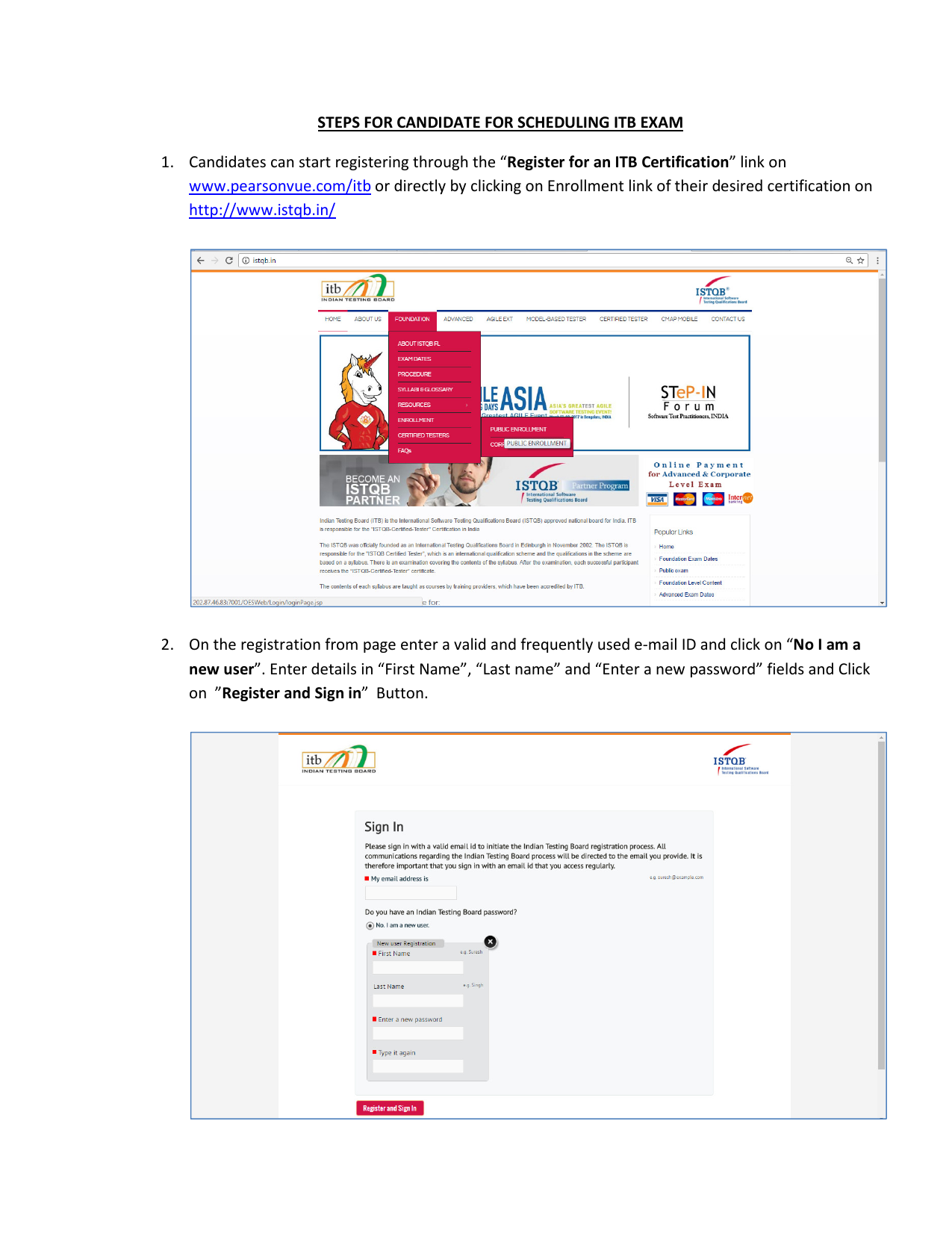 STEPS FOR CANDIDATE FOR SCHEDULING ITB EXAM
1. Candidates can start registering through the "Register for an ITB Certification" link on
www.pearsonvue.com/itb or directly by clicking on Enrollment link of their desired certification on
http://www.istqb.in/
2. On the registration from page enter a valid and frequently used e-mail ID and click on "No I am a
new user". Enter details in "First Name", "Last name" and "Enter a new password" fields and Click
on "Register and Sign in" Button.
3. On the next screen, a message will be displayed informing about receipt of e-mail on your registered
e-mail ID. Do not click on "Start" button till you have authenticated your account through your email ID.
4. Click on the link provided in the Registration Confirmation e-mail that received on your registered
email ID.
5. The link will redirect you to registration home page. Enter the e–mail ID and password that you had
registered with. Click on "Sign in" Button.
6. On the next screen, ITB registration form will be displayed. Fill the details in the fields provided. All
fields having a red mark before them are mandatory. You may choose to fill the form at one go or fill
it in parts. The system will save the form at frequent intervals. Alternatively, you may click "Save &
Continue" button to save your form intermittently.
7. Fill your Personal, Academic, Work experience and other details in Specific fields. Also upload your
photo as per the mentioned specifications in the provided space by clicking on "Add Photo" button
at the top. Please upload only passport size formal photos.
8. After filling all the fields, read the policies governing the ITB certifications under "Terms and
Conditions" and accept. Click on "Submit application" button to submit your completed form. In
case, any mandatory field is left empty, system will give a message to complete the specific fields.
Else, the form will be accepted.
9. On the next screen, Click on "Click here to Continue" button to see the automatically generated
registration number on top right corner.
10. On the next screen, you will be prompted to make payment. Click on "Click here to Make Payment"
at the bottom of your registration form.
11. Click on "Online Payment" button. Required fee will be displayed. Click on "Proceed with Online
payment" button to get directed to Payment Gateway.
In case, you have been issued any discount voucher by ITB, you may enter under "I have coupon
code" to get discounted fee applied.
12. Once payment has been accepted, you will receive an e-mail in your registered e-mail ID confirming
the payment and another e-mail with Subject – PearsonVUE Web Account Confirmation with User
name and Temporary password. Go to http://pearsonvue.com/itb/ and click "Sign in".
13. On next screen, enter "user name & password" received on your registered e-mail. You will be
prompted to change the password and answer Security Questions to authenticate your account.
14. The next screen will display the ITB Exam that you have been approved to attempt under the
heading Pre-approved Exams. You will be required to click on the exam name that you wish to
schedule for. Also, you will find your name and ITB Candidate ID displayed on the right top corner
just above My Account tab. ITB candidate ID will be your unique ID for all transactions in Pearson
VUE system. Option for scheduling through Private Access Code is only available to ITB sponsored
candidates. For more details, please reach out to ITB at admin@indiantetsingboard.com
15. On Next screen, exam policies and pricing will be displayed. Click "Schedule this exam" button in
order to proceed with exam scheduling. You can also view the testing policies by clicking on View
Testing Policies
16. On Next screen, Test center search will be displayed based on the address entered by you during
registration. You can search Test center from the same OR enter a new location and search for test
center at that new location. You must click on "Next" button after choosing the test centers (upto 3
choices) where you wish to test.
17. On next screen, available appointments at the chosen center will be displayed for each month. You
will need to click your preferred Date from the calendar in order to see the available times at that
test center on that date. You can move to month of your preference by clicking on forward or
backward button on the displayed calendar. You can check availability for each of the selected
center OR Change the test center selection by clicking on "Change Test Centers" link on the left side
of the screen. Once you have selected the date, available times will be displayed for that date at
your chosen center. You need to click on the time you wish to test at, in order to proceed with
scheduling.
18. Next screen will display your selected appointment details. You need to click "Proceed to Checkout"
button after checking all the details. In case, you are not ok with any of the details, you may click on
"Remove" button before clicking on "Proceed to check out" and repeat the steps to select your
preferred test center, date and time.
19. Next screen will prompt to check the personal information (name and phone) that you had entered
and Edit if necessary. You need to click on "Next" to proceed after checking that all the details are
correct.
20. ITB exam policies will be displayed on the next screen and you will be required to agree to the
policies in order to proceed. Click on "Next" to continue.
21. You must check all the appointment related details one last time on the next screen before clicking
on Submit Order. You have the option to change appointment details by clicking "Cancel Order"
button or "Previous" button till you click on "Submit Order" button.
22. You can print or save the details of your scheduled appointment by clicking on "Print Summary"
button. You will receive a confirmation letter with details of appointment – Date, time and Test
center on your registered e-mail ID.
RESCHEDULING AN ITB APPOINTMENT
In case, you wish to reschedule your exam appointment, log-in into your account through
www.pearsonvue.com/itb. Click on the scheduled appointment on the Home screen under the heading
Upcoming Appointments. The next screen will display the "Reschedule" link and you will need to follow the
same process that you had followed for scheduling the appointment. (Choose appointment, My updated Order,
Confirm personal details, agree to details and confirm order.
You will be able to print / save the rescheduled appointment detail the same way as you had done for
scheduling. You will also receive an e-mail mentioning your appointment details on the e-mail ID entered by
you during registration.
Important:
Candidates will only be able to reschedule their test once at no cost. Rescheduling option will not be
available after a candidate has rescheduled it once.
Cancelations are not allowed on web. A message will be displayed to that effect, in case candidate clicks
on Why can't this exam be rescheduled or canceled? hyperlink on the right side of the screen.

* Your assessment is very important for improving the work of artificial intelligence, which forms the content of this project