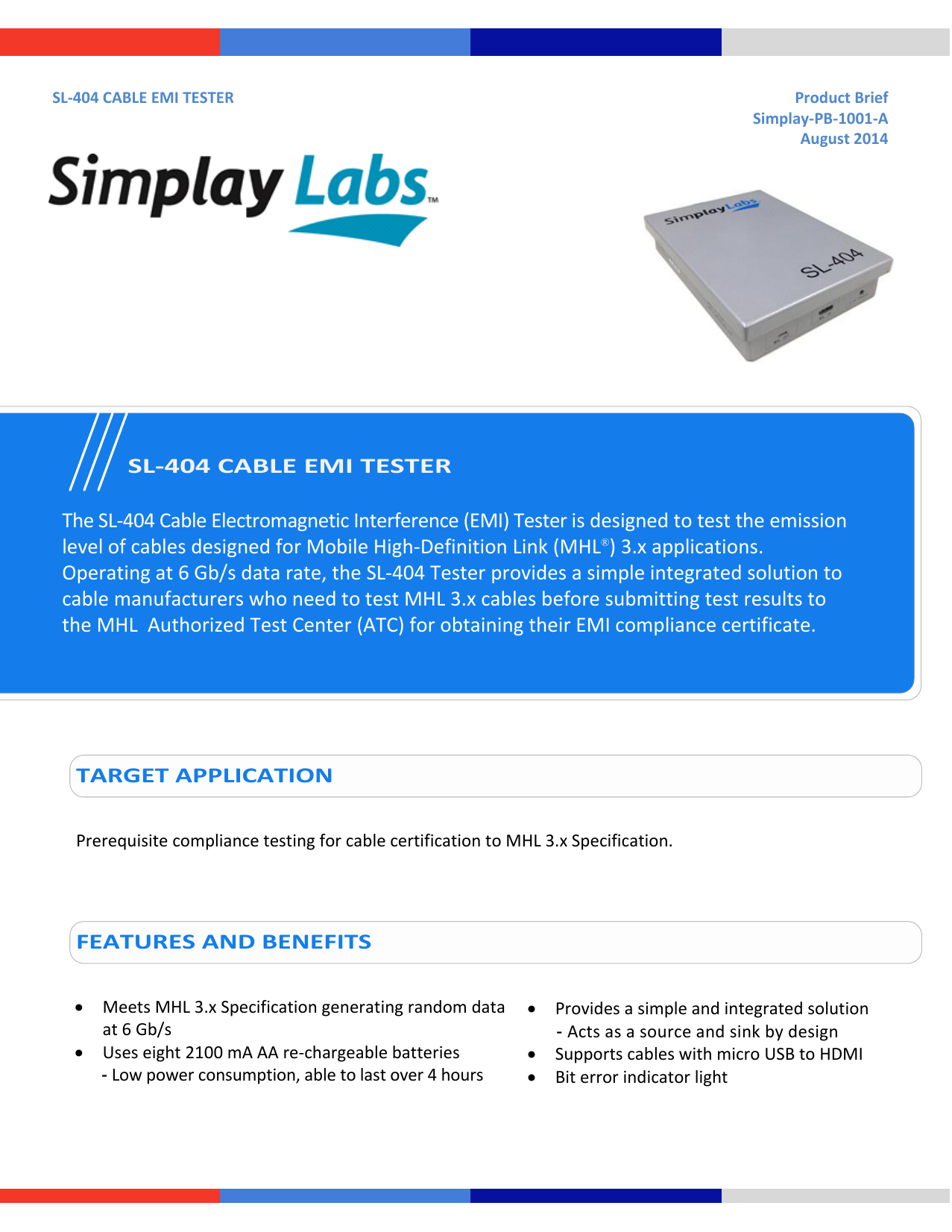 SL-404 CABLE EMI TESTER
Product Brief
Simplay-PB-1001-A
August 2014
SL-404 CABLE EMI TESTER
The SL-404 Cable Electromagnetic Interference (EMI) Tester is designed to test the emission
level of cables designed for Mobile High-Definition Link (MHL®) 3.x applications.
Operating at 6 Gb/s data rate, the SL-404 Tester provides a simple integrated solution to
cable manufacturers who need to test MHL 3.x cables before submitting test results to
the MHL Authorized Test Center (ATC) for obtaining their EMI compliance certificate.
TARGET APPLICATION
Prerequisite compliance testing for cable certification to MHL 3.x Specification.
FEATURES AND BENEFITS
·
Meets MHL 3.x Specification generating random data
at 6 Gb/s
· Uses eight 2100 mA AA re-chargeable batteries
- Low power consumption, able to last over 4 hours
·
·
·
Provides a simple and integrated solution
- Acts as a source and sink by design
Supports cables with micro USB to HDMI
Bit error indicator light
SL-404 CABLE EMI TESTER BLOCK DIAGRAM
Micro USB
CONN
XTAL
CBUS
XTAL
OSC
MHL TX
MHL OUT
HW I2C Port
MCU
MCU
Program
SW
HDMI CONN
CBUS
MHL RX
USB
UART
MHL_IN
Link
Reset
Button
USB >
UART
Battery
Power
Bit Error LED
+5V
USB
FW Upgrade Port
USB
Type A
CONN
USB
Type B
CONN
Console Port
Power Block
Product Name: SL-404 Cable EMI Tester
Manufacturer: Simplay Labs LLC
Brand Name: Simplay Labs
Model Number: SL-404
Dimensions: 1.77 in. (45 mm) H x 5.51 in. (140 mm) W x 7.87 in. (200 mm) D
Customer Support Information
email: info@simplaylabs.com
phone: 1-888-436-4411
web site: www.simplaylabs.com
Check the web site for news and
updates for SL-404 Cable EMI Tester
Simplay Labs, LLC | 1140 E. Arques Ave. Suite 700
Sunnyvale, CA 94085
Copyright © 2014 Simplay Labs, LLC. All rights reserved.

* Your assessment is very important for improving the work of artificial intelligence, which forms the content of this project