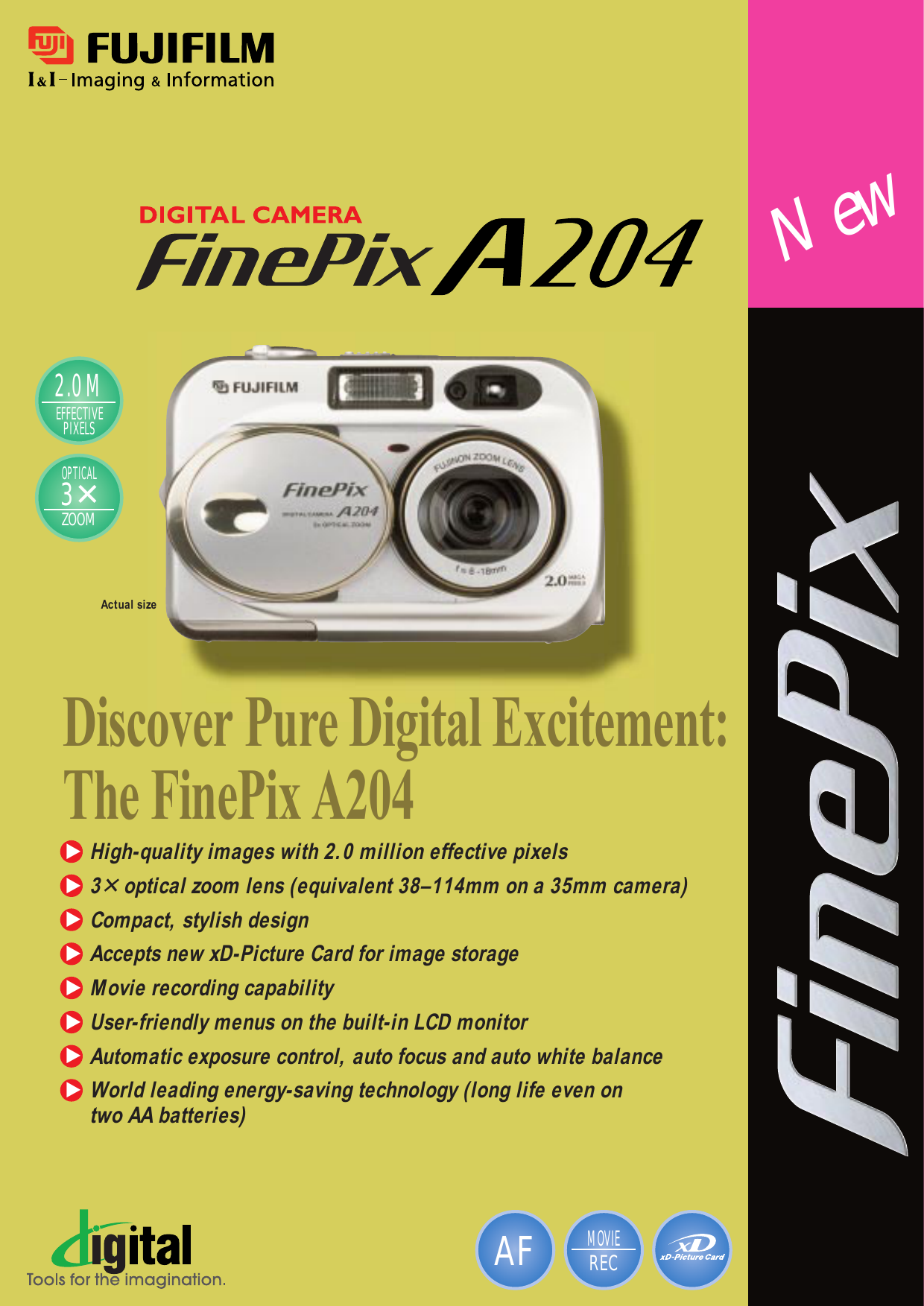 w
e
N
2.0M
EFFECTIVE
PIXELS
OPTICAL
3✕
ZOOM
Actual size
Discover Pure Digital Excitement:
The FinePix A204
왘 High-quality images with 2.0 million effective pixels
왘 3✕ optical zoom lens (equivalent 38–114mm on a 35mm camera)
왘 Compact, stylish design
왘 Accepts new xD-Picture Card for image storage
왘 Movie recording capability
왘 User-friendly menus on the built-in LCD monitor
왘 Automatic exposure control, auto focus and auto white balance
왘 World leading energy-saving technology (long life even on
two AA batteries)
AF
MOVIE
REC
Hot Performance and Cool Design in One Easy-to-Use Digital Camera
Quick, easy operation
Great image quality
Thanks to its 2.0 million effective pixels and quality
Fujinon optics, the FinePix A204 delivers sharp detail
and lifelike color.
The camera comes with two AA
alkaline batteries and a 16MB
xD-Picture Card, so you can
start taking pictures right away.
Simply slide open the lens
cover to turn on the power. The
camera is immediately ready to
shoot – just press the shutter
button and start enjoying digital
photography.
Movie recording functions
Use the FinePix A204's movie
recording feature to make your
own mini-videos up to 80 seconds long.*
* 160 × 120-pixel mode, no sound
Versatile 3✕ optical zoom lens
xD-Picture Card – a new
standard storage media
The FinePix A204 is designed
around the xD-Picture Card,
the new standard in ultracompact digital storage media.
The introduction of compatible
USB card reader and PC/
CompactFlash™ card adapters
means effortless PC data-transfer
and other versatile advantages.
The touch of a finger zooms you from
wide angle (equivalent to 38mm on a
35mm camera) to telephoto (114mm
equivalent). Add the digital zoom function
and you have up to 7.5✕* magnification.
Windows XP Compatible
* In 640 × 480-pixel mode
Pocket-sized design
Weighing 185g (without batteries) and measuring
only 100.4 × 65.0 × 51.7mm, the FinePix A204 is a
perfect fit whether in your pocket or your hands.
Long battery life
With its low-power design, the FinePix A204
lets you take up to 250 shots* on a single
pair of AA alkaline batteries.
* With the LCD turned off and using the flash half of the time
The FinePix A204 and included
USB driver software are certificated as "Designed for
Microsoft® Windows®XP". Both
are also fully functional with
Windows 98SE/2000/ME and
the Mac OS.
Specifications
DIGITAL CAMERA FinePix A204
Number of effective pixels* 2.0 million pixels
CCD sensor
1/2.7-inch square pixel CCD with RGB filter
(Number of total pixels: 2.11 million pixels)
Image file size
1600 × 1200/1280 × 960/640 × 480 pixels
File format
Still image: JPEG (Exif Ver. 2.2**)/Movie: AVI (Motion JPEG)
Design rule for Camera File system compliant/DPOF-compatible
Storage media
xD-Picture Card (16MB to 128MB)
Number of images/recording time
Modes
Still image
Movie
Image quality mode displayed 2M (Fine)
2M (Normal)
1M
0.3M
320
160
1600 × 1200
1280 × 960
640 × 480
320 × 240
160 × 120
Number of recorded pixels
DPC-16 (16MB)
25
39
49
122
Approx. 94 sec. Approx. 5.0 min.
DPC-32 (32MB)
50
79
99
247
Approx. 191 sec. Approx. 10.1 min.
DPC-64 (64MB)
101
159
198
497
Approx. 6.4 min. Approx. 20.2 min.
DPC-128 (128MB)
204
319
398
997
Approx. 12.9 min. Approx. 40.6 min.
Data size and number of available shots will vary slightly depending on the type of subject.
Lens
LCD monitor
Interface
Power source
Dimensions
Weight
Other Functions
Digital zoom
Movie recording
1.5-inch D-TFD (55,000 pixels)
USB
2× AA alkaline/Ni-MH batteries or AC power adapter (optional)
100.4 (W) × 65.0 (H) × 51.7 mm(D)/4.0 (W) × 2.6 (H) × 2.0 (D) in.
Approx. 185 g/6.5 oz (excluding batteries and media)
2.5✕ (640 × 480 mode), 1.25✕ (1280 × 960 mode)
320 × 240 pixels, 10frames/sec, up to 20sec, without sound
160 × 120 pixels, 10frames/sec, up to 80sec, without sound
Playback
Single Frame (with max. 10✕ Playback Zoom)/9 Multi-frame
Internet-conferencing Webcam function with "PictureHello"
Others
POWER SAVE mode, Self-timer, DPOF
Accessories included • 16MB xD-Picture Card
• 2 AA-size alkaline batteries
• Hand strap
• USB cable
• CD-ROM:
USB Driver, FinePixViewer, DP Editor,
Apple Quick Time 5.0,
ImageMixer VCD for FinePix
Optional accessories XD-Picture Card (DPC-16, DPC-32, DPC-64 and DPC-128),
Image Memory Card Reader DPC-R1, PC Card Adapter DPC-AD,
AC Power Adaptor AC-3V, Battery Charger with Battery BK-NH
(Charged in approx. 2 hours, with Euro type or UK type plug),
Rechargeable Battery 2HR-3UF (2× AA-type Ni-MH)
* Number of effective pixels: The number of pixels on the image sensor which receive input
light through the optical lens, and which are effectively reflected
in the final output data of the still image.
** Exif 2.2 is a newly revised digital camera file format that contains
a variety of shooting information for optimal printing.
Fujinon optical 3✕ zoom lens, equivalent to 38 mm to 114 mm on a
35 mm camera
Focus distance
Normal: Approx. 80 cm/2.6 ft. to infinity
Macro: Approx. 10 to 80 cm/3.9 in. to 2.6 ft.
Aperture
F3.5/F8.7
Exposure control
64-zone TTL metering, Programmed AE (Exposure compensation in
manual mode)
Sensitivity
Equivalent to ISO 100
Shutter speed
1/2 to 1/1,000 sec. (combined with mechanical shutter)
White balance
Automatic
Manual [Fine, Shade, Fluorescent light (Daylight), Fluorescent light
(Warm White), Fluorescent light (Cool White), Incandescent light ]
Flash
Auto flash using flash control sensor
Flash mode: Auto, Red-eye Reduction, Forced Flash, Suppressed Flash, Specifications are subject to change without notice.
Slow Syncro
Effective range : 0.2 – 3.0 m/7.9 in. – 9.8 ft.
For more information on the full range of Fujifilm digital products, please visit
xD-Picture Card and all other trademarks are the property of their respective holders.
our Website: http://home.fujifilm.com
FUJI PHOTO FILM CO., LTD.
26-30, NISHIAZABU 2-CHOME, MINATO-KU, TOKYO 106-8620, JAPAN
Ref. No. EB-215E (SK·02·08·DT·MW) Printed in Japan © 2002 Fuji Photo Film Co., Ltd.