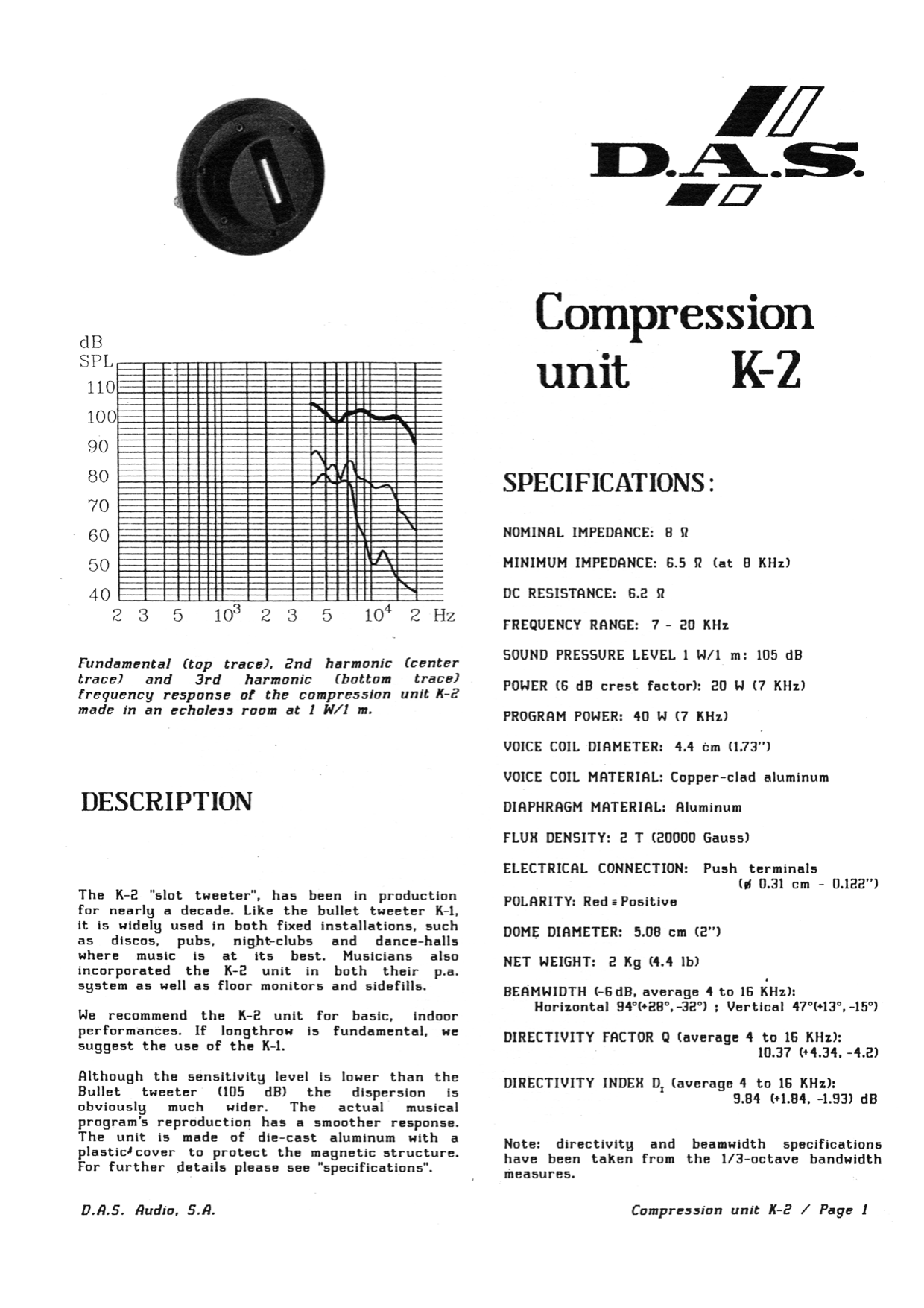 dB
10% 2 Hz
23 5 10° 2 3 5
Fundamental (top trace), dnd harmonic (center
trace) and 3rd harmonic (bottom trace)
frequency response of the compression unit K-2
made in an echoless room at ! W/1 m.
DESCRIPTION
The K-2 "slot tweeter", has been in production
for nearly a decade. Like the bullet tweeter K-i,
it is widely used in both fixed installations, such
as discos, pubs, nightclubs and dance-halls
where music is at its best. Musicians also
incorporated the K-2 unit in both their p.a.
system as well as floor monitors and sidefills.
We recommend the K-2 unit for basic, indoor
performances. If longthrow is fundamental, we
suggest the use of the K-1.
Although the sensitivity level is lower than the
Bullet tweeter (105 dB) the dispersion is
obviously much wider. The actual musical
program's reproduction has a smoother response.
The unit is made of die-cast aluminum with a
plastic/cover to protect the magnetic structure.
For further details please see "specifications".
D.A.S. Audio, S.A.
y MA
Compression
unit: KZ
SPECIFICATIONS:
NOMINAL IMPEDANCE: В Я
MINIMUM IMPEDANCE: 6.5 Y (at 8 KHz)
DC RESISTANCE: 6.2 N
FREQUENCY RANGE: 7 - 20 KHz
SOUND PRESSURE LEVEL 1 W/1 m: 105 dB
POWER (6 dB crest factor): 20 W (7 KHz)
PROGRAM POWER: 40 W (7 KHz)
VOICE COIL DIAMETER: 4.4 em 173")
VOICE COIL MATERIAL: Copper-clad aluminum
DIAPHRAGM MATERIAL: Aluminum
FLUH DENSITY: 2 T (20000 Gauss)
ELECTRICAL CONNECTION: Push terminals
(¢ 0.31 cm - 0.122")
POLARITY: Red = Positive
DOME DIAMETER: 5.08 cm (2")
NET WEIGHT: 2 Kg (4.4 1b)
BEAMWIDTH (-6dB, average 4 to 16 KHz):
Horizontal 94°(+28°,-32°) : Vertical 47°(+13°, -15°)
DIRECTIVITY FACTOR Q (average 4 to 16 KHz):
10.37 (+4.34, -4.2)
DIRECTIVITY INDEX D, (average 4 to 16 KHz):
9.84 (+1.84, -1.93) dB
Note: directivity and beamwidth specifications
have been taken from the 1/3-octave bandwidth
measures.
Compression unit K-2 / Раде 1
THE A.E.S. STANDARDS
As sustaining members of the Audio Engineering
Society (A.E.S.), D.A.S. Audio, S.A. prints data on
all its professional sound products, following
their norms and specifications.
All these standards can be found widely
commented in several articles which have
appeared in some issues of the Journal of the
A.E.S. and the following one is particularly
interesting: a
"A.E.S. Recommended Practice Specification
of Loudspeaker Components Used in Professional
Audio and Sound Reinforcement" JOURNAL OF THE
AUDIO ENGINEERING SOCIETY, VOLUME 32, 1984
OCTOBER.
This article establishes a set of primary
specifications to be followed by manufacturers in
describing loudspeaker components used in
professional audio and . sound reinforcement
system design.
POLAR MEASUREMENTS
The following characteristics were computed at
selected, one-third-octave frequencies for the
polar graphics shown on page 3 of this leaflet:
a) the axial directivity Q
b) the directivity factor D,
c) the beamwidth amples in degrees
d) the off-axis frequency response.
These data are displayed on the right by means
of three graphics.
The polar graphs were obtained by placing the
K-2 unit inside our echoless room at the top
of a closed box covered by foam. The microphone
used for measuring was placed at a distance of 4
meters from the unit's mouth.
Horizontal polar responses were plotted with a
continuous line and vertical polar responses with
an uncontinuous one. Scale is 5 dB per division.
Rotation was carried out in the geometrical axes
inside the horizontal and vertical planes as the
drawings on the third page illustrate.
Possible errors due to the differences between
geometrical and acoustical axes are insignificant
because of the relatively large distances used
during the measuring process.
Page € / Compression unit K-2
So
15
10
LL 4 ln ed dra
1K 2K
Ln
Oo
a
Directivity and index factor vs frequency
degrees
400 4........................... HORIZONTAL ——
11 DET Ta
50 JENE en В
10
500 1K 2K 4K 8K 16K Hz
Beamwidth in degrees vs frequency
dB |
DAA
-5 |.
aml ra
45 d...... |
500 1K 2k 4K BK 16K Hz
dB
od........................ 0
5 1
40 1.............
-20 -...........—.. |
500 1K ek 4K ak 16K * Hz
Horizontal (top graphic) and vertical
(bottom graphic) off-axis response
D.A.S. Audio, S.A.
horizontal rotation
== 135 - и al mn
ompression unit with dimensions.
Line drawings of the c
sion unit K-2 / Page 3
Compres
D.A.S. Audio, S.A.
23 5 10° 23 5 10% 2 Hz
K-2's impedance response.
WARRANTY
D.A.S. could eventually, in order to improve the
quality of our products, change the specifications
enclosed without prior notice.
All D.A.S. professional sound products are
guaranteed against defective workmanship for a
period of five years.
In the event of a mulfunction, the product
should be returned to any D.A.S. authorized
service center or to the factory for appropiate
inspection and repair.
И». «>... Audio,
s. a.
POLIGONO INDUSTRIAL FUENTE DEL JARRO - C/.ISLAS BALEARES, 24
456988 PATERNA (VALENCIA) SPAIN - TEL. (96) 1387843 - TELEH 61387 dsa-E - FAH (96) 1387806
Page 4 / Compression unit K-2
D.A.S. Audio, S.A.

* Your assessment is very important for improving the work of artificial intelligence, which forms the content of this project