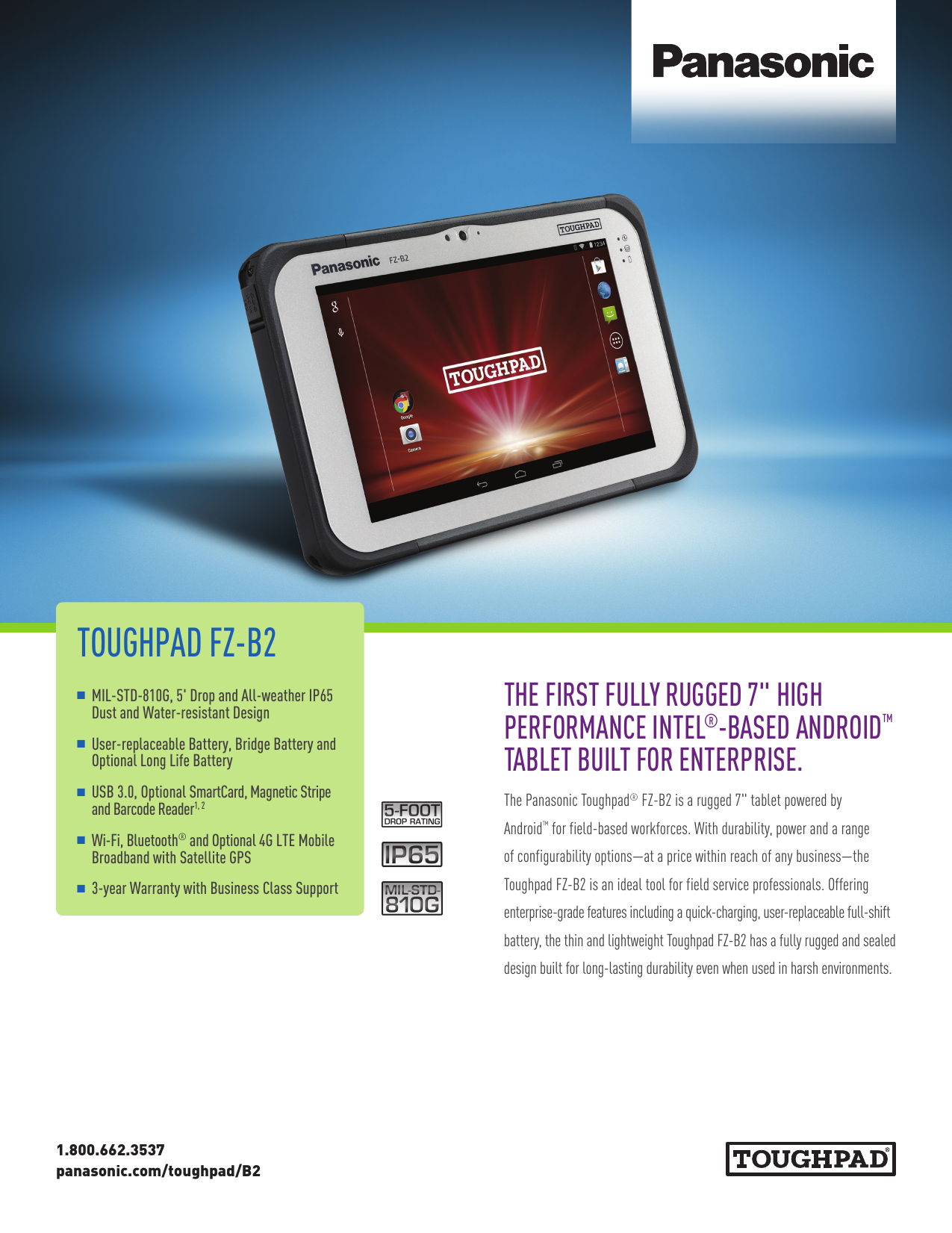 TOUGHPAD FZ-B2
THE FIRST FULLY RUGGED 7" HIGH
PERFORMANCE INTEL®-BASED ANDROID™
TABLET BUILT FOR ENTERPRISE.
n
M
IL-STD-810G, 5' Drop and All-weather IP65
Dust and Water-resistant Design
n
U ser-replaceable Battery, Bridge Battery and
Optional Long Life Battery
n
U SB 3.0, Optional SmartCard, Magnetic Stripe
and Barcode Reader1, 2
The Panasonic Toughpad® FZ-B2 is a rugged 7" tablet powered by
n
i-Fi, Bluetooth® and Optional 4G LTE Mobile
W
Broadband with Satellite GPS
of configurability options—at a price within reach of any business—the
3-year Warranty with Business Class Support
Toughpad FZ-B2 is an ideal tool for field service professionals. Offering
n
Android™ for field-based workforces. With durability, power and a range
enterprise-grade features including a quick-charging, user-replaceable full-shift
battery, the thin and lightweight Toughpad FZ-B2 has a fully rugged and sealed
design built for long-lasting durability even when used in harsh environments.
1.800.662.3537
panasonic.com/toughpad/B2
TOUGHPAD FZ-B2
SOFTWARE
n
n
DURABILITY
n
CPU
n
n
n
n
n
n
n
n
STORAGE & MEMORY
n
n
n
DISPLAY
n
n
n
SENSORS
n
AUDIO
KEYBOARD & INPUT
CAMERAS
n
n
n
n
n
n
n
n
n
n
ndroid 4.4.43
A
Panasonic Utilities (including Dashboard)
WARRANTY
IL-STD-810G design (5' drop, shock, vibration, rain, dust, sand, altitude, freeze/thaw,
M
high/low temperature, temperature shock, humidity, explosive atmosphere)
IP65 certified sealed all-weather fanless design
Solid state drive heater
Magnesium alloy chassis encased with ABS and elastomer corner guards
Optional hand strap or rotating hand strap
Port covers
Raised bezel for LCD impact protection
Pre-installed replaceable screen film for LCD protection
DIMENSIONS & WEIGHT
Intel® Celeron® N2930 Processor
– 1.83 GHz up to 2.16 GHz
– 2MB cache
2GB SDRAM (DDR3L-1333MHz)4
32GB eMMC with heater5
Up to 64GB additional storage with optional microSDHC card6
-point multi touch
5
– Supports gloved touch and gestures
6 tablet buttons (2 user-definable)
Passive stylus pen with integrated holder in rotating hand strap
On-screen QWERTY keyboard
EXPANSION
n
MicroSDXC
INTERFACE
n
ocking connector
D
24-pin
Headphones/speaker
Mini-jack stereo
USB 3.0 (x 1)84-pin
SIM card slot (x 1)
WIRELESS
n
n
n
Optional integrated 4G LTE mobile broadband with satellite GPS9
Intel® Dual Band Wireless AC7260 Wi-Fi 802.11a/b/g/n/ac
Bluetooth® v4.0 (Class 1) + EDR
Security
– Authentication: LEAP, WPA, 802.1x, EAP-TLS, EAP-FAST, PEAP
– Encryption: CKIP, TKIP, 128-bit and 64-bit WEP, Hardware AES
Optional dual high-gain antenna pass-through
n
n
POWER SUPPLY
n
n
n
POWER MANAGEMENT
n
Suspend/Resume Function, Hibernation, Standby
SECURITY FEATURES
n
Kensington cable lock slot
Trusted platform module (TPM) security chip v.1.2
Computrace® theft protection agent in BIOS
Intel® Anti-Theft Technology
Optional insertable SmartCard reader1
Optional contactless supported SmartCard reader/HF RFID
Security suite: encryption, screen lock, verification boot, secure boot, trusted boot, fastboot disable
Mobile Device Management supported by industry leading providers
n
n
n
n
n
n
n
n
n
n
n
n
n
i-Ion battery pack:
L
– Standard battery: 7.2V, typical 3220mAh, minimum 3120mAh
– Long life battery: 7.2V, typical 7100mAh, minimum 6800mAh
Battery operation:10
– Standard battery: 7 hours
– Optional long life battery: 14 hours
– Bridge battery: 30 seconds
Battery charging time:11
– Standard battery: 2.5 hours off, 3 hours on
– Optional long life battery: 4.5 hours off, 5 hours on
1.800.662.3537
panasonic.com/toughpad/B2
Android, Google, and Google Play are trademarks of Google Inc. Panasonic is constantly enhancing product specifications and accessories. Specifications subject to change without
notice. Trademarks are property of their respective owners. ©2014 Panasonic Corporation of North America. All rights reserved. Toughpad FZ-B2 Spec Sheet_10/14
.98"(L) x 5.20"(W) x 0.71"(H)12
7
1.2 lbs.13
G LTE mobile broadband with satellite GPS
4
Dual high-gain antenna pass-through for WWAN and GPS9
Configuration area #1 (Choose one)
– Bridge battery and 1D/2D barcode reader [EA30]2
– Bridge battery and LAN2
Configuration area #2 (Choose one)
– Bridge battery and SmartCard reader1
– Bridge battery and magnetic stripe reader1
ACCESSORIES14
n
n
n
Integrated dual microphone
Integrated monaural speaker
On-screen and button volume and mute controls
3-year limited warranty, parts and labor
INTEGRATED OPTIONS14
Ambient light
Digital compass
Gyro
Acceleration
720p webcam with mic
5MP rear camera with auto focus and LED light
n
n
n
n
n
7" WXGA 1280 x 800 65,536/16,777,216 colors LED backlighting7
5-point capacitive multi touch daylight-readable screen
– 500 nit
– IPS display with direct bonding
– Anti-reflective screen treatment
– Automatic screen rotation
Concealed mode (configurable)
n
n
n
n
n
n
n
n
n
AC Adapter (3-prong)15CF-AA6373AM
Standard Battery Pack
FZ-VZSU94W
Long Life Battery Pack
FZ-VZSU95W
Multi-battery ChargerFZ-VCBM11U
Standard Hand Strap with
Stylus Holder and Tether
FZ-VSTM11AU
Rotating Hand Strap with
Stylus Holder and Tether
FZ-VSTM12AU
Passive Replacement Stylus
FZ-VNPM11U
Lite-function Cradle
FZ-VEBM11AU
Vehicle Dock (no pass-through)
–Gamber-Johnson Lite Port Replicator
7160-0531-00-P
Vehicle Dock (dual pass-through)
–Gamber-Johnson Lite Port Replicator
7160-0531-02-P
Replacement Protection Film FZ-VPFM11U
Please consult your reseller or Panasonic representative before purchasing.
Caution: Do not expose bare skin to this product when handling this unit in extreme hot or cold environments.
1
Exclusively configurable by selecting one from SmartCard reader or magstripe reader.
2
Exclusively configurable by selecting one from LAN port or barcode.
3
Operations of this computer are not guaranteed except for the pre-installed OS and the OS which is installed by
using the hard disk recovery and the recovery disc.
4
1MB = 1,048,576 bytes/1GB = 1,073,741,824 bytes
5
1MB = 1,000,000 bytes /1GB = 1,000,000,000 bytes. Your operating system or some application software will report
as fewer GB.
6
Operation has been tested and confirmed using Panasonic microSD.
7
A 16,777,216 color display is achieved by using the dithering function.
8
Does not guarantee operation of all USB-compatible peripherals.
9
Only for model with Wireless WAN. The specifications may differ depending on the models.
10
Approx. 0.5 W when the battery pack is fully charged (or not being charged) and the computer is OFF (when using
with 115V AC). Even when the AC adapter is not connected to the computer, power is consumed (Max. 0.3 W) simply
by having the AC adapter plugged into an AC outlet.
11
Varies depending on the usage conditions.
12
May differ depending on models and options.
13
Average value. May differ depending on models and options.
14
Accessories and Integrated Options may vary depending on your configuration. Visit Panasonic website for more
accessories and details.
15
The AC adapter is compatible with power sources up to 240V AC.