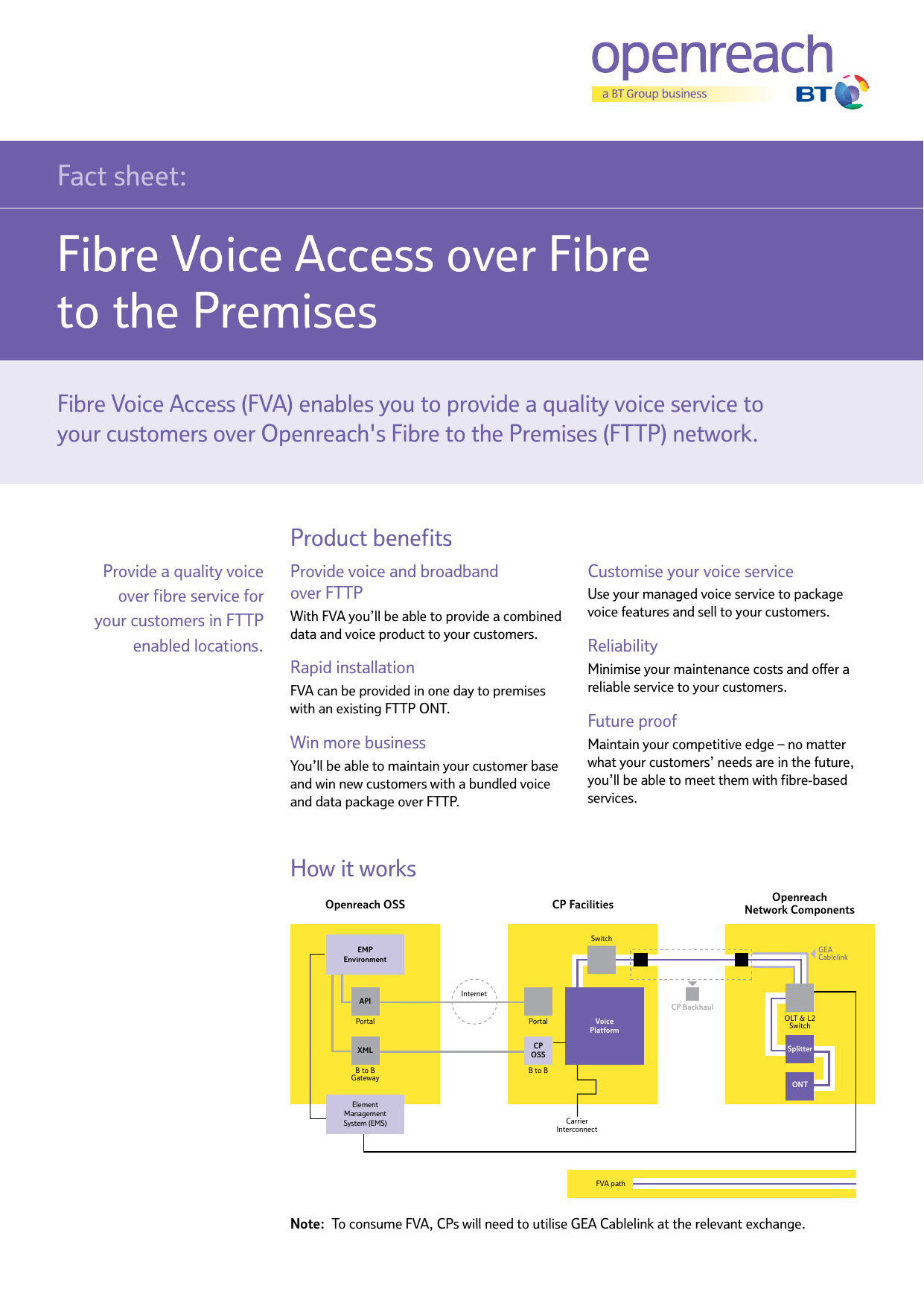 Fact sheet:
Fibre Voice Access over Fibre
to the Premises
Fibre Voice Access (FVA) enables you to provide a quality voice service to
your customers over Openreach's Fibre to the Premises (FTTP) network.
Product benefits
Provide a quality voice
over fibre service for
your customers in FTTP
enabled locations.
Provide voice and broadband
over FTTP Customise your voice service
With FVA you'll be able to provide a combined
data and voice product to your customers.
Rapid installation
Use your managed voice service to package
voice features and sell to your customers.
Reliability
Minimise your maintenance costs and offer a
reliable service to your customers.
FVA can be provided in one day to premises
with an existing FTTP ONT.
Future proof
Win more business
You'll be able to maintain your customer base
and win new customers with a bundled voice
and data package over FTTP.
Maintain your competitive edge – no matter
what your customers' needs are in the future,
you'll be able to meet them with fibre-based
services.
FVA Product
How it works
Openreach OSS
Openreach
Network Components
CP Facilities
Switch
GEA
Cablelink
EMP
Environment
API
Internet
CP Backhaul
Portal
Portal
XML
CP
OSS
B to B
Gateway
Element
Management
System (EMS)
Voice
Platform
OLT & L2
Switch
Splitter
B to B
ONT
Carrier
Interconnect
FVA path
Note: To consume FVA, CPs will need to utilise GEA Cablelink at the relevant exchange.
FVA facts
Product features
Once launched, FVA will be
available wherever FTTP is
available (FVA CP trials will
be available from EMP1600 –
Generic features
Security and reliability features
n An analogue terminal adaptor embedded
in the ONT at your customers' premises:
n Battery Back Up solution being developed
to maintain telephony services during
power outages
March 2011.)
 Can support two telephony lines
 A
llows your customers to use
their existing analogue telephony
equipment*
 P
rovides a quality voice service
equivalent to PSTN (configured to
G711, 10mS)
 I
ntegrates into existing home voice
extension sockets
n Allows you to develop your SIP call-server
to support existing network and calling
features (configured to UK SIP signalling
specification)
n Total End-to-end fibre-based service
between the EU premises and the exchange
n SmartWater used on Openreach fibres to
deter cable thieves.
Diagnostic features (under development)
n You can manage and resolve any faults
reported by your customers
 S
ervice test – enables you to test the
Openreach part of the circuit.
 M
ELT test – enables you to identify
faults on your customers' extension
sockets and CPE.
 Automated test call capability.
n Supports local dialling
n Guarantees voice quality during high
data usage.
* Support for current analogue CPE from vendors. The ATA is compliant to the relevant parts of
BTNR 306, BTNR 315 (plus Addendum 1 & 2), BTNR 1080, SIN 350 and SIN 351.
Available for
All FTTP based product established communications providers who can supply a voice managed
service provided by a SIP server configured to the UK SIP specification.
Note: FVA will not initially be available in FTTC-enabled areas.
www.openreach.co.uk
The telecommunications services described in this publication
are subject to availability and may be modified from time to
time. Services and equipment are provided subject to British
Telecommunications plc's respective standard conditions of
contract. Nothing in this publication forms any part of any contract.
BT, Openreach, and the BT logo and the Openreach identity are
trademarks of British Telecommunications plc.
© British Telecommunications plc 2010.
Registered office: 81 Newgate Street, London EC1A 7AJ
Registered in England No: 1800000
Produced by Openreach
Designed by Westhill.co.uk
PHME 61152
For more information on FVA
visit www.openreach.co.uk
or contact your Openreach
Sales and Relationship Manager.

* Your assessment is very important for improving the work of artificial intelligence, which forms the content of this project