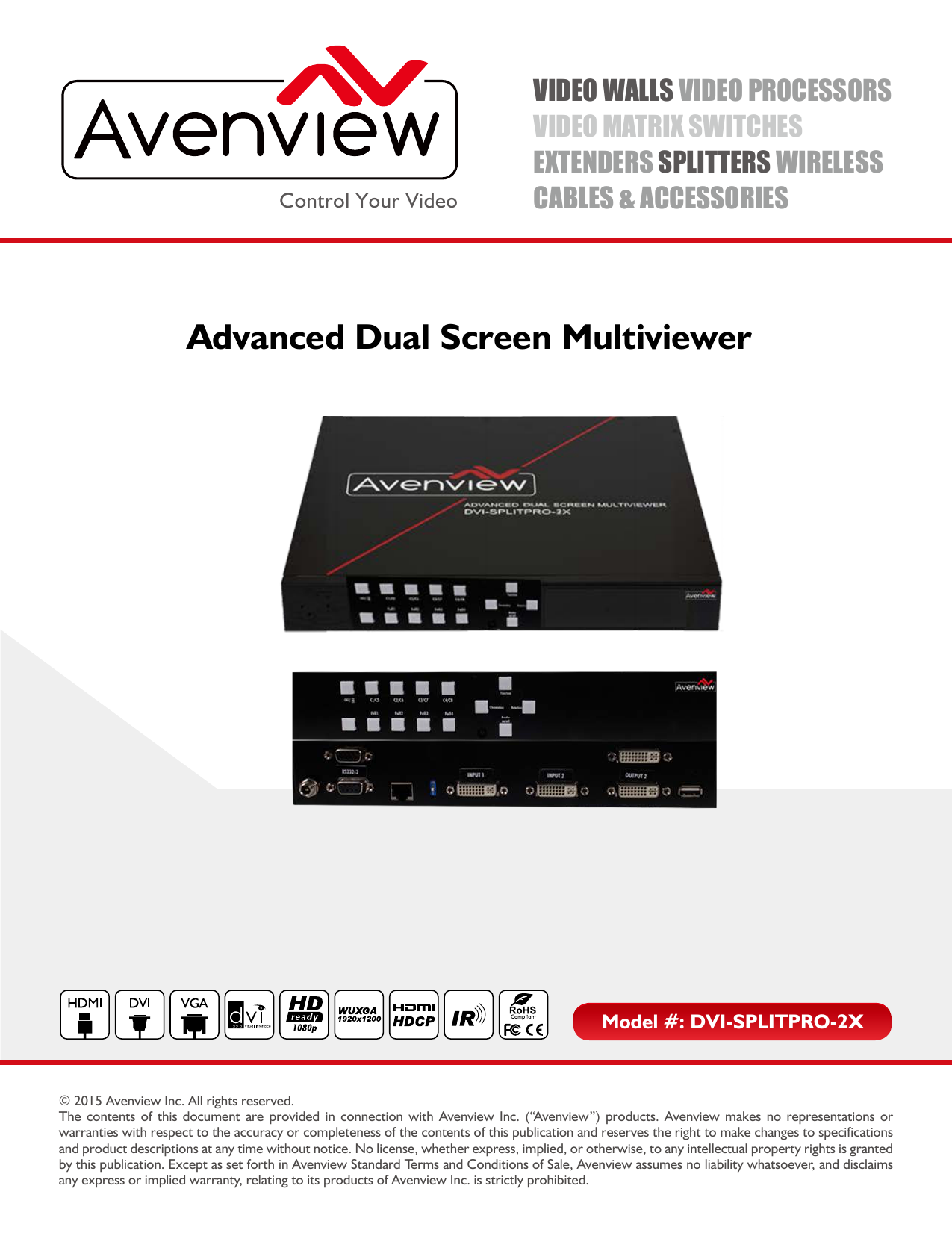 Control Your Video
VIDEO WALLS VIDEO PROCESSORS
VIDEO MATRIX SWITCHES
EXTENDERS SPLITTERS WIRELESS
CABLES & ACCESSORIES
Advanced Dual Screen Multiviewer
Model #: DVI-SPLITPRO-2X
© 2015 Avenview Inc. All rights reserved.
The contents of this document are provided in connection with Avenview Inc. ("Avenview") products. Avenview makes no representations or
warranties with respect to the accuracy or completeness of the contents of this publication and reserves the right to make changes to specifications
and product descriptions at any time without notice. No license, whether express, implied, or otherwise, to any intellectual property rights is granted
by this publication. Except as set forth in Avenview Standard Terms and Conditions of Sale, Avenview assumes no liability whatsoever, and disclaims
any express or implied warranty, relating to its products of Avenview Inc. is strictly prohibited.
Product Application & Market Sectors
Corporate
House Of Worship
Military
Residential
Education
Industrial
Medical
Aviation
www.avenview.com
TABLE OF CONTENTS
1.
GETTING STARTED .............................................................................................................1
1.1
IMPORTANT SAFEGUARDS................................................................................................. 1
1.2
SAFETY INSTRUCTIONS...................................................................................................... 1
1.3
REGULATORY NOTICES FEDERAL COMMUNICATIONS COMMISSION (FCC) ........... 2
2.
INTRODUCTION AND FEATURES...................................................................................... 3
2.1
PACKAGE CONTENTS......................................................................................................... 4
2.2
BEFORE INSTALLATION...................................................................................................... 5
2.3
PANEL DESCRIPTION ..........................................................................................................5
2.3.1 FRONT PANEL (DVI-SPLITPRO-2X) .........................................................................5
3.2.2 REAR PANEL (DVI-SPLITPRO-2X)...............................................................................6
3.
IR REMOTE CONTROL.........................................................................................................7
4.
APPLICATION DIAGRAM...................................................................................................... 8
5.
SOFTWARE CONTROL........................................................................................................ 9
5.1 SOFTWARE INSTALLATION ....................................................................................... 9
5.2 CONTROL INTERFACE ........................................................................................ 10-18
SECTION 6: SPECIFICATIONS........................................................................................................ 19
www.avenview.com
Page 3
SECTION 1: GETTING STARTED
ortant
Please read all of these instructions carefully before you use the device. Save this manual for future reference.
What the warranty does not cover
•• Any product, on which the serial number has been defaced, modified or removed.
•• Damage, deterioration or malfunction resulting from:
•• Accident, misuse, neglect, fire, water, lightning, or other acts of nature, unauthorized product modification, or failure to
follow instructions supplied with the product.
•• Repair or attempted repair by anyone not authorized by us.
•• Any damage of the product due to shipment.
•• Removal or installation of the product.
•• Causes external to the product, such as electric power fluctuation or failure.
•• Use of supplies or parts not meeting our specifications.
•• Normal wear and tear.
•• Any other causes which does not relate to a product defect.
•• Removal, installation, and set-up service charges.
ctions
The Avenview DVI-SPLITPRO-2X Advanced Dual Screen Video processor has been tested for conformance to safety
regulations and requirements, and has been certified for international use. However, like all electronic equipment's, the DVISPLITPRO-2X should be used with care. Read the following safety instructions to protect yourself from possible injury and to
minimize the risk of damage to the unit.
! Do not dismantle the housing or modify the module.
! Dismantling the housing or modifying the module may result in electrical shock or burn.
! Refer all servicing to qualified service personnel.
! Do not attempt to service this product yourself as opening or removing housing may expose you to dangerous voltage
or other hazards
! K eep the module away from liquids.
! Spillage into the housing may result in fire, electrical shock, or equipment damage. If an object or liquid falls or spills on
to the housing, unplug the module immediately.
! Have the module checked by a qualified service engineer before using it again.
! Do not use liquid or aerosol cleaners to clean this unit. Always unplug the power to the device before cleaning.
- When the DVI-SPLITPRO-2X is switched off, 5-10 seconds is required to re-power the device again, this allows the power
capacitors to discharge and prevents any accidental damage to main board.
- The DVI-SPLITPRO-2X can be controlled with a control software compatible with Microsoft Windows 98, 2000, XP, 7, 8
RS-232 serial control.
- Before lauching control software, the connection between the computer COM port and the DVI-SPLITPRO-2X should be
established.
www.avenview.com
Page 1
ator
This equipment has been tested and found to comply with part 15 of the FCC rules. These limits are designed to
provide reasonable protection against harmful interference in a residential installation.
Any changes or modifications made to this equipment may void the user's authority to operate this equipment.
Warning symbols
Description
ONLY USE THE PROVIDED POWER CABLE
OR POWER ADAPTER SUPPLIED. DO NOT
TAMPER WITH THE ELECTRICAL PARTS.
THIS MAY RESULT IN ELECTRICAL SHOCK
OR BURN.
DO NOT TAMPER WITH THE UNIT. DOING
SO WILL VOID THE WARRANTY AND
CONTINUED USE OF THE PRODUCT.
THE VIDEO BOARDS ARE VERY SENSITIVE
TO STATIC. PLEASE ENSURE IF RACK
MOUNTED OR INSTALLED ON A SURFACE,
IT SHOULD BE IN A GROUNDED
ENVIROMENT.
www.avenview.com
Page 2
2.
ction
The DVI-SPLITPRO-2X Advanced Dual Screen Multiviewer with IR Remote Control is an advanced video processor
for most multimedia presentations. This unit is an ideal solution for applications where two video signals must be displayed on a
single display. It supports multiple types of video inputs, of which two can be outputted simultaneously with the desired display
layout through software control. The advanced video processor allows you to manipulate the output images to various sizes and
multiple positions on the desired display. This unit can controlled with the ease of the front panel buttons, IR remote and
RS232 via a cable or control system, this functionality allow the user to easily set the desired outputs by 2 preset layouts or 8
custom layouts saved by the user.
The embedded scaler and software support EDID management converts signals from input sources to match the native
resolution of monitors, flat panel displays, projectors as well as user-selectable output settings up to WUXGA (1920x1200).
Dual outputs are provided (DVI) or (DVI/HDMI) format, one is connected to remote display and the other is connected to onsite display for real time monitoring.
The DVI-SPLITPRO-2X features:
Rotation: 90,180,270 on any single input, the user can input manually size measurements or use the mouse via the control
software to resize and position as required.
Chromakey: This device can input 2 DVI/HDMI digital sources which are required for layering the two images or video
streams together based on color hues (chroma range). Either Input 1 is the background or Input 2 is the top image. This device
can be configured with the OSD, IR Remote, RS232 or Front Panel buttons to set the desired layout configuration.
FEATURES:
- 2 x Dual DVI inputs and 2 x Dual DVI outputs
- INPUT Resolutions support from 640x480 to 1920x1200, interlaced or progressive
- OUTPUT Resolutions support from 640x480 to 1920x1200, progressive
- INPUT: Adjust image size & position through control software
- OUTPUT: Rotate 90,180,270 Scale, Resize, Position, Zoom, and Crop
- Supports each input on separate screen, Full Screen or Rotated
- Supports PAP Horizontal or Vertical, PIP, and
- Firmware upgradable for support of new features and technology enhancements.
- Visible borders with text labels for easy identification and colored backgrounds
- Supports video screen splitter, a video converter and a video switcher
- Software control through RS-232 and Ethernet
- 1U size
www.avenview.com
Page 3
2.1Pac ontents
Before you start the installation of the converter, please check the package contents.
1
2
3
DVI-SPLITPRO-2X
x1
POWER BRICK 12V5A
X1
POWER CORD C13
X1
4
IR Remotex1
5
tware CDx1
6
x1
www.avenview.com
Page 4
ation
• Put the product in an even and stable location. If the product falls down or drops, it may cause an injury or malfunction.
• Don't place the product in too high temperature (over 50°C), too low temperature (under 0°C) or high humidity.
• Use the DC power adapter with correct specifications. If inappropriate power supply is used then it may cause a fire.
• Do not twist or pull by force ends of the video cable. It can cause malfunction.
tion
Avenview Advanced Dual Screen Video processor (DVI-SPLITPRO-2X) has 2 inputs and accepts both graphics and video
signals, which come from any source through (HDMI/DVI) and display it simultaneously on the same screen.
2.3.1 DVI-SPLITPRO-2X FRONT PANEL
1
5
2
6
7
N/A
4
3
8
1. Default Layout PAP
2. Custom Layout 1-8
3. Chroma key: Toggle Chroma key function on/off
4. IR Sensor : To receive IR signal from the supplied
5. Rotation: Toggle rotate function on/off
6. Source Selection Button:
Horizontal PAP: The button light 4 is off.
Vertical PAP: The button light 4 is on.
Custom layout 1-4: The button light 4 is off.
Custom layout 1-4: The button light 4 is on.
IR remote to control setting easily.
Window in full screen mode: The button light 4 is off.
Source selection: The button light is on.
7. OSD: Toggle all Windows On Screen Display on/off ( Regarding Label, Text, Window name
www.avenview.com
Page 5
PANEL DESCRIPTION
2.3.2 DVI-SPLITPRO-2X REAR PANEL
3
1
2
4
5
7
6
1. Power Outlet: 12V DC power jack for the power brick
8
2. RS-232: Redundant RS-232 control port and for a second
user using the control software.
supplied with the unit .
3. RS-232 MAIN: RS-232 control port for F/W update
4. Ethernet: Ethernet control port for controlling
5. Dip Switch: To enable and disable Factory reset,
6. Input 1-2: DVI/HDMI input 1 and 2
when in down position is ON.
over LAN, please configure IP address first by RS-232
7. Output: DVI output 1 and 2, these two outputs can be used independantly or duplicated.
NOTE: Only one ouput at a time can be used for Rotation only
8. USB 5V: Manufacture use only
The DVI input and output on the DVI-SPLITPRO-2X is also compatible with HDMI. please
see the example of the cable above to use.
Note: Cable not included with packaging contents DVI to HDMI
www.avenview.com
Page 6
3.
L
Avenview DVI-SPLITPRO-2X, Advanced Dual Screen processor ships with a compact IR Remote Control that allows for direct
access to most commands used to control the video processor.
IR REMOTE BUTTON DEFINE
1. F1
Reserved
2. F2
3. F3
Reserved
4.
Power on/off
5. Chroma Key
Chroma key function on/off
6. label
Window Label on/off
7.
Default Layout 1
8.
Default Layout 2
Reserved
Custom Layout 1
Custom Layout 1
10. Custom Layout 2
Custom Layout 2
11. Custom Layout 3
12. Custom Layout 4
Custom Layout 3
Custom Layout 5
Custom Layout 6
Custom Layout 7
Custom Layout 5
Custom Layout 6
Custom Layout 7
Custom Layout 8
9.
13.
14.
15.
16.
17.
18.
19.
20.
21.
Custom Layout 8
Full Screen Layout 1
Full Screen layout 2
Full Screen Layout 3
Full Screen Layout 4
Source Selection 1
Custom Layout 4
Windows 1 in full screen
Windows 2 in full screen
Windows 3 in full screen
Windows 4 in full screen
Window 1 source selection
22. Source Selection 2
Window 2 source selection
23. Source Selection 3
Window 3 source selection
24. Source Selection 4
Window 4 source selection
www.avenview.com
Page 7
4. APPLICATION DIAGRAM
www.avenview.com
Page 8
5. SOFTWARE CONTROL
5.1 Software Installation
1. The DVI-SPLITPRO-2X provides a software control program which runs under Microsoft Windows 98, 2000, Xp, Vista,
7 through the interface of RS-232 serial control.
2. Before you click on the icon of the software, make sure you have secured the connection between your computer COM
port and the DVI-SPLITPRO-2X.
3. Install driver for RS232 to USB adapter
4. Once DVI-SPLITPRO-2X is turned on, it display green LED light
Ensure that correct driver for RS232-USB Adapter (included with DVI-SPLITPRO-2X) is installed.
You can check "Device Manger" under "Ports" page to check if drivers are installed correctly.
Run the Software, a dialog box (see below) will pop-up. (under Microsoft Windows 7, please run as administrator).
Two methods of connection can be used:
1- RS-232 serial Mode: Use RS-232 to connect the port on device and computer. Select correct COM port and click "connect".
OR
2- TCP/IP Mode: Enter the device IP address and click "connect button".
Once connection between the computer and the DVI-SPLITPRO-2X is established, the Control Interface will be displayed.
www.avenview.com
Page 9
5.2 Control Interface
1. PAP Panel
Display and adjust the window size, position and different settings.
Control percent: 10~100% to set the PAP Panel display/control size.


Stretch: Fix the size ratio when the window is resizing.
Background picture: To set up the background picture of window.


Window priority

PAP mode

Window 1 in full screen

Window 2 in full screen In addition, you can change the output layout by clicking the mouse left button. It has four different
layouts (Dual Horizontal Output, Dual Vertical Output, Single Output 1, and Single Output 2).
www.avenview.com
Page 10
2. Tool Bar list:
(1)
Status: Get all information of the device and update this software state.
(2)
Port Setting: Pop‐up the "Port Setting" dialog, user can change the connecting way.
(3)
Advance Setting: In this function, the user can set no signal color, fade in/out effect, background picture, window text, input text, OSD border, rotation, EDID and
factory reset.
Output Control Setting:
In this function, user can
determine to Enable or
Disable the HDMI mode with
audio, and also can select the
configuration of background
picture.
www.avenview.com
Page 11

Rotation:
For Rotation function, only window 1 can be applied.

EDID:
User can learn EDID from default or display. In addition, it also provides
advance EDID function for user to edit, save and read.
www.avenview.com
Page
12

Factory Reset:
Click the
button to do factory default reset. This default reset process
will take about 10~15 seconds and it will be initialized all setting to original system state.
www.avenview.com
Page
13
(4)
(5)
Chroma Key: It can turn on/off the Chroma key function and adjust the parameters of Chroma key.
Crop function: This function is used to crop or clip an image.
www.avenview.com
Page
14
In the Preview Crop, it can preview the range and effect of video crop with the adjustment.

Crop Enable: Enable crop function

Array Enable: Enable array parameter
The setup diagram is shown as below.

Percent Enable: Allows user to adjust video layout size by percentage concept.
The setup diagram is shown as below.

Pixel Enable: Allow user to adjust video layout size by pixels.
The video crop by pixel and percent are almost same. The differences come
from the adjustment ratio.
(6)
Version: Read the software and firmware version.
www.avenview.com
Page 15
3. Output Resolution:
Set the output resolution. When setting the different resolutions, the parameters of
PAP and custom layout (position and size) will accordingly change.
4. Default layout and Custom layout:


Default layout: Use factory preloaded video layouts.
Custom layout: Use custom pre‐saved video layouts In this part, you can adjust the size and position of output screen. If you want to save the
layout, please click the right button of mouse to save this layout into device.
www.avenview.com
Page 16
5. Window selection and input mapping
For each display window, user can assign arbitrary video input here.
6. Window setting
In here, you can adjust the size, position or other settings of the specified window.
www.avenview.com
Page 17
1. Navigate to the Programs folder or where the Control software
program was installed. Open the Avenview DVI-SPLITPRO-2X
Video Processor folder and choose the Firmware Update ICON
executable file. The firmware update window shows up as below
2. Please select the correct COM port or click the
button to verify and locate the
proper port number.
3. Please select
button to perform the firmware update
www.avenview.com
Page 18
6. SPECIFICATIONS
MODEL
DESCRIPTION
DUAL OUTPUT SUPPORT
DVI-SPLITPRO-2X
Advanced Dual Screen Video processor with front panel, IR and LAN Control
Yes (DVI & HDMI)
BACK GROUND VIDEO INPUT
Yes
HDCP COMPLIANCE
Yes
VIDEO BANDWIDTH
SUPPORTED RESOLUTIONS
DVI [Single-link 4.95Gbps] HDMI [2.25G to 6.75Gbps]
480i / 480p / 720p / 1080i / 1080p (60) / 1920x1200@75 / 1600x1200@60
No
AUDIO SUPPORT
L
RS232 / IP Control
EMBEDDED VIDEO MIXER
ABILITY TO CASCADE
L
ESD PROTECTION
Yes
Yes
1.2 Volts (peak – peak)
Human body model - ± 15kV (air gap discharge) & ±8kV (contact discharge)
2x DVI/HDMI
INPUT
OUTPUT
DVI CONNECTOR TYPE
RS232 CONNECTOR
RJ45 CONNECTOR
DIMENSIONS
WEIGHT
SIZE
UPPLY
POWER CONSUMPTION
OPERATING TEMPERATURE
STORAGE TEMPERATURE
Y
2x RS-232
1x RJ-45
2 x DVI (Also supports HDMI 1.2 signal by DVI to HDMI Cable)
DVI-I (29-Pin female)
DE-9 (9-pin D-sub female)
WE/SS 8P8C with 2 L ED indicators
11.4" x 8.3" x 1.7" (L x W x H)
6.4 lbs
1U Mount on shelf
12V 5A
5.75 Watts (max)
0~40°C [32~104°F ]
-20~60°C [-4~140°F ]
20~90% RH [no condensation]
www.avenview.com
Page 19
Avenview Warranty Certificate
AVENVIEW CORP. ("Avenview") warrants Avenview-branded product(s) contained in the original packaging against defects in materials and workmanship when used
normally in accordance with Avenview's enclosed manual guidelines for a period of THREE (3) YEARS from the date of original retail purchase - Warranty Period. Avenview's
published guidelines include but are not limited to information contained in technical specifications, user manuals and service communications.
LABOR: During the Warranty Period of THREE (3) YEARS, Avenview will repair or replace the product(s) at no cost using new or used parts equivalent to novel performance
and reliability if the product(s) is determined to have abide by Avenview's published guidelines. Cost of Labor applicable to product(s) after Warranty Period. For labor costs,
please contact support@avenview.com.
PARTS: During the Warranty Period of of THREE (3) YEARS, Avenview will supply new or rebuilt replacements in exchange for defective parts of the product(s) at no cost if
the product(s) is determined to have abide by Avenview's published guidelines. Cost of Parts applicable to product(s) after Warranty Period. For part(s) costs, please contact
support@avenview.com.
To obtain Warranty: (a) proof of purchase in the form of a bill of sale or receipted invoice reflecting that the registered product(s) is within warranty period must be presented
to obtain warranty service; (b) product(s) must be registered at time of purchase. Failure to do so will result in applicable parts and labor charges. Returning product(s) must
be shipped in Avenview's original packaging or in packaging pertaining equal degree of protection to Avenview's. Both Avenview and purchaser are responsible for freight
charges and brokerages when shipping the product(s) to the receiver.
NOT COVERED BY THIS WARRANTY
This warranty does not apply to any non-Avenview branded product(s); non-registered Avenview product(s). This warranty does not apply: (a) to cosmetic damage, including
but not limited to scratches, dents and broken cords; (b) to damage caused by use with another product; (c) to damage caused by accident, abuse, misuse, liquid contact, fire,
earthquake or other external cause; (d) to damage caused by operating the Avenview product(s) outside Avenview's manuals or guidelines; (e) to damage caused by service
performed by anyone who is not a representative of Avenview or an Avenview authorized personnel; (f) to defects caused by normal wear and tear or otherwise due to the
normal aging of the Avenview product(s), or (g) if any serial number has been removed or defaced from the Avenview product(s).
AVENVIEW IS NOT LIABLE FOR DIRECT, SPECIAL, INCIDENTAL OR CONSEQUENTIAL DAMAGES RESULTING FROM ANY BREACH OF WARRANTY OR
CONDITION, OR UNDER ANY OTHER LEGAL THEORY, INCLUDING BUT NOT LIMITED TO LOSS OF USE; LOSS OF REVENUE; LOSS OF ACTUAL OR
ANTICIPATED PROFITS (INCLUDING LOSS OF PROFITS ON CONTRACTS); LOSS OF THE USE OF MONEY; LOSS OF ANTICIPATED SAVINGS; LOSS OF BUSINESS;
LOSS OF OPPORTUNITY; LOSS OF GOODWILL; LOSS OF REPUTATION; LOSS OF, DAMAGE TO, COMPROMISE OR CORRUPTION OF DATA; OR ANY INDIRECT
OR CONSEQUENTIAL LOSS OR DAMAGE REPAIR OR REPLACEMENT AS PROVIDED UNDER THIS WARRANTY IS THE EXCLUSIVE REMEDY OF THE CONSUMER.
Some states do not allow the inclusion or limitation of incidental or consequential damages, or allow limitations on duration implements of the Warranty Period; therefore the above limitations or
exclusions may not be applicable to you. This warranty gives you specific legal rights, and you may have other rights which vary from state to state.
275 Woodward Avenue, Kenmore, NY 14217
1.866.508.0269
www.avenview.com
Control Your Video
TECHNICAL SUPPORT
USA Head Office
Office Avenview
Corp. 275 Woodward Avenue
Kenmore, Ny 14217
Phone: +1.716.218.4100 ext223
Fax: +1.866.387-8764
Email: info@avenview.com
Canada Sales Office
Avenview
151 Esna Park Drive, Unit 11 & 12
Markham, Ontario, L3R 3B1
Phone: 1.905.907.0525
Fax: 1.866.387.8764
Email: info@avenview.com
Avenview Europe
Avenview Europe
Demkaweg 11
3555 HW Utrecht
Netherlands
phone: +31 (0)85 2100- 613
Email: info@avenview.eu
Avenview Hong kong
Unit 8, 6/f., Kwai Cheong Centre,
50 Kwai Cheong Road,
Kwai Chung, N.T.
Hong Kong
Phone: 852-3575 9585
Email: wenxi@avenview.com
Disclaimer
While every precaution has been taken in the preparation of this document, Avenview Inc. assumes no liability with respect to the operation or use of
Avenview hardware, software or other products and documentation described herein, for any act or omission of Avenview concerning such products or this
documentation, for any interruption of service, loss or interruption of business, loss of anticipatory profits, or for punitive, incidental or consequential damages
in connection with the furnishing, performance, or use of the Avenview hardware, software, or other products and documentation provided herein.
Avenview Inc. reserves the right to make changes without further notice to a product or system described herein to improve reliability, function or design.
With respect to Avenview products which this document relates, Avenview disclaims all express or implied warranties regarding such products, including but
not limited to, the implied warranties of merchantability, fitness for a particular purpose, and non-infringement.