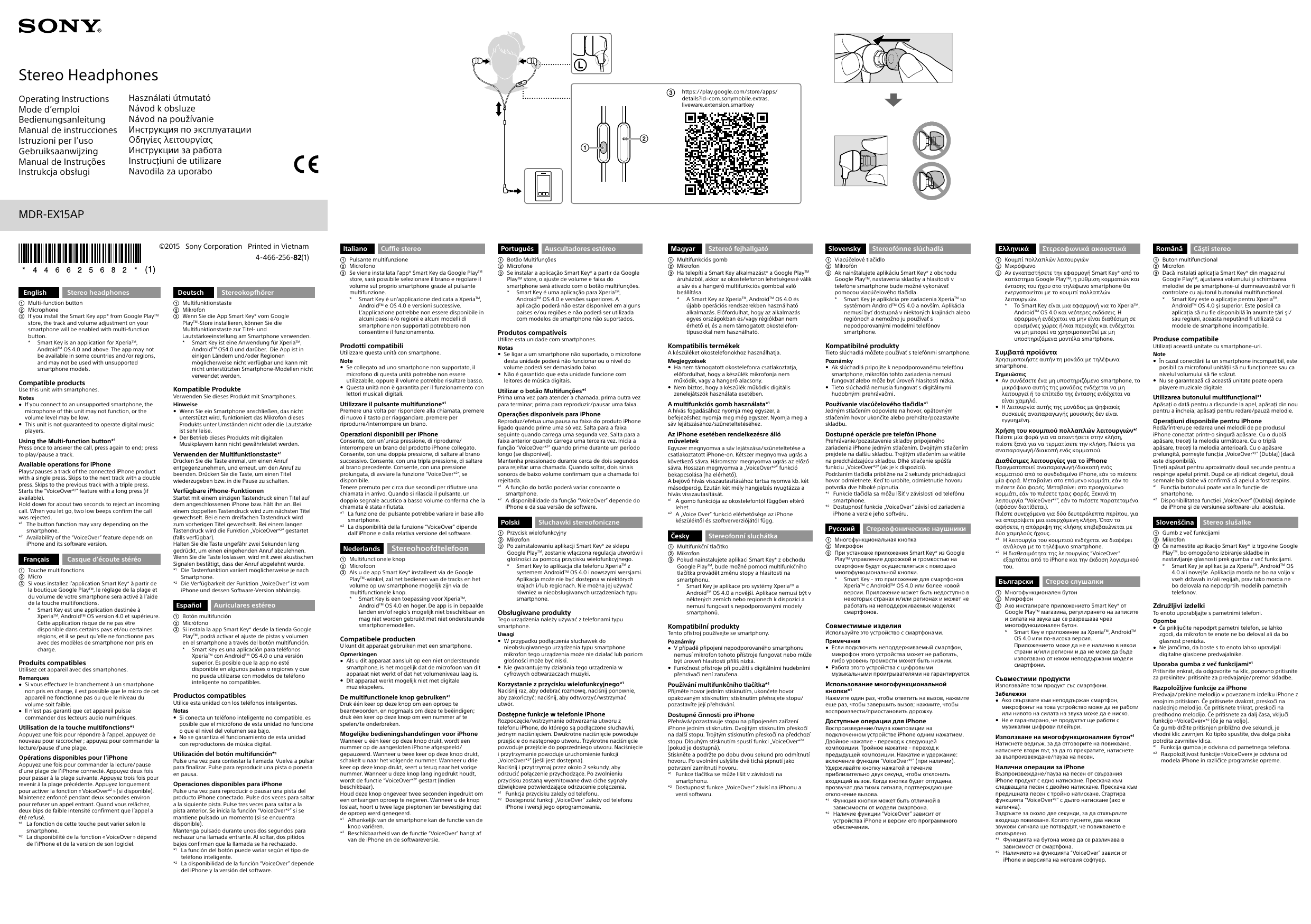 Stereo Headphones
Operating Instructions
Mode d'emploi
Bedienungsanleitung
Manual de instrucciones
Istruzioni per l'uso
Gebruiksaanwijzing
Manual de Instruções
Instrukcja obsługi

Használati útmutató
Návod k obsluze
Návod na používanie
Инструкция по эксплуатации
Οδηγίες λειτουργίας
Инструкции за работа
Instrucţiuni de utilizare
Navodila za uporabo

https://play.google.com/store/apps/
details?id=com.sonymobile.extras.
liveware.extension.smartkey

MDR-EX15AP
©2015 Sony Corporation Printed in Vietnam
4-466-256-82(1)
English
Stereo headphones
 Multi-function button
 Microphone
 If you install the Smart Key app* from Google PlayTM
store, the track and volume adjustment on your
smartphone will be enabled with multi-function
button.
* Smart Key is an application for XperiaTM,
AndroidTM OS 4.0 and above. The app may not
be available in some countries and/or regions,
and may not be used with unsupported
smartphone models.
Compatible products
Use this unit with smartphones.
Notes
ˎˎ If you connect to an unsupported smartphone, the
microphone of this unit may not function, or the
volume level may be low.
This
unit is not guaranteed to operate digital music
ˎˎ
players.
Using the Multi-function button*1
Press once to answer the call, press again to end; press
to play/pause a track.
Available operations for iPhone
Plays/pauses a track of the connected iPhone product
with a single press. Skips to the next track with a double
press. Skips to the previous track with a triple press.
Starts the "VoiceOver*2" feature with a long press (if
available).
Hold down for about two seconds to reject an incoming
call. When you let go, two low beeps confirm the call
was rejected.
*1 The button function may vary depending on the
smartphone.
*2 Availability of the "VoiceOver" feature depends on
iPhone and its software version.
Français
Casque d'écoute stéréo
 Touche multifonctions
 Micro
 Si vous installez l'application Smart Key* à partir de
la boutique Google PlayTM, le réglage de la plage et
du volume de votre smartphone sera activé à l'aide
de la touche multifonctions.
* Smart Key est une application destinée à
XperiaTM, AndroidTM OS version 4.0 et supérieure.
Cette application risque de ne pas être
disponible dans certains pays et/ou certaines
régions, et il se peut qu'elle ne fonctionne pas
avec des modèles de smartphone non pris en
charge.
Produits compatibles
Utilisez cet appareil avec des smartphones.
Remarques
ˎˎ Si vous effectuez le branchement à un smartphone
non pris en charge, il est possible que le micro de cet
appareil ne fonctionne pas ou que le niveau du
volume soit faible.
ˎˎ Il n'est pas garanti que cet appareil puisse
commander des lecteurs audio numériques.
Utilisation de la touche multifonctions*1
Appuyez une fois pour répondre à l'appel, appuyez de
nouveau pour raccrocher ; appuyez pour commander la
lecture/pause d'une plage.
Opérations disponibles pour l'iPhone
Appuyez une fois pour commander la lecture/pause
d'une plage de l'iPhone connecté. Appuyez deux fois
pour passer à la plage suivante. Appuyez trois fois pour
revenir à la plage précédente. Appuyez longuement
pour activer la fonction « VoiceOver*2 » (si disponible).
Maintenez enfoncé pendant deux secondes environ
pour refuser un appel entrant. Quand vous relâchez,
deux bips de faible intensité confirment que l'appel a
été refusé.
*1 La fonction de cette touche peut varier selon le
smartphone.
*2 La disponibilité de la fonction « VoiceOver » dépend
de l'iPhone et de la version de son logiciel.
Deutsch
Stereokopfhörer
 Multifunktionstaste
 Mikrofon
 Wenn Sie die App Smart Key* vom Google
PlayTM-Store installieren, können Sie die
Multifunktionstaste zur Titel- und
Lautstärkeeinstellung am Smartphone verwenden.
* Smart Key ist eine Anwendung für XperiaTM,
AndroidTM OS4.0 und darüber. Die App ist in
einigen Ländern und/oder Regionen
möglicherweise nicht verfügbar und kann mit
nicht unterstützten Smartphone-Modellen nicht
verwendet werden.
Kompatible Produkte
Verwenden Sie dieses Produkt mit Smartphones.
Hinweise
ˎˎ Wenn Sie ein Smartphone anschließen, das nicht
unterstützt wird, funktioniert das Mikrofon dieses
Produkts unter Umständen nicht oder die Lautstärke
ist sehr leise.
ˎˎ Der Betrieb dieses Produkts mit digitalen
Musikplayern kann nicht gewährleistet werden.
Verwenden der Multifunktionstaste*1
Drücken Sie die Taste einmal, um einen Anruf
entgegenzunehmen, und erneut, um den Anruf zu
beenden. Drücken Sie die Taste, um einen Titel
wiederzugeben bzw. in die Pause zu schalten.
Verfügbare iPhone-Funktionen
Startet mit einem einzigen Tastendruck einen Titel auf
dem angeschlossenen iPhone bzw. hält ihn an. Bei
einem doppelten Tastendruck wird zum nächsten Titel
gewechselt. Bei einem dreifachen Tastendruck wird
zum vorherigen Titel gewechselt. Bei einem langen
Tastendruck wird die Funktion "VoiceOver*2" gestartet
(falls verfügbar).
Halten Sie die Taste ungefähr zwei Sekunden lang
gedrückt, um einen eingehenden Anruf abzulehnen.
Wenn Sie die Taste loslassen, wird mit zwei akustischen
Signalen bestätigt, dass der Anruf abgelehnt wurde.
*1 Die Tastenfunktion variiert möglicherweise je nach
Smartphone.
*2 Die Verfügbarkeit der Funktion "VoiceOver" ist vom
iPhone und dessen Software-Version abhängig.
Español
Auriculares estéreo
 Botón multifunción
 Micrófono
 Si instala la app Smart Key* desde la tienda Google
PlayTM, podrá activar el ajuste de pistas y volumen
en el smartphone a través del botón multifunción.
* Smart Key es una aplicación para teléfonos
XperiaTM con AndroidTM OS 4.0 o una versión
superior. Es posible que la app no esté
disponible en algunos países o regiones y que
no pueda utilizarse con modelos de teléfono
inteligente no compatibles.
Productos compatibles
Utilice esta unidad con los teléfonos inteligentes.
Notas
ˎˎ Si conecta un teléfono inteligente no compatible, es
posible que el micrófono de esta unidad no funcione
o que el nivel del volumen sea bajo.
ˎˎ No se garantiza el funcionamiento de esta unidad
con reproductores de música digital.
Utilización del botón multifunción*1
Pulse una vez para contestar la llamada. Vuelva a pulsar
para finalizar. Pulse para reproducir una pista o ponerla
en pausa.
Operaciones disponibles para iPhone
Pulse una vez para reproducir o pausar una pista del
producto iPhone conectado. Pulse dos veces para saltar
a la siguiente pista. Pulse tres veces para saltar a la
pista anterior. Se inicia la función "VoiceOver*2" si se
mantiene pulsado un momento (si se encuentra
disponible).
Mantenga pulsado durante unos dos segundos para
rechazar una llamada entrante. Al soltar, dos pitidos
bajos confirman que la llamada se ha rechazado.
*1 La función del botón puede variar según el tipo de
teléfono inteligente.
*2 La disponibilidad de la función "VoiceOver" depende
del iPhone y la versión del software.
Italiano
Cuffie stereo
Português
 Pulsante multifunzione
 Microfono
 Se viene installata l'app* Smart Key da Google PlayTM
store, sarà possibile selezionare il brano e regolare il
volume sul proprio smartphone grazie al pulsante
multifunzione.
* Smart Key è un'applicazione dedicata a XperiaTM,
AndroidTM e OS 4.0 e versioni successive.
L'applicazione potrebbe non essere disponibile in
alcuni paesi e/o regioni e alcuni modelli di
smartphone non supportati potrebbero non
consentirne il funzionamento.
Prodotti compatibili
Utilizzare questa unità con smartphone.
Note
ˎˎ Se collegato ad uno smartphone non supportato, il
microfono di questa unità potrebbe non essere
utilizzabile, oppure il volume potrebbe risultare basso.
ˎˎ Questa unità non è garantita per il funzionamento con
lettori musicali digitali.
Utilizzare il pulsante multifunzione*
1
Premere una volta per rispondere alla chiamata, premere
di nuovo il tasto per riagganciare, premere per
riprodurre/interrompere un brano.
Operazioni disponibili per iPhone
Consente, con un'unica pressione, di riprodurre/
interrompere un brano del prodotto iPhone collegato.
Consente, con una doppia pressione, di saltare al brano
successivo. Consente, con una tripla pressione, di saltare
al brano precedente. Consente, con una pressione
prolungata, di avviare la funzione "VoiceOver*2", se
disponibile.
Tenere premuto per circa due secondi per rifiutare una
chiamata in arrivo. Quando si rilascia il pulsante, un
doppio segnale acustico a basso volume conferma che la
chiamata è stata rifiutata.
*1 La funzione del pulsante potrebbe variare in base allo
smartphone.
*2 La disponibilità della funzione "VoiceOver" dipende
dall'iPhone e dalla relativa versione del software.
Nederlands
Stereohoofdtelefoon
 Multifunctionele knop
 Microfoon
 Als u de app Smart Key* installeert via de Google
PlayTM-winkel, zal het bedienen van de tracks en het
volume op uw smartphone mogelijk zijn via de
multifunctionele knop.
* Smart Key is een toepassing voor XperiaTM,
AndroidTM OS 4.0 en hoger. De app is in bepaalde
landen en/of regio's mogelijk niet beschikbaar en
mag niet worden gebruikt met niet ondersteunde
smartphonemodellen.
Compatibele producten
U kunt dit apparaat gebruiken met een smartphone.
Opmerkingen
ˎˎ Als u dit apparaat aansluit op een niet ondersteunde
smartphone, is het mogelijk dat de microfoon van dit
apparaat niet werkt of dat het volumeniveau laag is.
ˎˎ Dit apparaat werkt mogelijk niet met digitale
muziekspelers.
De multifunctionele knop gebruiken*1
Druk één keer op deze knop om een oproep te
beantwoorden, en nogmaals om deze te beëindigen;
druk één keer op deze knop om een nummer af te
spelen/te onderbreken.
Mogelijke bedieningshandelingen voor iPhone
Wanneer u één keer op deze knop drukt, wordt een
nummer op de aangesloten iPhone afgespeeld/
gepauzeerd. Wanneer u twee keer op deze knop drukt,
schakelt u naar het volgende nummer. Wanneer u drie
keer op deze knop drukt, keert u terug naar het vorige
nummer. Wanneer u deze knop lang ingedrukt houdt,
wordt de functie "VoiceOver*2" gestart (indien
beschikbaar).
Houd deze knop ongeveer twee seconden ingedrukt om
een ontvangen oproep te negeren. Wanneer u de knop
loslaat, hoort u twee lage pieptonen ter bevestiging dat
de oproep werd genegeerd.
*1 Afhankelijk van de smartphone kan de functie van de
knop variëren.
*2 Beschikbaarheid van de functie "VoiceOver" hangt af
van de iPhone en de softwareversie.
Auscultadores estéreo
 Botão Multifunções
 Microfone
 Se instalar a aplicação Smart Key* a partir da Google
PlayTM store, o ajuste de volume e faixa do
smartphone será ativado com o botão multifunções.
* Smart Key é uma aplicação para XperiaTM,
AndroidTM OS 4.0 e versões superiores. A
aplicação poderá não estar disponível em alguns
países e/ou regiões e não poderá ser utilizada
com modelos de smartphone não suportados.
Produtos compatíveis
Utilize esta unidade com smartphones.
Notas
ˎˎ Se ligar a um smartphone não suportado, o microfone
desta unidade poderá não funcionar ou o nível do
volume poderá ser demasiado baixo.
ˎˎ Não é garantido que esta unidade funcione com
leitores de música digitais.
Utilizar o botão Multifunções*1
Prima uma vez para atender a chamada, prima outra vez
para terminar; prima para reproduzir/pausar uma faixa.
Operações disponíveis para iPhone
Reproduz/efetua uma pausa na faixa do produto iPhone
ligado quando prime uma só vez. Salta para a faixa
seguinte quando carrega uma segunda vez. Salta para a
faixa anterior quando carrega uma terceira vez. Inicia a
função "VoiceOver*2" quando prime durante um período
longo (se disponível).
Mantenha pressionado durante cerca de dois segundos
para rejeitar uma chamada. Quando soltar, dois sinais
sonoros de baixo volume confirmam que a chamada foi
rejeitada.
*1 A função do botão poderá variar consoante o
smartphone.
*2 A disponibilidade da função "VoiceOver" depende do
iPhone e da sua versão de software.
Polski
Słuchawki stereofoniczne
 Przycisk wielofunkcyjny
 Mikrofon
 Po zainstalowaniu aplikacji Smart Key* ze sklepu
Google PlayTM, zostanie włączona regulacja utworów i
głośności za pomocą przycisku wielofunkcyjnego.
* Smart Key to aplikacja dla telefonu XperiaTM z
systemem AndroidTM OS 4.0 i nowszymi wersjami.
Aplikacja może nie być dostępna w niektórych
krajach i/lub regionach. Nie można jej używać
również w nieobsługiwanych urządzeniach typu
smartphone.
Obsługiwane produkty
Tego urządzenia należy używać z telefonami typu
smartphone.
Uwagi
ˎˎ W przypadku podłączenia słuchawek do
nieobsługiwanego urządzenia typu smartphone
mikrofon tego urządzenia może nie działać lub poziom
głośności może być niski.
ˎˎ Nie gwarantujemy działania tego urządzenia w
cyfrowych odtwarzaczach muzyki.
Korzystanie z przycisku wielofunkcyjnego*1
Naciśnij raz, aby odebrać rozmowę, naciśnij ponownie,
aby zakończyć; naciśnij, aby odtworzyć/wstrzymać
utwór.
Dostępne funkcje w telefonie iPhone
Rozpoczęcie/wstrzymanie odtwarzania utworu z
telefonu iPhone, do którego są podłączone słuchawki,
jednym naciśnięciem. Dwukrotne naciśnięcie powoduje
przejście do następnego utworu. Trzykrotne naciśnięcie
powoduje przejście do poprzedniego utworu. Naciśnięcie
i przytrzymanie powoduje uruchomienie funkcji
"VoiceOver*2" (jeśli jest dostępna).
Naciśnij i przytrzymaj przez około 2 sekundy, aby
odrzucić połączenie przychodzące. Po zwolnieniu
przycisku zostaną wyemitowane dwa ciche sygnały
dźwiękowe potwierdzające odrzucenie połączenia.
*1 Funkcja przycisku zależy od telefonu.
*2 Dostępność funkcji "VoiceOver" zależy od telefonu
iPhone i wersji jego oprogramowania.
Magyar
Sztereó fejhallgató
Slovensky
Stereofónne slúchadlá
 Multifunkciós gomb
 Mikrofon
 Ha telepíti a Smart Key alkalmazást* a Google PlayTM
áruházból, akkor az okostelefonon lehetségessé válik
a sáv és a hangerő multifunkciós gombbal való
beállítása.
* A Smart Key az XperiaTM, AndroidTM OS 4.0 és
újabb operációs rendszerekben használható
alkalmazás. Előfordulhat, hogy az alkalmazás
egyes országokban és/vagy régiókban nem
érhető el, és a nem támogatott okostelefontípusokkal nem használható.
 Viacúčelové tlačidlo
 Mikrofón
 Ak nainštalujete aplikáciu Smart Key* z obchodu
Google PlayTM, nastavenia skladby a hlasitosti v
telefóne smartphone bude možné vykonávať
pomocou viacúčelového tlačidla.
* Smart Key je aplikácia pre zariadenia XperiaTM so
systémom AndroidTM OS 4.0 a novším. Aplikácia
nemusí byť dostupná v niektorých krajinách alebo
regiónoch a nemožno ju používať s
nepodporovanými modelmi telefónov
smartphone.
Kompatibilis termékek
Kompatibilné produkty
A készüléket okostelefonokhoz használhatja.
Megjegyzések
ˎˎ Ha nem támogatott okostelefonra csatlakoztatja,
előfordulhat, hogy a készülék mikrofonja nem
működik, vagy a hangerő alacsony.
ˎˎ Nem biztos, hogy a készülék működik digitális
zenelejátszók használata esetében.
Tieto slúchadlá môžete používať s telefónmi smartphone.
Poznámky
ˎˎ Ak slúchadlá pripojíte k nepodporovanému telefónu
smartphone, mikrofón tohto zariadenia nemusí
fungovať alebo môže byť úroveň hlasitosti nízka.
ˎˎ Tieto slúchadlá nemusia fungovať s digitálnymi
hudobnými prehrávačmi.
A multifunkciós gomb használata*1
Používanie viacúčelového tlačidla*1
A hívás fogadásához nyomja meg egyszer, a
befejezéshez nyomja meg még egyszer. Nyomja meg a
sáv lejátszásához/szüneteltetéséhez.
Jedným stlačením odpoviete na hovor, opätovným
stlačením hovor ukončíte alebo prehráte/pozastavíte
skladbu.
Az iPhone esetében rendelkezésre álló
műveletek
Dostupné operácie pre telefón iPhone
Egyszer megnyomva a sáv lejátszása/szüneteltetése a
csatlakoztatott iPhone-on. Kétszer megnyomva ugrás a
következő sávra. Háromszor megnyomva ugrás az előző
sávra. Hosszan megnyomva a "VoiceOver*2" funkció
bekapcsolása (ha elérhető).
A bejövő hívás visszautasításához tartsa nyomva kb. két
másodpercig. Ezután két mély hangjelzés nyugtázza a
hívás visszautasítását.
*1 A gomb funkciója az okostelefontól függően eltérő
lehet.
*2 A "Voice Over" funkció elérhetősége az iPhone
készüléktől és szoftververziójától függ.
Česky
Stereofonní sluchátka
Prehrávanie/pozastavenie skladby pripojeného
zariadenia iPhone jedným stlačením. Dvojitým stlačením
prejdete na ďalšiu skladbu. Trojitým stlačením sa vrátite
na predchádzajúcu skladbu. Dlhé stlačenie spúšťa
funkciu "VoiceOver*2" (ak je k dispozícii).
Podržaním tlačidla približne na 2 sekundy prichádzajúci
hovor odmietnete. Keď to urobíte, odmietnutie hovoru
potvrdia dve hlboké pípnutia.
*1 Funkcie tlačidla sa môžu líšiť v závislosti od telefónu
smartphone.
*2 Dostupnosť funkcie "VoiceOver" závisí od zariadenia
iPhone a verzie jeho softvéru.
Pyccкий
Стeрeофоничeскиe нayшники
 Multifunkční tlačítko
 Mikrofon
 Pokud nainstalujete aplikaci Smart Key* z obchodu
Google PlayTM, bude možné pomocí multifunkčního
tlačítka provádět změnu stopy a hlasitosti na
smartphonu.
* Smart Key je aplikace pro systémy XperiaTM a
AndroidTM OS 4.0 a novější. Aplikace nemusí být v
některých zemích nebo regionech k dispozici a
nemusí fungovat s nepodporovanými modely
smartphonů.
 Многофункциональная кнопка
 Mикpофон
 При установке приложения Smart Key* из Google
PlayTM управление дорожкой и громкостью на
смартфоне будут осуществляться с помощью
многофункциональной кнопки.
* Smart Key - это приложение для смартфонов
XperiaTM с AndroidTM OS 4.0 или более новой
версии. Приложение может быть недоступно в
некоторых странах и/или регионах и может не
работать на неподдерживаемых моделях
смартфонов.
Kompatibilní produkty
Совместимые изделия
Tento přístroj používejte se smartphony.
Poznámky
ˎˎ V případě připojení nepodporovaného smartphonu
nemusí mikrofon tohoto přístroje fungovat nebo může
být úroveň hlasitosti příliš nízká.
ˎˎ Funkčnost přístroje při použití s digitálními hudebními
přehrávači není zaručena.
Используйте это устройство с смартфонами.
Примечания
ˎˎ Если подключить неподдерживаемый смартфон,
микрофон этого устройства может не работать,
либо уровень громкости может быть низким.
ˎˎ Работа этого устройства с цифровыми
музыкальными проигрывателями не гарантируется.
Používání multifunkčního tlačítka*
Использование многофункциональной
кнопки*1
1
Přijměte hovor jedním stisknutím, ukončete hovor
opakovaným stisknutím; stisknutím přehrajete stopu/
pozastavíte její přehrávání.
Dostupné činnosti pro iPhone
Přehrává/pozastavuje stopu na připojeném zařízení
iPhone jedním stisknutím. Dvojitým stisknutím přeskočí
na další stopu. Trojitým stisknutím přeskočí na předchozí
stopu. Dlouhým stisknutím spustí funkci "VoiceOver*2"
(pokud je dostupná).
Stiskněte a podržte po dobu dvou sekund pro odmítnutí
hovoru. Po uvolnění uslyšíte dvě tichá pípnutí jako
potvrzení zamítnutí hovoru.
*1 Funkce tlačítka se může lišit v závislosti na
smartphonu.
*2 Dostupnost funkce "VoiceOver" závisí na iPhonu a
verzi softwaru.
Нажмите один раз, чтобы ответить на вызов, нажмите
еще раз, чтобы завершить вызов; нажмите, чтобы
воспроизвести/приостановить дорожку.
Доступные операции для iPhone
Воспроизведение/пауза композиции на
подключенном устройстве iPhone одним нажатием.
Двойное нажатие - переход к следующей
композиции. Тройное нажатие - переход к
предыдущей композиции. Нажатие и удержание:
включение функции "VoiceOver*2" (при наличии).
Удерживайте кнопку нажатой в течение
приблизительно двух секунд, чтобы отклонить
входящий вызов. Когда кнопка будет отпущена,
прозвучат два тихих сигнала, подтверждающие
отклонение вызова.
*1 Функция кнопки может быть отличной в
зависимости от модели смартфона.
*2 Наличие функции "VoiceOver" зависит от
устройства iPhone и версии его программного
обеспечения.
Ελληνικά
Στερεοφωνικά ακουστικά
 Κουμπί πολλαπλών λειτουργιών
 Μικρόφωνο
 Αν εγκαταστήσετε την εφαρμογή Smart Key* από το
κατάστημα Google PlayTM, η ρύθμιση κομματιών και
έντασης του ήχου στο τηλέφωνο smartphone θα
ενεργοποιείται με το κουμπί πολλαπλών
λειτουργιών.
* Το Smart Key είναι μια εφαρμογή για το XperiaTM,
AndroidTM OS 4.0 και νεότερες εκδόσεις. Η
εφαρμογή ενδέχεται να μην είναι διαθέσιμη σε
ορισμένες χώρες ή/και περιοχές και ενδέχεται
να μη μπορεί να χρησιμοποιηθεί με μη
υποστηριζόμενα μοντέλα smartphone.
Συμβατά προϊόντα
Χρησιμοποιήστε αυτήν τη μονάδα με τηλέφωνα
smartphone.
Σημειώσεις
ˎˎ Αν συνδέσετε ένα μη υποστηριζόμενο smartphone, το
μικρόφωνο αυτής της μονάδας ενδέχεται να μη
λειτουργεί ή το επίπεδο της έντασης ενδέχεται να
είναι χαμηλό.
ˎˎ Η λειτουργία αυτής της μονάδας με ψηφιακές
συσκευές αναπαραγωγής μουσικής δεν είναι
εγγυημένη.
Χρήση του κουμπιού πολλαπλών λειτουργιών*1
Πιέστε μία φορά για να απαντήσετε στην κλήση,
πιέστε ξανά για να τερματίσετε την κλήση. Πιέστε για
αναπαραγωγή/διακοπή ενός κομματιού.
Διαθέσιμες λειτουργίες για το iPhone
Πραγματοποιεί αναπαραγωγή/διακοπή ενός
κομματιού από το συνδεδεμένο iPhone, εάν το πιέσετε
μία φορά. Μεταβαίνει στο επόμενο κομμάτι, εάν το
πιέσετε δύο φορές. Μεταβαίνει στο προηγούμενο
κομμάτι, εάν το πιέσετε τρεις φορές. Ξεκινά τη
λειτουργία "VoiceOver*2", εάν το πιέσετε παρατεταμένα
(εφόσον διατίθεται).
Πιέστε συνεχόμενα για δύο δευτερόλεπτα περίπου, για
να απορρίψετε μια εισερχόμενη κλήση. Όταν το
αφήσετε, η απόρριψη της κλήσης επιβεβαιώνεται με
δύο χαμηλούς ήχους.
*1 Η λειτουργία του κουμπιού ενδέχεται να διαφέρει
ανάλογα με το τηλέφωνο smartphone.
*2 Η διαθεσιμότητα της λειτουργίας "VoiceOver"
εξαρτάται από το iPhone και την έκδοση λογισμικού
του.
Български
Стерео слушалки
 Многофункционален бутон
 Микрофон
 Ако инсталирате приложението Smart Key* от
Google PlayTM магазина, регулирането на записите
и силата на звука ще се разрешава чрез
многофункционален бутон.
* Smart Key е приложение за XperiaTM, AndroidTM
OS 4.0 или по-висока версия.
Приложението може да не е налично в някои
страни и/или региони и да не може да бъде
използвано от някои неподдържани модели
смартфони.
Съвместими продукти
Използвайте този продукт със смартфони.
Забележки
ˎˎ Ако свързвате към неподдържан смартфон,
микрофонът на това устройство може да не работи
или нивото на силата на звука може да е ниско.
ˎˎ Не е гарантирано, че продуктът ще работи с
музикални цифрови плейъри.
Използване на многофункционалния бутон*1
Натиснете веднъж, за да отговорите на повикване,
натиснете втори път, за да го прекратите, натиснете
за възпроизвеждане/пауза на песен.
Налични операции за iPhone
Възпроизвеждане/пауза на песен от свързания
iPhone продукт с едно натискане. Прескача към
следващата песен с двойно натискане. Прескача към
предишната песен с тройно натискане. Стартира
функцията "VoiceOver*2" с дълго натискане (ако е
налична).
Задръжте за около две секунди, за да отхвърлите
входящо повикване. Когато пуснете, два ниски
звукови сигнала ще потвърдят, че повикването е
отхвърлено.
*1 Функцията на бутона може да се различава в
зависимост от смартфона.
*2 Наличието на функцията "VoiceOver" зависи от
iPhone и версията на неговия софтуер.
Română
Căşti stereo
 Buton multifuncţional
 Microfon
 Dacă instalaţi aplicaţia Smart Key* din magazinul
Google PlayTM, ajustarea volumului şi schimbarea
melodiei de pe smartphone-ul dumneavoastră vor fi
controlate cu ajutorul butonului multifuncţional.
* Smart Key este o aplicaţie pentru XperiaTM,
AndroidTM OS 4.0 şi superior. Este posibil ca
aplicaţia să nu fie disponibilă în anumite ţări şi/
sau regiuni, aceasta neputând fi utilizată cu
modele de smartphone incompatibile.
Produse compatibile
Utilizaţi această unitate cu smartphone-uri.
Note
ˎˎ În cazul conectării la un smartphone incompatibil, este
posibil ca microfonul unităţii să nu funcţioneze sau ca
nivelul volumului să fie scăzut.
ˎˎ Nu se garantează că această unitate poate opera
playere muzicale digitale.
Utilizarea butonului multifuncţional*1
Apăsaţi o dată pentru a răspunde la apel, apăsaţi din nou
pentru a încheia; apăsaţi pentru redare/pauză melodie.
Operaţiuni disponibile pentru iPhone
Redă/întrerupe redarea unei melodii de pe produsul
iPhone conectat printr-o singură apăsare. Cu o dublă
apăsare, treceţi la melodia următoare. Cu o triplă
apăsare, treceţi la melodia anterioară. Cu o apăsare
prelungită, porneşte funcţia "VoiceOver*2" (Dublaj) (dacă
este disponibilă).
Ţineţi apăsat pentru aproximativ două secunde pentru a
respinge apelul primit. După ce aţi ridicat degetul, două
semnale bip slabe vă confirmă că apelul a fost respins.
*1 Funcţia butonului poate varia în funcţie de
smartphone.
*2 Disponibilitatea funcţiei "VoiceOver" (Dublaj) depinde
de iPhone şi de versiunea software-ului acestuia.
Slovenščina
Stereo slušalke
 Gumb z več funkcijami
 Mikrofon
 Če namestite aplikacijo Smart Key* iz trgovine Google
PlayTM, bo omogočeno izbiranje skladbe in
nastavljanje glasnosti prek gumba z več funkcijami.
* Smart Key je aplikacija za XperiaTM, AndroidTM OS
4.0 ali novejše. Aplikacija morda ne bo na voljo v
vseh državah in/ali regijah, prav tako morda ne
bo delovala na nepodprtih modelih pametnih
telefonov.
Združljivi izdelki
To enoto uporabljajte s pametnimi telefoni.
Opombe
ˎˎ Če priključite nepodprt pametni telefon, se lahko
zgodi, da mikrofon te enote ne bo deloval ali da bo
glasnost prenizka.
ˎˎ Ne jamčimo, da boste s to enoto lahko upravljali
digitalne glasbene predvajalnike.
Uporaba gumba z več funkcijami*1
Pritisnite enkrat, da odgovorite na klic, ponovno pritisnite
za prekinitev; pritisnite za predvajanje/premor skladbe.
Razpoložljive funkcije za iPhone
Predvaja/prekine melodijo v povezanem izdelku iPhone z
enojnim pritiskom. Če pritisnete dvakrat, preskoči na
naslednjo melodijo. Če pritisnete trikrat, preskoči na
predhodno melodijo. Če pritisnete za dalj časa, vključi
funkcijo »VoiceOver«*2 (če je na voljo).
Če gumb držite pritisnjen približno dve sekundi, je
vhodni klic zavrnjen. Ko tipko spustite, dva dolga piska
potrdita zavrnitev klica.
*1 Funkcija gumba je odvisna od pametnega telefona.
*2 Razpoložljivost funkcije »VoiceOver« je odvisna od
modela iPhone in različice programske opreme.
Specifications / Spécifications / Technische Daten / Especificaciones / Caratteristiche tecniche / Technische gegevens / Especificações / Dane techniczne / Műszaki adatok / Technické údaje / Technické údaje / Технические характеристики / Τεχνικά χαρακτηριστικά / Спецификации / Specificaţii / Specifikacije
Headphones
Casque
Type:
Closed, dynamic
Driver unit: 9 mm, dome type
Power handling capacity:
100 mW (IEC*)
Impedance: 16 Ω at 1 kHz
Sensitivity:
100 dB/mW
Frequency response:
8 Hz – 22,000 Hz
Cable:
Approx. 1.2 m, Litz wire, Y-type
Plug:
L-shaped gold-plated 4-pole mini plug
Mass:
Approx. 3 g without cable
Type :
fermé, dynamique
Transducteur :9 mm, type à dôme
Puissance admissible :
100 mW (CEI*)
Impédance : 16 Ω à 1 kHz
Sensibilité : 100 dB/mW
Réponse en fréquence :
8 Hz – 22 000 Hz
Câble :
environ 1,2 m, fil Litz, type en Y
Fiche :
mini-fiche en L plaquée or à 4 pôles
Masse :
environ 3 g sans câble
Microphone
Micro
Type:
Electret condenser
Directivity:
Omni directional
Open circuit voltage level:
–40 dB (0 dB = 1 V/Pa)
Effective frequency range:
20 Hz – 20,000 Hz
Type :
condensateur à électret
Directivité :omnidirectionnel
Niveau de tension en circuit ouvert :
–40 dB (0 dB = 1 V/Pa)
Plage de fréquences efficace :
20 Hz – 20 000 Hz
* IEC = International Electrotechnical Commission
* CEI = Commission Electrotechnique Internationale
Supplied accessories
Earbuds: S (2 lines) (2), M (3 lines) (attached to the unit
at the factory) (2), L (4 lines) (2)
Accessoires fournis
Oreillettes : S (2 lignes) (2), M (3 lignes) (fixées à
l'appareil en usine) (2), L (4 lignes) (2)
iPhone is a trademark of Apple Inc., registered in the
U.S. and other countries.
iPhone est une marque d'Apple Inc., déposée aux
États-Unis et dans d'autres pays.
Xperia
AB.
XperiaTM est une marque de Sony Mobile
Communications AB.
TM
is a trademark of Sony Mobile Communications
AndroidTM and Google PlayTM are trademarks or
registered trademarks of Google, Inc.
Optional replacement earbuds can be ordered from
your nearest Sony dealer.
The validity of the CE marking is restricted to only those
countries where it is legally enforced, mainly in the
countries EEA (European Economic Area).
AndroidTM et Google PlayTM sont des marques ou des
marques déposées de Google, Inc.
Des oreillettes de rechange en option peuvent être
commandées auprès de votre revendeur Sony le
plus proche.
La validité du marquage CE est limitée uniquement aux
pays dans lesquels il fait force de loi, c'est-à-dire
principalement dans les pays de I'EEE (Espace
Économique Européen).
Kopfhörer
Typ:
Geschlossen, dynamisch
Treibereinheit:Kalotte, 9 mm
Belastbarkeit: 100 mW (IEC*)
Impedanz:
16 Ω bei 1 kHz
Empfindlichkeit:
100 dB/mW
Frequenzgang:
8 Hz – 22.000 Hz
Kabel:
ca. 1,2 m, Litze, Y-förmig
Stecker:Vergoldeter 4-poliger Ministecker in
L-Form
Masse:
ca. 3 g (ohne Kabel)
Mikrofon
Typ:Elektret-Kondensatormikrofon
Richtcharakteristik: Kugel
Leerlaufspannungspegel:
–40 dB (0 dB = 1 V/Pa)
Effektiver Frequenzbereich:
20 Hz – 20.000 Hz
* IEC = Internationale Elektrotechnische Kommission
Mitgeliefertes Zubehör
Ohrpolster: S (2 Linien) (2), M (3 Linien) (werkseitig am
Gerät angebracht) (2), L (4 Linien) (2)
iPhone ist in den USA und anderen Ländern ein
eingetragenes Markenzeichen von Apple Inc.
XperiaTM ist ein Markenzeichen von Sony Mobile
Communications AB.
AndroidTM und Google PlayTM sind Markenzeichen oder
eingetragene Markenzeichen von Google, Inc.
Optionale Ersatzohrpolster können Sie bei Bedarf bei
Ihrem Sony-Händler bestellen.
Die Gültigkeit des CE-Zeichens beschränkt sich
ausschließlich auf die Länder, in denen es gesetzlich
erforderlich ist, vor allem im EWR (Europäischer
Wirtschaftsraum).
Masa: aprox. 3 g sin el cable
Accesorios suministrados
Adaptadores: S (2 líneas) (2), M (3 líneas) (adjuntos a la
unidad de fábrica) (2), L (4 líneas) (2)
iPhone es una marca comercial de Apple Inc., registrada
en los EE. UU. y en otros países.
XperiaTM es una marca comercial de Sony Mobile
Communications AB.
AndroidTM y Google PlayTM son marcas comerciales o
marcas comerciales registradas de Google, Inc.
Puede solicitar un pedido de adaptadores de
repuesto opcionales al distribuidor Sony más
cercano.
Massa: Aprox. 3 g sem o cabo
Acessórios fornecidos
Auriculares: S (2 linhas) (2), M (3 linhas) (instalados de
fábrica na unidade) (2), L (4 linhas) (2)
iPhone é uma marca comercial da Apple Inc., registada
nos Estados Unidos e noutros países.
XperiaTM é uma marca comercial da Sony Mobile
Communications AB.
AndroidTM e Google PlayTM são marcas comerciais ou
marcas comerciais registadas da Google, Inc.
É possível encomendar auriculares opcionais de
substituição ao seu representante Sony mais
próximo.
La validez de la marca CE se limita únicamente a aquellos
países en los que la legislación la impone, especialmente
los países de la EEE (Espacio Económico Europeo).
A validade das marcas da CE está limitada aos países em
que for imposta por lei, sobretudo nos países do EEE
(Espaço Económico Europeu).
Massa: circa 3 g (senza cavo)
Accessori in dotazione
Auricolari: S (2 linee) (2), M (3 linee) (collegati all'unità in
fabbrica) (2), L (4 linee) (2)
iPhone è un marchio di fabbrica di Apple Inc., registrato
negli Stati Uniti e in altri paesi.
XperiaTM è un marchio di fabbrica di Sony Mobile
Communications AB.
AndroidTM e Google PlayTM sono marchi di fabbrica o
marchi registrati di Google, Inc.
Masa: ok. 3 g (bez przewodu)
Dostarczone wyposażenie
Wkładki douszne: S (2 linie) (2), M (3 linie) (zamocowane
fabrycznie) (2), L (4 linie) (2)
iPhone to znak towarowy firmy Apple Inc. zarejestrowany
na terenie Stanów Zjednoczonych lub innych krajów.
XperiaTM to znak towarowy Sony Mobile Communications
AB.
AndroidTM i Google PlayTM to znaki towarowe lub
zarejestrowane znaki handlowe Google, Inc.
Auricolari di ricambio opzionali possono essere
ordinati presso il rivenditore Sony di zona.
Opcjonalne wkładki douszne można zamówić u
najbliższego sprzedawcy Sony.
La validità del contrassegno CE è limitata ai soli paesi in
cui esso è in vigore, in particolar modo ai paesi dello SEE
(Spazio Economico Europeo).
Znak CE obowiązuje tylko w tych krajach, w których ma
on podstawę prawną, głównie w krajach EEA (European
Economic Area – Europejski Obszar Ekonomiczny).
Massa: ong. 3 g (zonder kabel)
Bijgeleverde accessoires
Oordopjes: S (2 lijnen) (2), M (3 lijnen) (in de fabriek aan
het apparaat bevestigd) (2), L (4 lijnen) (2)
iPhone is een handelsmerk van Apple Inc., geregistreerd
in de Verenigde Staten en andere landen.
XperiaTM is een handelsmerk van Sony Mobile
Communications AB.
AndroidTM en Google PlayTM zijn handelsmerken of
gedeponeerde handelsmerken van Google, Inc.
Tömeg: kb. 3 g (kábel nélkül)
Mellékelt tartozékok
Füldugók: S (2 sor) (2), M (3 sor) (gyárilag a készülékhez
rögzítve) (2), L (4 sor) (2)
Az iPhone az Apple Inc. az USA-ban és más országokban
bejegyzett védjegye.
Az XperiaTM a Sony Mobile Communications AB védjegye.
Az AndroidTM és a Google PlayTM a Google, Inc. védjegye
vagy bejegyzett védjegye.
Optionele vervangende oordopjes kunnen besteld
worden bij uw dichtstbijzijnde Sony-handelaar.
De CE-markering geldt alleen in landen waar deze
wettelijk van kracht is. Dit is vooral het geval in landen
die deel uitmaken van de EER (Europese Economische
Ruimte).
Hmotnost: přibl. 3 g (bez kabelu)
Dodávané příslušenství
Návleky: S (2 linky) (2), M (3 linky) (nasazeny na sluchátka
výrobcem) (2), L (4 linky) (2)
iPhone je ochranná známka Apple Inc. registrovaná v
USA a v jiných zemích.
XperiaTM je ochranná známka společnosti Sony Mobile
Communications AB.
AndroidTM a Google PlayTM jsou ochranné známky
společnosti Google, Inc.
Volitelné náhradní návleky lze objednat u nejbližšího
prodejce Sony.
Platnost označení CE se vztahuje pouze na země, kde je
toto označení vyžadováno zákonem, zejména na země
Evropského společenství (EU).
Hmotnosť: pribl. 3 g (bez kábla)
Dodávané príslušenstvo
Nástavce slúchadiel: S (2 prúžky) (2), M (3 prúžky)
(pripojené k slúchadlám z výroby) (2), L (4 prúžky) (2)
iPhone je ochranná známka spoločnosti Apple Inc.
registrovaná v USA a v iných krajinách.
XperiaTM je ochranná známka spoločnosti Sony Mobile
Communications AB.
AndroidTM a Google PlayTM sú ochranné známky alebo
registrované ochranné známky spoločnosti Google, Inc.
Náhradné nástavce slúchadiel si môžete objednať u
najbližšieho predajcu Sony.
Platnosť označenia CE sa týka iba tých krajín, v ktorých je
toto označenie ustanovené zákonom, najmä krajín
Európskeho hospodárskeho priestoru (EHP).
Масса: прибл. 3 г (без шнура)
Включенные элементы
Основное устройство (1)
Прилагаемые принадлежности
Вкладыши: S (2 линии) (2), M (3 линии) (присоединены
к наушникам на заводе) (2), L (4 линии) (2)
iPhone является товарным знаком Apple Inc.,
зарегистрированным в США и других странах.
XperiaTM является товарным знаком Sony Mobile
Communications AB.
AndroidTM и Google PlayTM являются товарными
знаками или зарегистрированными товарными
знаками Google, Inc.
Дополнительные сменные вкладыши можно
заказать у ближайшего дилера Sony.
Маркировка CE действительна только в тех странах,
где она имеет юридическую силу. В основном это
страны Европейской экономической зоны (EEA).
Μάζα: Περίπου 3 g (χωρίς το καλώδιο)
Παρεχόμενα εξαρτήματα
Προστατευτικά "μαξιλαράκια": S (2 γραμμές) (2), M (3
γραμμές) (προσαρτημένα στη μονάδα από το
εργοστάσιο) (2), L (4 γραμμές) (2)
Το iPhone είναι εμπορικό σήμα της Apple Inc.,
κατατεθέν στις ΗΠΑ και σε άλλες χώρες.
Το XperiaTM είναι εμπορικό σήμα της Sony Mobile
Communications AB.
Τα AndroidTM και Google PlayTM είναι εμπορικά σήματα ή
σήματα κατατεθέντα της Google, Inc.
Μπορείτε να παραγγείλετε προαιρετικά
ανταλλακτικά προστατευτικά "μαξιλαράκια" από
τον πλησιέστερο αντιπρόσωπο της Sony.
Η ισχύς της σήμανσης CE περιορίζεται μόνο σε εκείνες
τις χώρες όπου επιβάλλεται δια νόμου, κυρίως στις
χώρες του Ευρωπαϊκού Οικονομικού Χώρου (ΕΟΧ).
Tartalék vagy cserefüldugót a legközelebbi
Sony-forgalmazónál lehet rendelni.
Маса: Прибл. 3 г (без кабел)
Приложени аксесоари
Наушници: S (2 линии) (2), M (3 линии) (фабрично
поставени) (2), L (4 линии) (2)
iPhone е търговска марка на Apple Inc., регистрирана
в САЩ и други страни.
XperiaTM е търговска марка на Sony Mobile
Communications AB.
AndroidTM и Google PlayTM са търговски марки или
регистрирани търговски марки на Google, Inc.
Допълнителни резервни слушалки може да се
поръчат от най-близкия дистрибутор на Sony.
Валидността на знака CE се ограничава само до тези
държави, където същият има законна сила, основно в
държавите от EEA (Европейска икономическа зона).
Masă: cca. 3 g (fără cablu)
Accesorii incluse
Auriculare: S (2 linii) (2), M (3 linii) (ataşate unităţii din
fabrică) (2), L (4 linii) (2)
iPhone este o marcă comercială a Apple Inc., înregistrată
în Statele Unite ale Americii şi/sau în alte ţări.
XperiaTM este o marcă comercială a Sony Mobile
Communications AB.
AndroidTM şi Google PlayTM sunt mărci comerciale sau
mărci comerciale înregistrate ale Google, Inc.
Auriculare de schimb opţionale pot fi comandate de
la cel mai apropiat distribuitor Sony.
Valabilitatea marcajului CE este restricţionată la acele ţări
unde este aplicat legal, în special în ţările SEE (Spaţiul
Economic European).
Masa: Pribl. 3 g (brez kabla)
Priložena dodatna oprema
Ušesni čepki: S (2 črti) (2), M (3 črte) (nameščeni v tovarni)
(2), L (4 črte) (2)
iPhone je blagovna znamka družbe Apple Inc.,
registrirana v ZDA in drugih državah.
XperiaTM je blagovna znamka družbe Sony Mobile
Communications AB.
AndroidTM in Google PlayTM sta blagovni znamki oz.
registrirani blagovni znamki družbe Google, Inc.
Izbirne nadomestne ušesne čepke lahko naročite pri
najbližjem trgovcu Sony.
A CE jelölés érvényessége azokra az országokra
korlátozódik, ahol a használata jogszabályban előírt
– főként az Európai Gazdasági Térség (EEA) országaiban.
Veljavnost oznake CE je omejena le na države, kjer je
zakonsko obvezujoča, v glavnem v državah EGP
(Evropskega gospodarskega področja).
Precautions / Précautions / Sicherheitsmaßnahmen / Precauciones / Precauzioni / Voorzorgsmaatregelen / Precauções / Środki ostrożności / Óvintézkedések / Bezpečnostní opatření / Меры предосторожности / Προφυλάξεις / Măsuri de precauţie / Previdnostni ukrepi
High volume may affect your hearing. For traffic safety,
do not use while driving or cycling.
Vous risquez de subir des lésions auditives si vous
utilisez cet appareil à un volume trop élevé. Pour des
raisons de sécurité, ne l'utilisez pas en voiture ou à vélo.
Eine zu hohe Lautstärke kann zu Gehörschäden führen.
Verwenden Sie Kopfhörer aus Gründen der
Verkehrssicherheit nicht beim Fahren von
Kraftfahrzeugen oder beim Fahrradfahren.
Si utiliza los auriculares a un volumen alto, puede dañar
sus oídos. Por razones de seguridad viaria, no los utilice
mientras conduzca o vaya en bicicleta.
Install the earbuds firmly. If an earbud accidentally
detaches and is left in your ear, it may cause injury.
Fixez fermement les oreillettes. Si une oreillette se
détachait accidentellement et restait coincée dans votre
oreille, elle risquerait de vous blesser.
Bringen Sie die Ohrpolster fest an. Andernfalls könnte
sich ein Ohrpolster versehentlich lösen, im Ohr stecken
bleiben und Verletzungen verursachen.
Coloque los adaptadores firmemente. Si
accidentalmente se suelta un adaptador y se le queda
en el oído, podría producirle lesiones.
L'ascolto ad alto volume può avere ripercussioni
sull'udito. Per motivi di sicurezza stradale, non utilizzare
durante la guida o in bicicletta.
A nagy hangerő károsíthatja hallását. A közlekedés
biztonsága érdekében vezetés és kerékpározás közben
ne használja.
Een hoog volumeniveau kan uw gehoor beschadigen.
Voor veiligheid in het verkeer mag u dit apparaat niet
gebruiken tijdens het autorijden of fietsen.
Vysoká úroveň hlasitosti může ovlivnit váš poslech. Z
důvodu bezpečnosti silničního provozu nepoužívejte
sluchátka při řízení vozidla nebo jízdě na kole.
O volume elevado pode afectar a sua audição. Para
uma maior segurança na condução, não utilize os
auscultadores enquanto conduz ou quando andar de
bicicleta.
Vysoká hlasitosť môže ovplyvniť váš sluch. Z
bezpečnostných dôvodov nepoužívajte slúchadlá pri
šoférovaní ani bicyklovaní.
Wysoki poziom głośności może mieć wpływ na słuch.
Dla bezpieczeństwa nie używaj słuchawek podczas
prowadzenia samochodu ani jazdy na rowerze.
Installare in modo saldo gli auricolari. Se un auricolare
si stacca accidentalmente e rimane all'interno
dell'orecchio, potrebbero verificarsi ferite.
Bevestig de oordopjes stevig. Als een oordopje per
ongeluk loslaat en in uw oor achterblijft, kan dit letsels
veroorzaken.
Coloque os auriculares com firmeza. Se um auricular se
soltar acidentalmente e ficar no interior do ouvido,
pode provocar lesões.
Nałóż dokładnie wkładki douszne. Jeśli wkładka
douszna przypadkowo odłączy się od słuchawki i
pozostanie w uchu, może to spowodować obrażenia.
Высокий уровень громкости может негативно
повлиять на слух. С целью обеспечения безопасности
дорожного движения, не пользуйтесь наушниками во
время вождения автомобиля или езды на
велосипеде.
A füldugókat szorosan rögzítse. Sérülést okozhat, ha egy
füldugó véletlenül leválik, és a fülében marad.
Návleky nasaďte pevně. Pokud návlek omylem sklouzne
a zůstane v uchu, mohlo by dojít ke zranění.
Nástavce slúchadiel pevne nasaďte na slúchadlá. V
prípade, že sa nástavec uvoľní a ostane v uchu, môže
dôjsť k poraneniu.
Надежно устанавливайте вкладыши. Если вкладыш
случайно выпадет и останется в ухе, это может
привести к травме.
Η ακρόαση σε υψηλή ένταση ενδέχεται να επηρεάσει
την ακοή σας. Για λόγους οδικής ασφάλειας, μην τα
χρησιμοποιείτε κατά την οδήγηση οχήματος ή
ποδηλάτου.
Силният звук може да повлияе на способността ви да
чувате. За безопасност на пътя избягвайте употребата
при шофиране или каране на велосипед.
Ascultarea la căşti la volum ridicat vă poate afecta auzul.
Pentru siguranţa traficului rutier, nu utilizaţi căştile în
timp ce conduceţi autoturismul sau mergeţi pe bicicletă.
Visoka raven glasnosti lahko škoduje vašemu sluhu.
Zaradi varnosti v prometu slušalk ne uporabljajte med
vožnjo z avtom ali kolesom.
Τοποθετήστε τα προστατευτικά "μαξιλαράκια"
σταθερά. Αν ένα προστατευτικό "μαξιλαράκι"
αποσπαστεί κατά λάθος και παραμείνει στο αυτί σας,
μπορεί να προκληθεί τραυματισμός.
Инсталирайте наушниците здраво. Ако някой
наушник случайно се откачи и остане в ухото ви, това
може да доведе до увреждане.
Montaţi auricularele ferm. Dacă un auricular se
desprinde în mod accidental şi rămâne în ureche, poate
provoca răni.
Ušesne čepke morate dobro pritrditi na slušalke. Če
ušesni čepek slučajno odpade in ostane v ušesu, to lahko
povzroči poškodbo.
Keep earbuds clean. To clean the earbuds, wash them
with a mild detergent solution.
Mantenere puliti gli auricolari. Per pulire gli auricolari,
lavarli con una soluzione detergente delicata.
Tartsa tisztán a füldugókat. A füldugók tisztításához
használjon kímélő mosószeres oldatot.
Veillez à maintenir les oreillettes propres. Pour nettoyer
les oreillettes, lavez-les avec une solution détergente
douce.
Zorg ervoor dat de oordopjes proper blijven. Om de
oordopjes te reinigen, wast u deze met een mild
zeepsopje.
Udržujte návleky čisté. Chcete-li návleky očistit,
opláchněte je slabým čisticím roztokem.
Halten Sie die Ohrpolster sauber. Waschen Sie die
Ohrpolster dazu mit einer milden Reinigungslösung.
Mantenga los adaptadores siempre limpios. Para limpiar
los adaptadores, lávelos con una solución de detergente
neutro.
Mantenha os auriculares limpos. Para limpar os
auriculares, lave-os com uma solução de detergente
suave.
Pamiętaj, aby wkładki douszne były czyste. Aby
wyczyścić wkładki douszne, wymyj je wodą z delikatnym
środkiem czyszczącym.
Nástavce slúchadiel udržiavajte čisté. Nástavce
slúchadiel umývajte v roztoku jemného saponátu.
Держите вкладыши в чистоте. Чтобы почистить
вкладыши, вымойте их слабым раствором моющего
средства.
Διατηρείτε τα προστατευτικά "μαξιλαράκια" καθαρά.
Για να καθαρίσετε τα προστατευτικά "μαξιλαράκια",
πλύνετέ τα με ένα ήπιο διάλυμα απορρυπαντικού.
Пазете наушниците чисти. За да почистите
наушниците, ги изплакнете с мек почистващ
препарат.
Păstraţi auricularele curate. Pentru a curăţa auricularele
spălaţi-le cu o soluţie de detergent neagresiv.
Ušesne čepke ves čas ohranjajte čiste. Za čiščenje
ušesnih čepkov uporabite blago čistilo.