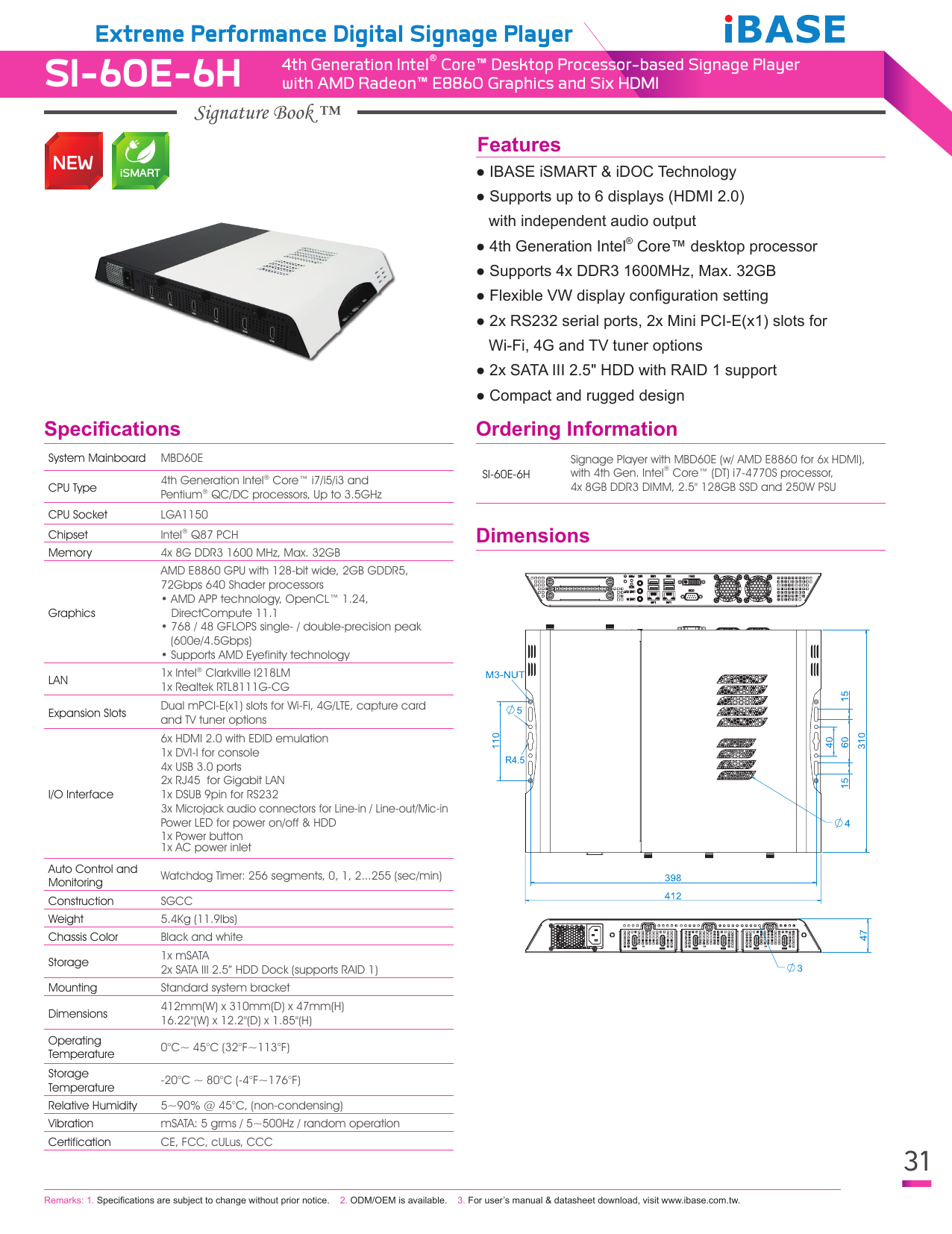 Extreme Performance Digital Signage Player
SI-60E-6H
4th Generation Intel® Core™ Desktop Processor-based Signage Player
with AMD Radeon™ E8860 Graphics and Six HDMI
Signature Book ™
NEW
Features
● IBASE iSMART & iDOC Technology
iSMART
● Supports up to 6 displays (HDMI 2.0)
with independent audio output
● 4th Generation Intel® Core™ desktop processor
● Supports 4x DDR3 1600MHz, Max. 32GB
● Flexible VW display configuration setting
● 2x RS232 serial ports, 2x Mini PCI-E(x1) slots for
Wi-Fi, 4G and TV tuner options
● 2x SATA III 2.5" HDD with RAID 1 support
● Compact and rugged design
Specifications
Ordering Information
System Mainboard
MBD60E
CPU Type
4th Generation Intel® Core™ i7/i5/i3 and
Pentium® QC/DC processors, Up to 3.5GHz
LGA1150
Intel® Q87 PCH
4x 8G DDR3 1600 MHz, Max. 32GB
AMD E8860 GPU with 128-bit wide, 2GB GDDR5,
72Gbps 640 Shader processors
• AMD APP technology, OpenCL™ 1.24,
DirectCompute 11.1
• 768 / 48 GFLOPS single- / double-precision peak
(600e/4.5Gbps)
• Supports AMD Eyefinity technology
1x Intel® Clarkville I218LM
1x Realtek RTL8111G-CG
Dual mPCI-E(x1) slots for Wi-Fi, 4G/LTE, capture card
and TV tuner options
6x HDMI 2.0 with EDID emulation
1x DVI-I for console
4x USB 3.0 ports
2x RJ45 for Gigabit LAN
1x DSUB 9pin for RS232
3x Microjack audio connectors for Line-in / Line-out/Mic-in
Power LED for power on/off & HDD
1x Power button
1x AC power inlet
CPU Socket
Chipset
Memory
Graphics
LAN
Expansion Slots
I/O Interface
Auto Control and
Monitoring
Construction
Weight
Chassis Color
Storage
Mounting
Dimensions
Operating
Temperature
Storage
Temperature
Relative Humidity
Vibration
Certification
SI-60E-6H
Signage Player with MBD60E (w/ AMD E8860 for 6x HDMI),
with 4th Gen. Intel® Core™ (DT) i7-4770S processor,
4x 8GB DDR3 DIMM, 2.5" 128GB SSD and 250W PSU
Dimensions
Watchdog Timer: 256 segments, 0, 1, 2...255 (sec/min)
SGCC
5.4Kg (11.9lbs)
Black and white
1x mSATA
2x SATA III 2.5" HDD Dock (supports RAID 1)
Standard system bracket
412mm(W) x 310mm(D) x 47mm(H)
16.22"(W) x 12.2"(D) x 1.85"(H)
0°C~ 45°C (32°F~113°F)
-20°C ~ 80°C (-4°F~176°F)
5~90% @ 45°C, (non-condensing)
mSATA: 5 grms / 5~500Hz / random operation
CE, FCC, cULus, CCC
Remarks: 1. Specifications are subject to change without prior notice.
2. ODM/OEM is available.
31
3. For user's manual & datasheet download, visit www.ibase.com.tw.

* Your assessment is very important for improving the work of artificial intelligence, which forms the content of this project