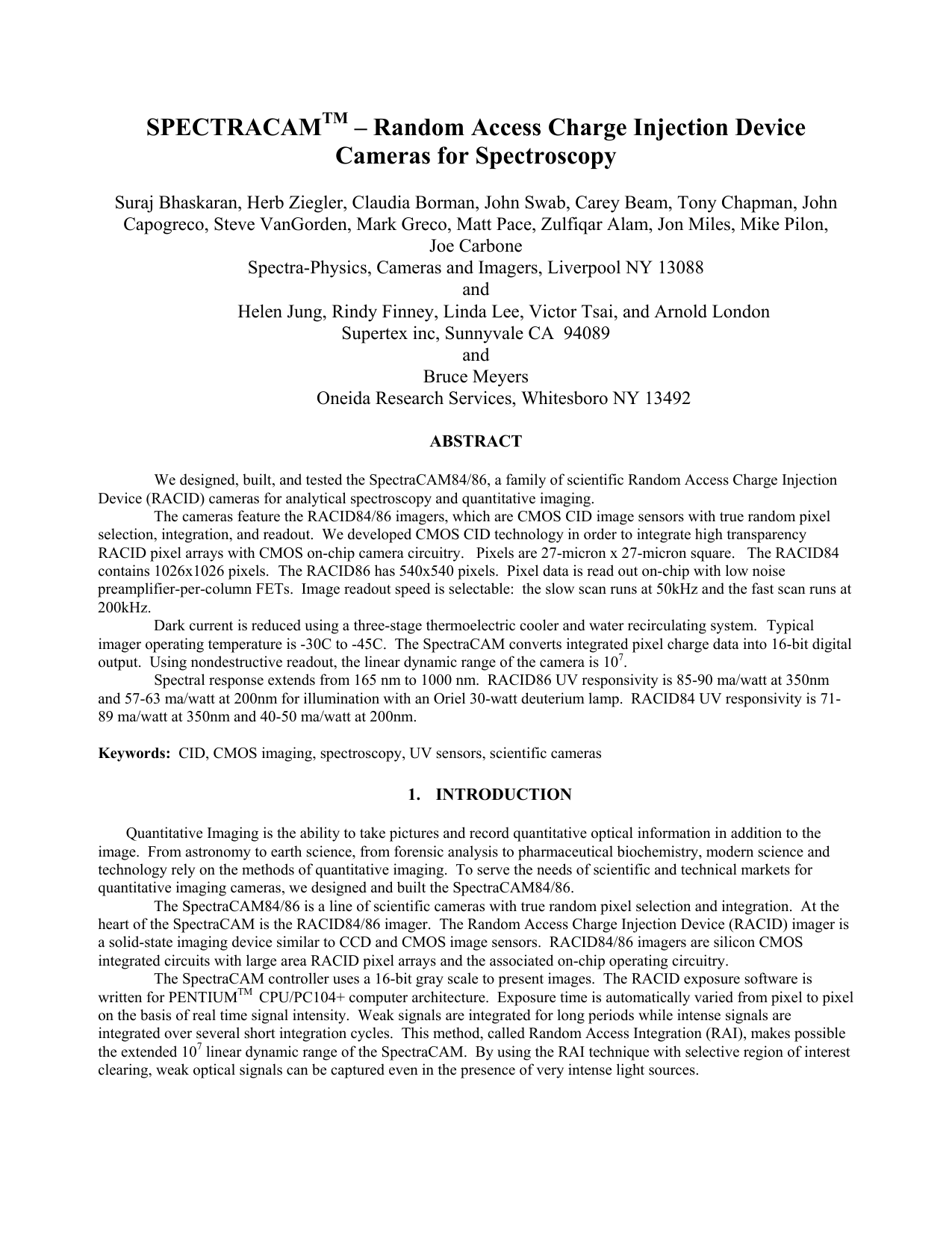 SPECTRACAMTM – Random Access Charge Injection Device
Cameras for Spectroscopy
Suraj Bhaskaran, Herb Ziegler, Claudia Borman, John Swab, Carey Beam, Tony Chapman, John
Capogreco, Steve VanGorden, Mark Greco, Matt Pace, Zulfiqar Alam, Jon Miles, Mike Pilon,
Joe Carbone
Spectra-Physics, Cameras and Imagers, Liverpool NY 13088
and
Helen Jung, Rindy Finney, Linda Lee, Victor Tsai, and Arnold London
Supertex inc, Sunnyvale CA 94089
and
Bruce Meyers
Oneida Research Services, Whitesboro NY 13492
ABSTRACT
We designed, built, and tested the SpectraCAM84/86, a family of scientific Random Access Charge Injection
Device (RACID) cameras for analytical spectroscopy and quantitative imaging.
The cameras feature the RACID84/86 imagers, which are CMOS CID image sensors with true random pixel
selection, integration, and readout. We developed CMOS CID technology in order to integrate high transparency
RACID pixel arrays with CMOS on-chip camera circuitry. Pixels are 27-micron x 27-micron square. The RACID84
contains 1026x1026 pixels. The RACID86 has 540x540 pixels. Pixel data is read out on-chip with low noise
preamplifier-per-column FETs. Image readout speed is selectable: the slow scan runs at 50kHz and the fast scan runs at
200kHz.
Dark current is reduced using a three-stage thermoelectric cooler and water recirculating system. Typical
imager operating temperature is -30C to -45C. The SpectraCAM converts integrated pixel charge data into 16-bit digital
output. Using nondestructive readout, the linear dynamic range of the camera is 107.
Spectral response extends from 165 nm to 1000 nm. RACID86 UV responsivity is 85-90 ma/watt at 350nm
and 57-63 ma/watt at 200nm for illumination with an Oriel 30-watt deuterium lamp. RACID84 UV responsivity is 7189 ma/watt at 350nm and 40-50 ma/watt at 200nm.
Keywords: CID, CMOS imaging, spectroscopy, UV sensors, scientific cameras
1. INTRODUCTION
Quantitative Imaging is the ability to take pictures and record quantitative optical information in addition to the
image. From astronomy to earth science, from forensic analysis to pharmaceutical biochemistry, modern science and
technology rely on the methods of quantitative imaging. To serve the needs of scientific and technical markets for
quantitative imaging cameras, we designed and built the SpectraCAM84/86.
The SpectraCAM84/86 is a line of scientific cameras with true random pixel selection and integration. At the
heart of the SpectraCAM is the RACID84/86 imager. The Random Access Charge Injection Device (RACID) imager is
a solid-state imaging device similar to CCD and CMOS image sensors. RACID84/86 imagers are silicon CMOS
integrated circuits with large area RACID pixel arrays and the associated on-chip operating circuitry.
The SpectraCAM controller uses a 16-bit gray scale to present images. The RACID exposure software is
written for PENTIUMTM CPU/PC104+ computer architecture. Exposure time is automatically varied from pixel to pixel
on the basis of real time signal intensity. Weak signals are integrated for long periods while intense signals are
integrated over several short integration cycles. This method, called Random Access Integration (RAI), makes possible
the extended 107 linear dynamic range of the SpectraCAM. By using the RAI technique with selective region of interest
clearing, weak optical signals can be captured even in the presence of very intense light sources.
2. DESIGN AND OPERATION
The RACID84/86 imagers contain X/Y addressable pixel arrays. Each pixel (picture element) contains two MOS
capacitors, as shown in figure 1. Each MOS capacitor is formed between the polysilicon top electrode and the single
crystal epitaxial silicon bottom electrode, separated by the SiO2 gate dielectric. One MOS capacitor is the row charge
storage capacitor. It is addressed by the row circuitry. The other MOS capacitor is the column charge sense capacitor.
Column PolySi
Sense
Electrode
Epitaxial Silicon
Contact
Gate
Oxide
Figure 1: RACID84 Pixel MOS capacitors
Row PolySi
Storage
Electrode
The sense electrode is addressed by the column
circuitry. A metal column bus connects the
polysilicon sense electrodes of all pixels in one
column. Another metal bus connects the
polysilicon storage electrodes of all pixels in one
row. The full level, 4-pixel layout of the RACID84
is shown in figure 2.
Pixel layouts use minimum allowed
geometries as much as possible in order to keep the
pixel transparency high. The column bus is
connected to the polysilicon sense gate of a dualgate readout FET. The sense gate of the dual-gate
FET is strapped with metal to reduce the resistance
of the sense gate and the associated Johnson
(thermal) noise. There is one readout FET at the
end of each column to integrate and amplify the
charge collected in the pixels. This is called the
preamplifier-per-column architecture. It was first
described and implemented on PMOS CID imagers
by Gerald Michon at General Electric (1-3).
Preamp-per-row (PPR) architecture is used in the PMOS CID SIcamTM, a PC-based scientific instrumentation camera
developed at CID Technologies (4). An off-chip summation amplifier with a feedback loop tied into each column
preamplifier FET can be used to lessen the sensitivity of the output to the individual amplifier gain differences (5).
The RACID84/86 dual gate voltage amplification readout FET is shown in figure 3. Contact between the
polysilicon sense gate and the metal strap is made over the field oxide region and is not shown in figure 3. The current
designs use very large preamplifier MOSFETs: 800 microns Wg x 2.0 microns Lg. The preamplifier-per-column
schematic is shown in figure 4.
RACID84/86 pixels are 27-micron x 27-micron squares. The 1M-pixel RACID84 is built using 2.0-micron
CMOS CID technology. It contains a 1026x1026 pixel array. The RACID86 imager is built using 1.2-micron CMOS
CID technology. It contains a 540x540 pixel array. The CMOS pixel control circuitry is located on two sides of the
pixel array, as can be seen in figure 5.
The block diagram of the RACID84/86 is shown in figure 6. On-chip logic is designed to simplify the camera
control interface. The chip architecture has six main building blocks: the serial-to-parallel shift registers, the up/down
address counters, the TTL level translators, the address decoders, the address latches, and the electrode multiplexers.
There are two serial ports for loading X-Y pixel address codes. Row and column addressing is accomplished with the
11-bit serial-to-parallel shift registers, address decoders, and electrode multiplexers. Vertical and horizontal latches hold
the row and column addresses for all subarray functions, including pixel binning and subarray injection. User-defined
regions of interest within the pixel array can be selected with independent horizontal and vertical control. Pixels in any
region of interest can be binned for collective readout, in groups of pixels up to 4 columns and up to 4 rows in size.
Individual pixels or groups of pixels can be chosen and read out in any order. Image readout speed is selectable: the
slow scan runs at 50kHz and the fast scan runs at 200kHz.
Read noise and camera conversion gain are determined by the mean variance method (6-7). The light source
used for the test is a low power 598-nm LED. The LED is positioned 15 mm behind a 500-micron diameter pinhole. A
small area of 12 pixels x 12 pixels (324microns x 324microns) on the imager is selected for test. The imager is
illuminated by flashing the light source for a short time, typically 1-2 msec. The resulting image is recorded and cleared.
The imager is then illuminated again, with a second flash of equal duration. The second image is subtracted from the
first, to remove the spatial fixed pattern noise due to pixel-to-pixel variation in response. The resulting difference array
represents the temporal noise of
the system. The difference
Column PolySi
array is then averaged to obtain
the mean and the standard
Sense Electrode
deviation. The process is
strapped with
repeated for increasing
Metal 1
exposure levels, from 1 flash to
9 flashes. The mean and
standard deviation are
calculated for each difference
array. The variance, or square
of the standard deviation of the
difference array, is plotted
against the signal mean, in
analog-to-digital units (ADUs),
Row PolySi
as shown in figure 7. The bestStorage
fit line is calculated for the data.
Electrode
The slope of the resulting plot is
strapped with
the system gain in
Epitaxial
Metal 2
carriers/(ADU). The y-intercept
Silicon
is the square of the read noise.
Contact
3. IMAGER
AND
CAMERA
CONSTRUCTION
Gate
Oxide
Figure 2: RACID84, full layout of 4 pixels
drain
metal
sense gate
sense strap
gate
select
gate
n-well
RACID 84 Dual Gate FET
Figure 3: Dual Gate Readout FET
source
The RACID84/86 imagers
were designed at Spectra-Physics, Cameras
and Imagers. The imager design
databases were sent to Supertex inc,
Wafer Foundry Services, for silicon wafer
fabrication. Photolithographic masks were
made at Photronics, with direction from
Supertex CAD and Spectra-Physics imager
design groups. Wafers were fabricated on
the 150-mm diameter silicon line at
Supertex inc in San Jose CA.
The RACID84/86 imagers are
designed for double polysilicon, double
metal CMOS CID technology. Starting
material is 5 ohm-cm, 28-micron thick, ntype epitaxial silicon on p-type substrates.
The CMOS CID processes integrate twinwell CMOS logic circuitry with polysilicon
photogate pixels built in the higher
resistivity, native n-type epitaxial
silicon. Active MOS photogates are made
in both polysilicon layers.
Vsource
Vdrain
O
O
O
O
Row 1
O
Vertical Scanner
Horizontal Scanner
Row 2
O
Row m
Column 1 Column 2
Column n
Row
Voltage
Preamplifier-per-Column Architecture
Borophosphosilicate glass (BPSG)
reflow planarization and photoresist
etchback planarization are used.
The RACID84 imager is laid
out on a 2.0-micron design rule.
Minimum geometries for poly 1 FET
gates, contacts and vias are 2.0 microns.
The 1-M pixel RACID84 imaging array
is 27.7mm x 27.7mm square. The
RACID84 imager die size is 32.3mm x
31.8mm. Because of the large die size,
which exceeds the field size of most
steppers, the RACID84 is built using
the SVG700 projection aligner.
The RACID86 imager is laid
out on a 1.2-micron design rule.
Minimum geometries for poly 1 FET
gates, contacts, and vias are 1.2
microns. The 290-K pixel RACID86
imaging array is 14.6mm x 14.6mm
square. The RACID86 imager die size
is 19.1mm x 18.5mm. Photolithography
is done using the Canon5X stepper. To
support the voltage requirements of the
design, all MOSFETs on the 1.2-micron
design
Figure 4: Preamplifier-per-Column Schematic
incorporate lightly doped drain (LDD)
structures. LDD spacers are removed from the pixel polysilicon photogates. SEM cross-sections of the RACID86
imager are shown in figure 8.
Imager wafers are probed at Spectra-Physics, Cameras and Imagers. SpectraCAM control electronics are integrated
with custom probe cards and PENTIUMTM CPU/PC104+ computers so that 16-bit gray scale images are produced at the
wafer probe workstation. Wafers with defect-free imagers are sawed and imager die are separated on the saw membrane
by stretching the membrane with an underside inflation method.
Imagers are attached to gold-plated ceramic substrates and
wire-bonded to the imager specific interface (ISI) electronics
board. The imager-ceramic unit is mounted on the three-stage
thermoelectric cooler.
The SpectraCAM block diagram is shown in figure 9. In
figure 10 is the expanded CAD drawing. There are five basic
building blocks for the SpectraCAM camera controller: the
1026 x 1026
central processing unit (CPU), the timing signal processing
Pixel
(TSP) board, the analog signal processing (ASP) board, the
Array
edge input/output (I/O) board, and the thermoelectric cooling
dewar assembly which contains the imager. The SpectraCAM
can be used in either a purged head or a sealed head
configuration. The purged head SpectraCAM is pictured in
figure 11. For the purged head camera, the case is anodized
aluminum. The sealed head camera case is built in KovarTM.
Dark current is reduced using a three-stage bismuthtelluride thermoelectric cooler and water recirculating system.
Typical imager operating temperature is -30 to -45C. At these
temperatures, dark current is 6-9 carriers/pixel/second.
Figure 5: RACID84 imager
HL_LD
HL_CLR
HSR_SEL1
HSR_SEL2
HSR_CLK
HSR_ADR
HSR_DL
HSR_RST
HC_SEL1
HC_SEL2
HC_CLK
HC_RST
HE (Col. inject)
CVD (Col. integrate)
GAP_C (Gap control)
D0
D1
D2
D9
R A C ID
BLOCK
D IA G R A M
D1
0
CVG (Select column gate)
VS
VD
1 1 - B it S e r ia l to P a r a lle l
S h ift R e g is te r ( H S R )
1 1 - B it U p /D o w n
A d d r e s s C o u n te r ( H C )
D0
D1
D2
D3
D5
D4
D6
D7
D8
D9
D10
T
T T L L e v e l T r a n s la to r s
D0
D1
/D0
D2
/D1
D3
/D2
D4
/D3
D5
/D4
D6
/D5
D7
/D6
D8
/D7
D9
/D8
T
D10
/D9
/D10
1 1 - B it A d d r e s s D e c o d e r
A d d r e s s L a tc h ( H L )
VL_C LR
D2
D9
D 10
D3
D4
D5
D6
D7
D8
D9
D 10
VC_SEL1
Electrode Multiplexer
D2
D0
/D 0
D1
/D 1
D2
/D 2
D3
/D 3
D4
/D 4
D5
/D 5
D6
/D 6
D7
/D 7
D8
/D 8
D9
/D 9
D 10
/D 1 0
Address Latch (VL)
D1
11-Bit Address Decoder
D0
D1
TTL Level Translators
VSR _R ST
D0
11-Bit Up/Down
VSR _ADR
V SR_D L
E le c tr o d e M u ltip le x e r
Address Counter (VC)
VSR _C LK
Shift Register (VSR)
VSR _SEL1
VSR _SEL2
T
T
11-Bit Serial to Parallel
VL_LD
R A C ID 8 4
1 0 2 6 x 1 0 2 6 P ix e ls
R A C ID 8 6
5 4 0 x 5 4 0 P ix e ls
VC _SEL2
VC_RST
V C_C LK
RE
ID
/IG
T
Figure 6: RACID84/86 Block Diagram
4. PERFORMANCE
The SpectraCAM84/86 responds to light from 165 nm to 1000 nm. UV/visible responsivity was measured
using Oriel deuterium and tungsten light sources through a 2nm diameter aperture in an optical bench monochromator.
When illuminated with the Oriel 30-watt deuterium lamp, the SpectraCAM86 UV responsivity was 100 ma/watt at
350nm and 80 ma/watt at 200 nm. The SpectraCAM84 UV responsivity was 71-89 ma/watt at 350 nm and 40-50
ma/watt at 200 nm. Responsivity and quantum efficiency curves are shown in figures 12 - 15. Quantum efficiency is
calculated from the responsivity using Planck's constant.
At 50 kHz, the single read noise is typically to be 172-189 carriers for the RACID86. To date the lowest
measured read noise was 135 carriers. By signal averaging with 256 non-destructive reads, the read noise is reduced to
10-11 carriers. For the flat-field 598-nm LED signal at full well amplitude, the 50 kHz single read signal-to-read noise
ratio was 4K. For 256 non-destructive reads, the signal-averaged signal-to-read noise ratio was 58K. For the RACID84,
the single read noise at 50 kHz was 169–304 carriers at 50 kHz. The read noise is reduced to 13-28 carriers with 256
non-destructive reads.
SpectraCAM linearity is characterized by plotting output signal vs light exposure. Using the linearity curve,
the pixel full well capacity is measured from the point at which nonlinearity is 2% of full well. By this method, the
RACID86 imager full well capacity is 600k carriers. Injection is the process for clearing charge from the array.
Injection efficiency is characterized globally and for small segments of the pixel array. N/N+ RACID86 sample
302P060-22-10 (figure 13) showed higher responsivity than did the n/p+ samples. N/N+ global injection was less
efficient than for the n/p+ samples, but adequate to meet current product needs. Pixel segment injection was inefficient.
Further optimization of the n/n+ structure is needed to meet the segment inject specification for the current product.
5. APPLICATIONS
The SpectraCAM84/86 are designed for quantitative, lens-less imaging. In many scientific and industrial
applications, it is important to measure photons or charged particles emitted from the subject with true spatial resolution
and intensity. Due to the absorption and reflection of lens materials, particularly in the vacuum UV, it is not always
possible or advantageous to use lenses.
With true random pixel access and inherent resistance to blooming, the SpectraCAM84/86 are well-suited for
use as detectors in emission spectroscopy. The ability to quantify weak analyte emission lines in the presence of strong
matrix emission wavelengths is critical in atomic emission spectroscopy (8). Thermo Electron (Waltham MA) has built
several types of emission spectrometers using the SpectraCAM as a general purpose detector, including the IRIS
Inductively Coupled Plasma – Optical Emission Spectrometer (ICP-OES) (9).
Other applications for the SpectraCAM include direct proton imaging, x-ray crystallography, and astronomy. The
PMOS photogates are naturally resistant to radiation damage. By coating the RACID84/86 with lumogen, the
wavelength response can be extended further into the vacuum UV with additional protection from UV radiation damage.
GdO2S coatings can be used to enhance SpectraCAM response to higher energy x-rays.
RACID Voltage
Settings
VrowINJ: 4.95
VcolINJ: 4.95
VrowLO: -3.50
VrowHI: 4.60
VcolLO: 0.50
Vskim: 2.00
VcolHI: 4.70
11
Figure 7: SpectraCAM84 Mean Variance Plot at 50 kHz
Column
Epi Strap
Row
Figure 8a: SEM image of RACID86 pixel array, 1800X
Figure 8b: SEM image of RACID86 pixel array, 3000X
metal
poly 2
poly
Figure 8c: SEM image of poly 2 – poly 1 overlap, RACID86 pixel, 30,000X
Video
Port
(optional)
CPU Kernel
BIOS
32 Mb RAM
DIM M
RTC
Tim ing Signal
Processor
(TSP)
PC104+
Interface
Pharlap ETS
Com patible
(optional
em bedded
LINU X)
Flash or
Com pact
Flash
PC104 PLUS
Connector (PCI)
Ethernet
Port
Equipm ent I/O
Control Port (EIO)
System
Reset
Ethernet
Analog Connector
(aCID)
Pentium
CPU
CPU / TSP
Digital Power
(psTSP)
10/100 BaseT
Ethernet
+5 vdc
Network
Interface
Card
(PC-1)
RFI / EM I Filters
10/100 BaseT
Ethernet
Analog Signal
Processor
(ASP)
Digital Connector
(dCID)
CPU
Parallel
Port
(optional)
Cam era Power
(PW R)
Analog Power
(psASP)
+15 vdc
- 15 vdc
+TE
Edge I/O Board
Shuttle / LED
(EXP)
Digital In/Out
(DIO)
System Reset
PB
External Interface Connectors
Figure 9: SpectraCAM Block Diagram
Im ager
Specific
Interface
(ISI)
Board
RACID
Im ager
Thrm CID-2
TE Power (psTE)
Serial
Port
(optional)
Timing & Control Connector (TC)
Host
PC
PC104 Connector (ISA)
(as needed)
Therm oelectric
Dew ar
Assem bly
-TE
(return)
per S Van Gorden
Figure 10: SpectraCAM Expanded
Figure 11: SpectraCAM86, purged camera head
CID84 Imager Responsivity Comparison
0.25
Responsivity
(Amps/watt)
0.2
0.15
0.1
CID84_S120P595-01-06 1M e- FW
CID84_205P840001-21-06 500K e- FW
CID84_S120P595-04-01 1M e- FW
CID84_306P30401-13-07 500K e- FW
0.05
0
150 200 250 300 350 400 450 500 550 600 650 700 750 800 850 900 950 1000 1050 1100
Wavelength (nm )
C. Beam 11-4-2003
Figure 12: SpectraCAM84 Responsivity
CID86 Imager Responsivity Comparison
0.35
0.3
Responsivity
(amps/watt)
0.25
0.2
0.15
0.1
0.05
CID86_302P060-22-10_N/N+
CID86_302P06001-14-08
CID86_FIB_302P060-02-12_N/P+
0
150 200 250 300 350 400 450 500 550 600 650 700 750 800 850 900 950 100 105 110
0
0
0
Wavelength (nm )
Figure 13: SpectraCAM86 Responsivity
C. Beam 7-16-2003
CID84 Imager QE Comparison
50
45
40
35
QE (%)
30
25
20
15
CID84_S120P595-01-06 1M e- FW
CID84_205P840001-21-06 500K e- FW
CID84_S120P595-04-01 1M e- FW
CID84_306P30401-13-07 500K e- FW
10
5
0
150 200 250 300 350 400 450 500 550 600 650 700 750 800 850 900 950 1000 1050 1100
Wavelength (nm )
C. Beam 11-4-2003
Figure 14: SpectraCAM84 Quantum Efficiency
CID86 Imager QE Comparison
70
60
QE (%)
50
40
30
20
CID86_302P060-22-10_N/N+
CID86_302P06001-14-08
CID86_FIB_302P060-02-12_N/P+
10
0
150
200
250
300
350
400
450
500
550
600
650
700
750
800
Wavelength (nm)
Figure 15: SpectraCAM86 Quantum Efficiency
850
900
950
1000
1050
1100
C. Beam 7-16-2003
6. ACKNOWLEDGEMENTS
This work was supported by the Thermo Electron Corporation. We thank Steve Herschbein and Larry Fischer (IBM
Analytical Services) for ion beam modification of imager circuits, which aided in product development. We thank Skip
Tobey, Bob Schleicher, Mike Wassall, Huw Prytherch, and the Thermo Electron SpectraCAM86 product development
team for careful evaluation of RACID84/86 imagers and candid feedback. We thank Alice Everett and Sheila Escobar
(Spectra-Physics) for technical support. We thank Jeff Pazak (Spectra-Physics) for support and guidance. We thank
Jim Cook and Gary Sims (Spectral Instruments) for coating RACID imagers with lumogen.
7. REFERENCES
1. G. Michon, " CID Image Sensor With Improved Sensitivity," SPSE Conference on Electronic Imaging, October 1317, 1986.
2. G. Michon, "CID Image Sensor with a Preamplifier for Each Sensing Array Row," US Patent # 4689688, 8/25/87.
3. G. Michon, "CID Image Sensor with Parallel Reading of All Cells in Each Sensing Array Row," US Patent #
4807038, 2/21/89.
4. J. Carbone, J. Hutton, F. Arnold, J. Zarnowski, S. VanGorden, M. Pilon, and M. Wadsworth, "Application of low
noise CID imagers in scientific instrumentation cameras," SPIE 1447 (1991) 229-242.
5. Joseph Carbone, M. Bonner Denton, Stephen W. Czebiniak, Jeffrey J. Zarnowski, Steven N. VanGorden, Michael J.
Pilon, "Collective Charge Reading and Injection in Random Access Charge Transfer Devices," US Patent # 5,717,199,
2/10/1998.
6. L. Mortara and A. Fowler, "Evaluations of charge-coupled device (CCD) performances for astronomical use," SPIE
290 Solid-State Imagers for Astronomy (1981) 28-33.
7. James Janesick, Kenneth Klaasen, and Tom Elliott, "CCD charge collection efficiency and the photon transfer
technique," SPIE 570 Solid State Imaging Arrays (1985) 7-19.
8. M. Bonner Denton, Michael J. Pilon, and Jeffery S. Babis, "Vacuum Ultraviolet inductively Coupled plasma
Spectroscopy for Element-Selective detection of Nonmetals," Applied Spectroscopy, 44 (1990) 975-978.
9. Michael J. Pilon, Ronald L. Stux, and Robert W. Foster, "Achieving improved optical emission spectroscopy
performance through advances in charge injection device detector technology," American Laboratory, April 2000, 3234.