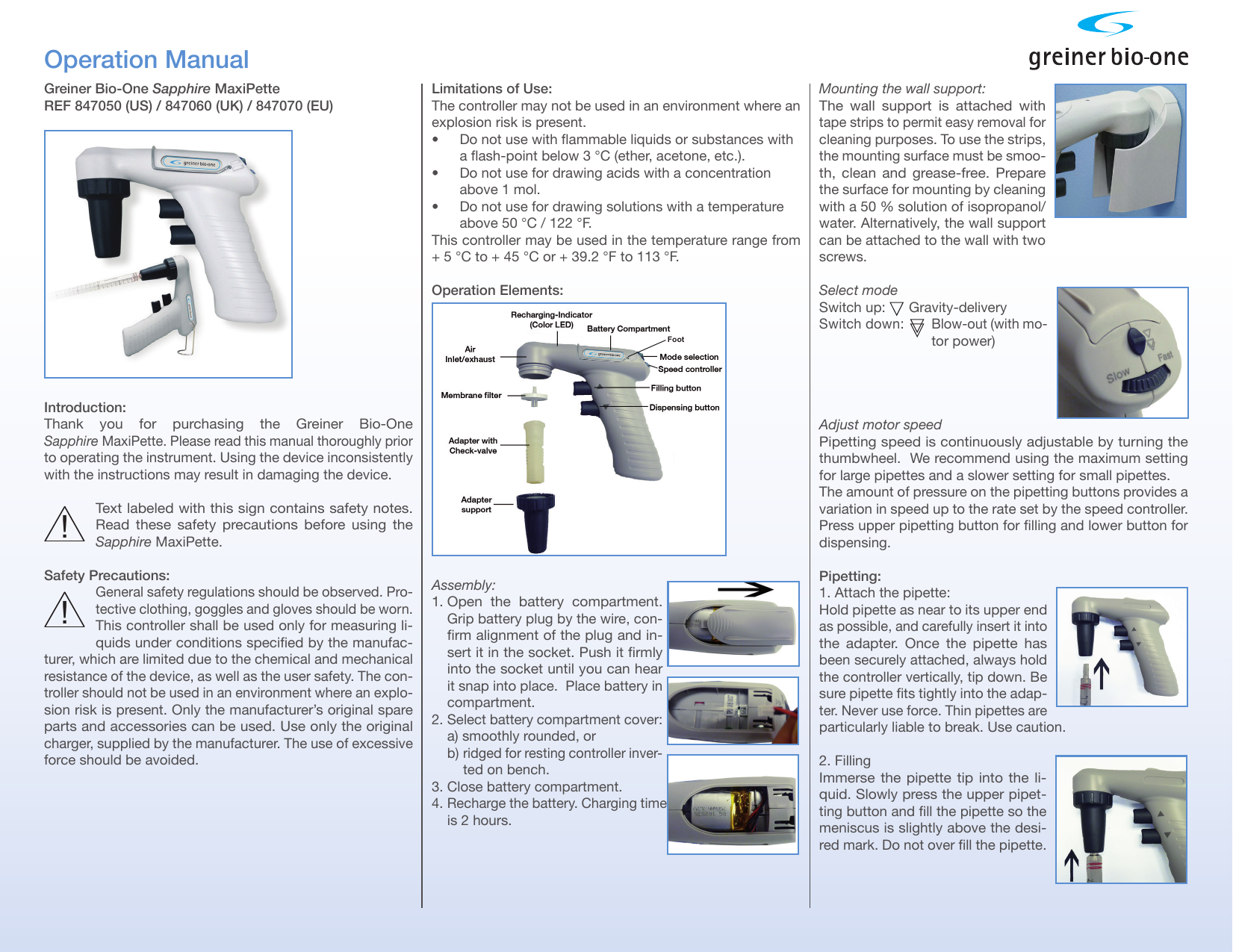 Operation Manual
Greiner Bio-One Sapphire MaxiPette
REF 847050 (US) / 847060 (UK) / 847070 (EU)
Limitations of Use:
The controller may not be used in an environment where an
explosion risk is present.
•
Do not use with flammable liquids or substances with
a flash-point below 3 °C (ether, acetone, etc.).
•
Do not use for drawing acids with a concentration
above 1 mol.
•
Do not use for drawing solutions with a temperature
above 50 °C / 122 °F.
This controller may be used in the temperature range from
+ 5 °C to + 45 °C or + 39.2 °F to 113 °F.
Mounting the wall support:
The wall support is attached with
tape strips to permit easy removal for
cleaning purposes. To use the strips,
the mounting surface must be smooth, clean and grease-free. Prepare
the surface for mounting by cleaning
with a 50 % solution of isopropanol/
water. Alternatively, the wall support
can be attached to the wall with two
screws.
Operation Elements:
Select mode
Switch up:
Gravity-delivery
Switch down:
Blow-out (with motor power)
Foot
Introduction:
Thank you for purchasing the Greiner Bio-One
Sapphire MaxiPette. Please read this manual thoroughly prior
to operating the instrument. Using the device inconsistently
with the instructions may result in damaging the device.
!
Text labeled with this sign contains safety notes.
Read these safety precautions before using the
Sapphire MaxiPette.
Safety Precautions:
General safety regulations should be observed. Protective clothing, goggles and gloves should be worn.
This controller shall be used only for measuring liquids under conditions specified by the manufacturer, which are limited due to the chemical and mechanical
resistance of the device, as well as the user safety. The controller should not be used in an environment where an explosion risk is present. Only the manufacturer's original spare
parts and accessories can be used. Use only the original
charger, supplied by the manufacturer. The use of excessive
force should be avoided.
!
Adjust motor speed
Pipetting speed is continuously adjustable by turning the
thumbwheel. We recommend using the maximum setting
for large pipettes and a slower setting for small pipettes.
The amount of pressure on the pipetting buttons provides a
variation in speed up to the rate set by the speed controller.
Press upper pipetting button for filling and lower button for
dispensing.
Assembly:
1. Open the battery compartment.
Grip battery plug by the wire, confirm alignment of the plug and insert it in the socket. Push it firmly
into the socket until you can hear
it snap into place. Place battery in
compartment.
2. Select battery compartment cover:
a) smoothly rounded, or
b) ridged for resting controller inverted on bench.
3. Close battery compartment.
4. Recharge the battery. Charging time
is 2 hours.
Pipetting:
1. Attach the pipette:
Hold pipette as near to its upper end
as possible, and carefully insert it into
the adapter. Once the pipette has
been securely attached, always hold
the controller vertically, tip down. Be
sure pipette fits tightly into the adapter. Never use force. Thin pipettes are
particularly liable to break. Use caution.
2. Filling
Immerse the pipette tip into the liquid. Slowly press the upper pipetting button and fill the pipette so the
meniscus is slightly above the desired mark. Do not over fill the pipette.
3. Adjust the volume
Slowly press the lower button and
dispense until the meniscus is adjusted exactly to the desired volume.
Repeat this process for each pipetting.
4. Dispensing
Slowly press the lower button.
Dispensing speed is dependent on the amount of pressure
on the button, as well as the thumbwheel setting, when the
mode switch is in motor powered delivery position.
Recharging:
Recharging Indication
•
GREEN LED flashes: battery charge is
sufficient.
•
RED LED flashes: remaining charge is
sufficient for 2 hours of pipetting; charging is recommended.
•
No LED flashes: finish pipetting and
charge battery.
Recharging procedure
•
Temperature range for recharging:
+ 4 °C to + 45 ° C (+ 39.2 °F to 113 °F)
•
When the AC adapter is initially connected, the red
LED on the instrument lights continuously.
•
After 2 hours of charging, the adapter switches to a
pulsed, long-term charging mode.
Maintenance
Cleaning
1. Pull out pipette.
2. Unscrew adapter support.
3. Remove membrane filter.
4. Remove the adapter from the
adapter support by pushing it
upwards. The check valve remains
in the adapter!
5. To clean adapter with built-in check valve,
carefully rinse it by using an appropriate compatible solvent (e.g., water) in a wash bottle.
Blow out the liquid and allow to dry completely.
6. Place new membrane filter with thicker end
facing downwards into adapter (with the
smaller conical side up).
7. The entire pipette adapter incl. membrane filter
is autoclavable at 121 °C.
8. Reassemble the instrument in reverse order
and test for leaks.
Replacement Membrane Filter:
Item Number 847900
Storage
!
The pipette controller should be stored in a dry place. The allowable storage temperature: -20 °C to
+50 °C or -4 °F to 122 °F.
Do not store the controller with a filled pipette.
The charging system is designed to prevent overcharging
and minimises lazy-battery effect. To maintain maximum
battery capacity, it is best to charge the battery only when
slowly or quickly-flashing LED indicates charging is needed.
The instrument can be used during recharging.
Changing the battery
Use only the original AC adapter! Using a different
adapter can damage both instrument and battery.
!
•
•
•
To open the battery compartment, press at textured
surface and simultaneously slide cover back.
To remove the battery, grip battery plug by the wire
and pull gently out of socket.
Grip the plug of new battery by the wire and push it
firmly into socket until you can hear it snapping in.
Insert new battery and close battery compartment.
Service and Contact:
This product is warranted to be free of defects in material
and workmanship for a period of 2 years from the date of
purchase. The warranty is valid only if the product is used in
its intended purpose and within the guidelines specified in
this instruction manual. In the event that service or technical
support is required, please contact your nearest Greiner BioOne office. When returning the Sapphire MaxiPette, ensure
that the device is fully decontaminated and does not presentany kind of health risk to our service personnel.
Disposal:
In the case the product is to be disposed of, the relevant
legal regulations are to be observed. The disposal of electrical devices is regulated within the European Community by national regulations based on ED directive 2002/96/
EC on waste electrical and electronic equipment (WEEE).
As disposal regulations within EU may vary from
country to country, please contact your supplier if
necessary.
Replacement Equipment
Item No.
Description
847900
Replacement Filter
847903
Nozzle / Nosepiece Enclosure
847907
Silicone Nosepiece Pipette Holder
847910
Lithium Battery
847911
Charger / Power US Plug
847912
Charger / Power EU Plug
847913
Charger / Power AUS Plug
Greiner Bio-One Contact details:
Germany
Greiner Bio-One GmbH
Phone +49 7022 948-0
Fax +49 7022 948-514
E-Mail info@de.gbo.com
Hungary
Greiner Bio-One Hungary Kft.
Phone +36 96 213 088
Fax +36 96 213 198
E-Mail office@hu.gbo.com
Austria
Greiner Bio-One GmbH
Phone +43 7583 6791-0
Fax +43 7583 6318
E-Mail office@at.gbo.com
Japan
Greiner Bio-One Co. Ltd.
Phone +81 3350 58875
Fax +81 3505 8974
E-Mail info@jp.gbo.com
Belgium
Greiner Bio-One BVBA/ SPRL
Phone +32 2461 0910
Fax +32 2461 0905
E-Mail info@be.gbo.com
Netherlands
Greiner Bio-One B.V.
Phone +31 172 4209 00
Fax +31 172 4438 01
E-Mail info@nl.gbo.com
Brazil
Greiner Bio-One Brasil
Phone +55 19 3468-9600
Fax +55 19 3468-9621
E-Mail office@br.gbo.com
United Kingdom
Greiner Bio-One Ltd.
Phone +44 1453 8252 55
Fax +44 1453 8262 66
E-Mail info@uk.gbo.com
China
Greiner Bio-One Suns Co., Ltd.
Phone +86 10 83 55 19 91
Fax +86 10 63 56 69 00
E-Mail office@cn.gbo.com
USA
Greiner Bio-One North America
Inc.
Phone +1 704 261-7800
Fax +1 704 261-7899
E-Mail info@us.gbo.com
France
Greiner Bio-One SAS
Phone +33 1 69 86 25 25
Fax +33 1 69 86 25 35
E-Mail infos@fr.gbo.com
Bedienungsanleitung
Greiner Bio-One Sapphire MaxiPette
REF 847050 (US) / 847060 (UK) / 847070 (EU)
Gebrauchseinschränkungen:
Die Pipettierhilfe darf nicht in einer Umgebung verwendet
werden, in der ein Explosionsrisiko besteht.
•
Nicht mit entzündlichen Flüssigkeiten oder Stoffen
mit einem Flammpunkt unter 3 °C verwenden (Ether,
Aceton etc.).
•
Nicht zum Aufziehen von Säuren mit einer Konzentration über 1 Mol verwenden.
•
Nicht zum Aufziehen von Lösungen mit einer Temperatur über 50 °C verwenden.
Diese Pipettierhilfe kann in einem Temperaturbereich von
+ 5 °C bis + 45 °C verwendet werden.
Befestigung der Wandhalterung:
Die Wandhalterung wird mit Klebestreifen befestigt, um sie zu Reinigungszwecken leicht entfernen zu
können. Zur Verwendung der Klebestreifen muss die Befestigungsfläche glatt, sauber und fettfrei sein.
Die Wandfläche als Vorbereitung für
die Befestigung mit einer 50%igen
wässrigen Isopropanollösung reinigen. Alternativ kann die
Wandhalterung mit zwei Schrauben an der Wand befestigt
werden.
Bedienelemente:
Betriebsart wählen
Schalter oben: Schwerkraftgestützte Abgabe
Schalter unten: Abgabe durch Motorkraft
Aufladeanzeige
(Farb-LED)
Lufteinlass/
Abluft
Einleitung:
Vielen Dank für den Kauf des Greiner Bio-One
Sapphire
MaxiPette.
Bitte
lesen
Sie
diese
Bedienungsanleitung vor der Nutzung des Gerätes
aufmerksam. Durch unsachgemäßen Gebrauch, kann das
Gerät beschädigt werden.
!
Dieses Symbol kennzeichnet Sicherheitshinweise.
Bitte lesen Sie diese vor dem Gebrauch des Gerätes
sorgfältig durch.
Schutzvorschriften:
Es sind die allgemeinen Sicherheitsbestimmungen
zu beachten. Es sollten Schutzkleidung, Schutzbrille und Handschuhe getragen werden. Diese Pipettierhilfe sollte nur zum Abmessen von Flüssigkeiten
unter herstellerseitig festgelegten Bedingungen verwendet werden. Diese sind bedingt durch die chemische und
mechanische Widerstandsfähigkeit des Produkts und die
Sicherheit des Benutzers begrenzt. Die Pipettierhilfe sollte
nicht in einer Umgebung verwendet werden, in der ein Explosionsrisiko besteht. Es dürfen nur die Originalersatzteile und
Zubehörteile des Herstellers verwendet werden. Es darf nur
das vom Hersteller mitgelieferte Originalladegerät verwendet
werden. Übermäßige Kraftanwendung ist zu vermeiden.
!
Membran Filter
Akkufach
Standfuß
Modusauswahl
Geschwindigkeitskontrolle
Pipettiertaste
zum Befüllen
Abgabetaste
Adapter mit
Verschlussventil
Adapterträger
Montage:
1. Öffnen Sie das Batteriefach. Den
Akkustecker am Kabel halten, die
Ausrichtung des Steckers prüfen
und den Stecker fest in die Buchse
stecken, bis dieser hörbar einrastet.
Den Akku in das dafür vorgesehene
Fach einsetzen.
2. Die Abdeckung des Akkufachs auswählen:
a) abgerundet oder
b) mit Rillen zum Abstellen der
Pipettierhilfe kopfüber auf dem
Labortisch.
3. Das Akkufach schließen.
4. Den Akku aufladen. Ladezeit: 2
Stunden.
Pipettiergeschwindigkeit anpassen
Die Pipettiergeschwindigkeit ist am Einstellrad kontinuierlich
verstellbar. Wir empfehlen die Verwendung der höchsten Einstellung für große Pipetten und eine niedrigere (langsamere)
Einstellung für kleine Pipetten.
Durch den Grad des Drucks auf die Pipettiertasten kann die
Geschwindigkeit bis zu der mit dem Geschwindigkeitsregler
eingestellten Rate variiert werden. Zum Befüllen die obere
und zum Abgeben die untere Pipettiertaste drücken.
Pipettieren:
1. Pipette befestigen:
Die Pipette so nahe am oberen Ende
wie möglich halten und vorsichtig in
den Adapter stecken. Sobald die Pipette befestigt ist, die Pipettierhilfe
stets senkrecht, d. h. mit der Spitze
nach unten, halten.
Darauf achten, dass die Pipette fest
im Adapter sitzt. Keine Gewalt anwenden. Dünne Pipetten
sind besonders bruchanfällig. Vorsichtig vorgehen.
Batteriewechsel
Nur das Original-Netzteil des Herstellers verwenden! Bei Verwendung eines anderen Netzteils können das Gerät und der Akku beschädigt werden.
!
•
Zum Öffnen des Batteriefachs auf die strukturierte
Oberfläche drücken und die Abdeckung gleichzeitig
zurückschieben.
Zum Herausnehmen des Akkus den Akkustecker
am Draht anfassen und vorsichtig aus der Vertiefung
herausziehen.
Den Stecker des neuen Akkus am Draht anfassen und
fest in die Vertiefung drücken, bis er hörbar einrastet.
Den neuen Akku einlegen und das Akkufach schließen.
•
3. Volumen anpassen
Langsam die untere Taste drücken
und Flüssigkeit abgeben, bis der
Meniskus genau dem gewünschten
Volumen entspricht. Diesen Vorgang
bei jedem Pipettieren wiederholen.
4. Abgeben
Langsam die untere Taste drücken.
Die Abgabegeschwindigkeit richtet sich nach dem Grad des
Drucks auf die Taste und nach der Einstellung des Einstellrads, wenn sich der Schalter für die Betriebsart in der Position für die elektrische Abgabe befindet.
Laden des Akkus:
Lade-Indikation
•
GRÜNE LED blinkt: Akkuladung ist
ausreichend.
•
ROTE LED blinkt: Restladung ist ausreichend für eine Pipettierdauer von 2
Stunden: Aufladen wird empfohlen.
•
LED leuchtet nicht: Pipettieren beenden und Akku aufladen.
Aufladevorgang
•
Temperaturbereich zum Aufladen:
+ 10 °C bis +35 ° C
•
Wenn das Netzteil erstmals angeschlossen wird,
leuchtet die rote LED am Gerät ununterbrochen.
•
Nach 2 Stunden Aufladen wechselt das Netzteil in
einen gepulsten Langzeitauflademodus.
Das Aufladesystem ist so konzipiert, dass ein Überladen verhindert und ein Batterieträgheitseffekt minimiert wird. Zur
Aufrechterhaltung der maximalen Akkukapazität sollte der
Akku nur geladen wurden, wenn die LED durch langsames
oder schnelles Blinken darauf aufmerksam macht, dass der
Akku aufgeladen werden sollte.
Das Gerät kann während des Aufladens benutzt werden.
•
Instandhaltung:
Reinigung
1. Die Pipette herausziehen.
2. Das Adaptergehäuse abschrauben.
3. Den Membranfilter entfernen.
4. Den Adapter nach oben aus dem
Adaptergehäuse drücken. Das
Rückschlagventil bleibt im Adapter!
5. Zum Reinigen des Adapters mit eingebautem
Rückschlagventil diesen vorsichtig mit einem
geeigneten Lösungsmittel (z. B. Wasser) spülen. Die Flüssigkeit ausblasen und vollständig
trocknen lassen.
6. E
inen neuen Membranfilter mit dem dickeren
Ende nach unten in den Adapter legen (die
kleinere konische Seite zeigt nach oben).
7. Der gesamte Pipettenadapter samt Membranfilter ist bei 121 °C autoklavierbar.
8. Das Gerät in umgekehrter Reihenfolge wieder zusammensetzen und auf Undichtigkeiten
überprüfen.
Service und Kontakt:
Wir garantieren ein Produkt frei von Fehlern in Material und
Verarbeitung für die ersten beiden Jahre ab dem Kaufdatum.
Die Garantie ist nur gültig, wenn das Produkt für den vorgesehenen Anwendungszweck und innerhalb der in dieser
Anleitung angegebenen Richtlinien verwendet wurde. Im
Fall einer Reparatur oder technischer Fragen, wenden Sie
sich bitte an die nächstgelegene Greiner Bio-One Niederlassung. Wenn Sie das Gerät an Greiner Bio-One zurücksenden, stellen Sie bitte sicher, dass das Gerät vollkommen
dekontaminiert ist und kein gesundheitliches Risiko für unser
Servicepersonal darstellt.
Entsorgung:
Im Falle einer notwendigen Entsorgung sind die
einschlägigen gesetzlichen Bestimmungen zu beachten. Die Entsorgung von Elektrogeräten wird in
der Europäischen Gemeinschaft durch die nationalen Vorschriften der ED Richtlinie 2002/96/EG
für Elektro- und Elektronik-Altgeräte (WEEE) geregelt. Da
die Entsorgungsvorschriften innerhalb der EU von Land zu
Land unterschiedlich sein können, kontaktieren Sie bitte, falls
notwendig, Ihren Lieferanten.
Ersatzteile:
Art. Nr.
Beschreibung
847900
Ersatz Membranfilter
847903
Pipettenhalter / Führungshalter
847907
Silikon Mundstück Pipettenhalter
847910
Lithium Batterie
847911
Ladegerät / Netzteil US Ausführung
847912
Ladegerät / Netzteil EU Ausführung
847913
Ladegerät / Netzteil AUS Ausführung
Ersatz-Membranfilter:
Artikelnummer 847900
Lagerung
Die
Pipettierhilfe
sollte
trocken
aufbewahrt
werden.
Zulässige
Aufbewahrungstemperatur: + 10 °C bis + 35 °C oder
50 °F bis 95 °F.
Die Pipettierhilfe nicht mit einer gefüllten Pipette aufbewahren.
!
Greiner Bio-One Kontaktdaten:
Die Kontaktdaten entnehmen Sie bitte der Seite 2 in der
englischsprachigen Bedienungsanleitung.
Revision: August 2016
2. Befüllen
Die Pipettenspitze in die Flüssigkeit
tauchen. Langsam die obere Pipettiertaste drücken und die Pipette
befüllen, bis sich der Meniskus geringfügig über der gewünschten Markierung befindet. Die Pipette nicht zu
weit befüllen.