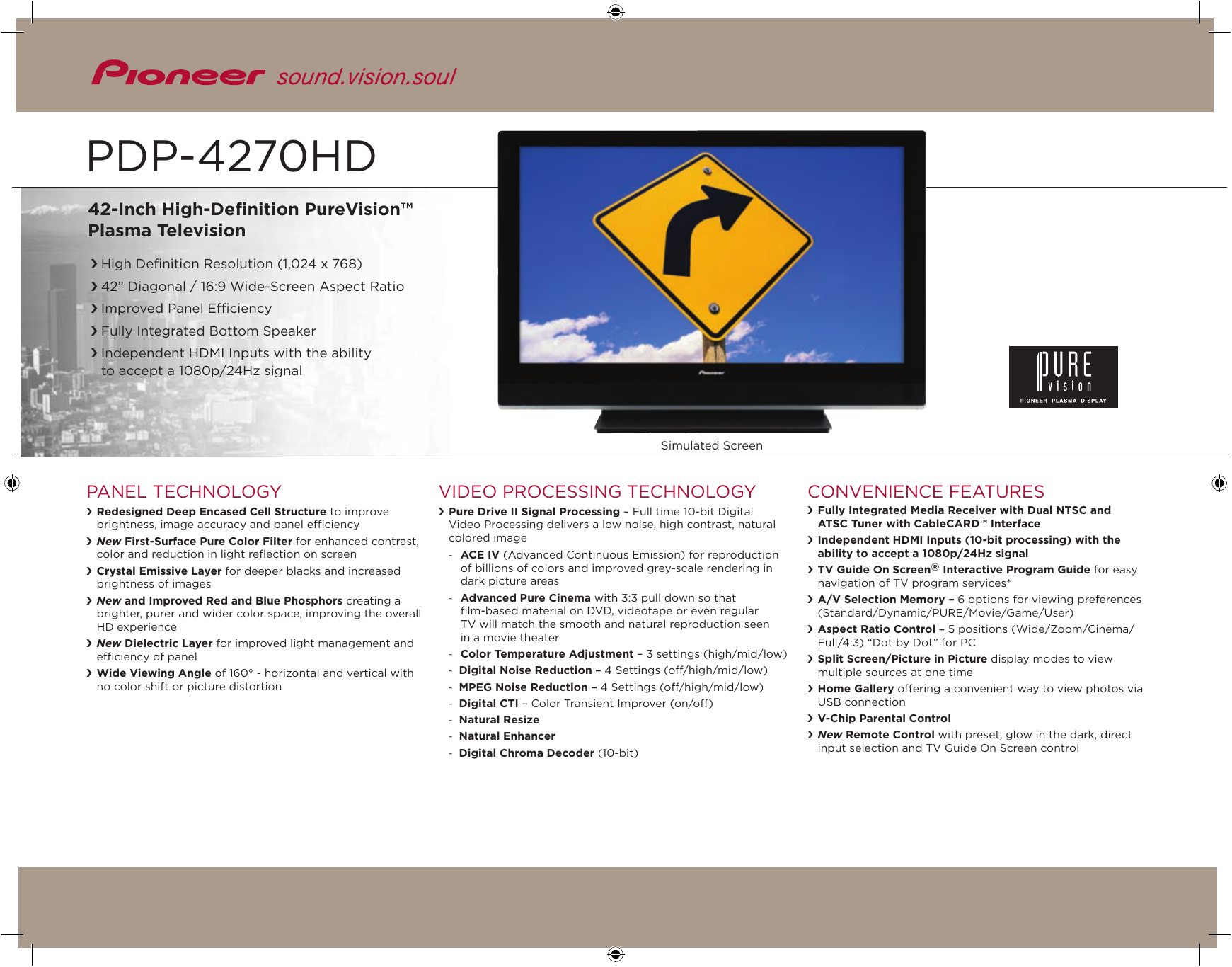 PDP-4270HD
42-Inch High-Definition PureVision™
Plasma Television
›
High Definition Resolution (1,024 x 768)
›
42" Diagonal / 16:9 Wide-Screen Aspect Ratio
›
Improved Panel Efficiency
›
Fully Integrated Bottom Speaker
›
Independent HDMI Inputs with the ability
to accept a 1080p/24Hz signal
Simulated Screen
PANEL TECHNOLOGY
VIDEO PROCESSING TECHNOLOGY
CONVENIENCE FEATURES
›
Redesigned Deep Encased Cell Structure to improve
brightness, image accuracy and panel efficiency
›
New First-Surface Pure Color Filter for enhanced contrast,
color and reduction in light reflection on screen
›
Crystal Emissive Layer for deeper blacks and increased
brightness of images
›
New and Improved Red and Blue Phosphors creating a
brighter, purer and wider color space, improving the overall
HD experience
›
New Dielectric Layer for improved light management and
efficiency of panel
›
Wide Viewing Angle of 160° - horizontal and vertical with
no color shift or picture distortion
›
Pure Drive II Signal Processing – Full time 10-bit Digital
Video Processing delivers a low noise, high contrast, natural
colored image
›
Fully Integrated Media Receiver with Dual NTSC and
ATSC Tuner with CableCARD™ Interface
›
Independent HDMI Inputs (10-bit processing) with the
ability to accept a 1080p/24Hz signal
›
TV Guide On Screen® Interactive Program Guide for easy
navigation of TV program services*
›
A/V Selection Memory – 6 options for viewing preferences
(Standard/Dynamic/PURE/Movie/Game/User)
›
Aspect Ratio Control – 5 positions (Wide/Zoom/Cinema/
Full/4:3) "Dot by Dot" for PC
›
Split Screen/Picture in Picture display modes to view
multiple sources at one time
›
Home Gallery offering a convenient way to view photos via
USB connection
›
V-Chip Parental Control
›
New Remote Control with preset, glow in the dark, direct
input selection and TV Guide On Screen control
- ACE IV (Advanced Continuous Emission) for reproduction
of billions of colors and improved grey-scale rendering in
dark picture areas
- Advanced Pure Cinema with 3:3 pull down so that
film-based material on DVD, videotape or even regular
TV will match the smooth and natural reproduction seen
in a movie theater
- Color Temperature Adjustment – 3 settings (high/mid/low)
- Digital Noise Reduction – 4 Settings (off/high/mid/low)
- MPEG Noise Reduction – 4 Settings (off/high/mid/low)
- Digital CTI – Color Transient Improver (on/off)
- Natural Resize
- Natural Enhancer
- Digital Chroma Decoder (10-bit)
PDP-4270HD
42-Inch High-Definition PureVision™ Plasma Television
VERSATILE VIDEO AND
AUDIO CONNECTIVITY
›
Inputs
- Independent Dual HDMI with Audio
- Component (1 side/2 rear with Audio)
- Composite [1 side/3 rear (1 rear with Audio)]
- S-Video [2 rear (1 rear with Audio)]
- Antenna A & B
- USB (Mass Storage Class) (side input)
- PC
›
Outputs:
- Optical Digital Audio
- Monitor Out – Composite/Audio LR
- Subwoofer
- SR+
SOUND TECHNOLOGY
PRODUCT DIMENSIONS
›
13 Watt Stereo Amplifier With TruBass 2-Way
Stereo Speakers
›
SRS® WOW/FOCUS/TruBass Surround Sound Audio
›
Bass Boost Loudness
›Display (W x H x D): 40-15/16" x 26-3/4" x 4-1/2"
- With Integrated Speaker
›Display Weight: 63.9 lbs.
OTHER
›
Table Top Stand – Included
›
Speakers – Included (fully integrated bottom)
›
Flat Wall Mount – Optional (PWM-F110)
CARTON DIMENSIONS
›W x H x D: 46-1/4" x 33-3/4" x 14-3/4"
›Weight: 86.6 lbs.
UPC
›12562833439
Specifications and design subject to modification without notice.
INTEGRATED TECHNOLOGIES
* The TV Guide On Screen interactive program guide provides listings for cable-ready, cable box, and digital cable services as well as over-the-air
broadcast. It does not provide listings for satellite
• High-Definition Television (HDTV): HDTV refers to a complete product/system with the following minimum performance attributes:
- Receiver: Receives ATSC terrestrial digital transmissions and decodes all ATSCTable 3 video formats.
- Display Scanning Format: Has active vertical scanning lines of 720 progressive (720p), 1,080 interlaced (1,080i) or higher.
- Aspect Ratio: Capable of displaying a 16:9 image.
- Audio: Receives and reproduces, and/or outputs Dolby Digital audio (Consumer Electronics Association, August 2000).
• Plasma Display Systems display images consisting of hundreds of thousands of minute pixels (light emitting cells), and there is a possibility that
some pixels may be inactive, flashing or continually illuminated.
• Plasma Display Systems are made of glass; be sure to secure it from damage from impact.
• Plasma Display Systems, while in use, may generate some functional sounds, for example: fan motor noise, and electrical circuit humming/glass
panel buzzing.
• All phosphor-based display systems (CRT Television Systems - both direct view and projection televisions - as well as plasma display systems) may
develop image retention, sometimes called burn-in if permanent. Recommended guidelines are as follows:
- Do not display still images for long periods (such as fixed images from PC or TV game equipment, and/or time of day indicator or channel
logo display).
•
•
•
•
•
•
•
- Do not display content in the 4:3 aspect ratio (black or gray bars on left and right side of content) or letter-box content (black bars above and
below of content) for extended periods of time, or use either of these viewing modes repeatedly within a short period of time. This Plasma
Display System is equipped with multiple wide-screen viewing modes; use one of these screen modes to fill the entire screen with content.
- Displaying dark images after displaying still images for a period of time may cause image retention. In most cases, the image retention can be
corrected by displaying bright images for a similar period of time. However, if your Plasma Display System displays still images for additional
long periods of time, image retention may be irreparable.
Plasma Display Systems emit slight amounts of IR (Infrared) emission through luminous discharge technology. This IR emission is not harmful
to living organisms, but may interfere with the operation of remote controls for other equipment, or cause static in equipment using IR signals
(such as cordless headphones or cordless microphones).
PIONEER, the Pioneer Logo, the Elite logo and PureVision are registered trademarks of Pioneer Corporation.
CableCARD™ is a trademark of Cable Television Laboratories, Inc.
HDMI, the HDMI logo and High-Definition Multimedia Interface are trademarks or registered trademarks of HDMI Licensing LLC.
SRS WOW, SRS, TruBass and FOCUS and the
symbol are trademarks of SRS Labs, Inc.
In the United States, TV Guide and other related marks are registered marks of Gemstar-TV Guide International, Inc. and/or
one of its affiliates.
Dolby and the double-D symbol are registered trademarks of Dolby Laboratories.

* Your assessment is very important for improving the work of artificial intelligence, which forms the content of this project