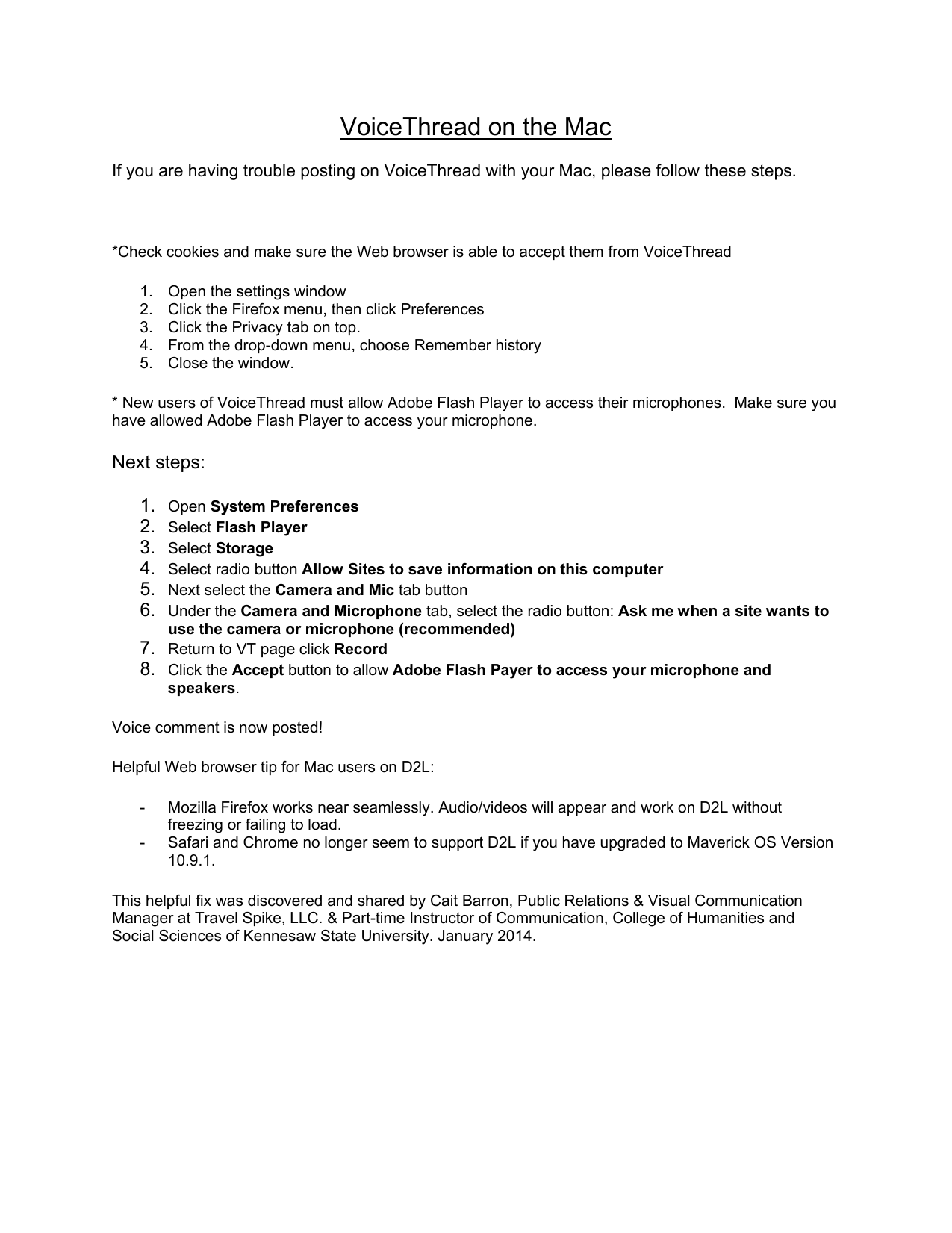 VoiceThread on the Mac
If you are having trouble posting on VoiceThread with your Mac, please follow these steps.
*Check cookies and make sure the Web browser is able to accept them from VoiceThread
1.
2.
3.
4.
5.
Open the settings window
Click the Firefox menu, then click Preferences
Click the Privacy tab on top.
From the drop-down menu, choose Remember history
Close the window.
* New users of VoiceThread must allow Adobe Flash Player to access their microphones. Make sure you
have allowed Adobe Flash Player to access your microphone.
Next steps:
1.
2.
3.
4.
5.
6.
Open System Preferences
Select Flash Player
Select Storage
Select radio button Allow Sites to save information on this computer
Next select the Camera and Mic tab button
Under the Camera and Microphone tab, select the radio button: Ask me when a site wants to
use the camera or microphone (recommended)
7. Return to VT page click Record
8. Click the Accept button to allow Adobe Flash Payer to access your microphone and
speakers.
Voice comment is now posted!
Helpful Web browser tip for Mac users on D2L:
-
Mozilla Firefox works near seamlessly. Audio/videos will appear and work on D2L without
freezing or failing to load.
Safari and Chrome no longer seem to support D2L if you have upgraded to Maverick OS Version
10.9.1.
This helpful fix was discovered and shared by Cait Barron, Public Relations & Visual Communication
Manager at Travel Spike, LLC. & Part-time Instructor of Communication, College of Humanities and
Social Sciences of Kennesaw State University. January 2014.

* Your assessment is very important for improving the work of artificial intelligence, which forms the content of this project