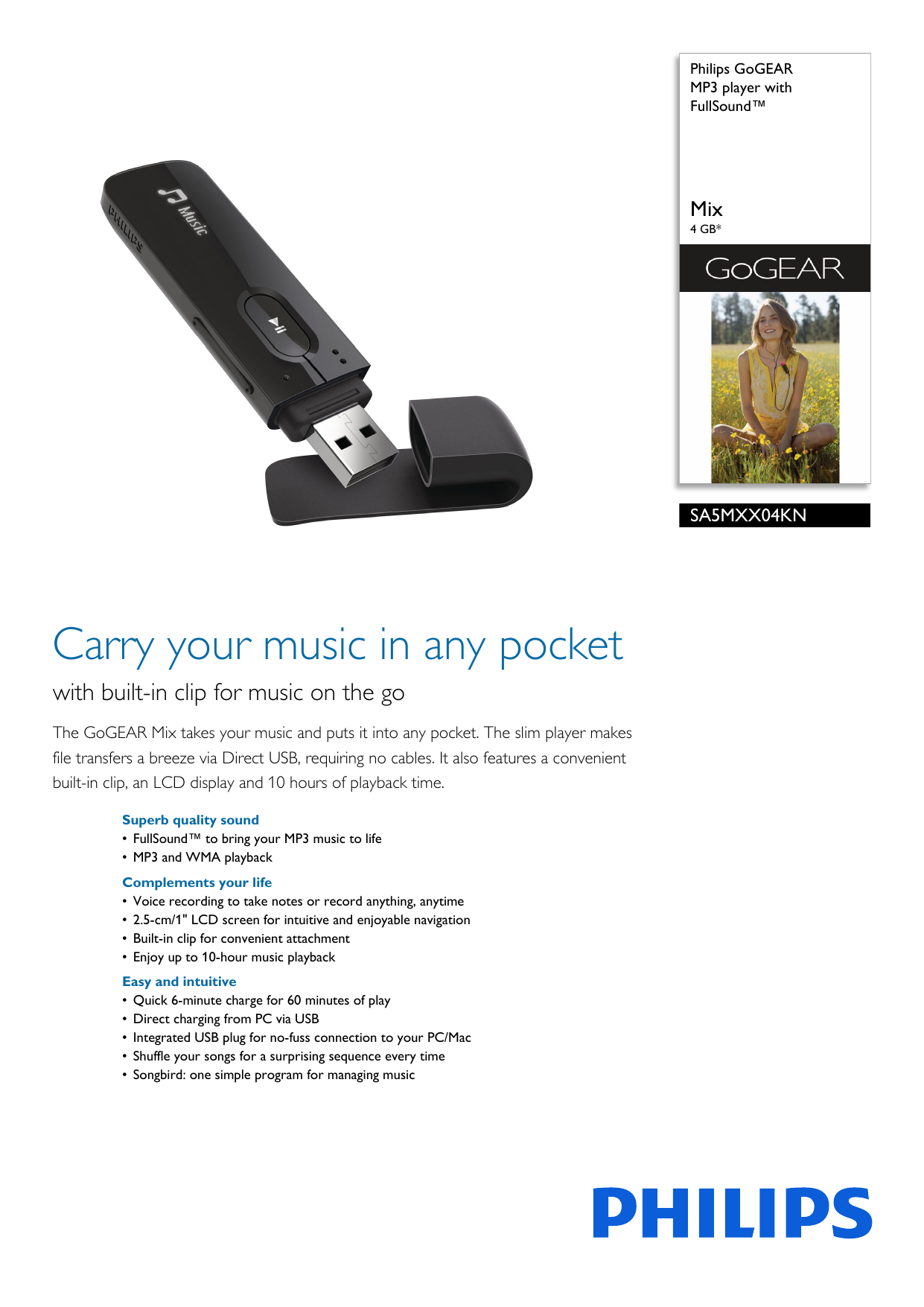 Philips GoGEAR
MP3 player with
FullSound™
Mix
4 GB*
SA5MXX04KN
Carry your music in any pocket
with built-in clip for music on the go
The GoGEAR Mix takes your music and puts it into any pocket. The slim player makes
file transfers a breeze via Direct USB, requiring no cables. It also features a convenient
built-in clip, an LCD display and 10 hours of playback time.
Superb quality sound
• FullSound™ to bring your MP3 music to life
• MP3 and WMA playback
Complements your life
• Voice recording to take notes or record anything, anytime
• 2.5-cm/1" LCD screen for intuitive and enjoyable navigation
• Built-in clip for convenient attachment
• Enjoy up to 10-hour music playback
Easy and intuitive
• Quick 6-minute charge for 60 minutes of play
• Direct charging from PC via USB
• Integrated USB plug for no-fuss connection to your PC/Mac
• Shuffle your songs for a surprising sequence every time
• Songbird: one simple program for managing music
SA5MXX04KN/12
MP3 player with FullSound™
Mix 4 GB*
Highlights
FullSound™
Voice recording
provide the power for charging your player
within a few seconds. Enjoy the convenience of
doing away with a separate recharger.
Songbird
Songbird: one simple program for managing
music
Philips' innovative FullSound technology
faithfully restores sonic details to compressed
MP3 music, dramatically enriching and
enhancing it, so you can experience CD music
without any distortion. Based on an audio
post-processing algorithm, FullSound
combines Philips' renowned expertise in music
reproduction with the power of the latest
generation Digital Signal Processor (DSP). The
result is fuller bass with more depth and
impact, boosted voice and instrument clarity,
and rich detail. Rediscover your compressed
MP3 music in true-to-life sound that will touch
your soul and move your feet.
2.5-cm/1" LCD screen
2.5-cm/1" LCD screen for intuitive and
enjoyable navigation
Up to 10-hour music playback
Jive to endless hits with your GoGEAR player.
A compact rechargeable battery is built in for
long-lasting power. Up to 10 hours of
continuous music playback can be enjoyed with
a single charge. Just plug the power cable in to
recharge the player – it's that simple.
Voice recording converts your GoGear player
into a handy dictation machine. Besides playing
music or listening to the radio, you can also
record notes or reminders for work or school,
record shopping lists and phone numbers –
even song lyrics. By pressing the recording
button and speaking into the built-in
microphone, voice messages are compressed
and stored in the built-in internal memory.
Voice recording gives you a highly portable
voice recorder allowing you to record
anything, anytime and anywhere!
Built-in clip
Built-in clip for convenient attachment
Direct charging from PC
Charge your GoGear player battery quickly
and easily from your PC via USB. Connect your
player to your PC with the cable provided and
follow the necessary prompts and your PC will
Shuffle your songs
Shuffle your songs for a surprising sequence
every time
Fast charging (60 mins)
Sometimes, you just need your GoGEAR
player to take you from home to office and
back again, or for a short run—but you forgot
to charge it last night. Say goodbye to
frustration and boring, silent journeys, with
Fast Charge. Philips' smart and convenient
solution lets you plug your GoGEAR into your
PC or USB charger for just 6 minutes and in
return, you get a whopping 60 minutes of audio
playback! Fast Charge works by relying on
much higher current levels to give your
lithium-ion battery the power it needs to tide
you over in a jiffy…and keep the music going.
Integrated USB plug
Integrated USB plug for no-fuss connection to
your PC/Mac
SA5MXX04KN/12
MP3 player with FullSound™
Mix 4 GB*
Specifications
Picture/Display
•
•
•
•
Backlight
Type: OLED, Black and White
Resolution: 128 x 32
Lines of text: 2
Sound
•
•
•
•
•
•
•
Equalizer customisable
Sound Enhancement: FullSound
Channel separation: 45 dB
Frequency response: 40 - 18k Hz
Output power (RMS): 2.1 mW
Signal to noise ratio: > 80 dB
Equalizer settings: Classical, Funk, Hip Hop, Jazz,
Rock, Techno
Audio Playback
•
•
•
•
•
Compression format: MP3, WMA, WAV
ID3 Tag support: Song title, artist, album
Digital Rights Management: No
MP3 bit rates: 8-320 kbps and VBR
MP3 sample rates: 16, 32, 44.1, 48, 11.025, 22.050,
24, 8 kHz
• WMA bit rates: 5-192 kbps and VBR
• WMA sample rates: 32, 44.1, 48 kHz
Audio Capturing
• Built-in microphone: mono
• Voice recording
• Audio file format: WAV
Video Playback
• Built-in memory (RAM): 4 GB
• Music memory capacity, MP3: Up to 1000 tracks*
Connectivity
• Headphones: 3.5 mm
• USB: USB 2.0
Convenience
•
•
•
•
•
•
Superscroll: No
Firmware upgradeable
Battery charging indication: On user interface
Charge and play: when connected to a PC
Customisable volume limit
Volume control
Accessories
• Headphones
• Quick start guide
• USB cable: built-in direct USB
System Requirements
• USB: Free USB port
• PC OS: Windows XP (SP3)/Vista/7
Power
•
•
•
•
Battery Type: LI-Polymer
Rechargeable: Yes, via USB
Battery capacity: 130 mAh
Play time on internal battery: Up to 10 hours'
music playback
Dimensions
• N/A
Tuner/Reception/Transmission
• No
Still Picture Playback
• Packaging type: D-box
• D-box dimensions (WxDxH): 80 x 22 x 150 mm
• Product dimensions (WxDxH): 24.5 x 15.9 x
82.4 mm
• Product weight: 0.022 kg
Software
• N/A
Storage Media
• Built-in memory type: NAND Flash
• Mass storage class compliant
• Device manager: to restore and upgrade
• Songbird: www.Philips.com/Songbird
Partners
• No
•
Issue date 2014-03-18
© 2014 Koninklijke Philips N.V.
All Rights reserved.
Version: 1.1.4
Specifications are subject to change without notice.
Trademarks are the property of Koninklijke Philips N.V.
or their respective owners.
12 NC: 8670 001 00393
EAN: 08 71258 16783 71
www.philips.com
* Storage capacity based on 4 minutes per song and 64 kbps WMA or
128 kbps MP3 encoding.
* Actual transfer speed may vary based on your operating system and
software configuration.
* 1 GB = 1 billion bytes; available storage capacity will be less.
* Rechargeable batteries have a limited number of charge cycles and
may eventually need to be replaced. Battery life and number of
charge cycles vary by use and settings.

* Your assessment is very important for improving the work of artificial intelligence, which forms the content of this project