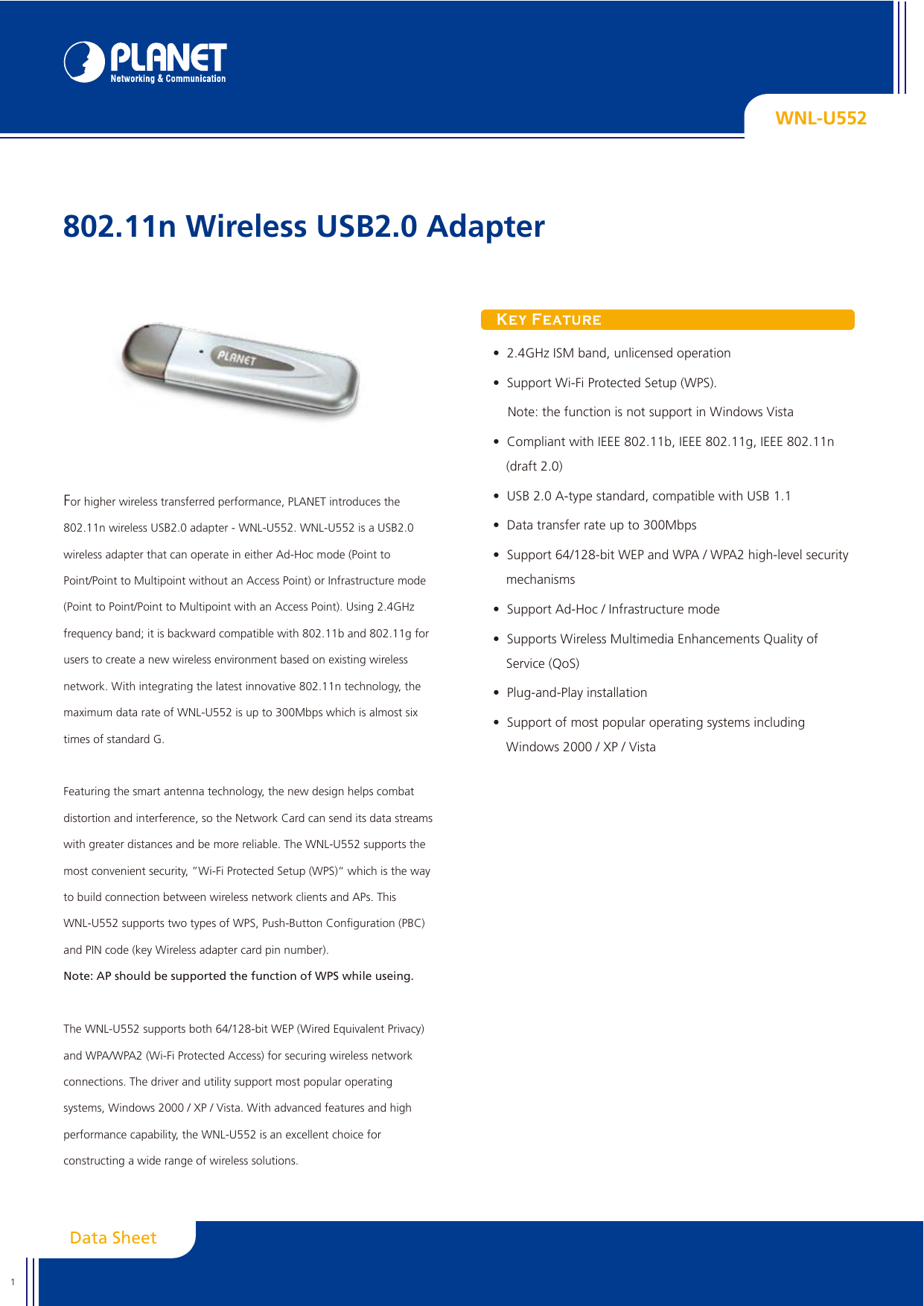 WNL-U552
802.11n Wireless USB2.0 Adapter
Key Feature
• 2.4GHz ISM band, unlicensed operation
• Support Wi-Fi Protected Setup (WPS).
Note: the function is not support in Windows Vista
• Compliant with IEEE 802.11b, IEEE 802.11g, IEEE 802.11n
(draft 2.0)
For higher wireless transferred performance, PLANET introduces the
• USB 2.0 A-type standard, compatible with USB 1.1
802.11n wireless USB2.0 adapter - WNL-U552. WNL-U552 is a USB2.0
• Data transfer rate up to 300Mbps
wireless adapter that can operate in either Ad-Hoc mode (Point to
• Support 64/128-bit WEP and WPA / WPA2 high-level security
Point/Point to Multipoint without an Access Point) or Infrastructure mode
(Point to Point/Point to Multipoint with an Access Point). Using 2.4GHz
• Support Ad-Hoc / Infrastructure mode
frequency band; it is backward compatible with 802.11b and 802.11g for
• Supports Wireless Multimedia Enhancements Quality of
users to create a new wireless environment based on existing wireless
network. With integrating the latest innovative 802.11n technology, the
maximum data rate of WNL-U552 is up to 300Mbps which is almost six
times of standard G.
Featuring the smart antenna technology, the new design helps combat
distortion and interference, so the Network Card can send its data streams
with greater distances and be more reliable. The WNL-U552 supports the
most convenient security, "Wi-Fi Protected Setup (WPS)" which is the way
to build connection between wireless network clients and APs. This
WNL-U552 supports two types of WPS, Push-Button Configuration (PBC)
and PIN code (key Wireless adapter card pin number).
Note: AP should be supported the function of WPS while useing.
The WNL-U552 supports both 64/128-bit WEP (Wired Equivalent Privacy)
and WPA/WPA2 (Wi-Fi Protected Access) for securing wireless network
connections. The driver and utility support most popular operating
systems, Windows 2000 / XP / Vista. With advanced features and high
performance capability, the WNL-U552 is an excellent choice for
constructing a wide range of wireless solutions.
Data Sheet
1
mechanisms
Service (QoS)
• Plug-and-Play installation
• Support of most popular operating systems including
Windows 2000 / XP / Vista
WNL-U552
Specification
Product
802.11n Wireless USB2.0 Adapter
Model
Attach Interface
LED Indicators
RF Modulation
Antenna
Sensitivity
WNL-U552
Complaint with USB 1.1/2.0 standard
LINK / ACT
OFDM with BPSK, QPSK, 16QAM, 64QAM; DBPSK, DQPSK, CCK
Internal 2 patch antennas (2Tx 2Rx)
IEEE 802.11b: 1Mbps (QPSK): -90.9dBm, 11 Mbps (QPSK): -86.6dBm
IEE802.11g: 54Mbps (64QAM): -77dBm, 6Mbps (BPSK): -90.3dBm
IEEE 802.11n:
HT20Mbps: MCS0
-89dBm
HT40Mbps: MCS0
-86dBm
MCS7
-69dBm
MCS7
-67.8dBm
MCS8
-88dBm
MCS8
-85dBm
MCS15
-69dBm
MCS15
-66.7dB
IEEE 802.11b: 16~18dBm, IEEE 802.11g: 14~16dBm, IEEE 802.11n: 11~13dBm
IEEE 802.11n: up to 300Mbps
IEEE 802.11g: 54, 48, 36, 24, 18, 12, 9 and 6Mbps with auto-rate fall back
IEEE 802.11b: 11, 5.5, 2, and 1Mbps with auto-rate fall back
Ad-Hoc, Infrastructure
CSMA/CA + ACK (Half-Duplex)
64/128 WEP, WPA-PSK (TKIP/AES), WPA2-PSK (TKIP/AES)
2.412~2.462GHz (FCC, Canada) / 11 Channels
2.412~2.4835GHz (Japan, TELEC) / 14 Channels
2.412~2.472GHz (Euro ETSI) / 13 Channels
Windows 2000/ XP / VISTA
Built-in utility or Windows XP Zero Configuration utility
TX power consumption: 485 mA, RX power consumption: 283 mA
FCC, CE
RF Output Power
Data Rate
Working Mode
Media Access Protocol
Security
Operating Frequency / Channel
Operation System
Management
Power Consumption
Electromagnetic Compatibility
Applications
Infrastructure
For some environment with limitations on running Ethernet
cables around, simply installs the WNL-U552 on PCs or laptops,
and then users can get connection to the wired Ethernet through
a wireless access point to access the network resource within the
coverage of wireless signals. Replace the existing wireless device
to 802.11n wireless router for increasing the coverage of wireless
signals and ensure seamless network access for mobile users.
Internet
WNRT-620
Switch
WNL-U552
Infrastructure
File
Server
WNL-9320
Print
Server
Ad-Hoc
Need connect to several PCs or laptops wirelessly? Configuring
all the wireless adapters to Ad-Hoc mode without wireless access
point is the easiest and more economic way to meet this
application.
WNL-U552
WNL-9320
Ad-Hoc
WNL-9320
WNL-U552
Ordering Information
802.11n Wireless USB2.0 Adapter
WNL-U552
Related Products
WNRT-620
802.11n Wireless Broadband Router
WNL-9320
802.11n Wireless PCI Adapter
Data Sheet
2
PLANET Technology Corporation
11F, No. 96, Min Chuan Road, Hsin Tien, Taipei, Taiwan R.O.C.
Tel: 886-2-2219-9518
Fax: 886-2-2219-9528
Email: sales@planet.com.tw
www.planet.com.tw
VoIP Gateway: vip.planet.com.tw
09-07
C-WNLU552-1
PLANET reserves the right to change specifications without prior notice. All brand names and trademarks are property or
their respective owners. Copyright©2007 PLANET Technology Corp. All rights reserved.