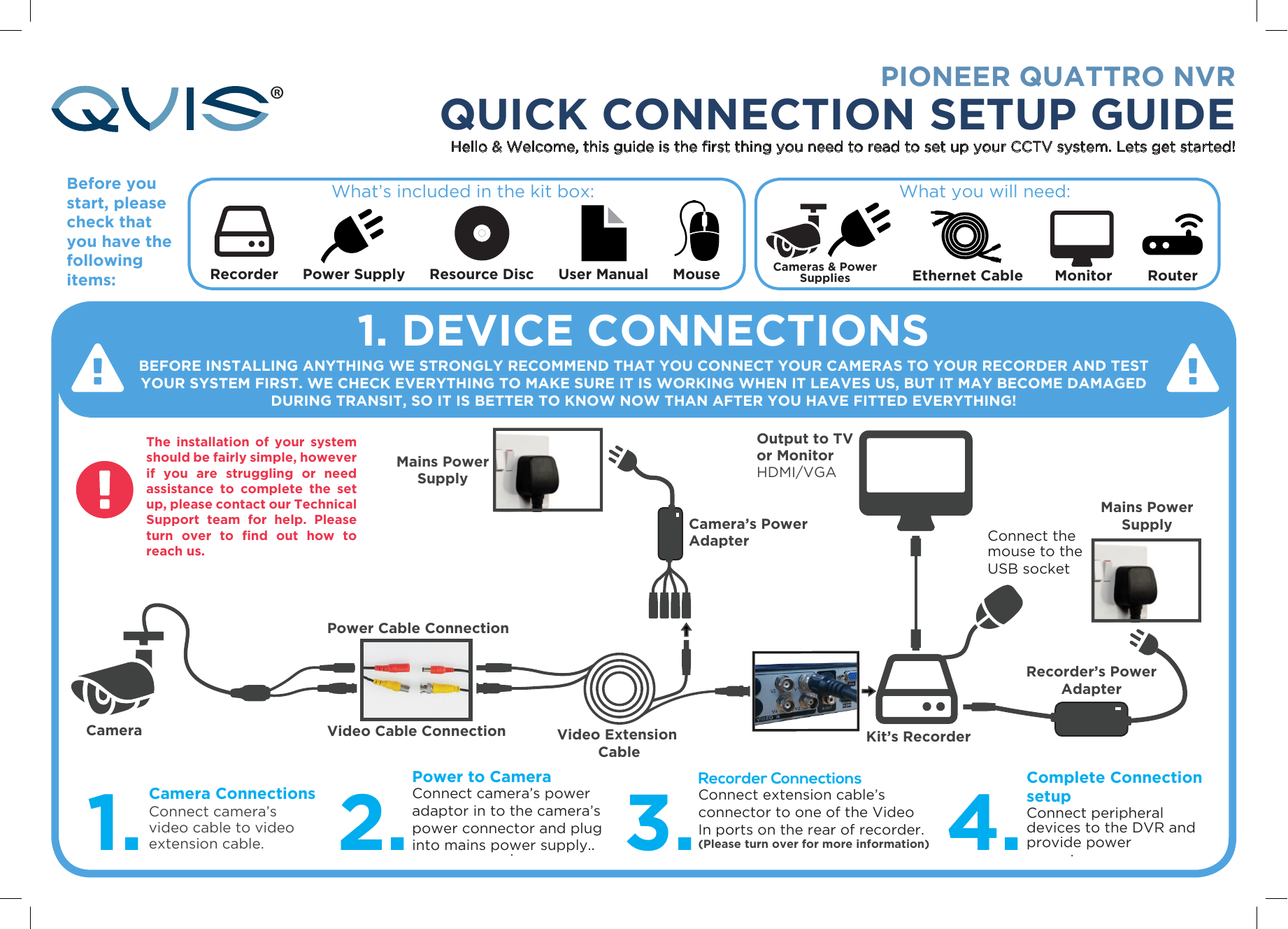 PIONEER QUATTRO NVR
®
QUICK CONNECTION SETUP GUIDE
Hello & Welcome, this guide is the first thing you need to read to set up your CCTV system. Lets get started!
Before you
start, please
check that
you have the
following
items:
What's included in the kit box:
Recorder
Power Supply
Resource Disc
What you will need:
User Manual
Mouse
Cameras & Power
Supplies
Ethernet Cable
Monitor
Router
1. DEVICE CONNECTIONS
BEFORE INSTALLING ANYTHING WE STRONGLY RECOMMEND THAT YOU CONNECT YOUR CAMERAS TO YOUR RECORDER AND TEST
YOUR SYSTEM FIRST. WE CHECK EVERYTHING TO MAKE SURE IT IS WORKING WHEN IT LEAVES US, BUT IT MAY BECOME DAMAGED
DURING TRANSIT, SO IT IS BETTER TO KNOW NOW THAN AFTER YOU HAVE FITTED EVERYTHING!
The installation of your system
should be fairly simple, however
if you are struggling or need
assistance to complete the set
up, please contact our Technical
Support team for help. Please
turn over to find out how to
reach us.
Output to TV
or Monitor
HDMI/VGA
Mains Power
Supply
Camera's Power
Adapter
Connect the
mouse to the
USB socket
Mains Power
Supply
Power Cable Connection
Recorder's Power
Adapter
Camera
1.
Video Cable Connection
Camera Connections
Connect camera's
video cable to video
extension cable.
2.
Video Extension
Cable
Power to Camera
Connect camera's power
adaptor in to the camera's
power connector and plug
into mains power
supply..
.
3.
Kit's Recorder
Recorder Connections
Connect extension cable's
connector to one of the Video
In ports on the rear of recorder.
(Please turn over for more information)
4.
Complete Connection
setup
Connect peripheral
devices to the DVR and
provide power
.
2. RECORDER'S REAR PANEL CONNECTIONS
Before continuing - please make sure you have read and have completed the connection setup shown in part 1 to this guide
1
2
3
4
5
6
7
8
9
HDMI - Display to monitor output
10
VGA - Display to monitor output
11
DC 12Volt power supply port
Audio Inputs - RCA (not available on 4/8 channel devices)
Alarm Inputs (not available on 4/8 channel devices)
1
Camera inputs - BNC
3
5 6 8
10
7
9 11
Audio output - RCA
Network port (Internet)
2 x USB ports (mouse or backup)
Audio Inputs - RCA
RS485 - PTZ camera inputs
2
4
3. CONNECTING TO THE INTERNET
Before continuing - please make sure that your recorder is setup as shown in parts 1 & 2 of this guide
Connect the Ethernet cable into the 'Network' port on the rear of the recorder, then connect the other end into one of the spare ports on
your modem-router, as shown below. This will mean you can set up remote viewing via our app.
SUCCESS! You
have now fully
connected up
you Qvis CCTV
system.
Ethernet Cable
Recorder
More detailed instructions on how to operate your
DVR are included in the Main User Manual, which is
on the CD-ROM disc included.
We refrain from printing these large manuals in an
effort to limit our impact on the environment.
© Copyright QVIS ®. All documentation rights reserved.
QUATTRO-CONNECTION
Modem/Router
STILL NEED HELP?
Then speak to our engaging technical team via our
webchat service found upon our website:
www.qvisglobal.com
Look for this webchat
bubble on our website
to connect to one of
our technical team
members.

* Your assessment is very important for improving the work of artificial intelligence, which forms the content of this project