Philips SPD8010CC/10 Datasheet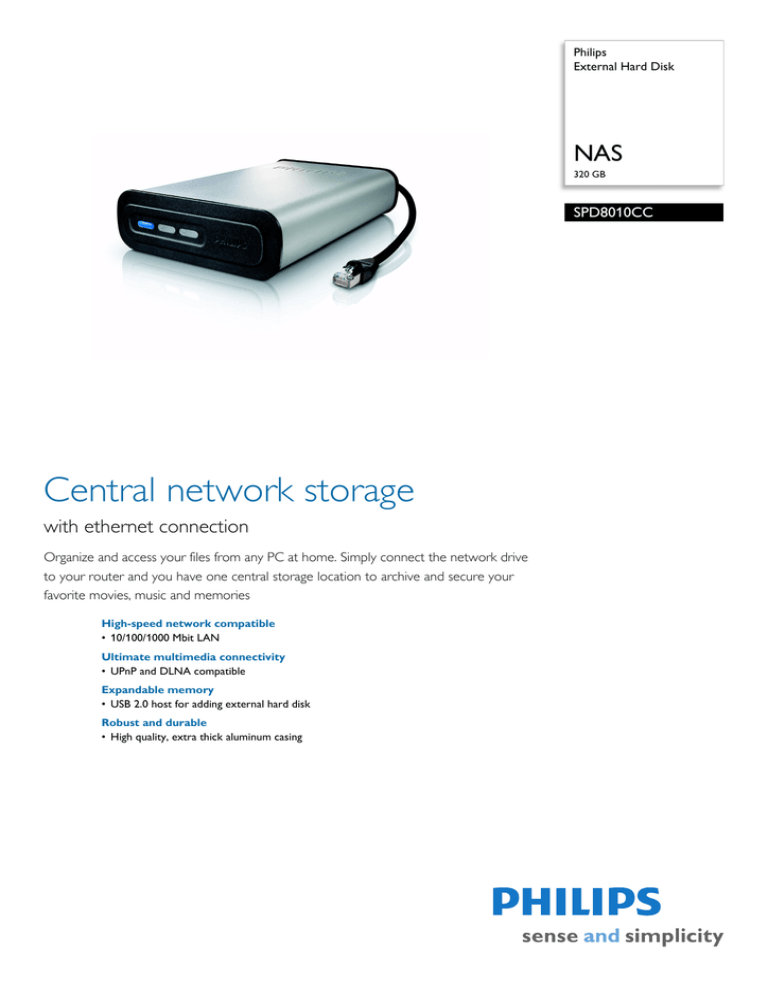 Philips
External Hard Disk
NAS
320 GB
SPD8010CC
Central network storage
with ethernet connection
Organize and access your files from any PC at home. Simply connect the network drive
to your router and you have one central storage location to archive and secure your
favorite movies, music and memories
High-speed network compatible
• 10/100/1000 Mbit LAN
Ultimate multimedia connectivity
• UPnP and DLNA compatible
Expandable memory
• USB 2.0 host for adding external hard disk
Robust and durable
• High quality, extra thick aluminum casing
SPD8010CC/10
External Hard Disk
NAS 320 GB
Specifications
Storage Media
•
•
•
•
Hard Disk Capacity: 320 GB
HDD Type: 3.5" HDD
Rotational speed: 7200 rpm
Transfer rate: 480 Mb/s (USB interface) and 10/
100/1000Mbit LAN
• Access time (typical): 8.5 ms
• Cache memory: 16 MB
Highlights
• Processor: Pentium 4 1 GHz, 128 MB RAM
• PC Network required: Wireless or wired PC
network
Network protocols
• Complies with: TCP/IP
Product dimensions
• Interface: RJ45 ethernet connection and USB 2.0
host for additional mass storage device
• Cable length: 0 cm
• Product dimensions (W x H x D):
14 x 4.9 x 23.4 cm
• Weight: 2.09 kg
Accessories
Packaging dimensions
Connectivity
•
•
•
•
•
•
USB cable: No
Ethernet cable
User Manual: ON-CD-ROM
Quick start guide
AC Adapter
CD-ROM
System Requirements
• PC OS: Windows 2000, Windows XP, Windows
Vista
• Packaging dimensions (W x H x D):
30.4 x 24.2 x 14.5 cm
• Nett weight: 2.09 kg
• Gross weight: 2.32 kg
• Tare weight: .23 kg
Outer Carton
•
•
•
•
Outer carton (L x W x H): 51.1 x 31.6 x 34.3 cm
Nett weight: 8.36 kg
Gross weight: 9.78 kg
Tare weight: 1.42 kg
•
Issue date 2009-11-06
© 2009 Koninklijke Philips Electronics N.V.
All Rights reserved.
Version: 2.0.4
Specifications are subject to change without notice.
Trademarks are the property of Koninklijke Philips
Electronics N.V. or their respective owners.
12 NC: 8670 000 33398
EAN: 87 12581 36012 2
www.philips.com
10/100/1000Mbit LAN
The hard disk is compatible with all network speeds
and is ready for next generation of high-speed GB
LAN devices.
UPnP and DLNA compatible
Play your music and movies anywhere in the house
by streaming content directly from the NAS via the
UPnP server.
USB 2.0 host for adding HD
Grow your storage capacity as your data grows by
simply adding another USB hard disk for extra
capacity via the high-speed USB 2.0 host.
Extra thick aluminum casing
The high quality aluminum casing protects the hard
drive from wear and tear - protecting your data and
guaranteeing a long working life. It also insulates the
sound of the drive to ensure quiet operation.

* Your assessment is very important for improving the work of artificial intelligence, which forms the content of this project