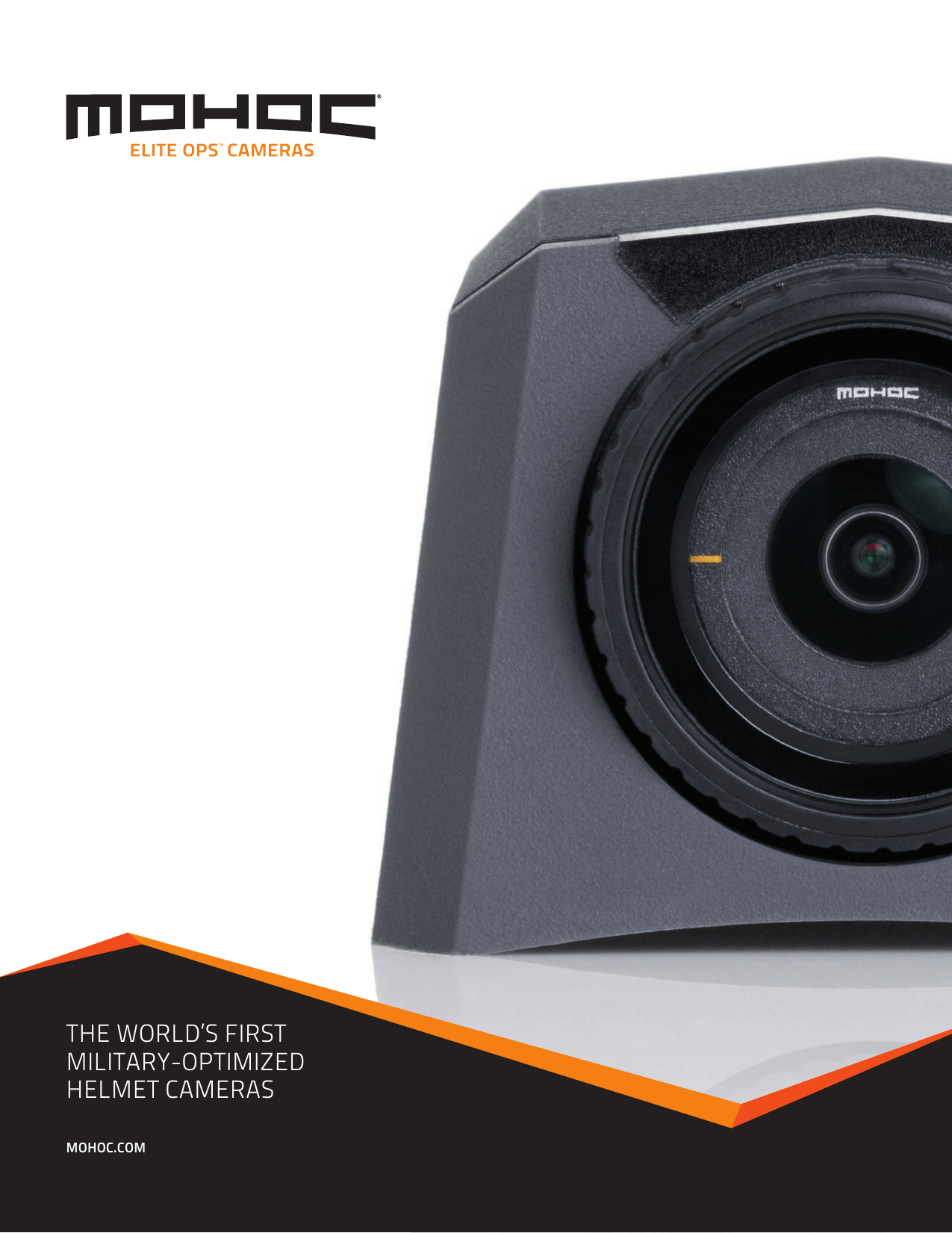 THE WORLD'S FIRST
MILITARY-OPTIMIZED
HELMET CAMERAS
MOHOC.COM
MOHOC BELIEVES THE WORLD'S
TOUGHEST WARRIORS DESERVE
ELITE, CUSTOM BUILT GEAR TO
GUARANTEE MISSION SUCCESS.
EVERYTHING WE DO IS DESIGNED
TO SURPASS THE EXPECTATIONS
OF OPERATORS WORKING IN
THE HARSHEST ENVIRONMENTS
IMAGINABLE.
ELITE OPS CAMERAS
TM
MOHOC & MOHOC IR
VISIBLE LIGHT & INFRARED MODELS
THE WORLD'S FIRST MILITARY
OPTIMIZED HELMET CAMERAS
MISSION CRITICAL HD IMAGES
IN ALL LIGHT CONDITIONS
The tactically designed MOHOC®
Camera revolutionizes form-factor,
ruggedization, and user interface.
The patented helmet-contoured base
and low profile housing eliminate
snag hazards.
Both MOHOC® Cameras capture
razor-sharp 1080p HD video and 12MP
photos in visible light, low light, and
white light. The new MOHOC® IR model
also records in total darkness when
used with infrared illumination (black
& white images).
Waterproof to 10m/30ft and drop-proof
to 2m/6ft, MOHOC® is military-grade
tough and IP68 rated. Its single button
tactile control with vibration feedback
enables intuitive operation in any
conditions.
TACTICAL FORM FACTOR
HELMET CONTOUR, LOW PROFILE, SNAG-FREE
MILITARY RUGGEDIZED
WATERPROOF, DROP-PROOF, MISSION READY
Stream live video by Wi-Fi, and relay
to command over compatible tactical
radios.
INTUITIVE USE
SIMPLE TACTILE OPERATION & VIBRATION ALERTS
LENS ROTATION FOR INFINITE
MOUNTING OPTIONS
DUAL POWER FOR VERSATILITY &
EXTENDED BATTERY LIFE
iOS & ANDROID APP FOR
LIVE STREAMING
Mount camera at any angle, then
rotate lens to level the recorded image
to horizontal. Enables exceptional
versatility of mounting positions and
perspectives.
MOHOC® comes equipped with a
Li-ion rechargeable battery, but can
also run on CR123A batteries. Up to
2 hr 45 min continuous record time
with rechargeable and 5+ hours with
CR123A.
Securely connect wirelessly with iOS
or Android phones & tablets. Preview
your shot, start and stop recording, take
photos, live-stream video, playback
recorded content, change settings, and
transmit images from your device.
FULL HD VIDEO
DUAL CAPTURE
12MP CAMERA
1080p @ 60FPS
Simultaneously take photos
while recording video
Manual, photo burst
and time lapse
SNAG FREE OPERATIONS
MISSION READY
WATERPROOF
Low profile, helmetoptimized form factor
Military ruggedized,
2m (6.5ft) drop test
Waterproof to 10m (32.8ft),
IP68 rated
CURVELOCK SYSTEM
ONE TOUCH OPERATION
DARK-USE SAFE
Contoured to fit combat
helmets securely
Single finger toggle,
ideal when wearing gloves
Vibration feedback and
zero white light discharge
VELCRO® MOUNT
LOW LIGHT & INFRARED
WIDE ANGLE & TRUE FOV
Instant secure attachment,
no mounting hardware
Auto low light adjustment
& IR enabled model
140 degree non-distorted
field of view
TM
ELITE OPS CAMERAS
TM
MOHOC® (MHDBK)
MOHOC® IR (MHIRBK)
VISIBLE LIGHT
•
Both models capture visible light
•
MOHOC® records full color
•
MOHOC® IR records black & white
INFRARED LIGHT
•
Both models capture low light
•
Both models capture white light
•
Only MOHOC® IR captures IR
illumination*
*Both images shot in darkness with Surefire® IR Scout Light®
MOHOC® & MOHOC® IR Specifications - Patents issued & pending
Video
1080p at 60/30 FPS Full HD. 720p at 120/60/30FPS
Photo
12 MP. Manual photo, photo burst, time lapse (photo every 60, 30, 5, or 3 seconds)
Image Quality (MOHOC®)
Full HD Color in visible light
Image Quality (MOHOC® IR)
Full HD Black & White in visible and IR light spectrum from 420nm to 950nm
Dual Capture
Ability to take still photos while simultaneously recording video
Waterproof
10 meters (32.8ft). IP68 rated in standard case (without additional case or housing)
Durability
2 meter (6.5ft) drop test
Microphone
Stereo
Wireless
Wi-Fi 802.11b/g/n
Memory
MicroSDTM card compatible up to 64GB. Class 10 or higher required. Card not included
Battery
5+ hrs operation with 2x CR123A Lithium batteries (not included) and 2 hr 45 minutes with MOHOC Li-Ion
Rechargeable battery pack (included)
Connectivity
Charge and sync with USB (cable included) and HDMI for playback
Optics/Lens
Aperture F2.8, 140º Field of View, and CMOS Sensor
Low Light
Auto adjustment for optimal recording in low light environments
Rotating Lens
Manually rotate lens up to 190º to record horizontal video from any mounting position
Secure Attachment
Velcro attachment direct to helmet or helmet cover. Lanyard included to tether for additional security
Additional Settings
Loop recording, video orientation adjustment, date & time stamp, and power save mode
Kit Includes
MOHOC® Camera, 1100mAh Rechargeable battery, 2 Velcro® mounting strips, USB cable, lanyard and bag
ELITE OPS ACCESSORIES
TM
MULTI-MOUNT
INCREASE THE CAPABILITIES OF
YOUR MOHOC® CAMERAS
Developed specifically for use with the
MOHOC® and MOHOC® IR Cameras,
the Multi-Mount is designed to extend
the functionality of your camera
beyond the helmet.
Just like the MOHOC® cameras
it supports, the Multi-Mount is
purpose-built tactical equipment
with innovative form-factor, militarygrade ruggedization, and intuitive
user interface.
This single accessory allows MOHOC®
cameras to securely mount on flat
surfaces, tripods, weapon rails, and
the universe of action camera mounts.
FLAT SURFACE MOUNT
TRIPOD MOUNT
ACTION CAMERA MOUNT
1
Instantly secure your MOHOC® Camera
to the top of the Multi-Mount with
industrial-grade Velcro®. Then use the
anchor points on the bottom to attach
the Multi-Mount wherever your
operation demands.
1
Flat base with VELCRO® hook to
attach to flat surfaces
2
1/4" 20 nut to connect to tripod or
Action Camera Mount
3
Picatinny Mount & KeyMod™
attachment holes
3
FLAT SURFACE MOUNT (VIEW OF UNDERSIDE)
OPTIONAL PICATINNY MOUNT
The Multi-Mount + Picatinny Kit
attaches securely to Picatinny rails on a
wide variety of weapons systems:
Multi-Mount
(MH-MMT)
Includes Multi-Mount and Action
Camera Mount
Multi-Mount + Picatinny Kit
(MH-WMT)
Includes Multi-Mount, Action Camera
Mount, and Picatinny Mount
2
ACTION CAMERA MOUNT
PICATINNY RAIL MOUNT (OPTIONAL)
ELITE OPS ACCESSORIES
TM
SHOULDER MOUNT
THE ULTIMATE BODY CAM
When your operations don't require a
helmet, the Shoulder Mount provides an
instantaneous body-worn alternative.
Built with tactical nylon and secured by
industrial-grade Velcro®, it's compatible
with vests, chest rigs, backpacks, and
other shoulder straps. Once positioned,
simply turn the rotating lens on the
MOHOC® to ensure a level shot.
AVAILABLE IN TAN (MH-SMT) AND
BLACK (MH-SMBK)
MOLLE CASE
STASH, STORE, SECURE
When not deployed, protect your
MOHOC® in this MOLLE compatible,
tactical-nylon case. With ruggedized
buckle and microfiber cushion over the
lens, the MOLLE Case is basecamp for
an off-duty MOHOC®.
AVAILABLE IN TAN (MH-MCT) AND
BLACK (MH-MCBK)
SPARE GEAR
ARRIVE PREPARED
Equip yourself with genuine MOHOC®
spare and replacement parts including
Velcro® mounting strips, Li-ion
batteries, and MicroSD cards.
Contact MOHOC to learn more.
+1.208.806.1391
info@mohoc.com
01_2017_REV_D
www.mohoc.com
MOHOC® Elite OpsTM Cameras are dual-use,
non-ITAR-controlled items; intended for
military, law enforcement, first responders,
as well as civilian and sport applications.
International orders currently ship from
outside the United States.
Patents issued & pending.
Trademarks registered & pending.
© 2017 MOHOC Inc. All rights reserved.