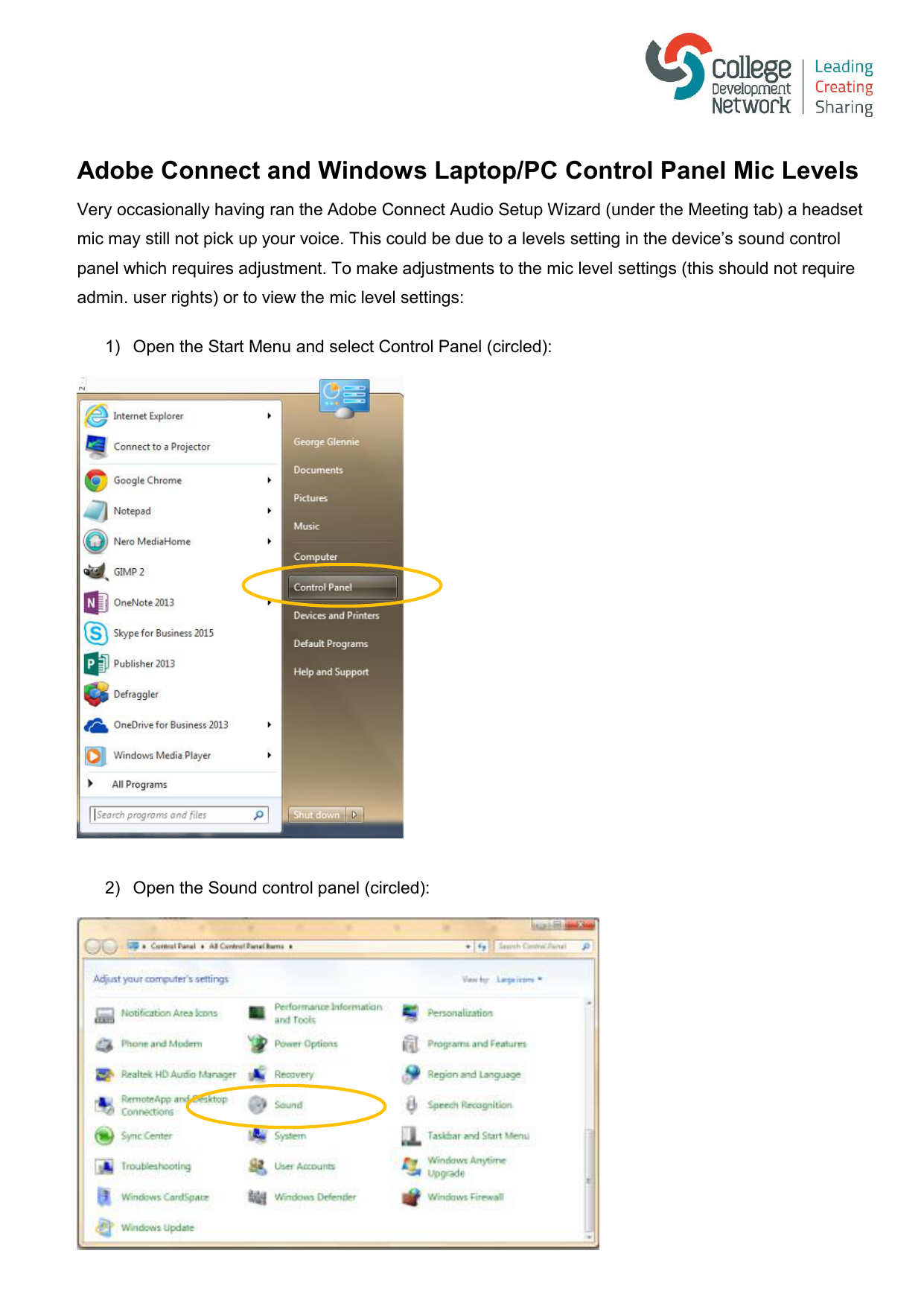 Adobe Connect and Windows Laptop/PC Control Panel Mic Levels
Very occasionally having ran the Adobe Connect Audio Setup Wizard (under the Meeting tab) a headset
mic may still not pick up your voice. This could be due to a levels setting in the device's sound control
panel which requires adjustment. To make adjustments to the mic level settings (this should not require
admin. user rights) or to view the mic level settings:
1) Open the Start Menu and select Control Panel (circled):
2) Open the Sound control panel (circled):
3) Select your headset device (in this case Microsoft LifeChat LX-3000) and under Playback click on
Properties (all circled):
4) Under Levels make sure that the Headset Microphone level is not muted (red crossed circle icon).
Set a mic level by either dragging the slide bar, entering a value in the box or by clicking on the
speaker icon as required (all circled):
5) Under Recording make sure your headset is selected and again click on Properties (circled):
6) Under Levels again make sure that the Headset Microphone is not muted (circled):
7) Once unmuted the speaker icon for both the Headset Earphone properties and the Headset
Microphone properties should look like this:
The level figure (52) in the box is for example only – your actual preferred setting may be different for the
device you are using. Once unmuted run the Adobe Connect Audio Wizard once again.
The adjustments you make in the control panel should not require you to log out of Adobe Connect and
then back in each time. The changes you make in the control panel will take effect in 'real time' in Adobe
Connect.

* Your assessment is very important for improving the work of artificial intelligence, which forms the content of this project