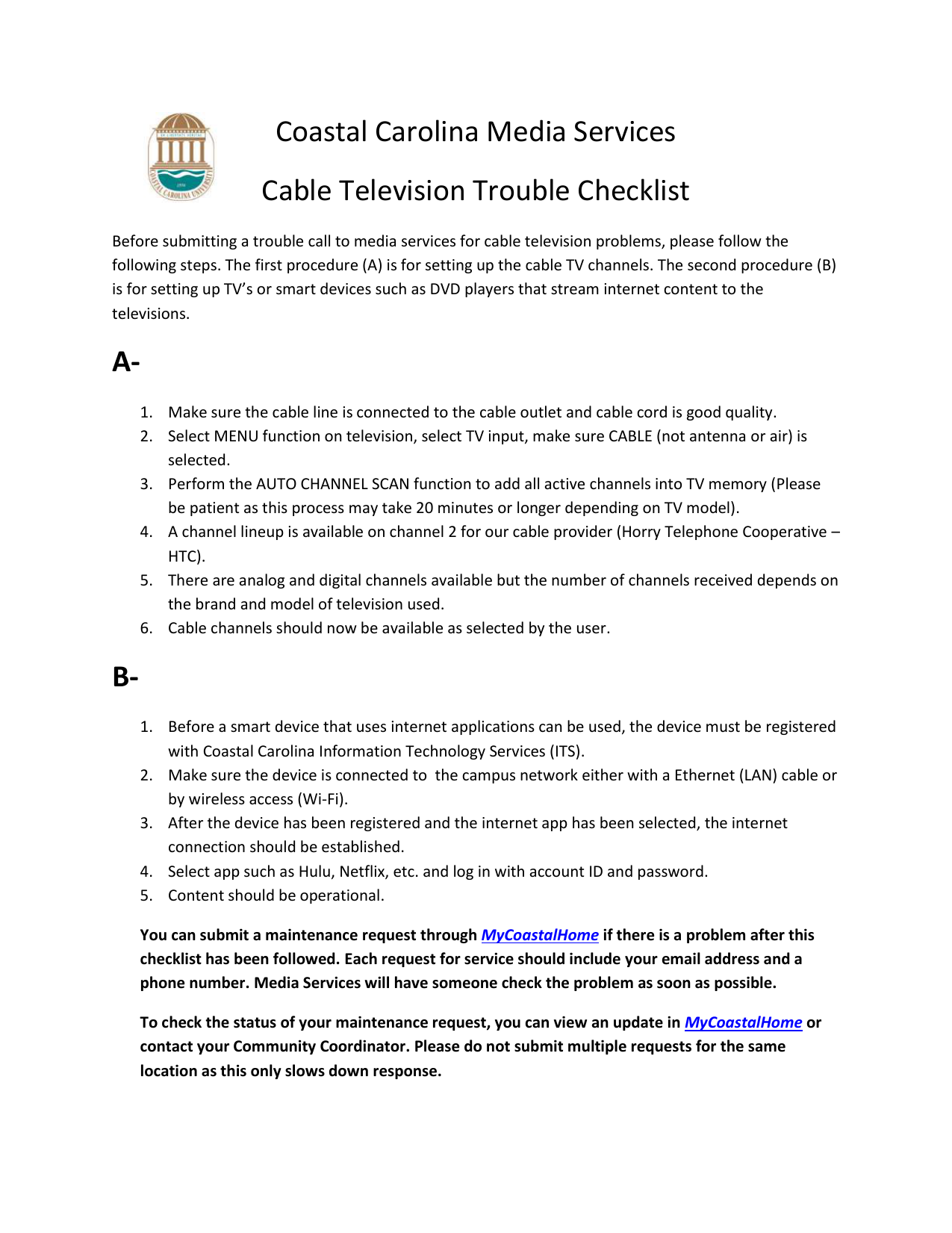 Coastal Carolina Media Services
Cable Television Trouble Checklist
Before submitting a trouble call to media services for cable television problems, please follow the
following steps. The first procedure (A) is for setting up the cable TV channels. The second procedure (B)
is for setting up TV's or smart devices such as DVD players that stream internet content to the
televisions.
A1. Make sure the cable line is connected to the cable outlet and cable cord is good quality.
2. Select MENU function on television, select TV input, make sure CABLE (not antenna or air) is
selected.
3. Perform the AUTO CHANNEL SCAN function to add all active channels into TV memory (Please
be patient as this process may take 20 minutes or longer depending on TV model).
4. A channel lineup is available on channel 2 for our cable provider (Horry Telephone Cooperative –
HTC).
5. There are analog and digital channels available but the number of channels received depends on
the brand and model of television used.
6. Cable channels should now be available as selected by the user.
B1. Before a smart device that uses internet applications can be used, the device must be registered
with Coastal Carolina Information Technology Services (ITS).
2. Make sure the device is connected to the campus network either with a Ethernet (LAN) cable or
by wireless access (Wi-Fi).
3. After the device has been registered and the internet app has been selected, the internet
connection should be established.
4. Select app such as Hulu, Netflix, etc. and log in with account ID and password.
5. Content should be operational.
You can submit a maintenance request through MyCoastalHome if there is a problem after this
checklist has been followed. Each request for service should include your email address and a
phone number. Media Services will have someone check the problem as soon as possible.
To check the status of your maintenance request, you can view an update in MyCoastalHome or
contact your Community Coordinator. Please do not submit multiple requests for the same
location as this only slows down response.

* Your assessment is very important for improving the work of artificial intelligence, which forms the content of this project