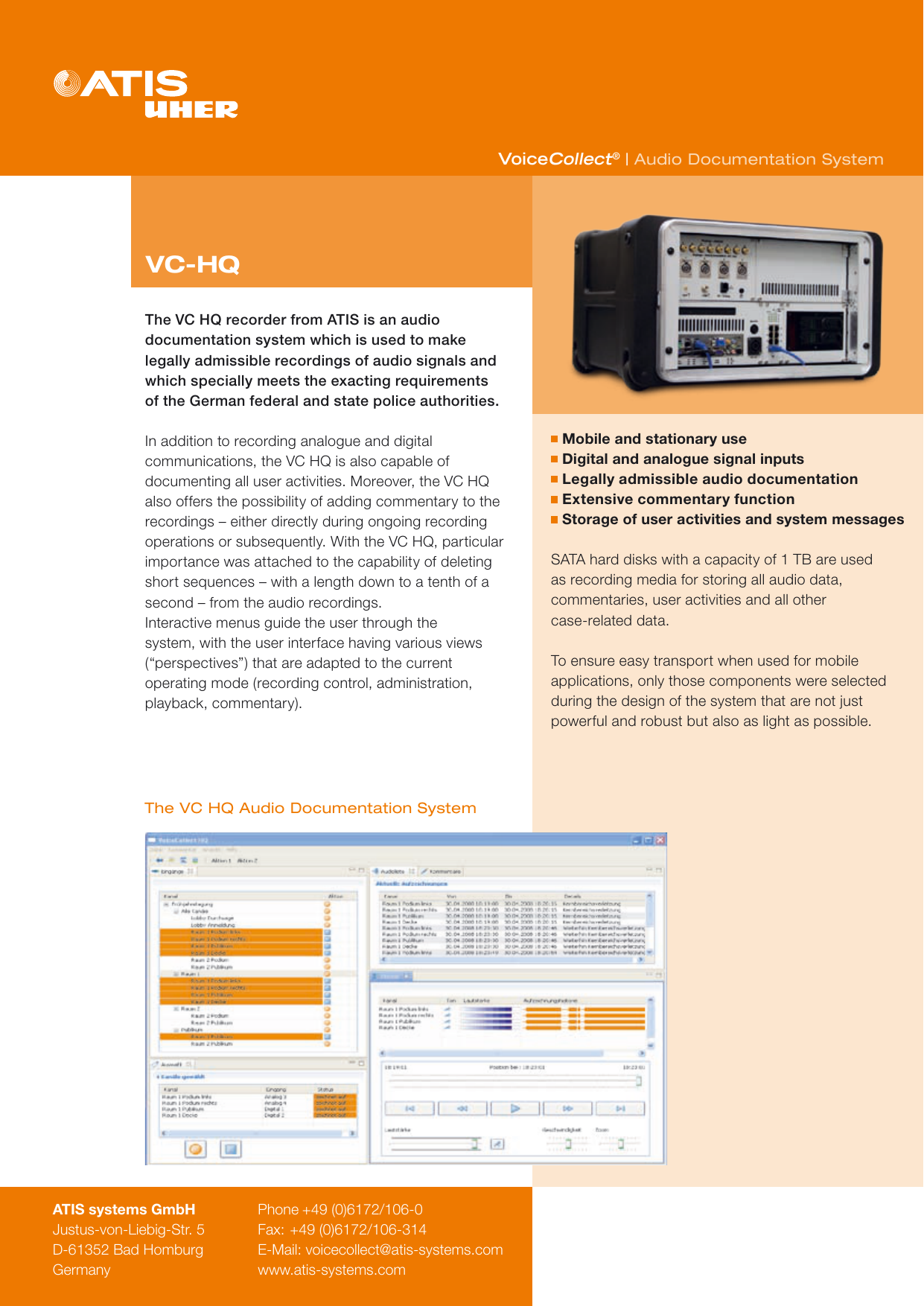 ® |® |
Voice
Klarios
Collect
RMS
Audio Documentation System
VC-HQ
The VC HQ recorder from ATIS is an audio
documentation system which is used to make
legally admissible recordings of audio signals and
which specially meets the exacting requirements
of the German federal and state police authorities.
In addition to recording analogue and digital
communications, the VC HQ is also capable of
documenting all user activities. Moreover, the VC HQ
also offers the possibility of adding commentary to the
recordings – either directly during ongoing recording
operations or subsequently. With the VC HQ, particular
importance was attached to the capability of deleting
short sequences – with a length down to a tenth of a
second – from the audio recordings.
Interactive menus guide the user through the
system, with the user interface having various views
("perspectives") that are adapted to the current
operating mode (recording control, administration,
playback, commentary).
The VC HQ Audio Documentation System
ATIS systems GmbH
Justus-von-Liebig-Str. 5
D-61352 Bad Homburg
Germany
Phone +49 (0)6172/106-0
Fax: +49 (0)6172/106-314
E-Mail: voicecollect@atis-systems.com
www.atis-systems.com
obile and stationary use
M
Digital and analogue signal inputs
Legally admissible audio documentation
E xtensive commentary function
Storage of user activities and system messages
SATA hard disks with a capacity of 1 TB are used
as recording media for storing all audio data,
commentaries, user activities and all other
case-related data.
To ensure easy transport when used for mobile
applications, only those components were selected
during the design of the system that are not just
powerful and robust but also as light as possible.
VC HQ
System
Inputs
Technical Data:
ingle-board computer in mini ATX format
S
Mobile Intel Core 2 Duo processor
2 GB RAM
64 GB SSD (operating system and application)
1 TB SATA HDD with RAID level 1 (recording medium)
2 x Gigabit LAN
1 x VGA, 1 x PS2, 4 x USB, 1 x RS-232
DVD multi-drive
8-channel input (analogue) via RCA sockets
RCA sockets with gold-plated contacts
Mono
Input impedance: 2.7 kΩ
Maximum input level: +10 dBu
Frequency range at 44.1 kHz: 5 Hz to 20.6 kHz
Total harmonic distortion: < 0.001 %
Cross-talk attenuation: > 110 dB
4-channel input (digital) via XLR sockets
4 AES / EBU connections (stereo) with gold-plated contacts,
XLR connectors, transformer-balanced, galvanically isolated,
AES3-1992 compliant, SPDIF compatible (IEC 60958)
Supports consumer and professional formats
Copy protection ignored
4 x 2 channels (24 bit), maximum 48 kHz
Jitter with sync on input signal: < 1 ns
Jitter suppression: approx. 30 dB (2.4 kHz)
Operation
Operation by users and administrators via LAN from connected PC / laptop
Direct connection of monitor, keyboard and mouse possible for maintenance purposes
Power supply
12 V DC, input on device
Mains power supply: 115 to 230 V AC
Rechargeable battery (12V/12Ah) via optional module
Miscellaneous
DCF77 time signal receiver
Alarm module for mobile telephone network
Alarm module for analogue telephone network
Dimensions /
weight
Recording system
Recording system in transport case
Power supply module in transport case
Accessories
Network cable
Connector cable
RCA jack to RCA jack
XLR male to XLR female
3.5 mm stereo jack plug to RCA jack
6.3 mm stereo jack plug to RCA jack
10/2009
Transport case for removable hard disks
Transport case for accessories
Mobile printer
User hard disk incl. mounting
19" / 6 HU / 415 mm - 12.0 kg
629 x 356 x 553 mm - 21.0 kg
500 x 305 x 455 mm - 16.5 kg
The present technical data are intended for general information and are not binding. ATIS systems GmbH reserves the right to alter parts of the
technical specification without prior notice.

* Your assessment is very important for improving the work of artificial intelligence, which forms the content of this project