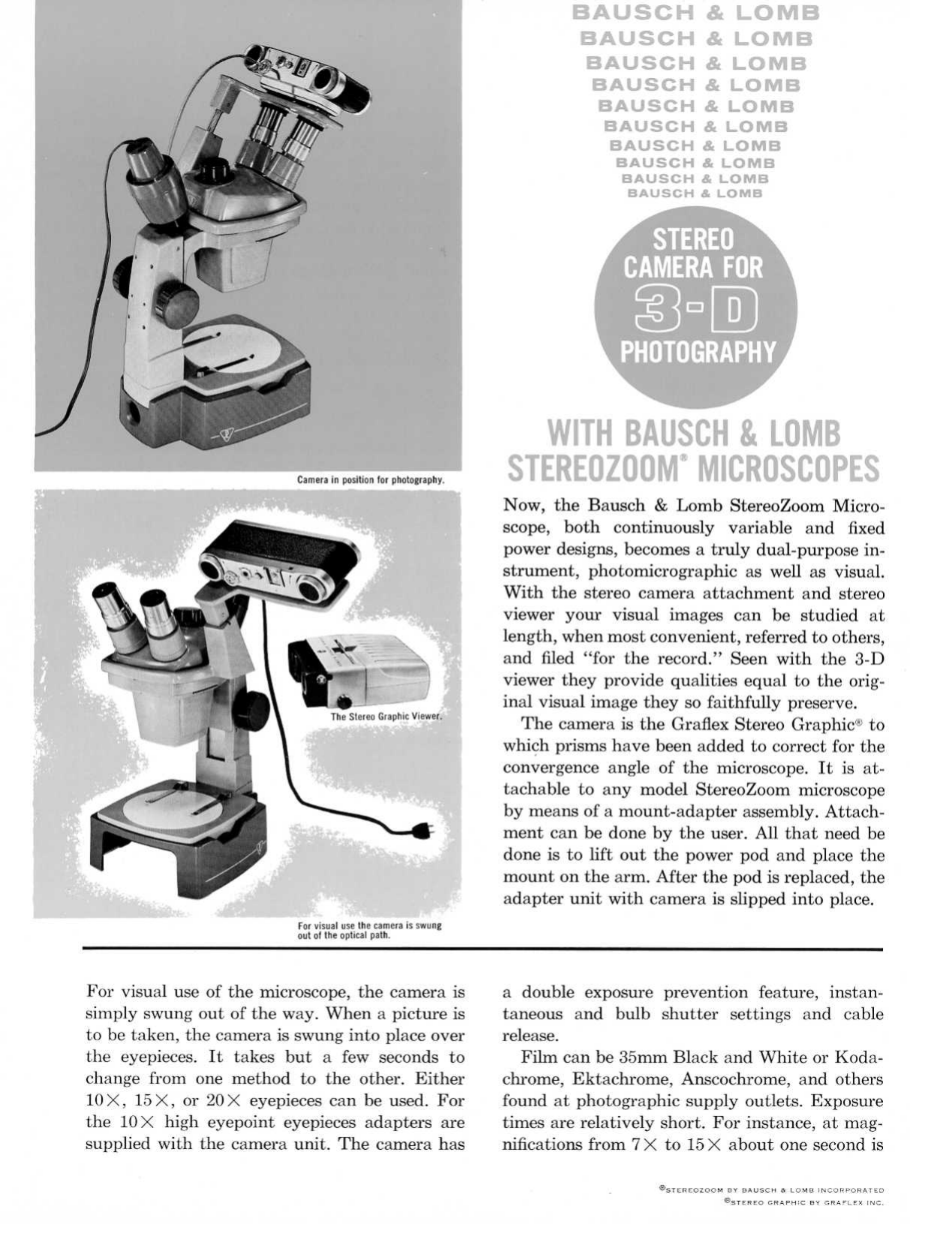 >
—
|
Ps
| — FT
Fe
The Stereo Graphic Viewer, o
ale A "В = pe
40 LE. fury eC
= E =
J бы =
—
a,
For visual use the camera is swung
out of the optical path.
For visual use of the microscope, the camera is
simply swung out of the way. When a picture is
to be taken, the camera is swung into place over
the eyepieces. It takes but a few seconds to
change from one method to the other. Either
10 Хх, 15 Хх, ог 20 Хх eyepieces can be used. For
the 10X high eyepoint eyepieces adapters are
supplied with the camera unit. The camera has
BAUSCH & LOMB
BAUSCH & LOME
BAUSCH & LOMB
BAUSCH & LOMB
BAUSCH & LOMB
BAUSCH & LOMB
BAUSCH & LOMB
BAUSCH & LOMB
BAUSCH & LOMB
BAUSCH & LOMB
STEREO
CAMERA FOR
31D
PHOTOGRAPHY
WITH BAUSCH & LOMB
STEREOZOOM™ MICROSCOPES
Now, the Bausch & Lomb StereoZoom Micro-
scope, both continuously variable and fixed
power designs, becomes a truly dual-purpose in-
strument, photomicrographic as well as visual.
With the stereo camera attachment and stereo
viewer your visual images can be studied at
length, when most convenient, referred to others,
and filed "for the record." Seen with the 3-D
viewer they provide qualities equal to the orig-
inal visual image they so faithfully preserve.
The camera is the Graflex Stereo Graphic® to
which prisms have been added to correct for the
convergence angle of the microscope. It is at-
tachable to any model StereoZoom microscope
by means of a mount-adapter assembly. Attach-
ment can be done by the user. All that need be
done is to lift out the power pod and place the
mount on the arm. After the pod is replaced, the
adapter unit with camera is slipped into place.
a double exposure prevention feature, instan-
taneous and bulb shutter settings and cable
release.
Film can be 35mm Black and White or Koda-
chrome, Ektachrome, Anscochrome, and others
found at photographic supply outlets. Exposure
times are relatively short. For instance, at mag-
nifications from 7 X to 15X about one second is
ÜsTEREOZOOM BY BAUSCH & LOMB INCORPORATED
ÉSTEREO GRAPHIC ВУ GRAFLEX INC.
sufficient with Ektachrome B, as a reference; at
30 X about 3 seconds.
A part of the listed unit is a Stereo Graphic
Viewer with built-in battery operated light
source and ground glass diffusion screen. The
interpupillary distance is adjustable and the
Viewer is focusable.
31-50-84
When the pictures taken with the Stereo
Camera are examined with the Stereo Viewer,
they will be seen at about three quarters the
magnification of the microscope.
Any of the Bausch & Lomb Illuminators rec-
ommended for use with StereoZoom microscopes
will be satisfactory, except for the Fluorescent in
color photomicrography. The B&L Nicholas Il-
luminator either with variable or fixed trans-
former at 6.5-volts yields 3200°K color tem-
perature and works particularly well with the
Stereo Graphic Camera.
Stereo Camera and Stereo Viewer for use with Bausch & Lomb StereoZoom
Microscope. Includes Stereo Graphic Camera for 35mm film, camera adapter,
mount, adapters for 10 X eyepieces and Stereo Graphic Viewer (less batteries*) $165.00
31-33-53
Nicholas Illuminator with 6.5-v.,2.75-amp. prefocus lamp, lamp housing, fixed
focus condenser in friction ring clamp on adjustable link arm removable from
base by knurled screw; adjustable intensity transformer base; for 115-v., 60
cycle AC..........
31-33-56
former base.......
31-33-24-01
ELN LE NOA ANT NENA Ne ERAT 33.00
Nicholas Illuminator, same as No. 31-33-53 except with fixed intensity trans-
NET ECN 30.00
Reflector Illuminator with 30-w., 120-v. lamp, reflector, and adjustable link arm
detachable from base by knurled screw: with base; for 115-v.,A.C. or D.C.... 36.00
*Any Type D battery as available in stores is used.
10% discount when
order is for 5 or more
D-11110; 1262, BEL
PRINTED IN U.5, A.
Prices are subject tp change without notice,
Excise taxes or other governmental charges
will be added wherever applicable.
ROCHESTER, NEW YORK, U.S. A.

* Your assessment is very important for improving the work of artificial intelligence, which forms the content of this project