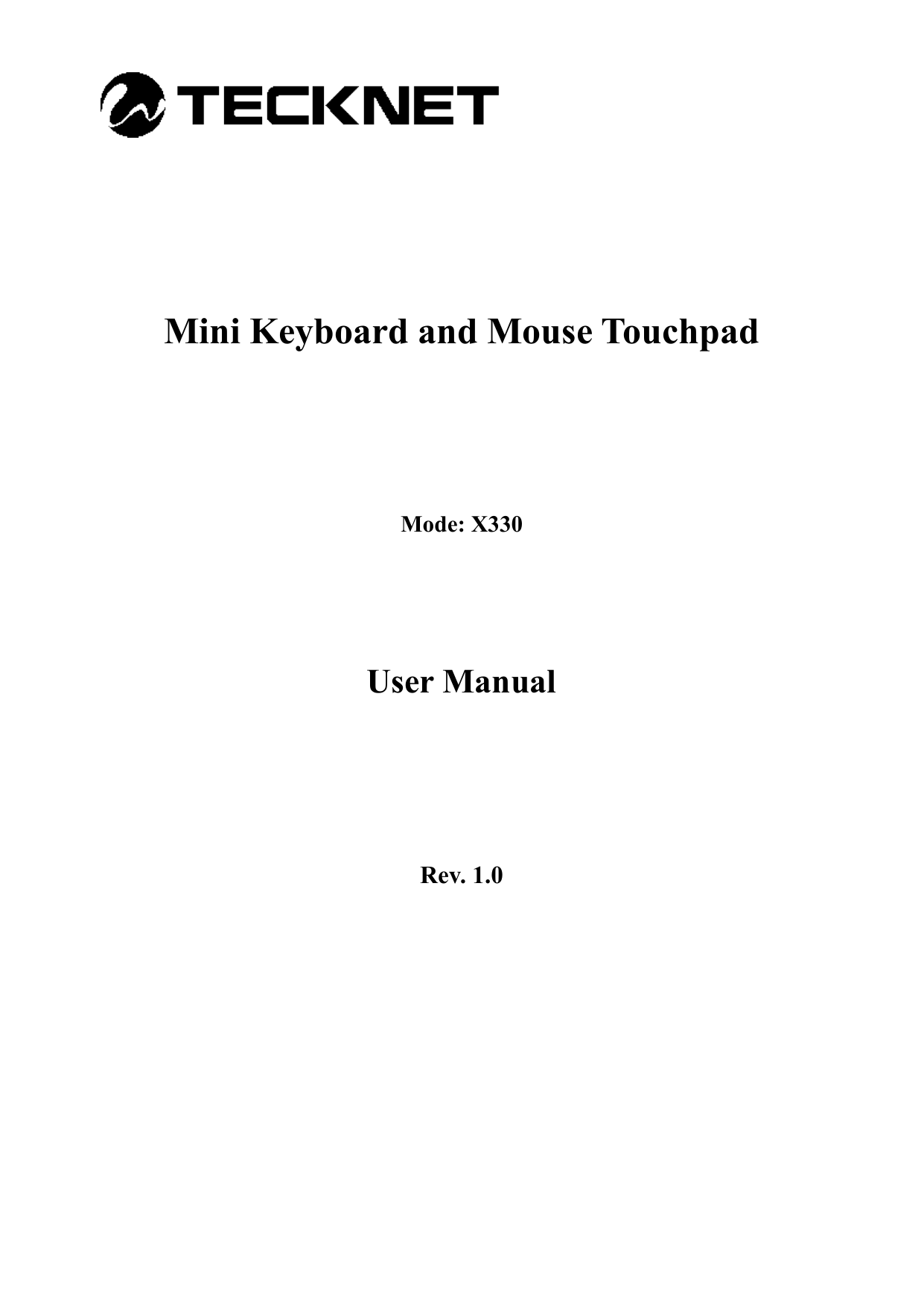 Mini Keyboard and Mouse Touchpad
Mode: X330
User Manual
Rev. 1.0
Product Introduction
This is a wonderful combo, 2.4GHz Mini Wireless QWERTY keyboard, TouchPad combo, with
USB interface Adapter. It is especially useful for lecturers, sales manager, presenter, from within a
30' radius making a presentation and operating PC wirelessly. Change slides and screen options,
write on the screen, emphasize words and objects just by using this wireless Mini Keyboard and
Mouse with Touch Pad. For people who want to watch internet TV play on their standard TV, via
broadband and a PC like NBC, ABC, FOX and IPTM Android TV Box, with this wireless mini
combo, they can sit in comfortable chair and select viewing pleasures without walking to
computer to change channels or scroll through options.
Product overview
Package Content:
1* TeckNet Mini Keyboard and Mouse Touchpad
1* USB receiver
1* User manual
Technical Parameters Specification
Dimensions (L*W*H): 158*56*15mm
Weight (grams): 66.5g
RF 2.4G connection
Operational Range: within 10 meters
Power supply: DC 3V (1.5V, 2* AAA battery)
Computer System Requirements:
This product is able to work on the following systems:
Windows 2000, XP, Vista, Windows CE, Windows 7
Linux (Debian-3.1, Redhat-9.0 Ubuntu-8.10 Fedora-7.0 tested)
Android/Google/Smart TV
Instructions for Using this Mini Keyboard and Mouse Touchpad
Connecting the Receiver
1 Remove battery cover to install battery, and take USB dongle out.
Push downward
Take USB Dongle out
2 Insert USB Dongle into computer USB port and turn on keyboard.
Then the keyboard and your computer will build connection automatically. When the connection
is established, the keyboard and mouse function of the mini keyboard is available for use.
3. The product equips a LED light, to active LED light on the top: press LED button to turn it on
and release to turn it off.
Note: Since devices using 2.4 GHz technology communicate using radio waves, your device and
the other devices do not need to be in direct line-of-sight. The connection can be subject to
interference from obstructions, such as walls, or other electronic devices.
Function Description of Keyboard
This keyboard includes Fn key, extending the functions of this keyboard. The following table lists
the major extended functions. It should be used with Fn key.
Attentions for Using this Product
1 Please turn the device off in areas with "no wireless device" indication.
2 Wireless devices may interfere with implanted cardiac pacemakers, hearing aids and other
medical implant devices.
3 Only use factory specified parts. Please use the supplied travel charging cable. The use of other
charging devices may be dangerous.
4 This Electronic wireless product can disturb the communications systems of planes. Please turn
if off before boarding.
5 In vicinity of dangerous goods to be shut down in gas station and close to fuel and chemical
agents and other hazardous materials areas, please turn the device off.
6 To avoid injury, death of personnel or damage to the equipment the operator must refer to the
explanations in this User's Manual Battery: There is a lithium-ion rechargeable battery in this
device. Don't water this device, or put it in a humid environment for a long time or the device will
be damaged.
7 Do not attempt to disassemble the device or replace rechargeable battery. Doing so will void the
warranty.
8 The battery will discharge if stored for a long period of time without usage.
9 Do not expose the device in extreme heat or cold. Extreme temperatures will cause the life span
of the battery to shorten. Use only a damp cloth with mild soap to clean the device. Solvents and
other cleaning agents may cause damage to the device.

* Your assessment is very important for improving the work of artificial intelligence, which forms the content of this project