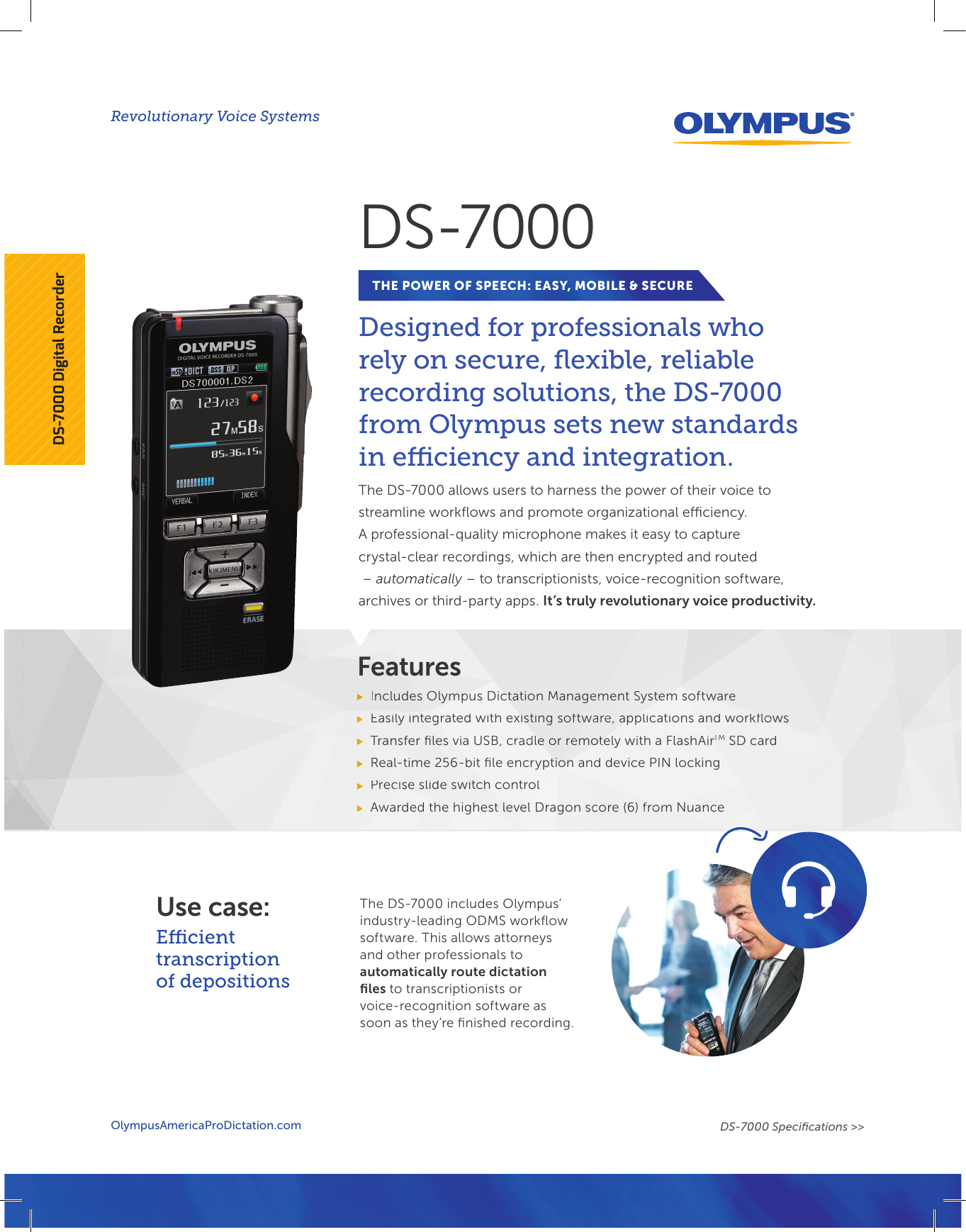 Revolutionary Voice Systems
DS-7000 Digital Recorder
DS-7000
THE POWER OF SPEECH: EASY, MOBILE & SECURE
Designed for professionals who
rely on secure, flexible, reliable
recording solutions, the DS-7000
from Olympus sets new standards
in efficiency and integration.
The DS-7000 allows users to harness the power of their voice to
streamline workflows and promote organizational efficiency.
A professional-quality microphone makes it easy to capture
crystal-clear recordings, which are then encrypted and routed
– automatically – to transcriptionists, voice-recognition software,
archives or third-party apps. It's truly revolutionary voice productivity.
Features
Includes Olympus Dictation Management System software
Easily integrated with existing software, applications and workflows
Transfer files via USB, cradle or remotely with a FlashAirTM SD card
Real-time 256-bit file encryption and device PIN locking
Precise slide switch control
Awarded the highest level Dragon score (6) from Nuance
Use case:
Efficient
transcription
of depositions
OlympusAmericaProDictation.com
The DS-7000 includes Olympus'
industry-leading ODMS workflow
software. This allows attorneys
and other professionals to
automatically route dictation
files to transcriptionists or
voice-recognition software as
soon as they're finished recording.
DS-7000 Specifications >>
OlympusAmericaProDictation.com
DS-7000 Specifications
Olympus DS-7000 Professional Dictation System
KEY FEATURES
Main switch (REC / STOP/ PLAY/ RWD)
Precise slide switch
Display
Color TFT-display with white LCD backlight
Resolution: 176 x 220 pixel Size: 34 x 42mm / 1.3 x 1.7inch
Battery
Rechargeable Li-ion-battery (710mAh)
Up to 26 hours of recording time with one battery charge
Data security
Storage media
Internal storage media
DSS Pro real-time encryption (128- / 256-Bit)
Secure Digital (SD, SDHC), 2GB-32GB
2GB (micro SD), DSS Pro SP = approx. 306 hours recording time
RECORDING FORMATS
DSS/DSS Pro
Quality play (16kHz / 28kbps) | Standard play (12kHz / 13.7kbps)
PROFESSIONAL SPEECH PROCESSING
Author IDs
10
Worktypes
20
Priority
High / Normal
DS-7000 PROFESSIONAL
Verbal comments, Text editor, Pending, File lock
DICTATION SYSTEM
ADVANCED RECORDING FEATURES
Voice activated recording (VCVA)
Microphone sensitivity
Insert, Overwrite, Append, Partially erase
Index Marks Per File
Dictation / Conference
Only with DSS Pro & DSS
32 (DSS Pro), 16 (DSS)
Level meter, VCVA indicator
Folders
Hands-free dictation, stand-alone transcription
Full-duplex recording
Up to 7 (name changeable)
With optional Olympus Footswitch RS-31
With headphones
PLAYBACK
Speed
Volume level
Slow / Normal / Fast
Adjustable from 0 to 30
STATIONARY OPERATIONS
Applicable as PC microphone
Controlling PC application ODMS
ADMINISTRATIVE SETTINGS
Accessibility
Splash message
Main button guide
Alarms
Customizable display content
Programmable buttons
Extended security
features
ADMINISTRATIVE
SETTINGS
Various settings related to user authorization,
e.g., prohibiting erasing of files; menu settings
Option to set personalized welcome message during start-up
Shows current slide switch function on display
Option to set alarms for particular occasions; beeping noise
Option to customize information shown on display
3
4-Digit PIN device lock, File encryption, Erase lock
Single user and workgroup installation
Server installations including license
manager and manager tools (optional)
Citrix / WTS / Thin client support
TECHNICAL DATA
Dimensions (H × W × D); weight
Languages
Operating systems
Recommended operating condition
USB
Charging
114.5 × 50 × 17mm / 4.5 × 2 × 0.7inch; 107g (including battery) / 3.8 oz
English, Spanish, French
Microsoft Windows (XP, Vista, 7, 8) | Mac OS X (10.4.1.1-10.8.4)
0-42°C / 32-107.6°F
Mini USB 2.0 composite / storage class
Via AC adapter or USB
Speaker (integrated)
Ø 23mm / 0.9inch, 300mW
Headphone/microphone jacks
Mono, 3.5mm / 0.1inch, 2kΩ
Toshiba FlashAirTM card compatibility
PACKAGING CONTENT BOX
Docking station, AC adapter, microSD card, Li-ion battery, USB cable,
Olympus Dictation Management Systems Software CD, Carrying Case,
Warranty card, Instruction manual
AVAILABLE ACCESSORIES
LI-42B Li-ion battery, LI-41C Charger for LI-42B, A514 USB connector / AC adapter,
A51 5V AC adapter, AS-7000 PC transcription kit with RS31 footswitch
Secure.
Reliable.
Integrated.
The DS-7000 Professional
Dictation System from
Olympus is designed to
dramatically improve
efficiency for any user or
organization, and within
any IT environment.