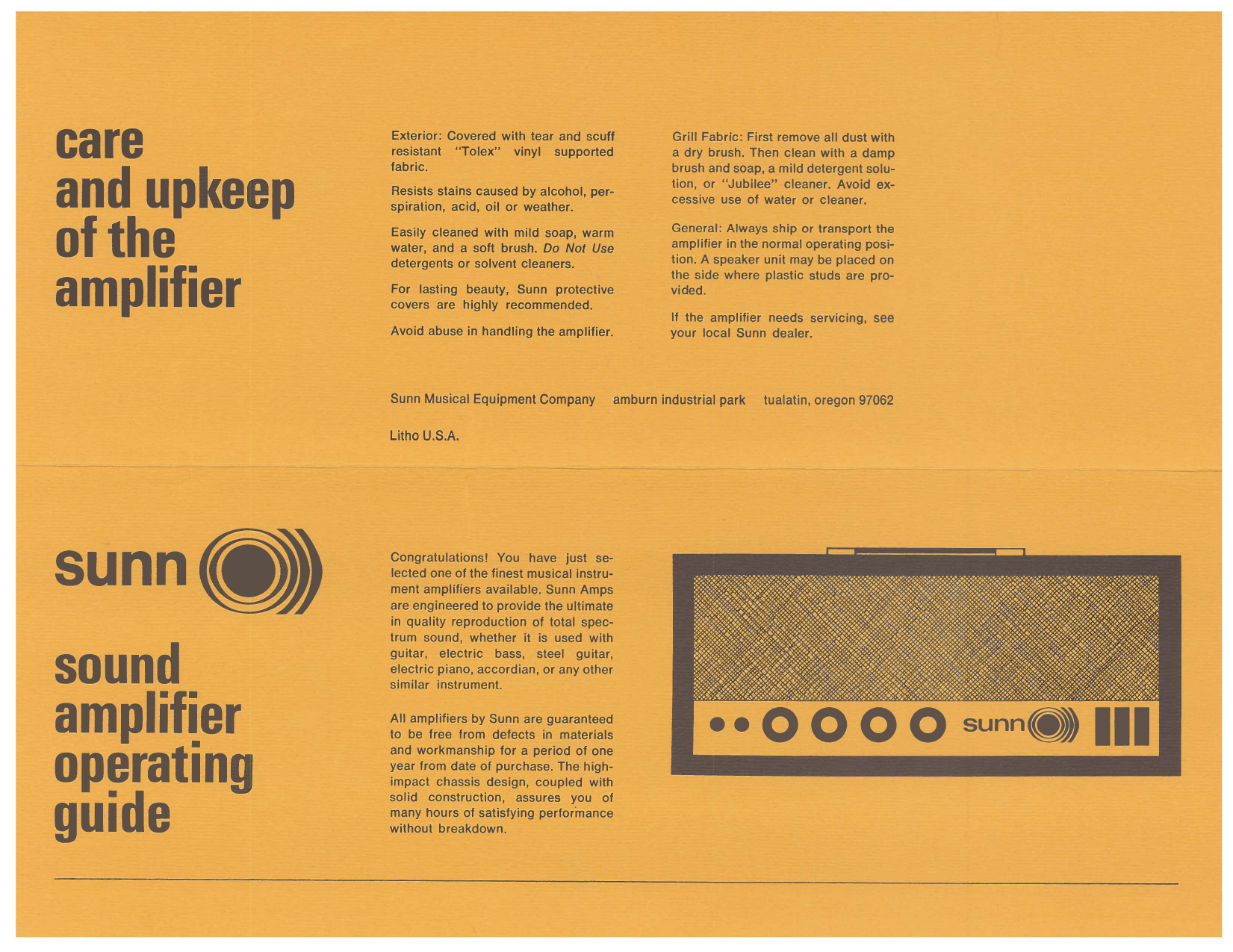 t remove all dust with
a dry brush. Then clean with a damp
brush and soap, a mild detergent solu-
tion, or "Jubilee" cleaner. Avoid ex-
f water or cleaner.
irs
F
Grill Fabric
cessive use o
supported
viny
Covered with tear and scuff
"Tolex"
, acid, oil or weather.
ion
t
Resists stains caused by alcohol, per-
spira
resistant
Exterior
fabric.
and upkee
of the -
care
ampli
transport the
Always sh
General
nu
о о ©
au à
oo ©
ес
HH
a 2
. O
O- 90
а "Е
SEO
= с <
esa
og 2
£xXo
EEG
<< Oz
E
D 9 D
Е < =
— O
ESOS
ос
del +" >
D ©
ES =
> EE
AE o ©
ло += D
те 52
0 Loa
о а 5 c E
sce SE
2 ООО
= D
fe del = gas
сб >
Зое > >
2350 о =
АОН,
o
Eon A
UA Ce
© £
[OR IS
Es résine RE
842 58
Ww =v LW Oo
er
5
ARI
A E, e
icing, see
tualatin, oregon 97062
If the amplifier needs serv
your local Sunn dealer.
amburn industrial park
ifier.
the ampl
t Company
ing
lable. Sunn Amps
in hand!
| Equipmen
¡ers aval
ica
d abuse
Congratulations! You have just se-
lected one of the finest musical instru-
Litho U.S.A.
ment amplif
Avo
Sunn Mus
sunn
sound
ampl
SO
O
OS Ne
RS
хо
O
O
SR
АЖ)
O
SES O
A
Ne C50 К
o
OS OO
O
O NN
COIN NIN
NO
ORAR
O о LOSS
PRISION
LO OO HS
OSEO SQ x
TERE:
=
ERES
o ЛАД
Sw © с
— BN — ©
Ф о 5 ©
pet bei © 56
— 0
о © c
SSR
0.95%
+ o
о осо
oe
wd 5 Je O o ©
le EE
SEE ee ONS
9 806%
£23%ak
oO = O
55-558
o0E29E
с Е = ооо
Hier
2
O
O
O
O
to be free from defects in materials
All amplifiers by Sunn are guaranteed
and workmanship for a period of one
, coupled with
assures you of
ign
des
is
solid construction,
year from date of purchase. The high-
t chass
impac
operating
guide
many hours of satisfying performance
without breakdown.
controls
operating
your Sunn
amplifier
Input 1: Should always be used when
only one instrument requires amplifi-
cation.
Input 2: Should only be used when
additional instruments require ampli-
fication.
Volume: Allows complete volume con-
trol, with settings from zero to maxi-
mum power output.
. Treble: Provides superb wide band
response in the upper frequencies.
Contour: This control coordinates the
bass and treble controls enhancing
tonal variations and making sound
coloration possible.
Bass: Allows selection of bass boost
or attenuation according to individual
requirements.
Turn on the "on-off" switch first. Turn
on "standby" only when ready to play
your instrument.
Note position of polarity switch to
eliminate noise, hum, and cracking
sound caused by touching metal parts
of instrument.
Plug speaker cabinet into jack marked
"speaker." The external speaker jack
should be used only when extensions
are added. Operating the amplifier
without the loudspeaker plugged in
can cause serious amplifier damage.
Set volume contro! to desired level.
To eliminate possible speaker dam-
age, select a lower setting and grad-
ually increase to volume desired.
Always turn volume off when plugging
instrument into input jack.
Set tone controls for desired effect.
Power: Turns amplifier on and off.
Polarity: Change the position of this .
switch to eliminate line noise or hum
resulting from improperly polarized
AC line.
Standby: Keeps tubes warm and oper-
ational without unnecessary noise. In-
stant sound is possible by turning to
"on" position.
Low boost: Increases depth of sound. /
High boost: Adds tonal brilliance
when in the "boost" position.
When operating your amp check to
see that speakers do not move over
4 inch. Greater cone excursion could
result in damage to your speakers.
Your Sunn Amplifier is capable of
generating considerably more power
than can be safely applied to its loud-
speaker. This additional power is
made available to permit the opera-
tion of additional speakers. Too much
power applied to any speaker system
can eventually cause speaker failure.
Speaker jack: Connects the internal
speaker to the amplifier.
External speaker jack: Allows con-
nection to Sunn extension speakers.
When this jack is used, the correct
load is automatically provided when
extra speakers are added.
Convenience AC outlet: Other ampli-
fiers or special effect devices can be
utilized from this AC power source.

* Your assessment is very important for improving the work of artificial intelligence, which forms the content of this project