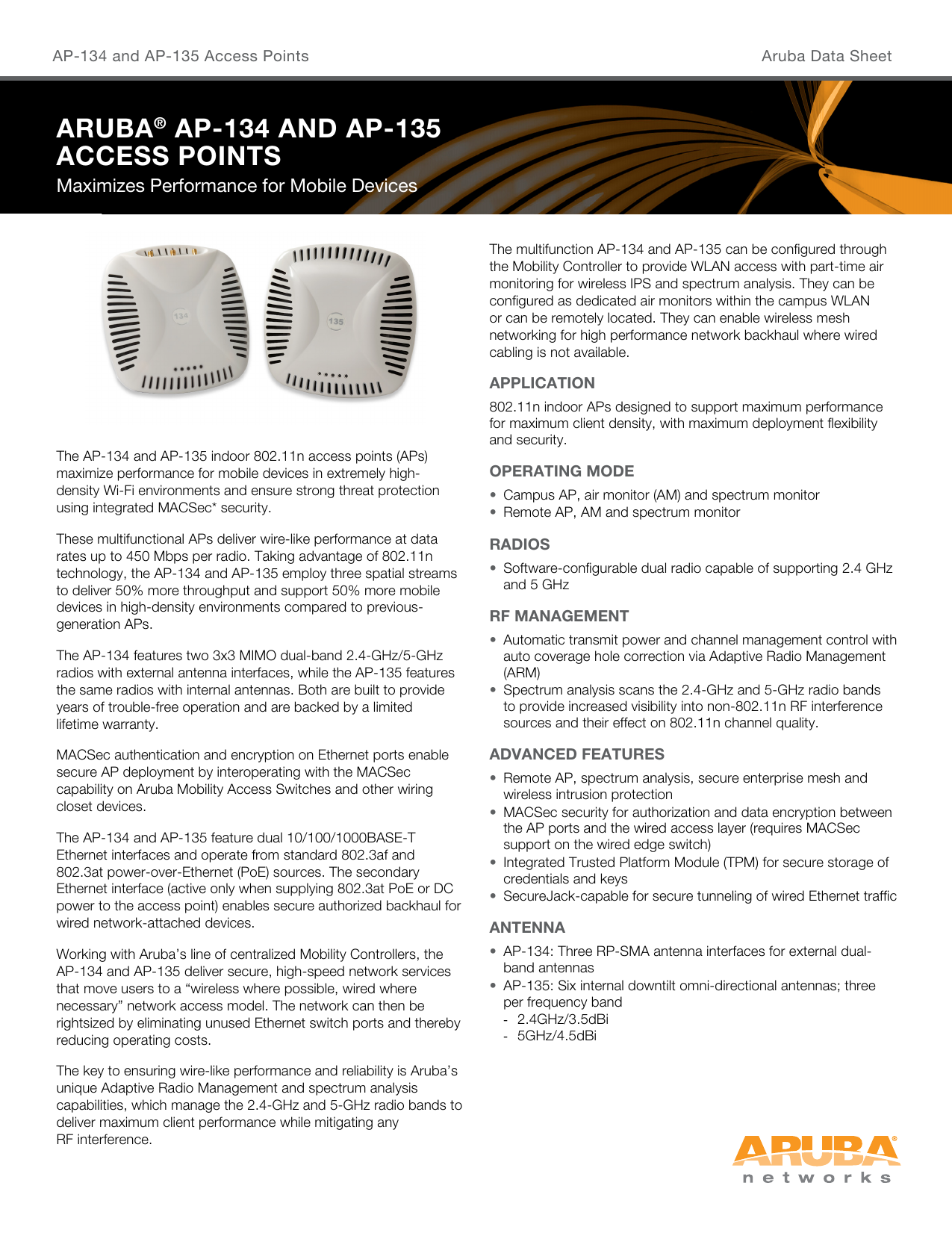 AP-134 and AP-135 Access Points
Aruba Data Sheet
aruba® AP-134 and AP-135
Access Points
Maximizes Performance for Mobile Devices
The multifunction AP-134 and AP-135 can be configured through
the Mobility Controller to provide WLAN access with part-time air
monitoring for wireless IPS and spectrum analysis. They can be
configured as dedicated air monitors within the campus WLAN
or can be remotely located. They can enable wireless mesh
networking for high performance network backhaul where wired
cabling is not available.
application
802.11n indoor APs designed to support maximum performance
for maximum client density, with maximum deployment flexibility
and security.
The AP-134 and AP-135 indoor 802.11n access points (APs)
maximize performance for mobile devices in extremely highdensity Wi-Fi environments and ensure strong threat protection
using integrated MACSec* security.
These multifunctional APs deliver wire-like performance at data
rates up to 450 Mbps per radio. Taking advantage of 802.11n
technology, the AP-134 and AP-135 employ three spatial streams
to deliver 50% more throughput and support 50% more mobile
devices in high-density environments compared to previousgeneration APs.
The AP-134 features two 3x3 MIMO dual-band 2.4-GHz/5-GHz
radios with external antenna interfaces, while the AP-135 features
the same radios with internal antennas. Both are built to provide
years of trouble-free operation and are backed by a limited
lifetime warranty.
MACSec authentication and encryption on Ethernet ports enable
secure AP deployment by interoperating with the MACSec
capability on Aruba Mobility Access Switches and other wiring
closet devices.
The AP-134 and AP-135 feature dual 10/100/1000BASE-T
Ethernet interfaces and operate from standard 802.3af and
802.3at power-over-Ethernet (PoE) sources. The secondary
Ethernet interface (active only when supplying 802.3at PoE or DC
power to the access point) enables secure authorized backhaul for
wired network-attached devices.
Working with Aruba's line of centralized Mobility Controllers, the
AP-134 and AP-135 deliver secure, high-speed network services
that move users to a "wireless where possible, wired where
necessary" network access model. The network can then be
rightsized by eliminating unused Ethernet switch ports and thereby
reducing operating costs.
The key to ensuring wire-like performance and reliability is Aruba's
unique Adaptive Radio Management and spectrum analysis
capabilities, which manage the 2.4-GHz and 5-GHz radio bands to
deliver maximum client performance while mitigating any
RF interference.
Operating Mode
• Campus AP, air monitor (AM) and spectrum monitor
• Remote AP, AM and spectrum monitor
Radios
• Software-configurable dual radio capable of supporting 2.4 GHz
and 5 GHz
RF Management
• Automatic transmit power and channel management control with
auto coverage hole correction via Adaptive Radio Management
(ARM)
• Spectrum analysis scans the 2.4-GHz and 5-GHz radio bands
to provide increased visibility into non-802.11n RF interference
sources and their effect on 802.11n channel quality.
Advanced Features
• Remote AP, spectrum analysis, secure enterprise mesh and
wireless intrusion protection
• MACSec security for authorization and data encryption between
the AP ports and the wired access layer (requires MACSec
support on the wired edge switch)
• Integrated Trusted Platform Module (TPM) for secure storage of
credentials and keys
• SecureJack-capable for secure tunneling of wired Ethernet traffic
Antenna
• AP-134: Three RP-SMA antenna interfaces for external dualband antennas
• AP-135: Six internal downtilt omni-directional antennas; three
per frequency band
-- 2.4GHz/3.5dBi
-- 5GHz/4.5dBi
AP-134 and AP-135 Access Points
Aruba Data Sheet
Wireless Radio Specifications
Mounting
• AP type: Dual-radio, dual-band 802.11n indoor
• Supported Frequency Bands (country-specific restrictions apply):
-- 2.400 - 2.4835 GHz
-- 5.150 - 5.250 GHz
-- 5.250 - 5.350 GHz
-- 5.470 - 5.725 GHz
-- 5.725 - 5.875 GHz
• Available Channels:
• Controller-managed, dependent upon configured
regulatory domain
• Platform supports Dynamic Frequency Selection (DFS) to allow
optimal usage of available RF spectrum
• Supported Radio Technologies:
-- 802.11b: Direct-sequence spread-spectrum (DSSS)
-- 802.11a/g/n: Orthogonal frequency division multiplexing
(OFDM)
-- 802.11n: 3x3 MIMO with up to three spatial streams
• Supported Modulation Types:
-- 802.11b: BPSK, QPSK, CCK
-- 802.11a/g/n: BPSK, QPSK, 16-QAM, 64-QAM
• Transmit Power: Configurable in increments of 0.5 dBm
• Maximum Transmit Power (aggregated for three active transmit
chains):
-- 2.4 GHz: 23 dBm (limited by local regulatory requirements)
-- 5 GHz: 23 dBm (limited by local regulatory requirements)
• Maximum Ratio Combining (MRC) for improved receiver
performance
• Short guard interval for 20-MHz and 40-MHz channels
• Space Time Blocking Code (STBC) for increased range and
improved reception
• Low Density Parity Check (LDPC) for high efficiency error
correction and increased throughput
• Transmit Beam-forming (TxBF) ready platform for increased
reliability in signal delivery
• Cyclic Delay Diversity for improved downlink RF performance
• Association Rates (Mbps):
-- 802.11b: 1, 2, 5.5, 11
-- 802.11a/g: 6, 9, 12, 18, 24, 36, 48, 54
-- 802.11n: MCS0 – MCS23 (6.5 Mbps to 450 Mbps)
• 802.11n High-Throughput (HT) Support: HT 20/40
• 802.11n Packet Aggregation: A-MPDU, A-MSDU
• Included with AP:
-- Mounting brackets for attaching to 9/16" and 15/16" T-bar
drop-tile ceiling
-- Kensington security lock point
• Optional mounting kits (one per AP recommended):
-- AP-130-MNT: One stand-off bracket for mounting to a wall,
ceiling or other flat surface
-- AP-130-MNT-W2: One stand-off enclosed box (to hide
cables) for mounting to a flat surface
-- AP-130-MNT-C2: Mounting brackets for interlude and
silhouette grid-style ceiling rails
Power
• CB Scheme Safety, cTUVus
• UL2043 (plenum)
• Wi-Fi certified 802.11a/b/g/n
• 48 V DC 802.3af PoE or 802.3at PoE+
• 12 V DC external AC supplied power (adapter sold separately)
• Maximum power consumption: 15 watts
Mechanical
• Dimensions/Weight:
-- Unit: 760 g (1.68 lb), 170 mm x 170 mm x 45 mm
(6.69" x 6.69" x 1.77")
-- Shipping box: 1,050 g (2.31 lb), 285 mm x 240 mm x 70 mm
(11.22" x 9.45" x 2.76")
Environmental
• Operating:
-- Temp: 0° C to +50° C (+32° F to +122° F)
-- Humidity: 5 to 95% non-condensing
• Storage and Transportation Temperature Range:
-- Temp: -40° C to +70° C (-40° F to +158° F)
Regulatory
• FCC/Industry of Canada
• CE Marked
• R&TTE Directive 1995/5/EC
• Low Voltage Directive 72/23/EEC
• EN 300 328
• EN 301 489
• EN 301 893
• UL/IEC/EN 60950
• EN 60601-1-1, EN60601-1-2
For more country-specific regulatory information, and approvals,
please see your Aruba representative.
Certifications
Warranty
Interfaces
• Limited lifetime warranty
• Network:
-- 2x10/100/1000BASE-T Ethernet (RJ-45), auto-sensing link
speed and MDI/MDX
-- Supports MACSec encryption, 802.3az (EEE)
-- 48 V DC 802.3af PoE or 802.3at PoE+ interoperable with
intellisource power sourcing equipment (both ports)
• Antenna (model AP-134 only):
-- 3 x RP-SMA antenna interfaces (supports up to 3x3 MIMO)
• Other:
-- 1 x RJ-45 console interface
Minimum AOS Version
• 6.1.1.0
AP-134 and AP-135 Access Points
Aruba Data Sheet
Ordering Information
Part Number
Description
AP-134
AP-135
AP-130-MNT
AP-AC-UN
AP-AC-12V18
Aruba AP-134 Wireless Access Point, 802.11abgn, 3x3:3, dual radio, antenna connectors.
Contains: access point, installation guide, and 2 ceiling rail mount adapters.
Aruba AP-135 Wireless Access Point, 802.11abgn, 3x3:3, dual radio, integrated antennas. Contains: access point, installation
guide, and 2 ceiling rail mount adapters.
Aruba 130 Series Access Point Flat Surface Mounting Kit.
Aruba 12 V DC Univeral AC Power Adapter Kit - North America, Japan, United Kingdom, Italy, EC (Europlug), Australia, China,
India, Korea.
12 V DC/ 18W AC Power Adapter. Does not include country specific power cord.
AP-135 RF Performance Table
2.4GHz
5GHz
Transmit power
(per active transmit chain)
Transmit power
(per active transmit chain)
Receive sensitivity
Receive sensitivity
1 Mbps
18
-97
11 Mbps
18
-92
6 Mbps
18
54 Mbps
16
-94
18
-94
-81
16
-82
MCS0/8/16
MCS7/15/23
17
-94
17
-94
12
-78
12
-78
MCS0/8/16
17
-92
17
-92
MCS7/15/23
11
-75
11
-74
Rate
802.11b
802.11a/g
802.11n HT20
802.11n HT40
RF performance numbers for AP-134 slightly lower due to additional internal RF circuitry.
AP-134 and AP-135 Access Points
Aruba Data Sheet
AP-135 antenna pattern plots
2.450 GHz, H-Plane, 20 degrees down-tilt
2.450 GHz, E-plane, AP facing down
H-plane
E-plane
5.500 GHz, H-Plane, 20 degrees down-tilt
5.500 GHz, E-plane, AP facing down
H-plane
E-plane
www.arubanetworks.com
1344 Crossman Avenue. Sunnyvale, CA 94089
1-866-55-ARUBA | Tel. +1 408.227.4500 | Fax. +1 408.227.4550 | info@arubanetworks.com
© 2012 Aruba Networks, Inc. Aruba Networks' trademarks include AirWave®, Aruba Networks®, Aruba Wireless Networks®, the registered Aruba the Mobile Edge Company logo, Aruba Mobility
Management System®, Mobile Edge Architecture®, People Move. Networks Must Follow®, RFProtect®, and Green Island®. All rights reserved. All other trademarks are the property of their respective
owners. Rev. 05-04-12.