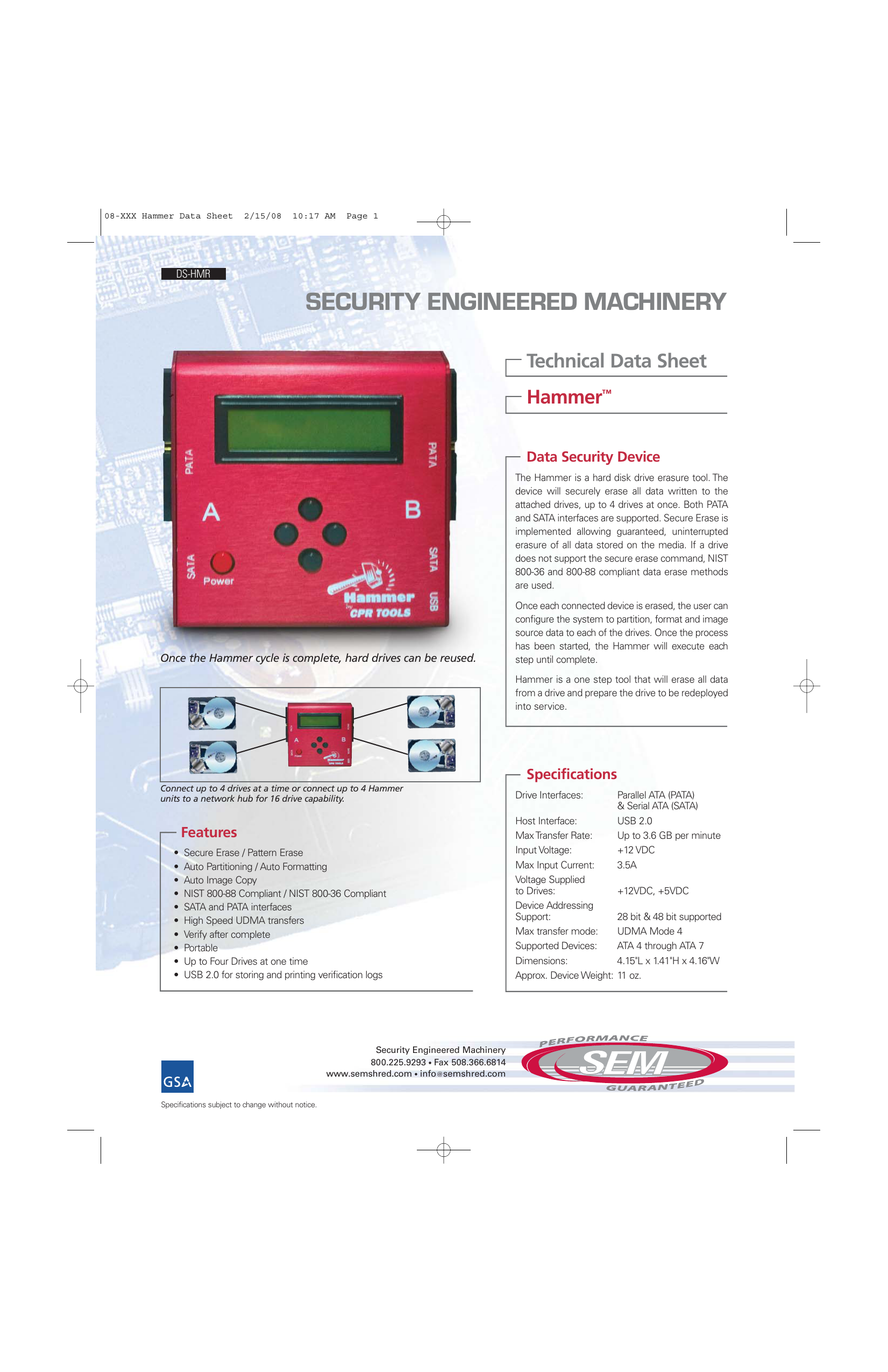 08-XXX Hammer Data Sheet
2/15/08
10:17 AM
Page 1
DS-HMR
SECURITY ENGINEERED MACHINERY
Technical Data Sheet
Hammer™
Data Security Device
The Hammer is a hard disk drive erasure tool. The
device will securely erase all data written to the
attached drives, up to 4 drives at once. Both PATA
and SATA interfaces are supported. Secure Erase is
implemented allowing guaranteed, uninterrupted
erasure of all data stored on the media. If a drive
does not support the secure erase command, NIST
800-36 and 800-88 compliant data erase methods
are used.
Once the Hammer cycle is complete, hard drives can be reused.
Once each connected device is erased, the user can
configure the system to partition, format and image
source data to each of the drives. Once the process
has been started, the Hammer will execute each
step until complete.
Hammer is a one step tool that will erase all data
from a drive and prepare the drive to be redeployed
into service.
Specifications
Connect up to 4 drives at a time or connect up to 4 Hammer
units to a network hub for 16 drive capability.
Features
•
•
•
•
•
•
•
•
•
•
Secure Erase / Pattern Erase
Auto Partitioning / Auto Formatting
Auto Image Copy
NIST 800-88 Compliant / NIST 800-36 Compliant
SATA and PATA interfaces
High Speed UDMA transfers
Verify after complete
Portable
Up to Four Drives at one time
USB 2.0 for storing and printing verification logs
Security Engineered Machinery
800.225.9293 • Fax 508.366.6814
www.semshred.com • info@semshred.com
Specifications subject to change without notice.
Drive Interfaces:
Host Interface:
Max Transfer Rate:
Input Voltage:
Max Input Current:
Voltage Supplied
to Drives:
Device Addressing
Support:
Max transfer mode:
Supported Devices:
Dimensions:
Approx. Device Weight:
Parallel ATA (PATA)
& Serial ATA (SATA)
USB 2.0
Up to 3.6 GB per minute
+12 VDC
3.5A
+12VDC, +5VDC
28 bit & 48 bit supported
UDMA Mode 4
ATA 4 through ATA 7
4.15"L x 1.41"H x 4.16"W
11 oz.

* Your assessment is very important for improving the work of artificial intelligence, which forms the content of this project