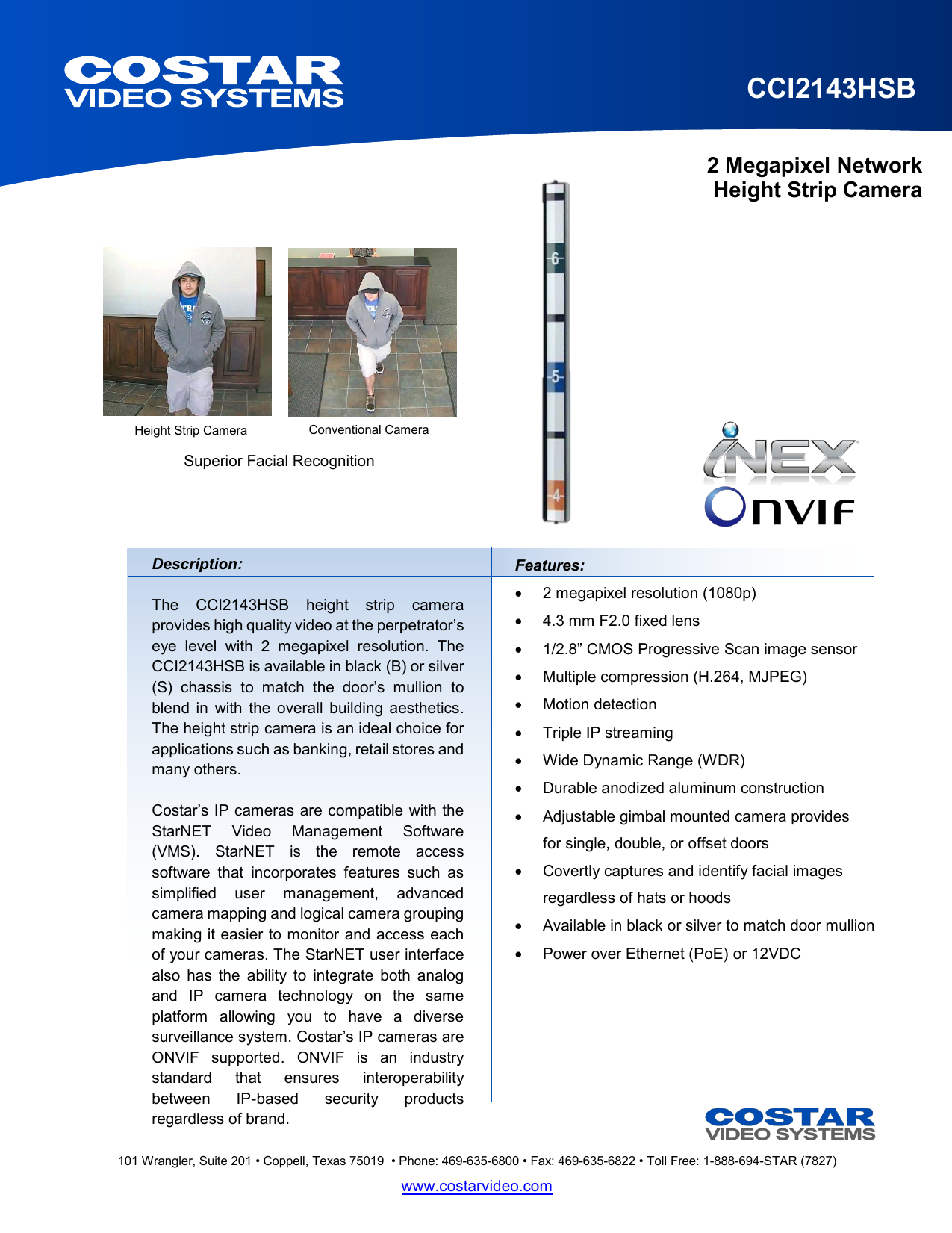 CCI2143HSB
2 Megapixel Network
Height Strip Camera
Height Strip Camera
Conventional Camera
Superior Facial Recognition
Description:
Features:
The CCI2143HSB height strip camera
provides high quality video at the perpetrator's
eye level with 2 megapixel resolution. The
CCI2143HSB is available in black (B) or silver
(S) chassis to match the door's mullion to
blend in with the overall building aesthetics.
The height strip camera is an ideal choice for
applications such as banking, retail stores and
many others.
Costar's IP cameras are compatible with the
StarNET Video Management Software
(VMS). StarNET is the remote access
software that incorporates features such as
simplified user management, advanced
camera mapping and logical camera grouping
making it easier to monitor and access each
of your cameras. The StarNET user interface
also has the ability to integrate both analog
and IP camera technology on the same
platform allowing you to have a diverse
surveillance system. Costar's IP cameras are
ONVIF supported. ONVIF is an industry
standard
that
ensures
interoperability
between
IP-based
security
products
regardless of brand.

2 megapixel resolution (1080p)

4.3 mm F2.0 fixed lens

1/2.8" CMOS Progressive Scan image sensor

Multiple compression (H.264, MJPEG)

Motion detection

Triple IP streaming

Wide Dynamic Range (WDR)

Durable anodized aluminum construction

Adjustable gimbal mounted camera provides
for single, double, or offset doors

Covertly captures and identify facial images
regardless of hats or hoods

Available in black or silver to match door mullion

Power over Ethernet (PoE) or 12VDC
101 Wrangler, Suite 201 • Coppell, Texas 75019 • Phone: 469-635-6800 • Fax: 469-635-6822 • Toll Free: 1-888-694-STAR (7827)
www.costarvideo.com
CCI2143HSB Specifications
Model
CCI2143HSB
CCI2143HSS
Description
Black
Silver
Resolution
2 Megapixel
2 Megapixel
Power
Applications
Source
PoE
PoE or 12VDC
802.3af
StarNET
Connect and manage
IP and Analog cameras on
a single user interface.
Sensor
Image Sensor
Scanning Mode
Lens
Minimum Illumination
Resolution
Dynamic Range
Frame Rate
1/2.8" CMOS
Progressive Scan
4.3 mm F2.0
Fixed Megapixel
Color: 0.5 Lux @ F2.0
2 MP (1920x1080)
HD (1280x720)
VGA (640x352)
CIF (320x176)
QCIF (160x96)
120dB (True WDR)
Up to 30 fps
Dimensions
Video Features
Compression
Streaming
Standards
H.264, MJPEG
Triple Stream
ONVIF
System
Auto Recovery
Reset Settings
Security
Firmware Upgrade
Supported Protocols
Yes
Soft or Factory Reset
Password Protection
Alarm I/O, Audio, PTZ
HTTP, Telnet or FTP
HTTP, RTP/RTSP,
ICP/IP, FTP, Telnet,
RARP, PPPoE, PAP,
CHAP, DHCP, SMTP,
client (email), NTP
System
Maximum Connections
DVRNS
Remote Access
16 (Live)
Yes
StarNET Interactive
General Information
Temperature
Humidity
Approvals
Dimensions (W x H)
14°F to 122°F
(-10°C to 50°C)
90% RH Max
FCC (Class B),
CE (Class B), RoHS
2.2" x 34.5" x 2.1"
(55mm x 872mm x 53.3mm)
101 Wrangler, Suite 201 • Coppell, Texas 75019 • Phone: 469-635-6800 • Fax: 469-635-6822 • Toll Free: 1-888-694-STAR (7827)
www.costarvideo.com
Specifications and design are subject to change without notice. Conversions: 1" = 25.4mm Measurement conversions are approximate.

* Your assessment is very important for improving the work of artificial intelligence, which forms the content of this project