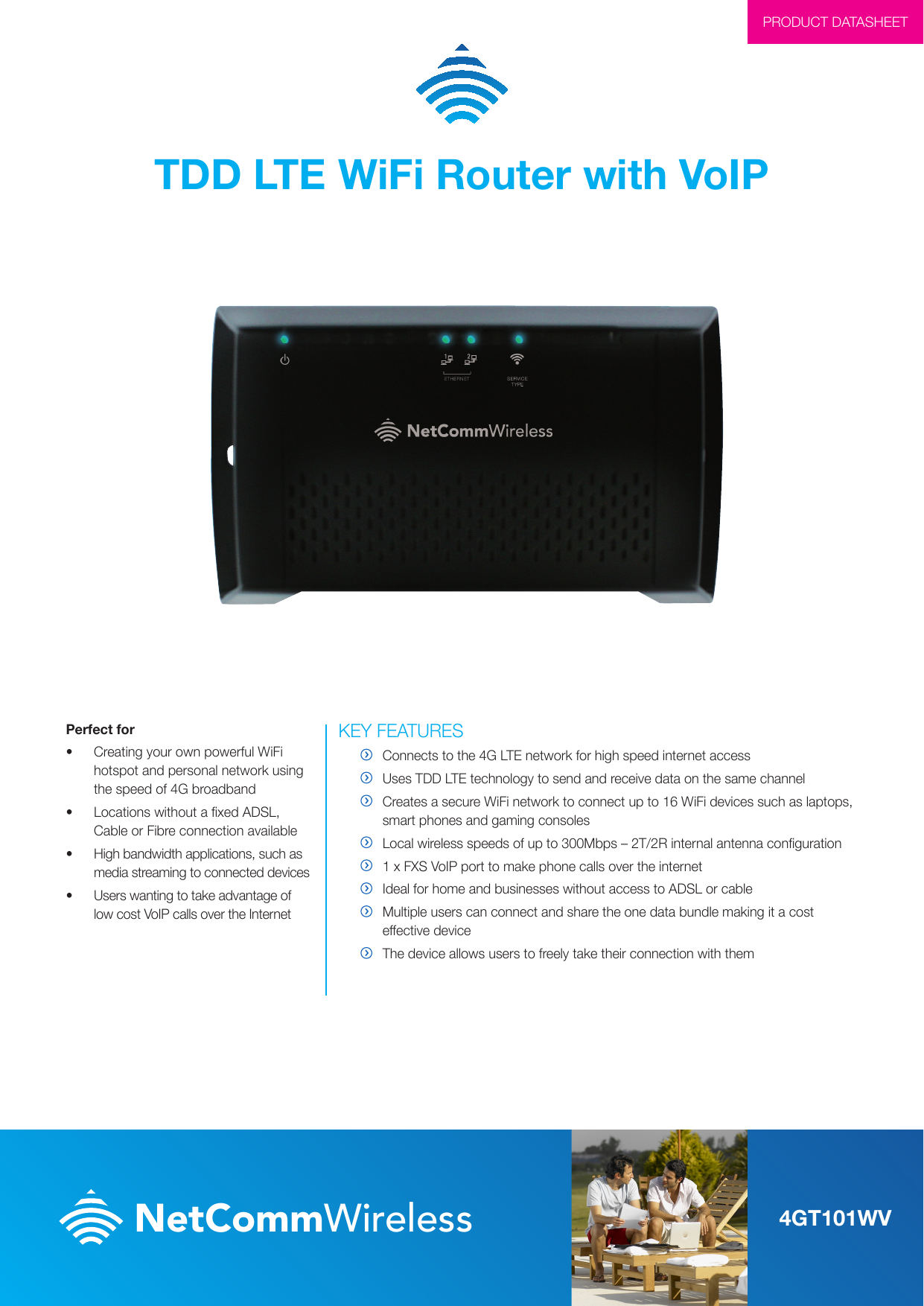 PRODUCT DATASHEET
NetCommWirel
TDD LTE WiFi Router with VoIP
Perfect for
•
Creating your own powerful WiFi
hotspot and personal network using
the speed of 4G broadband
•
Locations without a fixed ADSL,
Cable or Fibre connection available
•
High bandwidth applications, such as
media streaming to connected devices
•
Users wanting to take advantage of
low cost VoIP calls over the Internet
KEY FEATURES
Connects to the 4G LTE network for high speed internet access
Uses TDD LTE technology to send and receive data on the same channel
Creates a secure WiFi network to connect up to 16 WiFi devices such as laptops,
smart phones and gaming consoles
Local wireless speeds of up to 300Mbps – 2T/2R internal antenna configuration
1 x FXS VoIP port to make phone calls over the internet
Ideal for home and businesses without access to ADSL or cable
Multiple users can connect and share the one data bundle making it a cost
effective device
The device allows users to freely take their connection with them
NetCommWireless
4GT101WV
PRODUCT DATASHEET
NetCommWirel
TDD LTE WiFi Router
with VoIP
SPECIFICATIONS
LTE
• LTE TDD Cat 3, Release 8 bands:
4GT101WV-01
o Band 38 (2600)
o Band 40 (2300)
o Band 41 (2500)
4GT101WV-02
o Band 42 (3400)
o Band 43 (3600)
4G
4GT101WV-03
o Band 38 (2600)
o Band 40 (2300)
o Band 41 (2500)
WWAN INTERFACE
• 4G x 1
LAN INTERFACE
• 10/100 Ethernet x 2
WLAN
• MAC Address Filtering, WEP, WPA, IEEE 802.1X
2 x High Speed
Wired Connections
(Computers, game consoles,
media centres etc)
1 x VoIP port
(Connect a standard
telephone for VoIP calls)
Standard
o IEEE802.11n, backward compatible with
802.11b/g
Encryption
o WEP, WPA, WPA2
Channels
o 11 Channels (US, Canada)
o 13 Channels (Europe, Australia)
o 14 Channels (Japan)
WLAN Data Rate
o Up to 300Mbps
The TDD LTE WiFi Router integrates a powerful LTE module that enables users
to connect to worldwide LTE networks and enjoy peak speeds of up to 100Mbps
downlink and 50Mbps uplink. The router uses TDD LTE technology to transport
data over the same channel.
WAN CONNECTION
PPP/IP
o Yes
Antenna
o External 4G Antennas x2
VOIP
• 1 x FXS port
• SIP 2.0 protocol
MANAGEMENT
• SNMP, SNTP, Telnet, Web-based management,
Configuration backup and restoration
• Firmware upgrade via HTTP
Routing Functions
o Static route, NAT/PAT, DMZ, DHCP Client/
Server/Relay, DNS Proxy, DDNS
Security Functions
o Stateful Packet Inspection, Packet filtering,
Denial Of Service protection, Management
Authentication protocols
o PAP, CHAP
VPN
• PPTP/L2TP/IPSec pass-through
The router creates an instant 300Mbps WiFi network connecting up to 16 wireless
devices simultaneously such as laptops, gaming consoles, iPad's and Smart
Phones. You can also connect up to 2 wired devices.
The included FXS port can be used to connect a standard telephone that will
allow users to make calls over the Internet. By using a VoIP service, phone bills
can be dramatically reduced.
The device also features 4 antennas: 2x internal WiFi antennas delivering speeds
of up to 300Mbps and 2x external 4G antennas. A powerful and secure local area
network can be established at home, in the office or on the go.
LEDS
• Power, LAN2, LAN 1, Internet, Signal Strength for Low, High LEDs
POWER
• External power adapter
• 100-240VAC to 12VDC/1.5A
ENVIRONMENTAL CONDITIONS
Operating temperature
o 0 ~ 50 degrees Celsius
Relative humidity
o 5 ~ 90% (non-condensing)
Dimensions
o 191 mm (W) x 166 mm (H) x 31 mm (D)
Model Code/ Part Number
Bands Supported
4GT101WV-01
TDD LTE - 38/40/41 (2300~2690MHz)
4GT101WV-02
TDD LTE - 42/43 (3300~3800MHz)
4GT101WV-03
TDD LTE - 38/40/41 (1710~2170MHz & 2300~2700MHz)
3G WCDMA - 1 (1920~2170MHz)
NetCommWireless
NETCOMM WIRELESS LIMITED
PO Box 1200, Lane Cove NSW 2066
Sydney, Australia ABN 85 002 490 486
AUSTRALIAN ENQUIRIES
P: (02) 9424 2070
F: 1800 063 962
E: sales@netcomm.com.au
W: www.netcomm.com.au
NEW ZEALAND ENQUIRIES
P: (09) 448 5548
F: (09) 448 5549
E: sales@netcomm.co.nz
W: www.netcomm.co.nz
INTERNATIONAL ENQUIRIES
P: +61 2 9424 2070
F: +61 2 9424 2010
E: int.sales@netcomm.com.au
W: www.netcomm.com.au
Trademarks and registered trademarks are the property of NetComm Wireless Limited or their respective owners. Specifications are subject to change without notice. Images shown may vary slightly from the actual product.

* Your assessment is very important for improving the work of artificial intelligence, which forms the content of this project