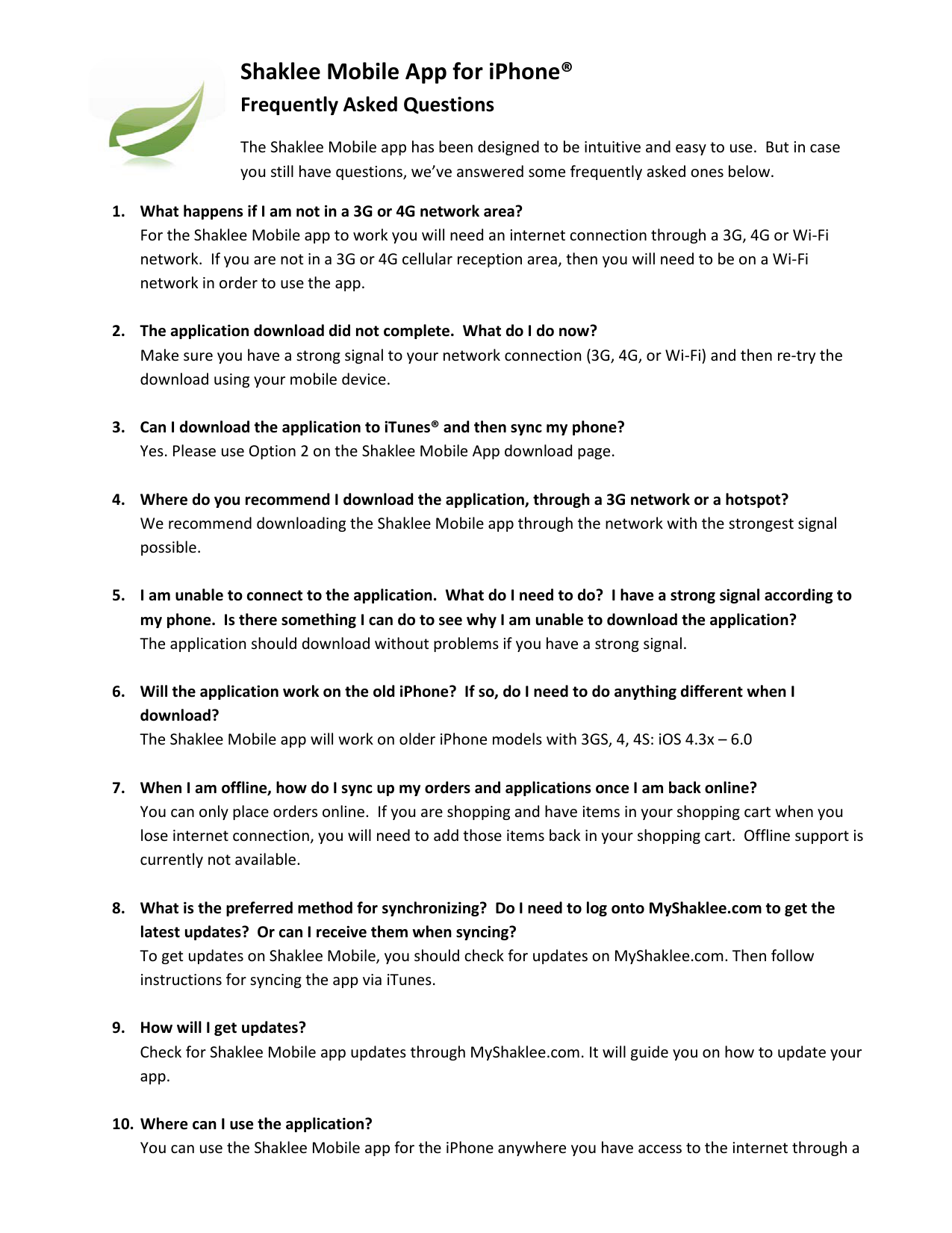 Shaklee Mobile App for iPhone®
Frequently Asked Questions
The Shaklee Mobile app has been designed to be intuitive and easy to use. But in case
you still have questions, we've answered some frequently asked ones below.
1. What happens if I am not in a 3G or 4G network area?
For the Shaklee Mobile app to work you will need an internet connection through a 3G, 4G or Wi-Fi
network. If you are not in a 3G or 4G cellular reception area, then you will need to be on a Wi-Fi
network in order to use the app.
2. The application download did not complete. What do I do now?
Make sure you have a strong signal to your network connection (3G, 4G, or Wi-Fi) and then re-try the
download using your mobile device.
3. Can I download the application to iTunes® and then sync my phone?
Yes. Please use Option 2 on the Shaklee Mobile App download page.
4. Where do you recommend I download the application, through a 3G network or a hotspot?
We recommend downloading the Shaklee Mobile app through the network with the strongest signal
possible.
5. I am unable to connect to the application. What do I need to do? I have a strong signal according to
my phone. Is there something I can do to see why I am unable to download the application?
The application should download without problems if you have a strong signal.
6. Will the application work on the old iPhone? If so, do I need to do anything different when I
download?
The Shaklee Mobile app will work on older iPhone models with 3GS, 4, 4S: iOS 4.3x – 6.0
7. When I am offline, how do I sync up my orders and applications once I am back online?
You can only place orders online. If you are shopping and have items in your shopping cart when you
lose internet connection, you will need to add those items back in your shopping cart. Offline support is
currently not available.
8. What is the preferred method for synchronizing? Do I need to log onto MyShaklee.com to get the
latest updates? Or can I receive them when syncing?
To get updates on Shaklee Mobile, you should check for updates on MyShaklee.com. Then follow
instructions for syncing the app via iTunes.
9. How will I get updates?
Check for Shaklee Mobile app updates through MyShaklee.com. It will guide you on how to update your
app.
10. Where can I use the application?
You can use the Shaklee Mobile app for the iPhone anywhere you have access to the internet through a
3G, 4G or Wi-Fi network.
11. Does one carrier have better coverage than the other?
The choice of carrier is totally up to you, your preferences, and coverage in your particular area.
12. I am not able to transmit my order. I have 3G enabled and it shows I have coverage. Why can't I
transmit my data?
The Shaklee servers may be experiencing routine maintenance. Please try again at a later time.
13. How do I log out?
Go to the "Home/Landing" page and you will see a "Logout" button. Also the Shaklee Mobile App will
automatically log the user out after a specific non-active time frame.
14. How much does the Shaklee Mobile app cost?
Shaklee Mobile is free of charge.
15. Who can use the Shaklee Mobile app?
You must be a Shaklee Member in order to use this application.
16. How do I remove this app?
To remove the app from your device, press and hold down the Shaklee icon on your iPhone. Once the
icon begins "shaking", tap the black delete icon.
17. How does the Search function work?
Our search engine allows you to find items by product name, keywords, or item number. Tap the search
icon at the top right corner of the home screen, then type in the item you are looking for.
18. What products are available for purchase through the Shaklee Mobile app?
The Shaklee Mobile app currently supports all products from the Shaklee product catalog. Sales items
and accessories will be made available in future releases.
19. How do I remove items from the shopping cart?
To remove items from the shopping cart, tap the shopping cart icon at the top left of your screen, then
tap on the "Quantity" box nest to the item you wish to remove. Select "Remove"
20. How do I check out?
To check out, tap the shopping cart icon in the top left corner of your screen, then tap on the
"Checkout" button to start the checkout process.
21. What are the accepted payment types I can use with Shaklee Mobile?
Visa, MasterCard, American Express and Discover.
22. What happens if the Mobile App is unable to detect the Credit Card Scanner?
Ensure the iPhone/iPad volume is set to "max" prior to connecting the scanner to the iPhone/iPad.

* Your assessment is very important for improving the work of artificial intelligence, which forms the content of this project