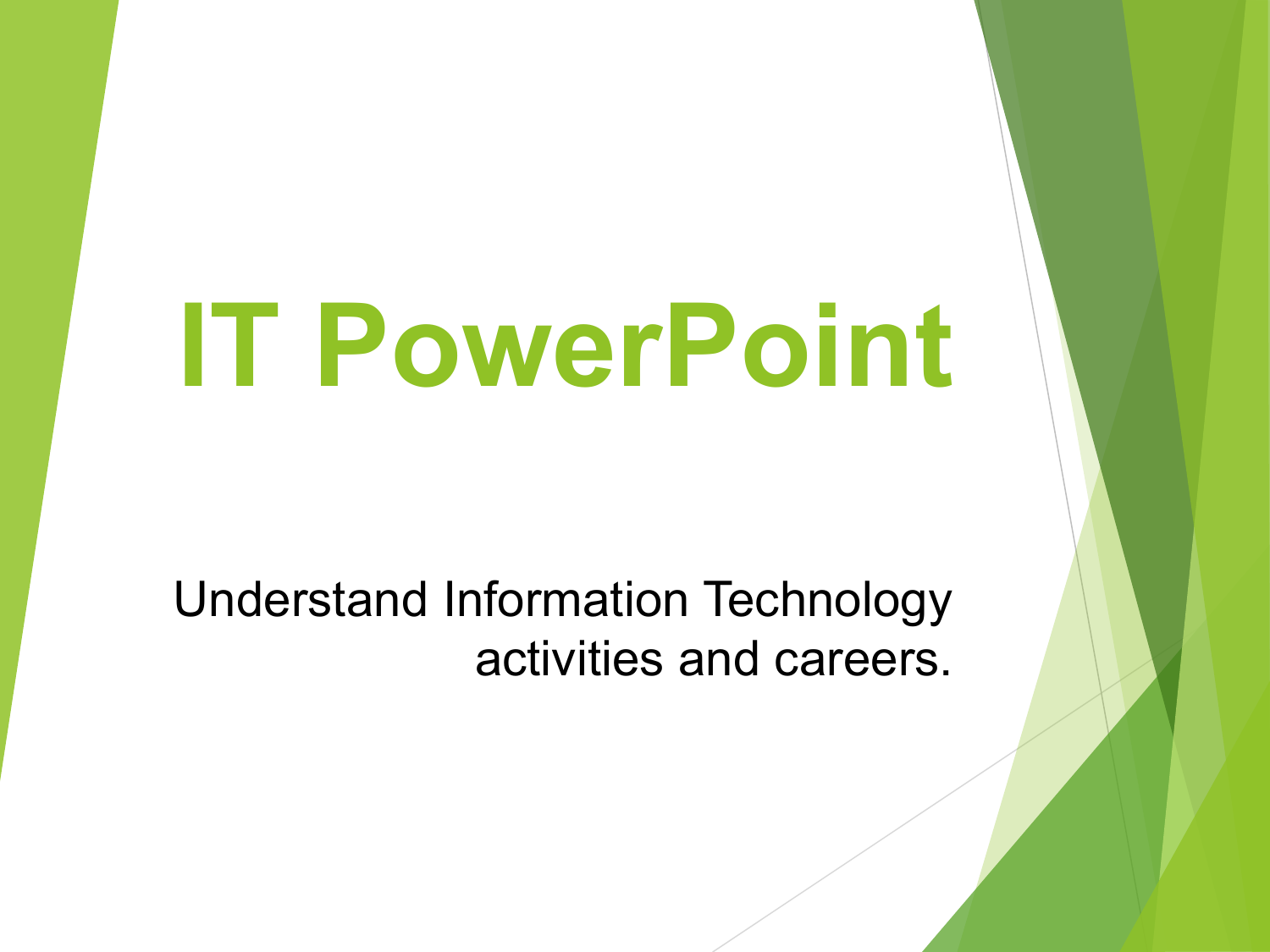 IT PowerPoint
Understand Information Technology
activities and careers.
What Is A Computer?

An electronic device that receives data, processes data,
stores data, and produces a result (output).
Types of Personal Computers
 Desktop
computer: designed to be
used on a desktop.
 Notebook/Tablet computer:
designed to be used on a desktop
but still small enough to be portable.
 Laptop computer: designed to be
small enough and light enough to be
used on your lap.
Hardware- Physical Parts of the computer

Monitor

Hard Drive

Mouse

Keyboard

Scanner

Printer

Modem

Digital Cameras

Scanners

Webcams

Headphones

Smartboard
Anything that can be
connected to your computer.
Modem- connects your computer to the
Internet
CPU- Central Processing Unit is the brain
of your computer Also called the tower or
hard drive.
Software-a set of instructions that tells the
computer what to do
Systems Software - controls the operation of the whole computer system.

Example: Windows
Applications Software - performs a specific task.

Examples: MS Word, MS Excel, MS Access, etc…
Types of Application Software
 Word

Processing
Program that allows you to create, edit, and print text documents
 Report,
flyer, memo
 Spreadsheet

Numbered Rows and Lettered Columns

Intersection of a row and column is a cell
 Grade

book, financial info
Database
 Lets
you set up an electronic filing system
 Enter text and numbers
 Find,

search, and print info in different ways
Address book, Card Catalog
Multimedia- the use of audio,
video, animation, or graphics.
Ex) Microsoft PowerPoint
Microsoft Publisher
Easily make flyers, brochures,
business cards, newsletters,
signs, posters, etc.
"Information Processing
Cycle"
1. Input Device
2. CPU
3. Output Device
4. Storage
Input, Output, & Storage Devices
 Input
device:
 Output device:
hardware that
hardware that
allows you to
allows your
communicate with computer to
your computer.
communicate with
the user
 Storage
device:
allows you to store
or retrieve
information
Computer Input Devices
 Keyboard
 Touch
 Mouse
 Bar
 Trackball
 Scanner
 Joystick
 Microphone
 Light
 Graphics
Pen
 Pointing
Stick
 Touchpad
Screen
Code Reader
 Digital
Tablet
Cameras
Computer Output Devices

Monitor: screen that displays information such as
text, numbers, and pictures.
 Softcopy
 Printer: gives you information from the computer
in printed form.
 Hardcopy
 Speakers: allow you to hear voice, music, and
other sounds from your computer.
Storage
Besides saving to the hard drive (the computer),
here are some other ways to save:
Disk- CD Rom/ Floppy Disk
External Storage- flash
drive
Memory
 ROM-
 RAM-
Read Only Memory
Random Access
Memory
(Temporary or working memory)
What is a network?
A system of computers, peripherals,
terminals, and databases
connected by communication lines.
What is the Internet?
Electronic information
networks that carry audio,
video, and computer data.
The world's
Largest computer
Network!

* Your assessment is very important for improving the work of artificial intelligence, which forms the content of this project