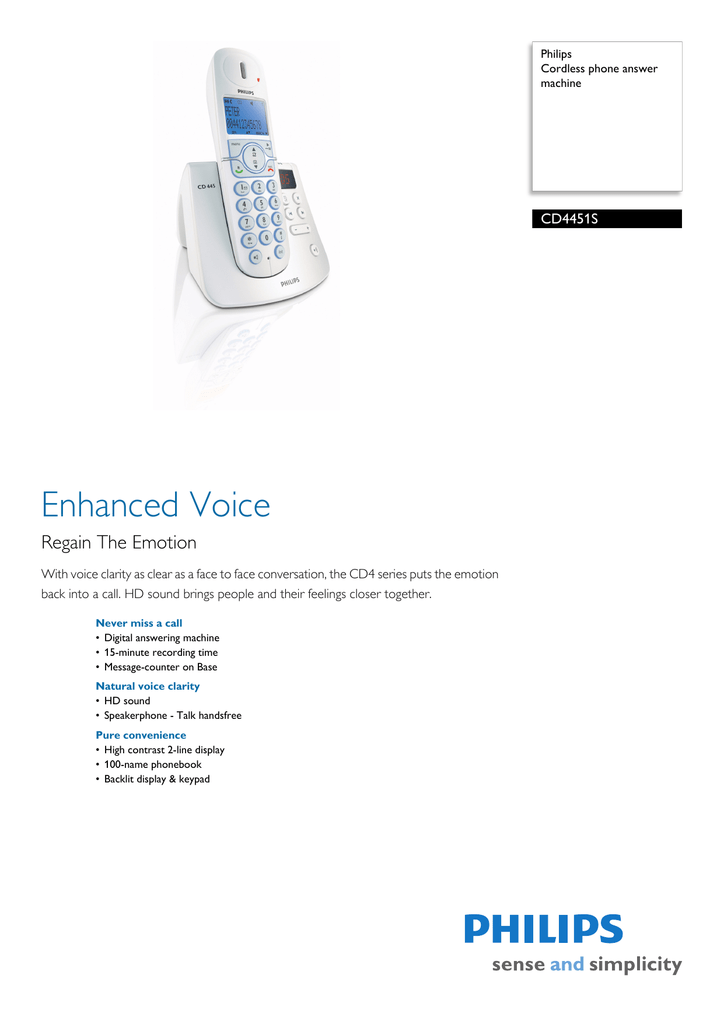 Philips
Cordless phone answer
machine
CD4451S
Enhanced Voice
Regain The Emotion
With voice clarity as clear as a face to face conversation, the CD4 series puts the emotion
back into a call. HD sound brings people and their feelings closer together.
Never miss a call
• Digital answering machine
• 15-minute recording time
• Message-counter on Base
Natural voice clarity
• HD sound
• Speakerphone - Talk handsfree
Pure convenience
• High contrast 2-line display
• 100-name phonebook
• Backlit display & keypad
CD4451S/22
Cordless phone answer machine
Specifications
Picture/Display
•
•
•
•
•
•
Backlight
Backlight color: Blue
Display colors: Black & White
Lines of text: 2
Main Display Technology: STN
Main Display Type: Dot-Matrix
Sound
• Handset ringers: Polyphonic
• Volume Control: Volume Control up/down
Convenience
• Alarms: Alarm Clock
• Base Station keys: Answering machine keys, Paging
key
• Battery charging indication
• Call Management: Call Waiting, Caller ID,
Conference Call, Explicit Call Transfer,
Microphone mute
• Ease of Use: Keypad Lock, Menu Control
• Function: Baby Call
• Multi base capability: 4
• Multi handset capability: Up to 5 handsets
• Signal strength indication
• VIP group with own melody: Yes, 3 groups
• Backlit keypad: Yes (Blue)
• Speakerphone-Talk handsfree
Highlights
Network Features
• Antenna: Integrated on base, Integrated on handset
• Compatible: GAP
• Dialing: Tone, Pulse
Operator Requirements
• Name and Caller ID
• Caller ID on call waiting
Answering Machine
• Plug & Play Answering machine
• Recording time capacity: Up to 15min.
• Message counter on base
Memory Capacity
• Call log entries: 50
• Phonebook: 100 names and numbers
Dimensions
• Base dimensions: 116 x 110 x 81 mm
• Handset dimensions: 46 x 26 x 160 mm
Power
•
•
•
•
•
•
•
Battery capacity: 750 mAh
Battery type: AAA NiMH
Kind of Battery: Rechargeable
Mains power: AC 220-240V - 50Hz
Number of batteries: 2 per handset
Standby time: Up to 150 hours
Talk time: Up to 12 hours
•
Issue date 2009-11-06
© 2009 Koninklijke Philips Electronics N.V.
All Rights reserved.
Version: 2.0.5
Specifications are subject to change without notice.
Trademarks are the property of Koninklijke Philips
Electronics N.V. or their respective owners.
12 NC: 8670 000 26597
EAN: 87 12581 31104 9
www.philips.com
HD sound
Enjoy high quality conversation, with a level of clarity
rarely heard before. Thanks to a high-quality speaker
and to a real acoustic chamber, the audio spectrum
reaches far beyond what's normally heard on a
telephone.
Speakerphone - Talk handsfree
Handsfree mode uses a built-in loud speaker to
amplify the voice of the caller, allowing you to speak
and listen during a call without holding the phone to
your ear. This is especially useful if you want to share
the call with others or take notes during a call.

* Your assessment is very important for improving the work of artificial intelligence, which forms the content of this project