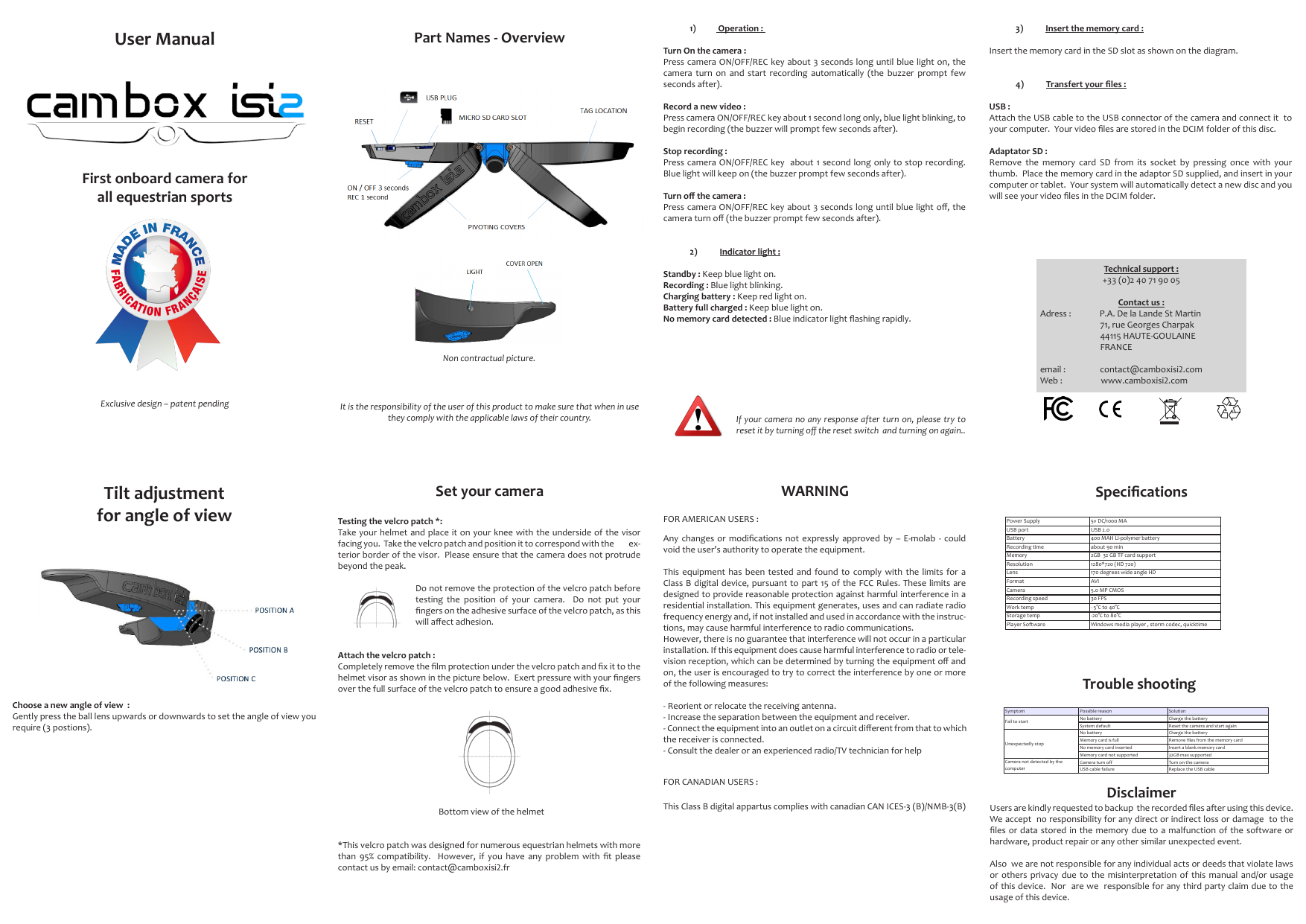 User Manual
Part Names - Overview
First onboard camera for
all equestrian sports
1)
Operation :
3)
Insert the memory card in the SD slot as shown on the diagram.
Record a new video :
Press camera ON/OFF/REC key about 1 second long only, blue light blinking, to
begin recording (the buzzer will prompt few seconds after).
USB :
Attach the USB cable to the USB connector of the camera and connect it to
your computer. Your video files are stored in the DCIM folder of this disc.
Stop recording :
Press camera ON/OFF/REC key about 1 second long only to stop recording.
Blue light will keep on (the buzzer prompt few seconds after).
Adaptator SD :
Remove the memory card SD from its socket by pressing once with your
thumb. Place the memory card in the adaptor SD supplied, and insert in your
computer or tablet. Your system will automatically detect a new disc and you
will see your video files in the DCIM folder.
Turn off the camera :
Press camera ON/OFF/REC key about 3 seconds long until blue light off, the
camera turn off (the buzzer prompt few seconds after).
2)
4)
Technical support :
+33 (0)2 40 71 90 05
Non contractual picture.
Tilt adjustment
for angle of view
It is the responsibility of the user of this product to make sure that when in use
they comply with the applicable laws of their country.
Do not remove the protection of the velcro patch before
testing the position of your camera. Do not put your
fingers on the adhesive surface of the velcro patch, as this
will affect adhesion.
Attach the velcro patch :
Completely remove the film protection under the velcro patch and fix it to the
helmet visor as shown in the picture below. Exert pressure with your fingers
over the full surface of the velcro patch to ensure a good adhesive fix.
Choose a new angle of view :
Gently press the ball lens upwards or downwards to set the angle of view you
require (3 postions).
WARNING
FOR AMERICAN USERS :
Any changes or modifications not expressly approved by – E-molab - could
void the user's authority to operate the equipment.
This equipment has been tested and found to comply with the limits for a
Class B digital device, pursuant to part 15 of the FCC Rules. These limits are
designed to provide reasonable protection against harmful interference in a
residential installation. This equipment generates, uses and can radiate radio
frequency energy and, if not installed and used in accordance with the instructions, may cause harmful interference to radio communications.
However, there is no guarantee that interference will not occur in a particular
installation. If this equipment does cause harmful interference to radio or television reception, which can be determined by turning the equipment off and
on, the user is encouraged to try to correct the interference by one or more
of the following measures:
*This velcro patch was designed for numerous equestrian helmets with more
than 95% compatibility. However, if you have any problem with fit please
contact us by email: [email protected]
[email protected]
www.camboxisi2.com
Specifications
Power Supply
USB port
5v DC/1000 MA
USB 2.0
Battery
Recording time
Memory
400 MAH Li-polymer battery
about 90 min
2GB 32 GB TF card support
Resolution
Lens
Format
Camera
Recording speed
1280*720 (HD 720)
170 degrees wide angle HD
AVI
5.0 MP CMOS
30 FPS
Work temp
- 5°C to 40°C
Storage temp
-20°C to 80°C
Player Software
Windows media player , storm codec, quicktime
Trouble shooting
This Class B digital appartus complies with canadian CAN ICES-3 (B)/NMB-3(B)
Feuille1
Feuille1
Symptom
Possible reason
Solution
Fail to start
No battery
System default
Charge the battery
Reset the camera and start again
No battery
Memory card is full
No memory card inserted
Memory card not supported
Camera turn off
USB cable failure
Charge the battery
Remove files from the memory card
Insert a blank memory card
32GB max supported
Turn on the camera
Replace the USB cable
Unexpectedly stop
Camera not detected by the
computer
FOR CANADIAN USERS :
Bottom view of the helmet
Contact us :
P.A. De la Lande St Martin
71, rue Georges Charpak
44115 HAUTE-GOULAINE
FRANCE
If your camera no any response after turn on, please try to
reset it by turning off the reset switch and turning on again..
- Reorient or relocate the receiving antenna.
- Increase the separation between the equipment and receiver.
- Connect the equipment into an outlet on a circuit different from that to which
the receiver is connected.
- Consult the dealer or an experienced radio/TV technician for help
Adress :
email :
Web :
Set your camera
Testing the velcro patch *:
Take your helmet and place it on your knee with the underside of the visor
facing you. Take the velcro patch and position it to correspond with the
exterior border of the visor. Please ensure that the camera does not protrude
beyond the peak.
Transfert your files :
Indicator light :
Standby : Keep blue light on.
Recording : Blue light blinking.
Charging battery : Keep red light on.
Battery full charged : Keep blue light on.
No memory card detected : Blue indicator light flashing rapidly.
Exclusive design – patent pending
Insert the memory card :
Turn On the camera :
Press camera ON/OFF/REC key about 3 seconds long until blue light on, the
camera turn on and start recording automatically (the buzzer prompt few
seconds after).
Disclaimer
Users are kindly requested to backup the recorded files after using this device.
We accept no responsibility for any direct or indirect loss or damage to the
files or data stored in the memory due to a malfunction of the software or
hardware, product repair or any other similar unexpected event.
Also we are not responsible for any individual acts or deeds that violate laws
or others privacy due to the misinterpretation of this manual and/or usage
of this device. Nor are we responsible for any third party claim due to the
usage of this device.

* Your assessment is very important for improving the work of artificial intelligence, which forms the content of this project