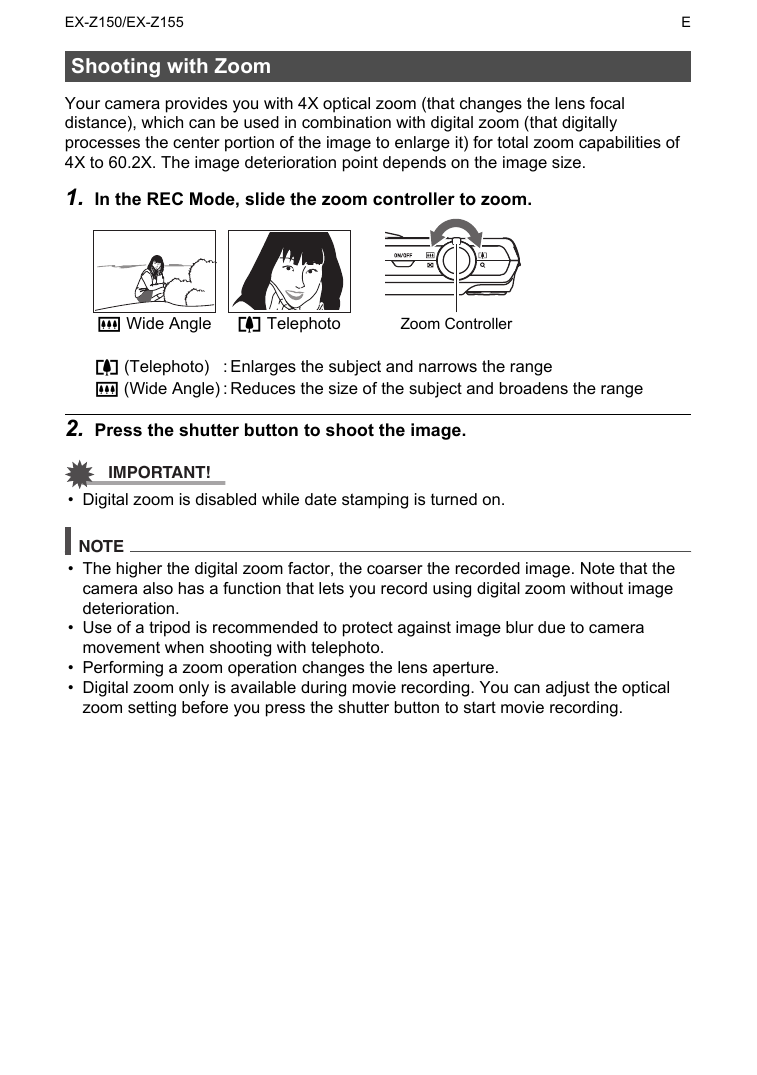 EX-Z150/EX-Z155
E
Shooting with Zoom
Your camera provides you with 4X optical zoom (that changes the lens focal
distance), which can be used in combination with digital zoom (that digitally
processes the center portion of the image to enlarge it) for total zoom capabilities of
4X to 60.2X. The image deterioration point depends on the image size.
1.
In the REC Mode, slide the zoom controller to zoom.
w Wide Angle
z Telephoto
Zoom Controller
z (Telephoto) : Enlarges the subject and narrows the range
w (Wide Angle) : Reduces the size of the subject and broadens the range
2.
Press the shutter button to shoot the image.
IMPORTANT!
• Digital zoom is disabled while date stamping is turned on.
NOTE
• The higher the digital zoom factor, the coarser the recorded image. Note that the
camera also has a function that lets you record using digital zoom without image
deterioration.
• Use of a tripod is recommended to protect against image blur due to camera
movement when shooting with telephoto.
• Performing a zoom operation changes the lens aperture.
• Digital zoom only is available during movie recording. You can adjust the optical
zoom setting before you press the shutter button to start movie recording.
Optical Zoom and Digital Zoom Switch Point
If you hold the zoom controller towards z (Telephoto), the zoom operation will stop
when the optical zoom factor reaches its maximum. Momentarily releasing the zoom
controller and then holding it again towards z (Telephoto) will switch to digital
zoom, which you can use to set an even higher zoom factor.
• During zoom, a zoom bar on the monitor screen shows the current zoom setting.
Image deterioration indicator
Focusing range
(Displayed for Auto Focus, Macro Focus, and Manual Focus.)
Zoom bar
Undeteriorated image quality range
Deteriorated image quality range
4X to 20.1X
1X
Optical/digital zoom switch point
* 4X optical zoom point
16X to 60.2X
Zoom pointer (Indicates current zoom.)
Image deterioration
• The image deterioration point depends
on the image size. The smaller the
image size, the higher the zoom factor
you can use before reaching the image
deterioration point.
• Though digital zoom generally causes
a deterioration of image quality, some
digital zoom without image
deterioration is possible with image
sizes of "6M" and smaller. The range in
which you can use digital zoom without
image deterioration is indicated on the
display. The deterioration point
depends on the image size.
Image
Size
Maximum
Zoom Factor
Undeteriorated
zoom limit
8M
16X
4X
3:2
16X
4X
16:9
16X
4X
6M
18.3X
4.6X
4M
22.3X
5.7X
2M
32X
8.1X
VGA
60.2X
20.1X
Turning Digital Zoom On or Off (Digital Zoom)
Procedure
[r] (REC) * [MENU] * REC Tab * Digital Zoom
You can use this setting to turn digital zoom on or off. When digital zoom is turned off,
operating the zoom controller zooms the image with optical zoom only.

* Your assessment is very important for improving the work of artificial intelligence, which forms the content of this project