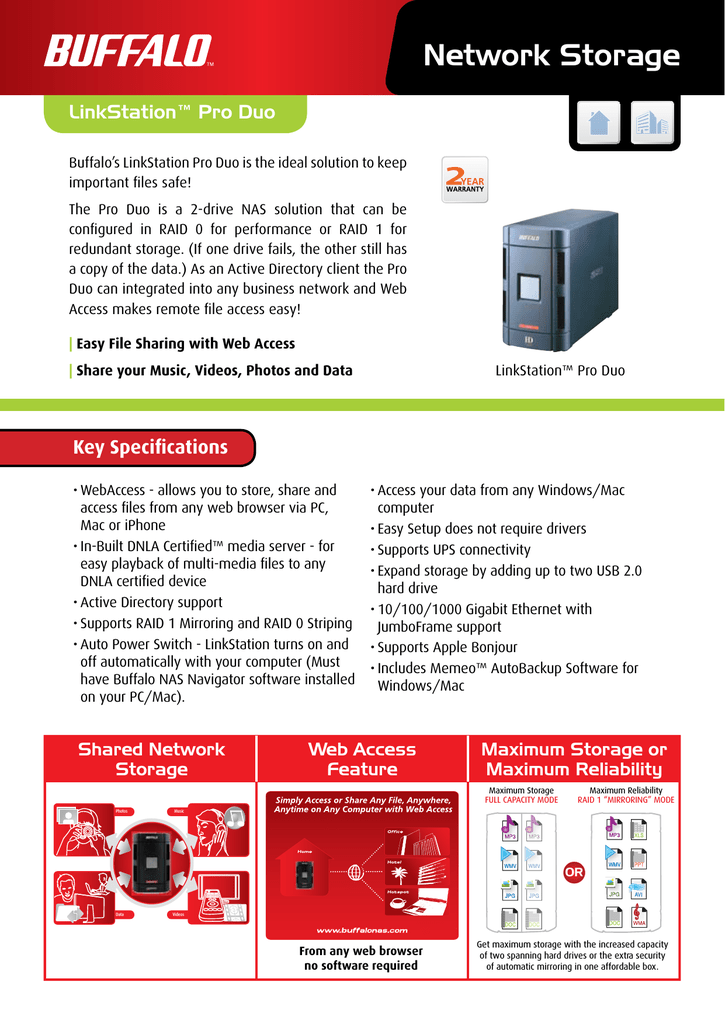 Network Storage
LinkStation™ Pro Duo
Buffalo's LinkStation Pro Duo is the ideal solution to keep
important files safe!
The Pro Duo is a 2-drive NAS solution that can be
configured in RAID 0 for performance or RAID 1 for
redundant storage. (If one drive fails, the other still has
a copy of the data.) As an Active Directory client the Pro
Duo can integrated into any business network and Web
Access makes remote file access easy!
| Easy File Sharing with Web Access
| Share your Music, Videos, Photos and Data
LinkStation™ Pro Duo
Key Specifications
•WebAccess - allows you to store, share and
access files from any web browser via PC,
Mac or iPhone
•In-Built DNLA Certified™ media server - for
easy playback of multi-media files to any
DNLA certified device
•Active Directory support
•Supports RAID 1 Mirroring and RAID 0 Striping
•Auto Power Switch - LinkStation turns on and
off automatically with your computer (Must
have Buffalo NAS Navigator software installed
on your PC/Mac).
Shared Network
Storage
•Access your data from any Windows/Mac
computer
•Easy Setup does not require drivers
•Supports UPS connectivity
•Expand storage by adding up to two USB 2.0
hard drive
•10/100/1000 Gigabit Ethernet with
JumboFrame support
•Supports Apple Bonjour
•Includes Memeo™ AutoBackup Software for
Windows/Mac
Web Access
Feature
Maximum Storage or
Maximum Reliability
Maximum Storage
FULL CAPACITY MODE
Photos
Maximum Reliability
RAID 1 "MIRRORING" MODE
Music
OR
Data
Videos
From any web browser
no software required
Get maximum storage with the increased capacity
of two spanning hard drives or the extra security
of automatic mirroring in one affordable box.
Network Storage
SPECIFICATIONS
LAN Interface
Data Transfer Rates
Connector Type
Number of Ports
10/100/1000Mbps
RJ-45
1
Internal Hard Drives
Number of Drives
Drive Interface
Hard Drive Sizes
2
SATA
500GB, 1TB
USB Interface
Standard Compliance
Connector Type
Number of Ports
Data Transfer Rates
USB 2.0
USB Type A
2
Max 480Mbps (High Speed Mode), Max 12Mbps (Full Speed Mode)
Protocol Support
Networking
File Sharing
AD Authentication
Management
TCP/IP
SMB, FTP
LDAP
HTTP
Other
Dimensions (WxHxD)
Weight
Operating Environment
OS Support
Power Supply
Power Consumption
100mm x 163mm x 225mm
2.8Kg
0-35º C
Win 2000, XP, Vista, Mac OS X 10.3.9 or higher
Internal, AC 100-240V 50/60Hz
Average 21 W (with no USB devices connected)
Product Part Numbers
LS-W1.0TGL/R1
LS-W2.0TGL/R1
web access
About Buffalo
Buffalo Technology UK Ltd. is a leading global provider of award-winning networking, memory, storage and multimedia solutions for the home and small business
environments as well as for system builders and integrators. With almost three decades of networking and computer peripheral experience, Buffalo has proven its
commitment to delivering innovative, solutions that have put the company at the forefront of infrastructure technology.
© Buffalo Inc. 2009. BUFFALO logo, AirStation, Nfiniti, AOSS, TeraStation, LinkStation, DriveStation, DriveStation 2Share, MiniStation, LinkTheater, are either trademarks
or registered trademarks of Melco Holdings Inc. or Buffalo Inc. Microsoft Windows and Microsoft logo are either registered trademarks or trademarks of Microsoft
corporation in United States and/or other countries. The names and logos of other companies mentioned herein belong to their respective owners.
The information within this datasheet is subject to change without notice. All rights reserved. E & OE.
Mar 09
Note: 1TB = 1,000,000,000,000Bytes. Actual data throughput will vary depending upon environment factors.

* Your assessment is very important for improving the work of artificial intelligence, which forms the content of this project