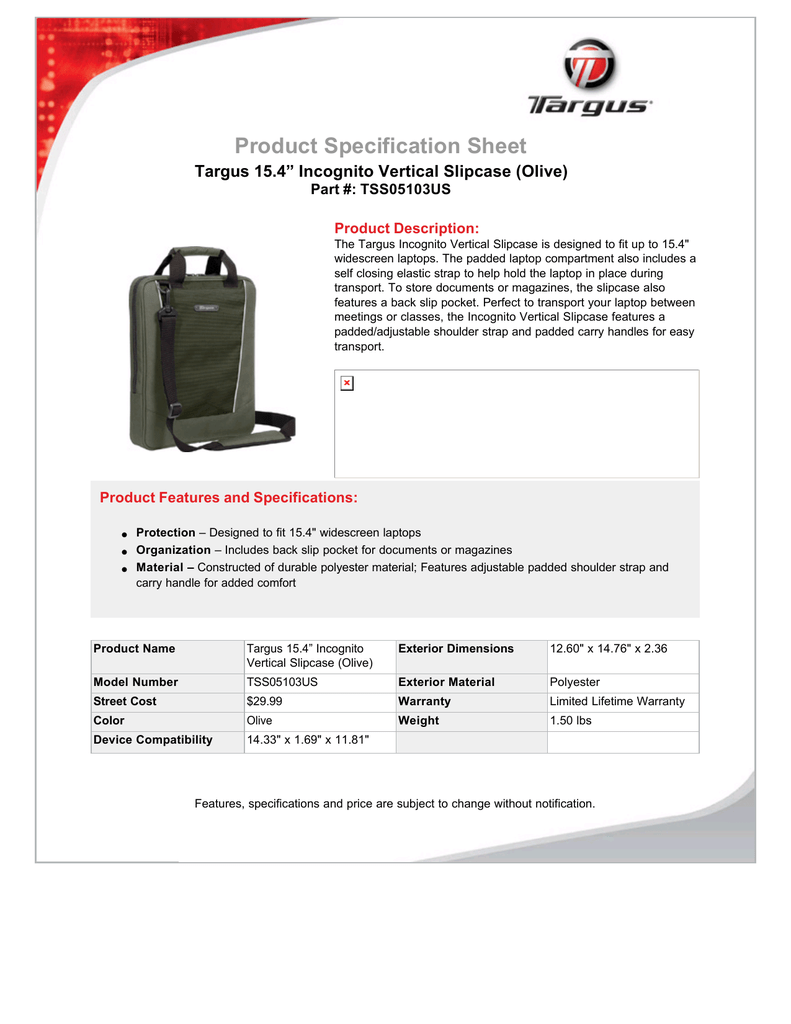 Product Specification Sheet
Targus 15.4" Incognito Vertical Slipcase (Olive)
Part #: TSS05103US
Product Description:
The Targus Incognito Vertical Slipcase is designed to fit up to 15.4"
widescreen laptops. The padded laptop compartment also includes a
self closing elastic strap to help hold the laptop in place during
transport. To store documents or magazines, the slipcase also
features a back slip pocket. Perfect to transport your laptop between
meetings or classes, the Incognito Vertical Slipcase features a
padded/adjustable shoulder strap and padded carry handles for easy
transport.
Product Features and Specifications:
●
●
●
Protection – Designed to fit 15.4" widescreen laptops
Organization – Includes back slip pocket for documents or magazines
Material – Constructed of durable polyester material; Features adjustable padded shoulder strap and
carry handle for added comfort
Product Name
Targus 15.4" Incognito
Vertical Slipcase (Olive)
Exterior Dimensions
12.60" x 14.76" x 2.36
Model Number
TSS05103US
Exterior Material
Polyester
Street Cost
$29.99
Warranty
Limited Lifetime Warranty
Color
Olive
Weight
1.50 lbs
Device Compatibility
14.33" x 1.69" x 11.81"
Features, specifications and price are subject to change without notification.

* Your assessment is very important for improving the work of artificial intelligence, which forms the content of this project