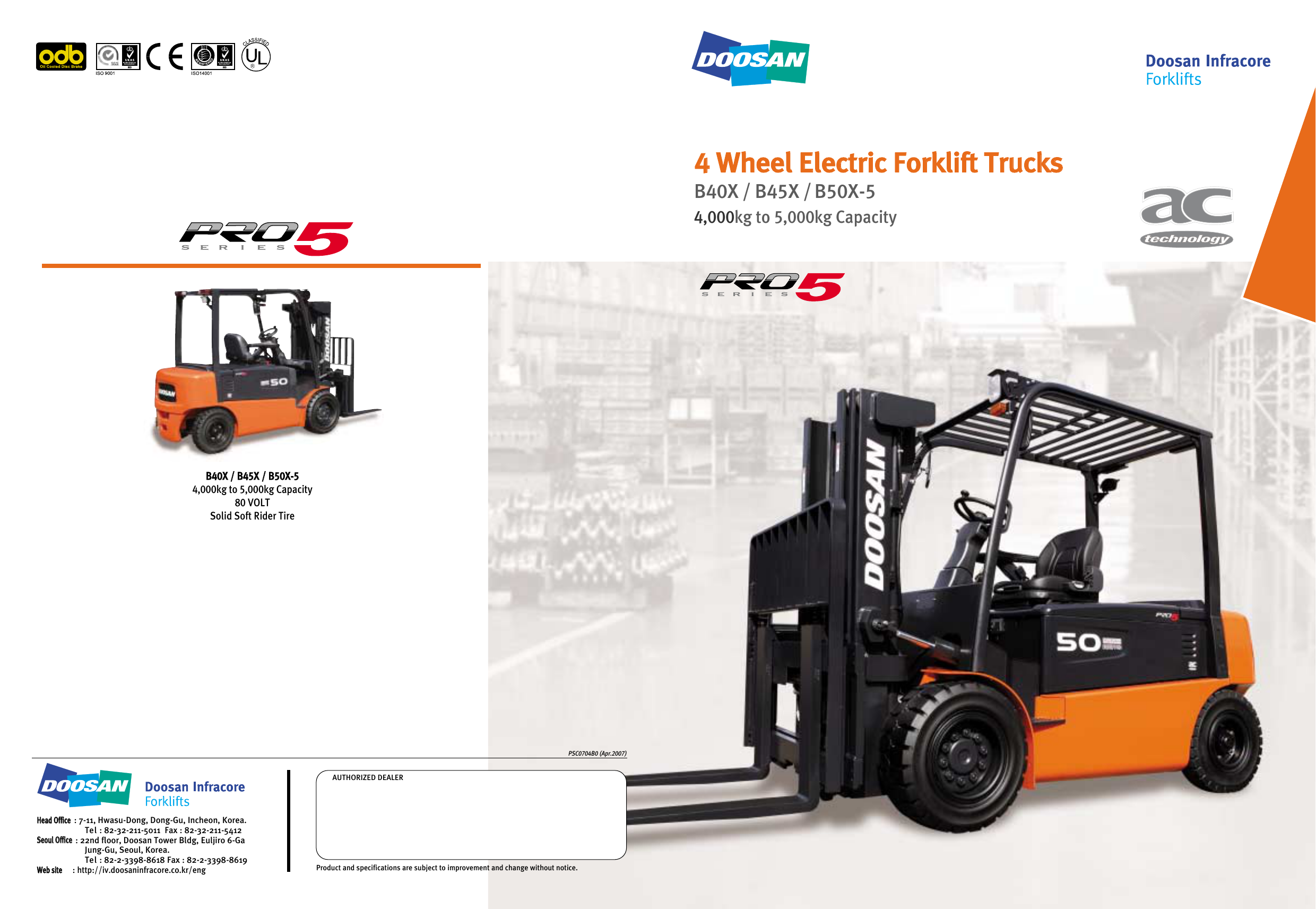 R
4 Wheel Electric Forklift Trucks
B40X / B45X / B50X-5
4,000kg to 5,000kg Capacity
B40X / B45X / B50X-5
4,000kg to 5,000kg Capacity
80 VOLT
Solid Soft Rider Tire
PSC0704B0 (Apr.2007)
AUTHORIZED DEALER
Head Office : 7-11, Hwasu-Dong, Dong-Gu, Incheon, Korea.
Tel : 82-32-211-5011 Fax : 82-32-211-5412
Seoul Office : 22nd floor, Doosan Tower Bldg, Euljiro 6-Ga
Jung-Gu, Seoul, Korea.
Tel : 82-2-3398-8618 Fax : 82-2-3398-8619
Web site : http://iv.doosaninfracore.co.kr/eng
Product and specifications are subject to improvement and change without notice.
40X / 45X / 50X-5
B4
4 WHEEL ELECTRIC TRUCK
High Performance, Great Productivity, Energy
Efficiency, Superior Ergonomics and Easy Service
You Only Get All
with A New Generation of Doosan Electric Forklifts
Optimized operator compartment,
especially FCU (Front Cockpit Unit),
provides driving & operating comfort.
A.C.T. (Active Control Technology) incorporated into full
AC (Drive and Hydraulic) system
provides smooth & perfect control.
Proven and durable components
provide enhanced maintenance interval and reliability.
Operator-friendly features provide operating pleasure.
AC Motors & OCDB
provide incredible and outstanding productivity.
ISO 3691 regulation introduced in control valve and O.S.S.
(Operator Sensing System)
provide industry best driving & operating safety.
Tool-less side cover and wide open hood
provide great serviceability.
DRIVE THE DIFFERENCE...
DRIVE DOOSAN !
Satisfaction comes Standard !
Due to Enhanced Comfort Features Designed to Be Simple
and Easily Adjustable, The Operator Compartment Will Make
You Feel Right At Home.
Auto Tilt Leveling (Optional).
Easily returns mast to upright
vertical position with simply pushing
the button.
Finger-tip Controlled Hydraulic Control Valve (Optional)
Permits precisely controlled load movement by literally lifting only a finger to
significantly reduce operator movement and expended effort.
Deluxe Suspension Seat (Optional) with OSS
A comfortable deluxe suspension seat with OSS(operator
sensing system), a large seatback angle, longer seat travel
length and operator's weight resistance on front side allow
multiple adjustments for optimum seating comfort.
Convenience Tray
Easily handles refreshments, paperwork, small tools and
etc for operator efficiency.
Spacious Operator compartment
Wide open leg room, stepless tiltable steering column and
ergonomically located operator pedals with low cowl height
facilitate anti fatigue operating.
High Visibility Overhead Guard and
Front-end
Wider mast window, repositioned
hydraulic hoses and flat bar style
overhead guard optimize operator sight
lines forward, up and to the load.
DRIVE THE DIFFERENCE...
DRIVE DOOSAN !
Productive, But Energy Efficient !
The bottom line for evaluating a lift truck is PRODUCTIVITY....
and that's where the Pro5 Series really stands out.
Productivity of an electric truck is a combination of speed, control and
energy consumption --- which have been achieved through several
exclusive Doosan design innovations.
DOOSAN Exclusive ACT (Active Control Technology)
This innovative system provides several productivity advantages:
Active Performance Control :
self-adjusts performance criteria to changes in
operating conditions
Active Energy control :
maintains consistent performance through 80%
of battery charge life
Active Comfort Control :
customizes operating parameters to match
driver's style for increased comfort,
confidence & control
Active Heat Control :
system self protects when overheating detected
to correct temperature imbalance
Operator-Centric Performance Selection
Operator controls the truck's performance capability and can optimize
productivity and battery consumption rate to match application requirements.
H-mode (High Performance)
S-mode (Standard Performance)
E-mode (Energy Efficient Performance)
Turtle mode
(Reduces Travel Speed while maintaining lift speed)
More Work per Battery Charge
Programmable operating functions customize truck performance for
energy efficiency to achieve more run time per battery charge.
ITC (Intelligent Torque Control)
Closed-loop feedback system monitors loads on drive
and hydraulic motors to maintain speed consistency
whether the truck is empty or loaded.
It also provides :
Responsive acceleration
Excellent gradeability
Full protection against short / open circuits
Continuous temperature monitoring of panel and motors
to maximize material handling productivity.
DRIVE THE DIFFERENCE...
DRIVE DOOSAN !
Safety Comes First !
Doosan's Goal Is to Make Your Driving
As Safe And Stable As Possible !
Lift Lock and Tilt Lock Function (ISO 3691)
Lift and tilt function are locked when operator leaves truck or truck is key off
condition, which minimize any risks.
OSS (Operator Sensing System)
Audible alarm will sound when operator leaves the seat without parking brake
applied.
Truck is not moving with directional switch in either forward or reverse when
operator leaves the truck without parking brake applied. (automatically return
to neutral position)
Parking Brake with Stopper
Prevents parking brake release from external shock
Anti Roll Back & Down
Stop on ramp, anti roll back & down system
protects truck's slip.
X
Steering Angle Sensing System
The angle sensing information controls the travel
speed at turning operation. It automatically
reduces the travel speed to the optimum speed at
the cornering.
Intelligent Instrument and Control Panels
The combination of LED displays and
7-digit graphic LCD display intelligently provides
operators with all the details they need, including
operational information, diagnostics, and
programmable settings.
The 4 display buttons offers a choice of four
power modes; heavy duty, standard duty,
economic duty and slow travel speed mode.
Standard instrument images are displayed at the right.
DRIVE THE DIFFERENCE...
Steering Angle
Indicator
Over Temp
Indicator
Maintenance
Indicator
Travel Speed
Indicator
Light System
Indicator
Battery Charge
Indicator
Travel Speed
Governor
Seat Switch
Indicator
Speedometer
(km/h)
Hour Meter
Display
Power Mode
Indicator
Parking Brake
Indicator
DRIVE DOOSAN !
Minimized Maintenance and Easy serviceability
is One of Doosan's Top Priorities
Intelligent Technology Provides Industry
Best Maneuverability !
■ Option Availability
Oil- Cooled Disc Brakes(ODB)
Virtually maintenance-free, ODB is
standard equipment on the
PRO5 Series,B45X-5. The enclosed
brake system eliminates outside
contamination significantly extending
the brake life up to 5 times longer
when compared to conventional shoe
brakes.
Rugged and Durable Twin Drive
Axle
Doosan unique designed twin drive axle
is installed on PRO5 Series, B45X-5. It
is controlled by integrated drive
controller and the twin drive axle
effectively transfers the power and
torque of the drive motor to the final
drive for smooth and quite operation.
Options
● : Standard
○ : Optional
B40X / B45X / B50X-5
Lift and Tilt Locking Hydraulic Control Valve
Finger Tip Control Hydraulic Valve
Solid Soft Tires
Non-marking Tires
Full Suspension Deluxe Seat - Vinyl
Full Suspension Deluxe Seat with Armrest
Modular Operator Cabs
Mono-ped Foot Direction and Acceleration Control
Emergency Switch
Cold Storage Package
Keyless Ignition Switch
Knob - Steering Wheel
Two Front and Rear Combination Lights
One Rear Flood Light
Maintenance Free Electric Motors
Our innovative AC technology of drive
and hydraulic motors eliminates motor
brushes, commutators and directional
contactors, thus reducing maintenance
and decreasing overall operating costs.
The large, 10kw drive motor provides
outstanding power capability troughout
the operating shift.
Run Time and Trouble shooting
Diagnostics
Our truck talks to you!
The Controller provides both run-time
and trouble-shooting diagnostic
capability to tell you the source of a
problem so it can be corrected quickly
and easily.
In addition all controller programming
can be locked in to guard against
tampering.
Back-up Alarm
Rear Strobe Light
Rear View Mirror
Integral Sideshifter
Integral Sideshifting Fork Positioner
Quad Mast
Hydraulic Accumulator
AC Controller has power to B45 X- 5
The Command Center of the B45X PRO 5 Series is our AC Controller consisting of a main logic board and
independent power modules with direct links to drive motor and the hydraulic motor to manage, direct and
monitor every operating system on the truck.
This control unit regulates and monitors the following functions :
Anti-Roll Back and Anti-Roll Down
with adjustable ramp stop time
Regenerative Braking
Electrically Assisted Braking
Static Return to Off (SRO)
Drive Speed Compensation
(Load/Unload)
Drive Speed Acceleration/
Deceleration/Reduction
Continuous Lift Speed Control/
Pump Motor Speed Compensation
Battery Discharge Indicator with
Adjustable Reset Value
DRIVE THE DIFFERENCE...
Over Temperature Protection for power
modules and Motors
Low and High Voltage Limit
Diagnostics and Stored Error Codes
Power Line Fault Detection
(Fuse/Contactor)
Continuous Temperature Measuring
(Controller, Motor)
Full Protection against Short or Open
Circuits
DRIVE DOOSAN !