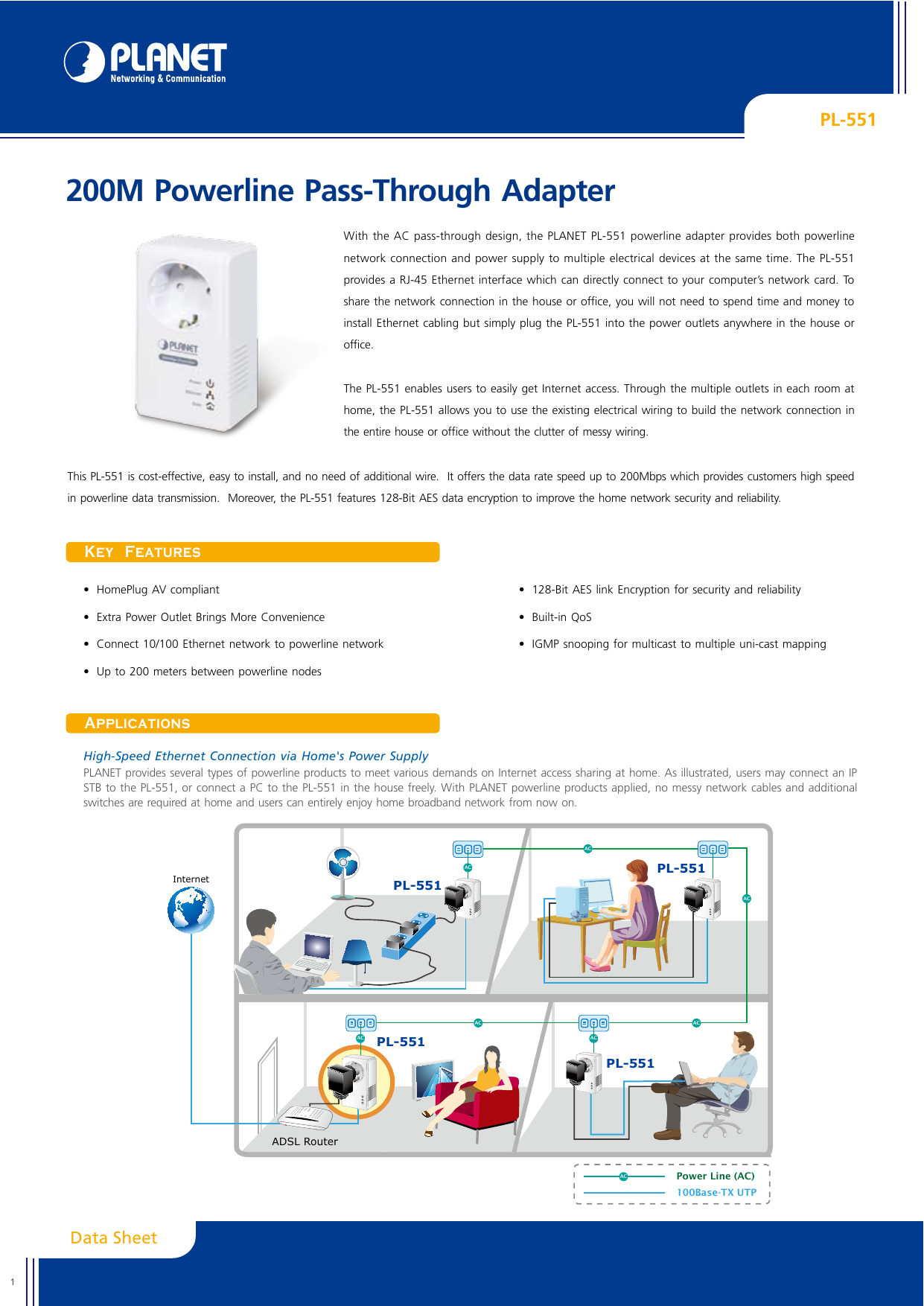 PL-551
200M Powerline Pass-Through Adapter
With the AC pass-through design, the PLANET PL-551 powerline adapter provides both powerline
network connection and power supply to multiple electrical devices at the same time. The PL-551
provides a RJ-45 Ethernet interface which can directly connect to your computer's network card. To
share the network connection in the house or office, you will not need to spend time and money to
install Ethernet cabling but simply plug the PL-551 into the power outlets anywhere in the house or
office.
The PL-551 enables users to easily get Internet access. Through the multiple outlets in each room at
home, the PL-551 allows you to use the existing electrical wiring to build the network connection in
the entire house or office without the clutter of messy wiring.
This PL-551 is cost-effective, easy to install, and no need of additional wire. It offers the data rate speed up to 200Mbps which provides customers high speed
in powerline data transmission. Moreover, the PL-551 features 128-Bit AES data encryption to improve the home network security and reliability.
Key Features
•• HomePlug AV compliant
•• 128-Bit AES link Encryption for security and reliability
•• Extra Power Outlet Brings More Convenience
•• Built-in QoS
•• Connect 10/100 Ethernet network to powerline network
•• IGMP snooping for multicast to multiple uni-cast mapping
•• Up to 200 meters between powerline nodes
Applications
High-Speed Ethernet Connection via Home's Power Supply
PLANET provides several types of powerline products to meet various demands on Internet access sharing at home. As illustrated, users may connect an IP
STB to the PL-551, or connect a PC to the PL-551 in the house freely. With PLANET powerline products applied, no messy network cables and additional
switches are required at home and users can entirely enjoy home broadband network from now on.
AC
PL-551
AC
Internet
PL-551
AC
AC
AC
PL-551
AC
AC
PL-551
ADSL Router
AC
Power Line (AC)
100Base-TX UTP
Data Sheet
1
PL-551
Specification
Product
200Mbps Powerline Pass-Through Adapter
Model
Hardware Specification
PL-551
Standard
HomePlug AV compliant
IEEE 802.3 10Base-T
IEEE 802.3u 100Base-TX
One RJ-45 port
UP to 200Mbps
128-Bit AES encryption
1024 / 256 / 64 / 16 / 8 QAM, QPSK, BPSK and ROBO
Turbo Codes
TDMA, CSMA, CA
Power, Ethernet, Data
Ports
Speed
Encryption
Modulation
Forward Error Correction
Channel Access
LED
Powerline Frequency
2MHz to 68MHz
Band
Environment Specifications
Temperature: 0~45 Degree C
Operating
Relative Humidity:10~90% (non-condensing)
Temperature: -20~70 Degree C
Storage
Relative Humidity: 5~95% (non-condensing)
Power Supply
100~240V AC, 50~60Hz
Dimension (W x D x H)
58 x 41 x 105 mm
Weight
233 g
FCC, CE
Emission
Ordering Information
PL-551-EU
Data Sheet
2
06-11
200M Powerline Pass-Through Adapter (EU type direct-attached)
PLANET Technology Corporation
11F., No.96, Minquan Rd., Xindian Dist., New Taipei City 231,
Taiwan (R.O.C.)
Tel: 886-2-2219-9518 Fax: 886-2-2219-9528
Email: sales@planet.com.tw www.planet.com.tw
C-PL-551
PLANET reserves the right to change specifications without prior notice. All brand names and trademarks are property of
their respective owners. Copyright © 2011 PLANET Technology Corp. All rights reserved.

* Your assessment is very important for improving the work of artificial intelligence, which forms the content of this project